SCHUNK ADHESO gripper wins New Product of the Year Award at 2021 ASSEMBLY Show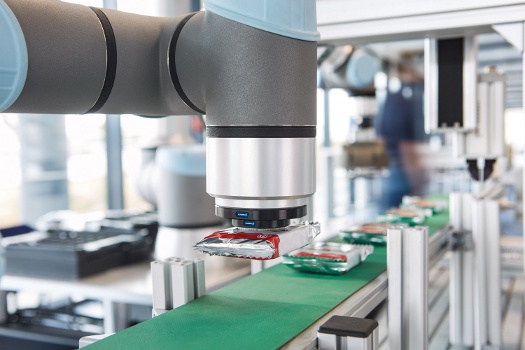 Imagine gripping assembly components with ease, leaving no trace of residue or imprint. With the ADHESO gripper from SCHUNK, it's possible. It uses no external power supply to activate its action. It just "sticks" by pressing to the piece.
What makes this gripper -- which has no traditional "fingers" that users can see -- look like it's performing magic? It holds parts using tiny filaments that adhere to the workpiece via Van der Waal forces. It's not a powered vacuum gripper. It uses a distinctive surface architecture made of special polymers to create holding force. Separation from the workpiece (releasing the grip) is accomplished by pressing, rotary movement, tilting, or sliding. It is also possible to equip the gripper with an active wiper.
A SCHUNK rep told Designfax exclusively, "The technology behind our ADHESO grippers was developed utilizing decades of research at the Leibniz Institute for New Materials. Here, biological adhesion mechanisms from nature were investigated to determine what functions could be adopted for human use. Based on the tiny hairs on the feet of the gecko that use van der Waals forces to adhere to a variety of surfaces, we have used this technology to develop innovative gripping systems for various surfaces and handling applications."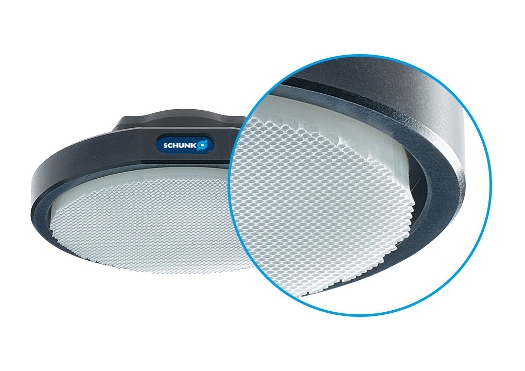 Close-up of ADHESO gripper head.
The technology is so impressive that it won first place in the New Product of the Year Awards at the 2021 ASSEMBLY Show held near Chicago at the end of October. The gripper placed first in the Robotics category.
ADHESO grippers perform ideally with flat workpieces and foils. Unlike when using vacuum grippers, holes or other interruptions in the workpiece surface do not pose a problem. The size and types of filaments can also be optimized for holding force depending upon different types of workpieces that need to be handled. Other major advantages are that ADHESO uses no power to maintain its grip once the workpiece is held, and it leaves no marks when released.
The wide variety of workpieces in automated assembly create many challenges for engineers. Parts to be handled can range from tiny springs and ball bearings to computer chips, circuit boards, glass, automotive body panels and windshields, engine parts, and on and on. ADHESO's ability to handle the most sensitive parts gently, without external energy or leaving any residue, makes it an optimal gripper for the automated assembly industry.

VIDEO: SCHUNK ADHESO handling pens.

VIDEO: SCHUNK ADHESO handling aluminum.

VIDEO: SCHUNK ADHESO handling metal plate.

VIDEO: SCHUNK ADHESO using Universal Robots URCap.
ADHESO is available in four standard sizes with matching ISO flange adapters that are easy to mount to most robot wrists. It can be optimized and customized for specific workpieces up to 2 m2. ADHESO grippers can handle workpieces all the way up to an impressive 16 kg.
This new and unique gripping technology can offer a major advantage in simplifying gripping tool designs when engineers incorporate it into their solution toolbox. With the ADHESO gripper, solutions can be tailored to each customer's individual needs, creating opportunities that are as diverse as the applications themselves.
Learn more at https://schunk.com/us_en/homepage/adheso/.
Source: SCHUNK
Published November 2021
Rate this article