First Look: 2023 Corvette Z06
Track beast and everyday supercar you can drive around town
Chevrolet is taking the American supercar to a whole new level with the introduction of the 2023 Corvette Z06, which is wider, sports a luxe interior, and features the all-new 5.5L LT6 engine -- the highest-horsepower naturally aspirated V-8 to hit the market in any production car, ever. Not enough for you? An available Z07 performance package will provide max track capabilities.
An all-new flat-plane crankshaft design encourages drivers to push the tachometer to an impressive 8,600 rpm, creating 670 hp. Chevy says its engineers spent two years crafting a distinctive, rich exhaust tone unlike anything ever heard from a Corvette.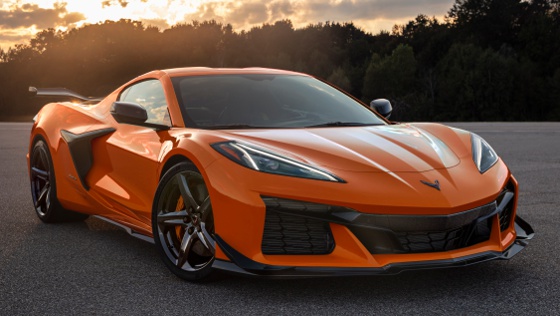 While the Z06 was created to dominate on the track when it debuted in 1963, the Z06 nameplate has also come to symbolize the perfect combination of track beast and supercar. The Z06 chassis has underpinned Corvette Racing's C8.R since it began competing in 2020. Thanks to a shared chassis and similar engine architecture and exterior proportions, the C8.R has been referred to internally at Chevy as "the Z06 hiding in plain sight."
The performance envelope and rigid architecture of the Z06 builds on the foundation laid by the latest Corvette Stingray, as does Z06's design language and attention to detail. Expanded material offerings, new interior packages, and features unique to Z06 enable owners to create their own bespoke American supercar. The Stingray's rigid structure has enabled engineers to fine-tune the car's chassis and suspension components with exceptional precision. The Z06 is so stiff that the track-capable Z06 is offered in a hardtop convertible model, and there is no variance in the suspension calibrations between it and the coupe.
The Z06 is 3.6 in. wider than the Stingray, accommodating massive 345-series rear tires and more airflow through side air vents. It also features unique front and rear fascias, a first for Z06. The front fascia is designed to optimize the Z06's cooling needs, including channeling air to a center heat exchanger, which is one of five for maximum cooling performance. Its unique, standard reconfigurable rear spoiler with adjustable wickerbill elements has been designed to improve high-speed stability and cornering capability on a racetrack.
Z06 also sports specific suspension tuning, including Magnetic Ride Control 4.0, and larger brakes (six-piston front) than the Stingray, which contribute to making the 2023 Corvette Z06 the most track-capable Corvette ever. It comes standard with 20-in. front and 21-in. rear forged aluminum "spider" wheels (with five available finishes) -- the largest wheels ever available on a production Corvette. Lightweight and rigid carbon fiber wheels that deliver a 41-lb reduction in unsprung mass are available.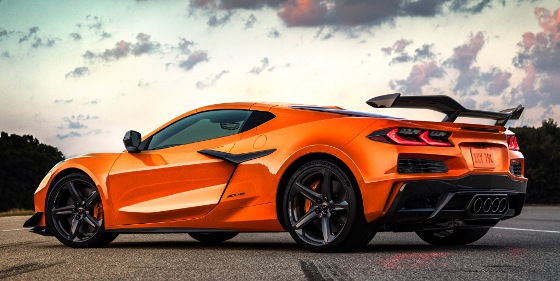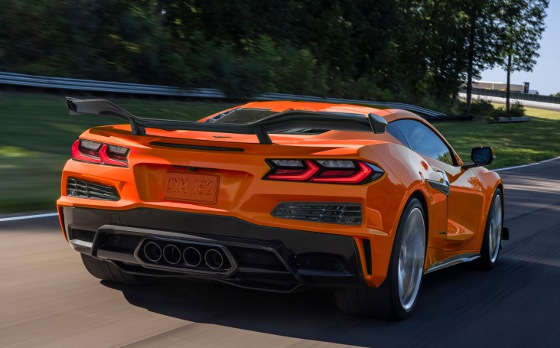 The car gets an eight-speed dual-clutch transmission with a specific, "shorter" 5.56 final drive ratio compared to the Corvette Stingray, which Chevy says enhances the acceleration capability.
To really take the Z06 over the top, a Z07 performance package is available. It offers the greatest track capability and provides 734 lb of downforce at 186 mph -- more than any Corvette ever. It includes a carbon fiber high rear wing and ground effects, specific chassis tuning, specific Magnetic Ride Control calibration, and unique Michelin Cup 2 R ZP tires, along with Brembo carbon ceramic brakes and optional carbon fiber wheels.
Built for speed
More than horsepower, the new LT6 is designed to complement all aspects of the Z06's track-focused performance experience. From its 8,600-rpm redline and full racing-style dry-sump oiling system to meticulously tuned induction and exhaust systems, this engine exudes an entirely new and emotional character.
According to Road and Track, the car will do 0 to 60 mph in 2.6 sec when fitted with the Z07 track package.
The key to the LT6's performance capability is a lightweight, low-inertia rotating assembly rooted in an all-new flat-plane crankshaft that, along with a comparatively short stroke (the distance each piston/connecting rod assembly travels with each rotation of the crankshaft), allows the engine to rev to its maximum range.
A version of the LT6 has powered the C8.R race cars since 2019, and the challenges of endurance road racing helped engineers refine the engine's performance and durability. The LT6 is hand assembled by master engine builders at the Performance Build Center within the Bowling Green Assembly Plant in Kentucky.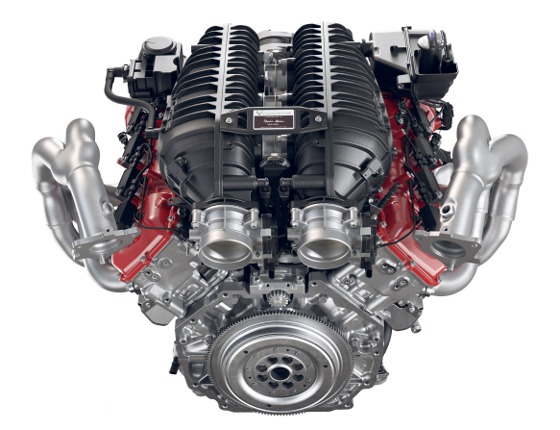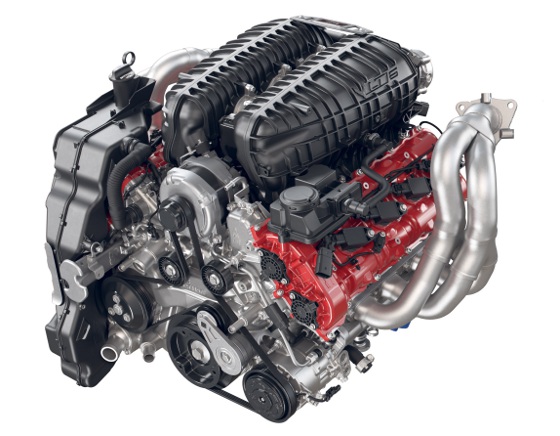 Highlights include:
All-new aluminum cylinder block casting with the Small Block engine family's signature 4.4-in. bore spacing
All-new dual-overhead-camshaft cylinder head design with fully CNC-machined combustion chambers and intake ports, supporting a mechanical "finger follower" valvetrain
Dual-coil valve springs to support titanium intake and sodium filled exhaust valves
Forged aluminum pistons and forged titanium connecting rods for low mass and high strength
Distinctive Edge Red camshaft covers
All-new active split intake manifold with twin 87-mm throttle bodies
All-new six-stage dry-sump oiling system with individual crank bay scavenging
Four-into-two-into-one stainless steel exhaust headers

VIDEO: 2023 Chevrolet Corvette official unveiling event. This is the long version -- lots of good info here.
Design
For the exterior, designers pulled out the fenders in the front and rear to cover the wider tire tread. The fenders are wider than the Corvette Stingray by 30 mm in the front and 40 mm in the rear. These extensions give the Corvette Z06 an even beefier, lower appearance, which is further emphasized by a unique rear fascia that also features centered floating exhaust bezels. This floating design was key to the precise tuning in the exhaust note. The wider rear fender also allows for the larger air intakes required for the car's cooling.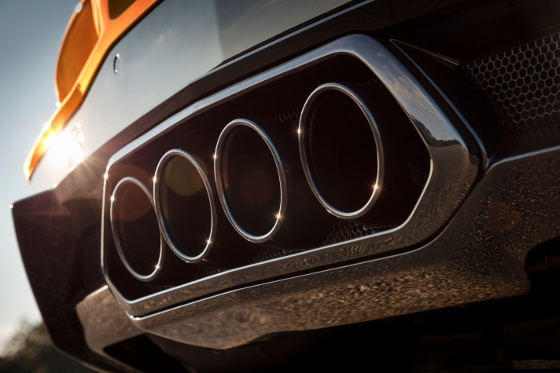 For aerodynamics, the standard Z06 features a front splitter and a unique rear spoiler, which includes an installable fixed wickerbill (a small, vertical tab at the edge of the spoiler that significantly increases downforce), providing 365 lb more at 186 mph. The available carbon fiber aero package adds a larger front splitter, front-corner canards (dive planes), a pedestal-mounted rear wing, and underbody aero strakes for maximum track-capable downforce and maneuverability.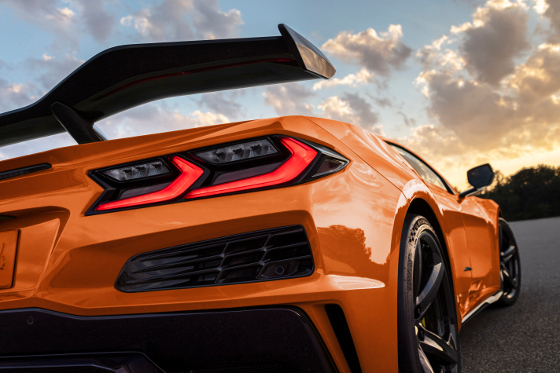 The new Z06 retains the SLA-type front and rear suspension design of the Corvette Stingray, but it has been uniquely calibrated for its higher performance capabilities. Magnetic Selective Ride Control 4.0 is standard and can be adjusted for touring comfort or maximum track performance via the standard Driver Mode Selector.
Like the Stingray, the Driver Mode Selector tailors more than a dozen features of the Z06 to suit the driver's environment. These include Launch Control, Active Handling, Traction Control with weather modes, Performance Traction Management (available in Track mode, offers five settings of torque reduction and brake intervention for track driving), and Electronic Limited Slip Differential.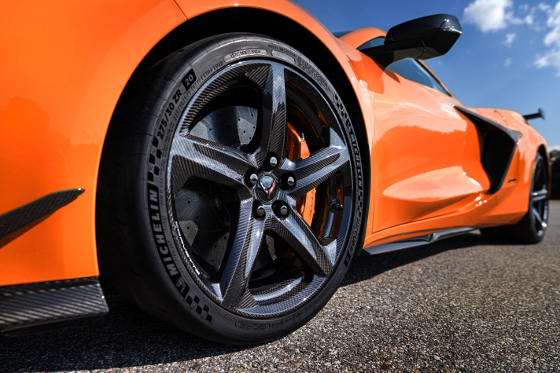 The Z06's greater track performance capability is also matched with greater braking capability, with larger 14.6-in.-diameter front and 15-in.-diameter rear Brembo rotors, compared to the Stingray. Z06 has six-piston front calipers compared to four-piston calipers on Stingray. Larger carbon ceramic rotors are available and also included with the Z07 package.
Inside
In the driver-focused cockpit, premium materials elevate the luxurious look and feel introduced with the Stingray. They're complemented with available carbon fiber trim that expresses the car's lightweight, track-focused intent.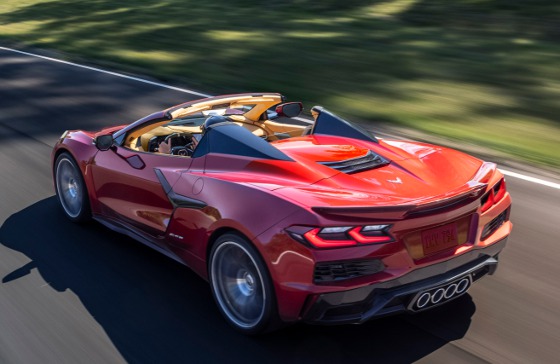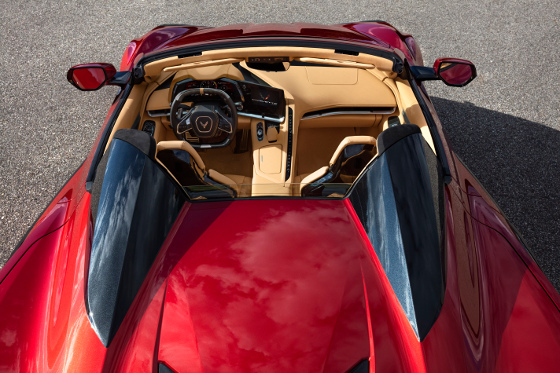 Unique features include an available carbon fiber-wrapped steering wheel, shift paddles, and new carbon fiber interior trim package level 2. The Z06 also features hand-wrapped leather interior options, including the all-new, available fully trimmed interior in Adrenaline Red.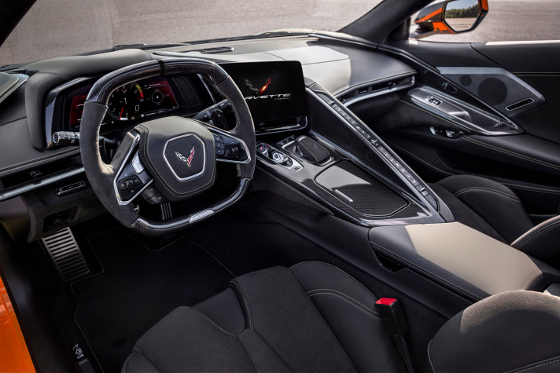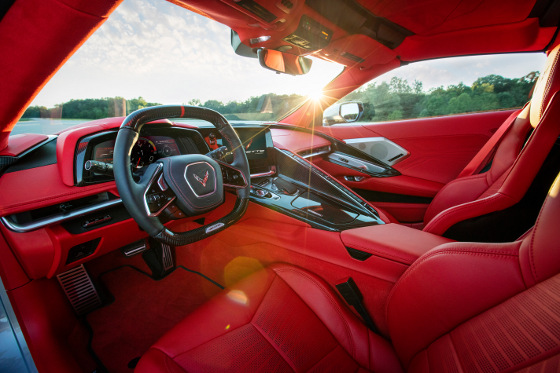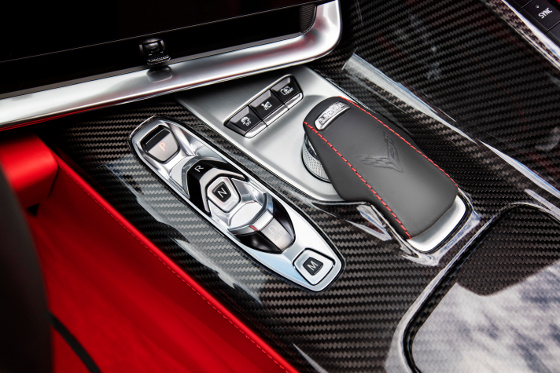 Overall, there are 12 available exterior colors, seven available wheel packages, three seat choices and six seatbelt options, two interior carbon fiber trim packages and a Stealth Aluminum trim option, and six available brake caliper colors. Production is slated to begin in summer 2022. Pricing has not been released. Word on the street is it will start somewhere between $90,000 and $100,000.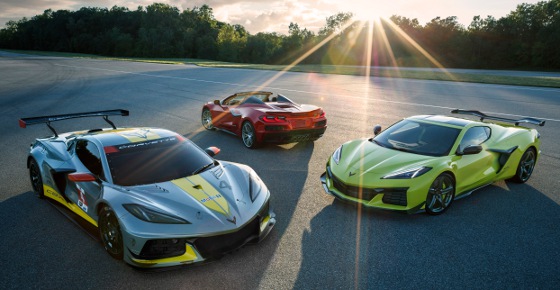 Learn more and get updates from Chevrolet at chevrolet.com/upcoming-vehicles/2023-corvette-z06.
What do you think of the new Z06? A common comment online is many people do not like the rear styling -- too much going on.
Source: Chevrolet
Published November 2021
Rate this article