Industry First: Eaton's new valve-in-tank assembly increases satellite payload capacity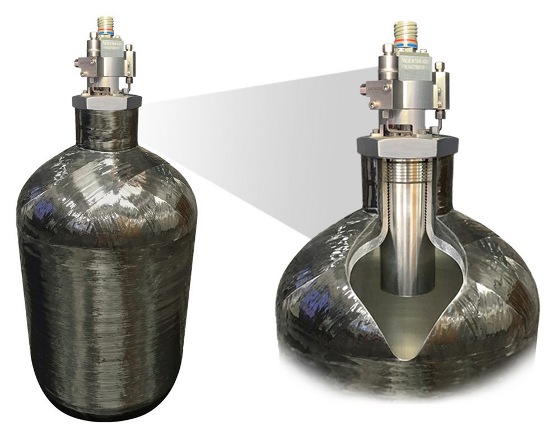 The Valve in Tank Assembly (VITA) from Eaton is the first satellite electric propulsion solution that integrates valves inside the propellant tank. [Credit: Eaton]
Power management company Eaton has successfully completed qualification testing for the aerospace industry's first Valve in Tank Assembly (VITA) propulsion feed system. It's the first satellite electric propulsion solution that integrates valves inside the propellant tank, which eliminates the need for a traditional feed system envelope and frees up room for more payload.
VITA could play a critical role in helping propel satellites to final orbit and in station-keeping to maintain orbital position. By enabling additional payload flexibility and control over which type of fuel can be included on a satellite mission, the VITA design supports the growing satellite industry, especially in the highly competitive area of small satellite providers.
Craig Ryan, integrated product team director, Space Systems, Eaton's Aerospace Group, says the new design can help transform the satellite industry. "The efficient design of the VITA feed system requires less space on the satellite bus, plus it saves integrators significant procurement, assembly, testing, troubleshooting, and rework effort," he says.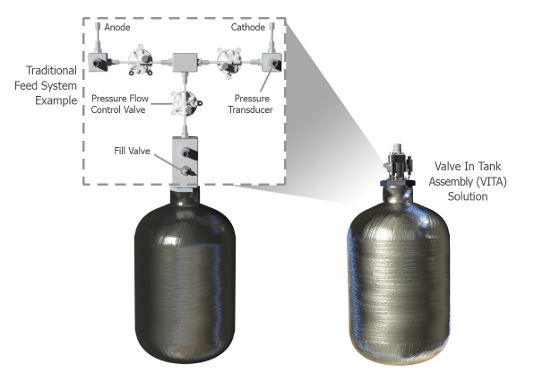 Eaton's VITA system eliminates the need for a traditional feed system envelope, creating room for more payload. [Credit: Eaton]
The innovative design of Eaton's VITA eliminates the feed system envelope by integrating proportional flow valve technology into a housing that is then integrated into the neck of a lightweight composite propellant tank. The initial configuration of the VITA solution has two redundant shut-off valves to support one thruster for increased reliability.
The drop-in VITA design approach supports modular satellite configurations, making architectural changes easier. Qualified in testing with xenon, this system has demonstrated to be fully compatible with krypton as well. The valve and tank assembly can be pre-filled with propellant and shipped ready to install.
Eaton's proven space propulsion technologies include tanks, valves, regulators, and feed systems to provide customized solutions to meet specific customer requirements.
"We have the infrastructure to quickly meet high demand volume and are currently taking orders," says Ryan. "We look forward to supporting the success of a wide range of leaders and emerging innovators in the rapidly growing satellite market."
Learn more at Eaton.com/VITA.
Source: Eaton
Published November 2021
Rate this article