Ford F-150 Lightning: Ready to electrify the mass market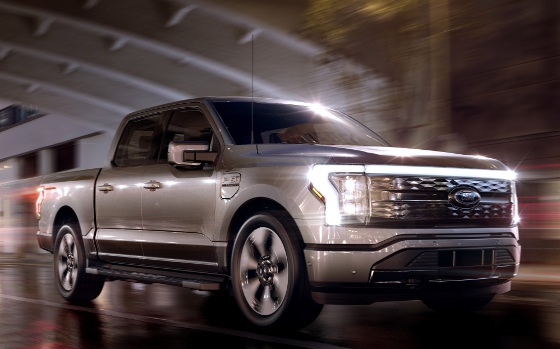 Will the new all-electric Ford F-150 Lightning be the vehicle that makes real inroads into adoption of EVs by the American public? Sporting up to 563 hp, an exhilarating drive, a high-tech frunk, and the ability to power your home if needed, Lightning could be the one that strikes the fancy of F-150 devotees and new customers alike.
Since the F-Series has been America's best-selling truck for 44 years, this is a real test for Ford. The trucks should begin arriving at dealerships in spring 2022.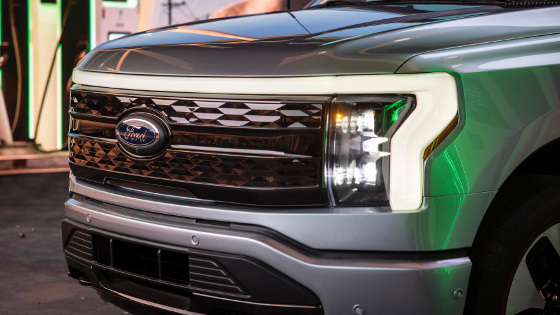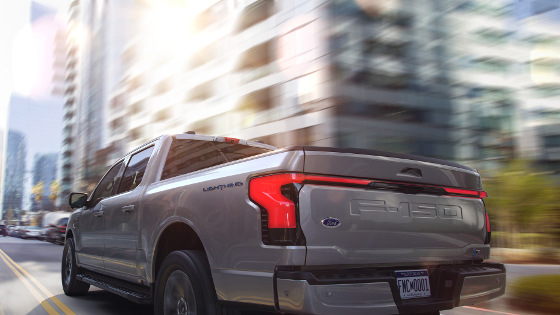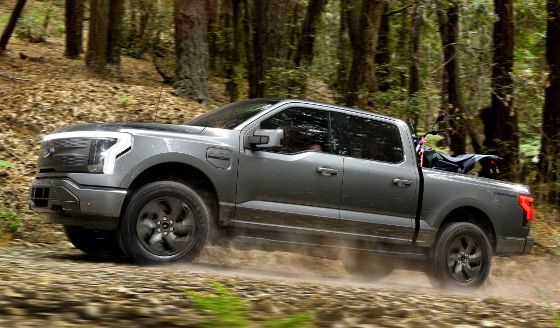 Powered by dual in-board motors and with standard 4x4, the all-wheel-drive F-150 Lightning can take on rough terrain with "Built Ford Tough" durability and capability. Along with a high-strength, military-grade aluminum alloy body, a new independent rear suspension delivers improved ride comfort, while an all-new frame uses the strongest steel ever put in an F-150 frame. F-150 Lightning targets a maximum 2,000 lb of payload in the standard-range model with 18-in. wheels, and a maximum 10,000 lb of available towing capacity on XLT and Lariat trucks with the extended-range battery and Max Trailer Tow Package. The low center of gravity brings even more confident handling whether traveling along rain-slicked roads or through sand.
It can do a 0- to 60-mph time in the mid-4-second range when equipped with an extended-range battery.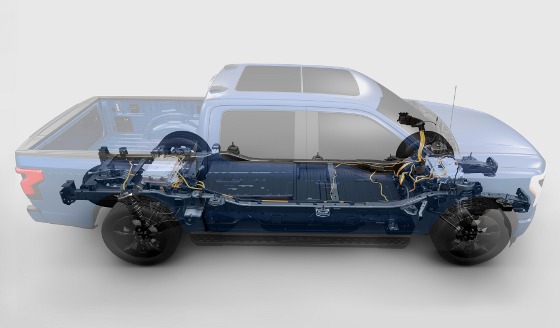 F-150 Lightning boasts excellent off-road performance, with a 4x4 system featuring four selectable drive modes: Normal, Sport, Off Road, and Tow/Haul. Rugged underbody protection keeps the battery safe, with metal skid plates shielding both the battery and inboard motors from tough terrain. The battery itself is secured inside a waterproof casing surrounded by crash-absorption protection and has been tested at temperatures as extreme as -40 F.
Those are some great stats for starters.
Part of Ford's strategy for the Lightning is pricing (because the F-Series line is so important to them), so let's get that out of the way up front. The commercial-oriented entry model starts at $39,974 MSRP before any federal or state tax credits, while the mid-series XLT model starts at $52,974 MSRP, offering additional comfort and technology. A top-of-the-line Platinum model with extended battery and fully loaded will run close to $90,000 MSRP.
Well, those first two options were good!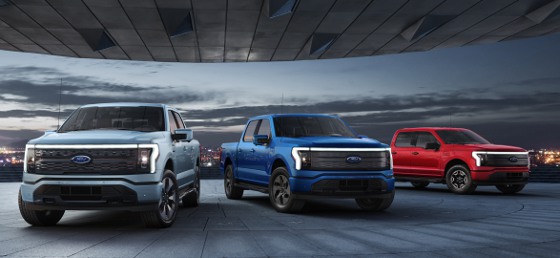 Overall, there are four base model configurations: Pro, XLT, Lariat, and Platinum. Lightning gets 563 hp with its extended-range battery and 426 hp with the standard one. Both options provide 775 lb-ft. of torque -- the most torque of any F-150 ever.
There are two different battery pack options: a standard-range battery estimated to get 230 miles of range and an extended-range battery estimated to get 300 miles range. The extended-range battery is an upgrade (about $10,000). On a 150-kW DC fast charger, extended-range F-150 Lightning is targeted to add up to 54 miles of range in 10 minutes and charge from 15% to 80% in about 41 minutes.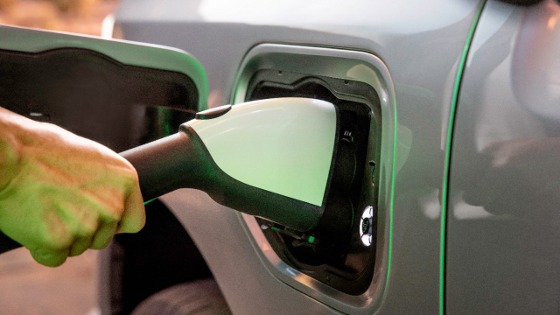 Every series comes with the 32-amp Ford Mobile Charger that allows you to charge from a traditional 120V or 240V outlet.
Ford is the only automaker to offer an 80-amp charge station as standard equipment for the extended-range battery, helping customers easily charge an extended-range truck at home. This system takes advantage of the only dual onboard charging system on an electric truck in the industry for even faster home charging. With this, F-150 Lightning adds an average range of 30 miles per charging hour, fully charging an extended-range truck from 15% to 100% in about eight hours at home.
Well, some of those numbers are not as great as we hoped.
As flashy as its introduction has been, the F-150 Lightning is definitely an F-Series work truck -- with a little added high-tech flair. Key elements include available signature LED lightbars that run across the front and rear, plus three new grille designs that bring a bold new look to a familiar face.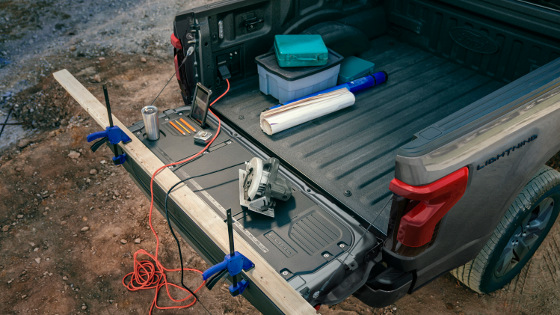 Lightning is the most aerodynamic F-150 ever, with improvements like newly shaped running boards, a sculpted hood to reduce drag, and grilles that replace air intake holes with a smoother, textured surface.
It maintains the same cab and bed dimensions as its gas counterpart F-150. It is only availbele as a SuperCrew model that has a 5.5-ft box. The available fold-out Interior Work Surface makes working inside the vehicle easier and more productive, while available Max Recline Seats offer nearly 180 degrees of recline to help customers "recharge" as needed. It really is roomy.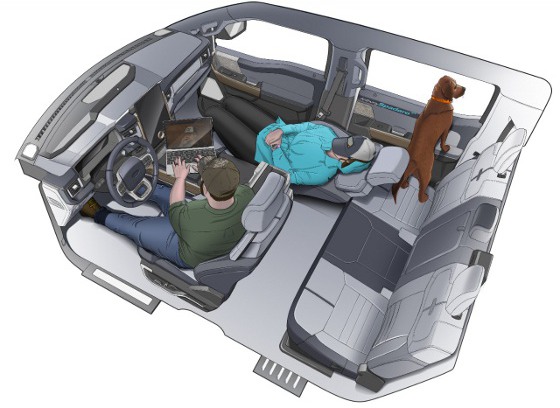 Debuting on F-150 Lightning is available Ford Intelligent Backup Power, turning your truck into an emergency power source for your home. With the ability to offload 9.6 kW of power, Ford Intelligent Backup Power can keep the lights on during an outage and even run some appliances and more. Ford estimates the truck can power an average home's emergency needs for up to three days. Once power is restored, the truck automatically reverts to charging its battery.
Power capability is not limited to the home, either. With enhanced Pro Power Onboard, customers can take advantage of built-in electrical outlets to directly power a variety of tools, electronics, and appliances away from home. Standard on base trims is 2.4 kW of power with the option for more, while Lariat and Platinum series come standard with 9.6 kW of power -- a combination of up to 2.4 kW available through the frunk and up to 7.2 kW through outlets in the cab and bed. [See "The story of the all-electric Ford F-150 Lightning Mega Power Frunk design" in Designfax, Dec. 28, 2021.]
Customers receive a FordPass notification if their truck's battery falls below one-third of its total range, and they can even set the truck to stop using Pro Power Onboard if the battery level approaches the distance to the nearest charging station.
There are a lot of neat features. We'll run through a couple more.
One incredibly useful technology is available Onboard Scales, which uses the truck's sensors to estimate payload and tell customers how much they're hauling. Since payload can impact range, Onboard Scales is integrated with Intelligent Range to help ensure F-150 Lightning gives an accurate estimate of how far you can go.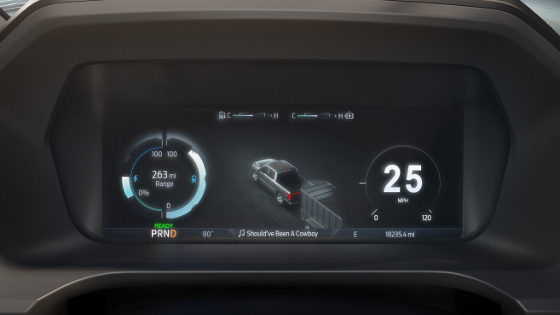 F-150 Lightning also debuts an available Pro Trailer Hitch Assist, which automatically controls steering, throttle, and brake inputs to make hitching trailers even easier. Features like these can get even better over time with Ford Power-Up software updates.
As part of available Ford Co-Pilot360 technology, BlueCruise allows for true hands-free driving on more than 100,000 miles of pre-qualified divided highways in the U.S. and Canada.
Also making its F-Series debut on select vehicles is available Phone As A Key. When activated, this allows customers to lock, unlock, and start their truck without taking their phone out of their pocket or using a key fob.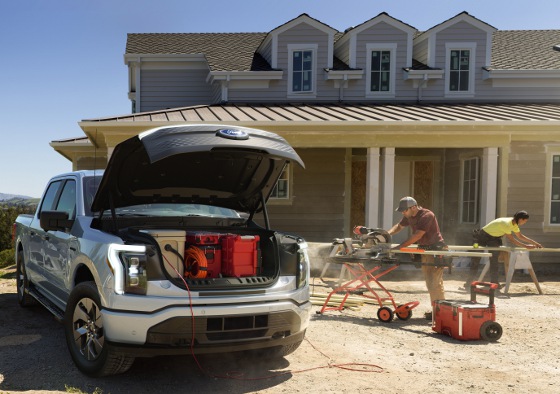 Under the hood is a versatile, high-tech "frunk" (front trunk) offering dedicated storage space that's secure, lockable, and easily accessible by a powered open-and-close system. This spacious area has 400 liters of volume and holds 400 lb of payload -- enough to stow two carry-on bags and one checked bag, or two sets of golf clubs. This water-resistant space comes equipped with four electrical outlets, two USB chargers, and a drainable floor that can double as a food and beverage container. It can easily power a mobile work site or tailgate party. With 2.4 kW of power, there's enough capability to plug in power tools, TVs, laptops, speakers, and more.
An available 360-degree Zone Lighting feature can light up a specific work zone or the entire area around the vehicle.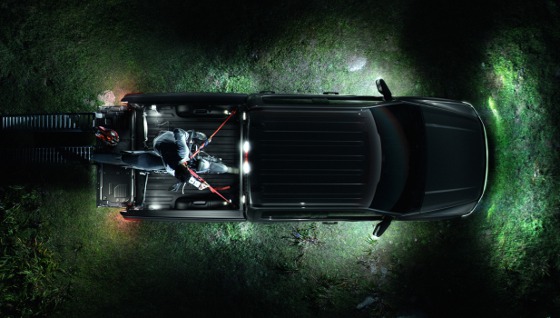 Making its truck debut on F-150 Lightning in the Lariat and Platinum series is SYNC 4A -- a sleek, modern interface supported by a 15.5-in. touchscreen and designed to adapt to driver behavior. SYNC 4A employs natural voice control, cloud-connected navigation, and wireless access to your favorite services: Apple CarPlay, Android Auto, integrated Amazon Alexa, and SYNC AppLink apps.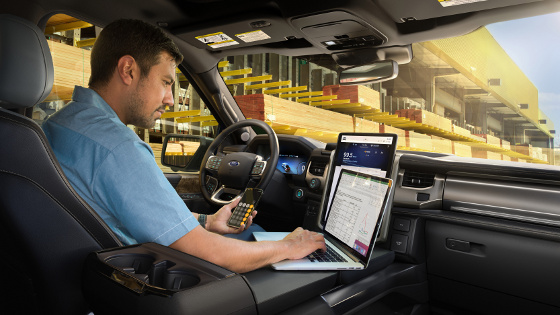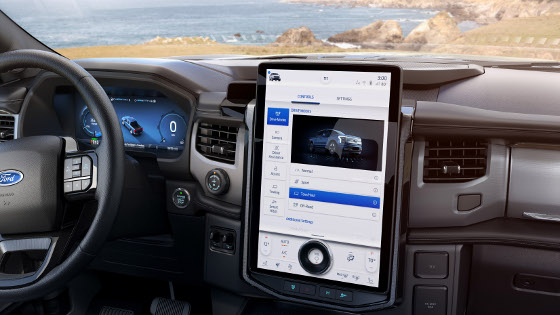 This drives us to call out probably our least favorite feature for the Lightning (after the mileage range when you consider also powering tools on an actual work site) -- it's that giant tablet interface front and center in the cabin (15.5 in. for Lariat and Platinum and 12 in. standard). It may work for some, but it looks clunky and outdated already.
But with so many positives, the F-150 Lightning is poised to be a hit. We'll have to wait and see how many buyers are struck enough by its design, utility, efficiency, and ability to get the job done to actually make a purchase.
Learn more about the Ford Lightning here. You can reserve one on this site too.
Source: Ford Motor Co.
Published May 2021
Rate this article