Bentley Flying Spur Mulliner: Ultimate four-door luxury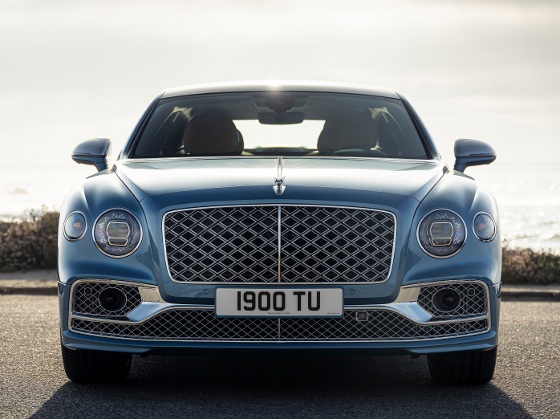 If your tastes are running a little more top shelf these days, Bentley's latest Flying Spur Mulliner offers the pinnacle of luxury and refinement -- and a lot of real power under the hood. Available with a V6 Hybrid, V8, or W12 powertrain, you'll be hitting 0 to 60 in your crystal palace on wheels in as little as 3.7 sec, and you'll look and feel fabulous while doing it. Let's take a quick look ...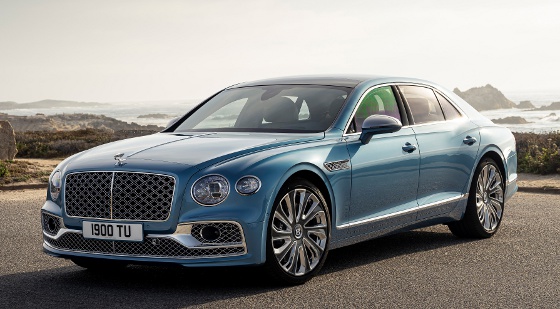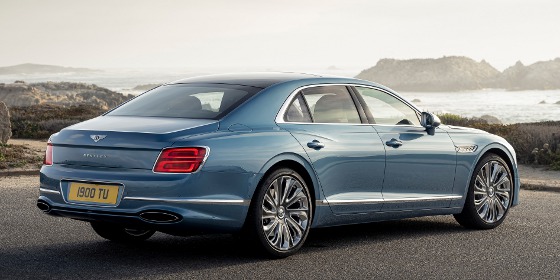 The V6 plug-in Hybrid is a brand new option. It is the second Bentley hybrid to be launched and a first for the Flying Spur line. It has a 2.9-L twin-turbocharged gasoline engine and a powerful 100-kW electric motor. It accelerates from 0 to 60 mph in 4.1 sec and has a top speed of 177 mph. Max combined power is 529 hp. It can run on electric power alone for up to 25 miles.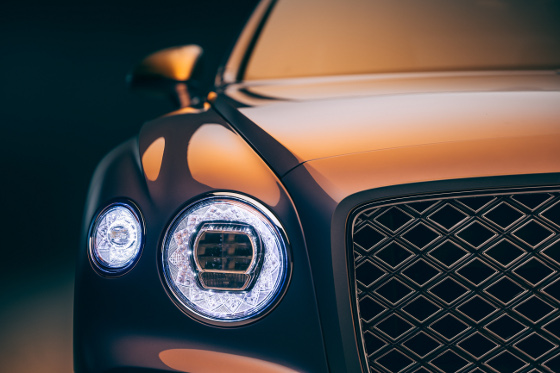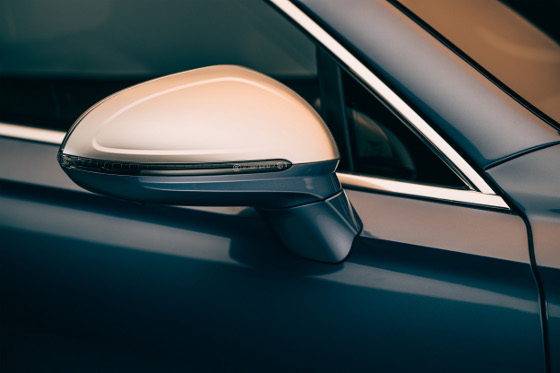 The new-generation 4.0-L twin-turbocharged 542-hp V8 delivers a top speed of 198 mph and a 0-to-60 time of 4 sec flat.
When equipped with Bentley's 6.0-L twin-turbocharged W12, the Flying Spur Mulliner turns into a 626-hp beast that accelerates from 0 to 60 mph in an impressive 3.7 sec and is capable of a top speed of 207 mph. All drive options are fitted with 8-speed automatic transmissions.
The beautifully appointed detailing includes exclusive Mulliner 22-in. wheels in a grey painted and polished finish, with self-levelling wheel caps that remain upright as the wheels rotate. A "double diamond" front grille and chrome front lower grille are matched by bespoke Mulliner-branded wing vents and Satin Silver painted mirror caps. The iconic Bentley Flying B is electronically deployed and illuminated, while the Flying Spur Mulliner also features fuel and oil caps that look like jewels. Bentley Dynamic Ride, which is an active anti-roll system that keeps the car level when cornering, is standard. All-wheel steering helps keep drivers on track too.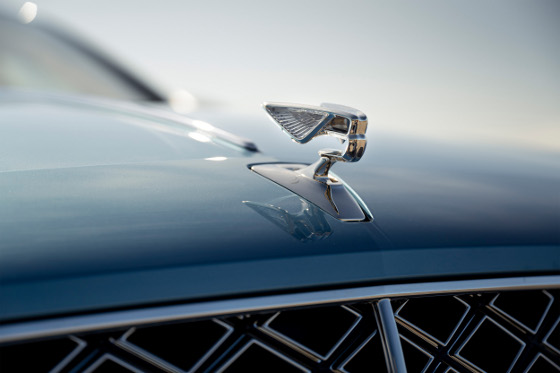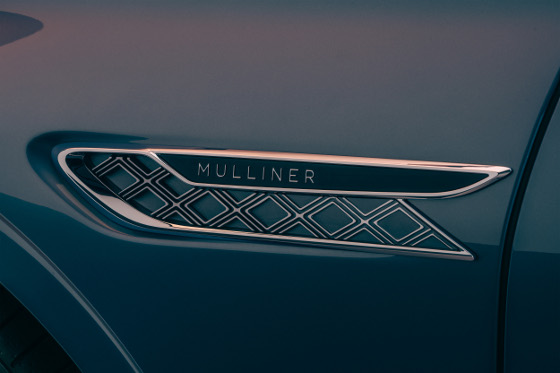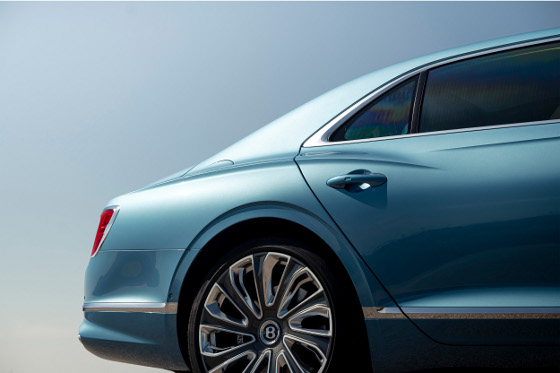 Mulliner illuminated outer treadplates and deep-pile Mulliner overmats welcome passengers inside the ultimate Flying Spur cabin, which offers a Mulliner curation of eight custom-made, three-color combinations. The sumptuously trimmed cockpit is complemented by accent-color piping and unique Mulliner embroidery to the hand-stitched seats, which feature a super-luxe diamond-in-diamond quilting pattern that works back to the grille design.
The classic Bentley theme continues in the LED driver's instrument panel, with stylish new and exclusive Mulliner graphics. The famous Bentley Rotating Display, sports pedals, heated duo-tone 3-spoke steering wheel, and panoramic sunroof add further to the luxurious ambience.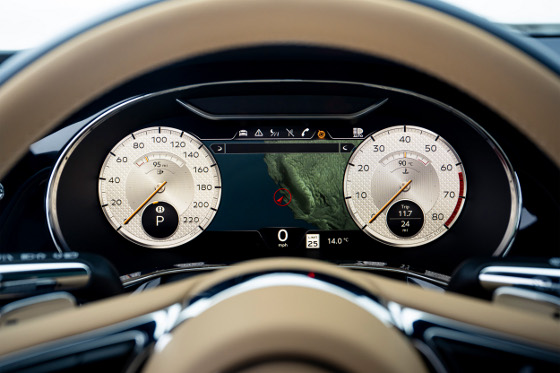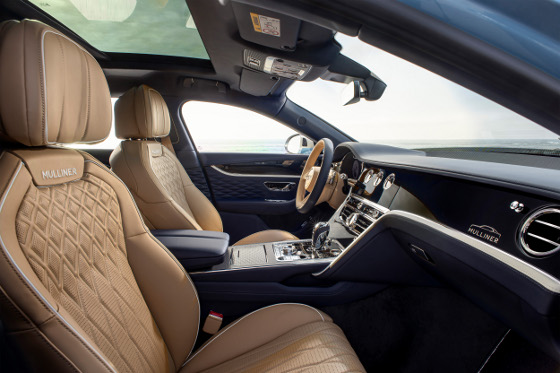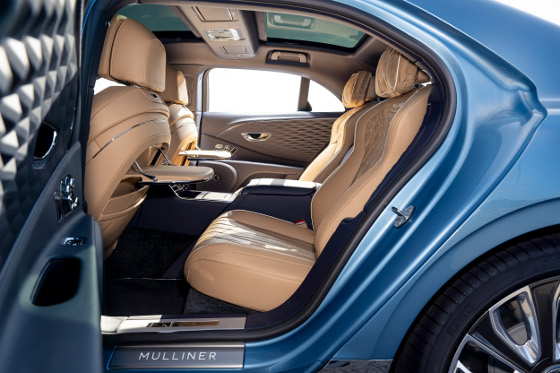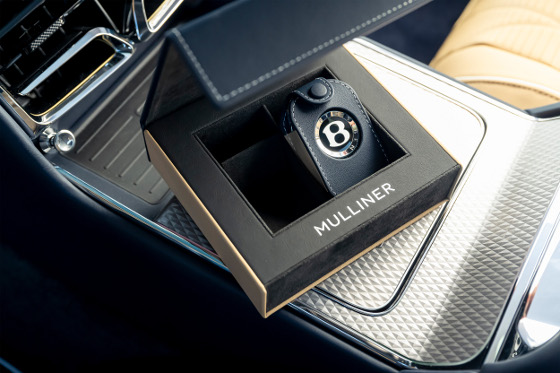 Other features include electrically operated picnic tables that are mounted to the rear of the front seats and can be deployed with a single press of a button, lots of helpful technology to get you from here to there in style, and even a built-in air ionizer.
According to Car and Driver, pricing starts at $190,000 for the hybrid, $200,825 for the V8, and $227,025 for the top-of-the-line W12. Available this spring.
More details are available at bentleymotors.com/en/models/flying-spur.html.
Source: Bentley Mulliner
Published January 2022
Rate this article