Machine Building: Frames feature internal cable guide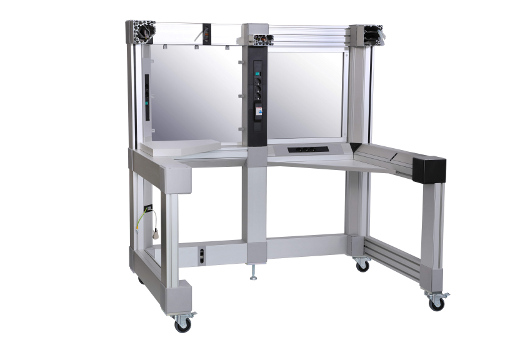 When machine frames are designed, cabling is often an afterthought. The profiles are usually retrofitted with cable ducts, subsequently altering the design and increasing the assembly and installation work involved.
However, thanks to innovative profile junctions, Bosch Rexroth's new function-integrated profiles (FIPs) feature a fully internal cable guide that can run through and out of profile junctions. The FIP range comprises four profile cross-sections, with a catalog of accessories that also complements the modular system. The entire solution can be combined with the established Rexroth modular profile system, and together they provide an unprecedented level of design flexibility.
The function-integrated profiles feature an innovative concept that enables robust frame designs with a fully internal cable guide already integrated into the profiles. The connection elements are the real standout features: unique profile junctions continue the internal cable guide of the corner and longitudinal profiles, ensuring continuous internal cabling. The internal cabling runs through and out of the profile junctions and can be removed from the frame at any point along the route. This removes the cable duct installation that would otherwise be required, as the cable ducts are built into the framing. Subsequent changes to the frame construction are no longer needed, saving time and money, including the potential for major savings in terms of the use of parts.
The FIP range is based on a 40-mm grid standard, meaning it can be combined and expanded with all basic mechanical element profiles from the profile roster. An extensive catalog of accessories, including end covers, separators, cover caps, edge protectors, and base plates, provides production planners and frame designers with additional benefits.
Another premier feature of the FIP system is its grooveless exterior, which, thanks to a hinged smooth cover, ensures that the profiles have a standardized finish. This provides a clean look throughout the entire construction. Customers can choose between plastic parts in signal gray or black finishes. The gray finish creates less of a contrast with the frame construction, whereas the black version is suitable for ESD-protected areas.
For more information, go to boschrexroth.com/en/us/products/product-groups/assembly-technology/topics/aluminum-profiles-solutions-components/function-integrated-profiles/.
Source: Bosch Rexroth
Published February 2022
Rate this article