Acura begins production of NSX Type S supercars -- will be the last of the NSX line ever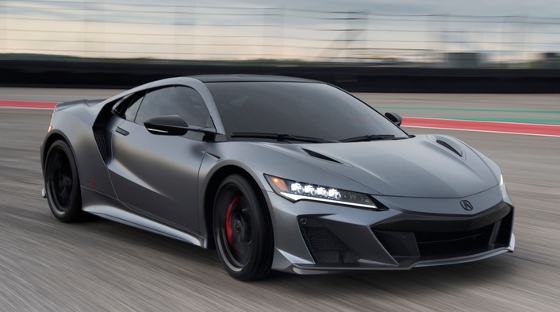 Acura's Performance Manufacturing Center (PMC) in Marysville, OH, has begun production of the limited-edition Acura NSX Type S -- the final year for the high-performance NSX model. The line is going out with a bang. The car features Acura's most powerful production drivetrain ever: an updated version of the supercar's twin-turbocharged V6 and three-motor hybrid system that produces 600 hp and 492 lb-ft of torque. Max speed is 191 mph. Zero-to-60 time is under 3 sec.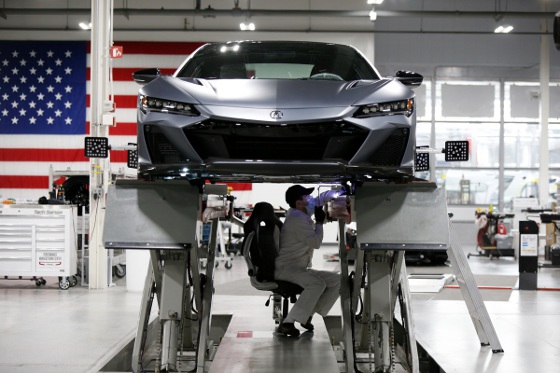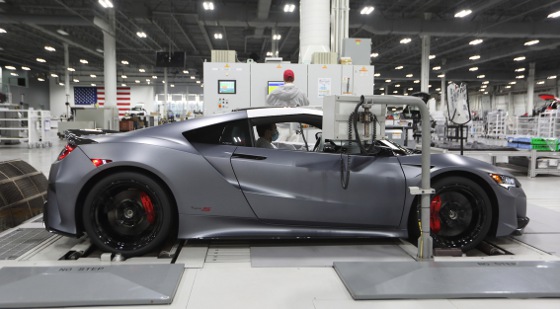 Celebrating the final year of second-generation NSX production, every 2022 Acura NSX produced at the PMC will be a Type S model. Just 350 of the limited-run supercar will be built for global distribution, with 300 units destined for U.S. customers. This is the first time the NSX Type S has been sold outside Japan.
"NSX is an incredible success story for Acura, leading the reestablishment of Acura as a performance brand and setting the stage for the return of Type S," said Jon Ikeda, vice president and Acura brand officer. "We're a company of enthusiast, and we're already investigating what the next generation of sports cars should be in the coming electrified era."

VIDEO: Acura NSX Type S promo video.
NSX Type S is instantly recognizable by its distinctive and more aggressive front and rear styling. It also features unique 5-spoke wheels, stickier Pirelli P-Zero tires, a re-tuned Adaptive Damper System, Type S decals, a standard carbon fiber roof, and available Gotham Gray matte paint.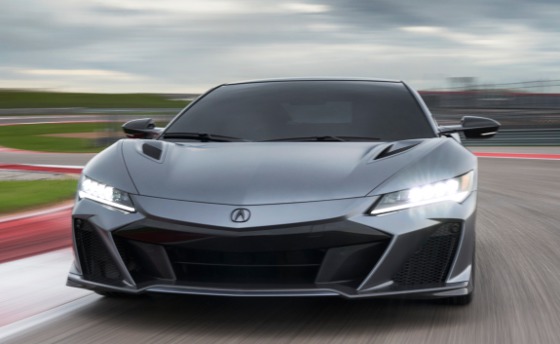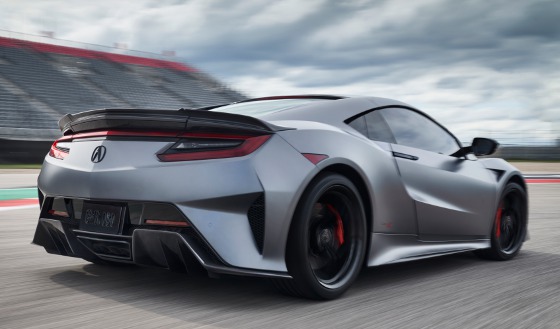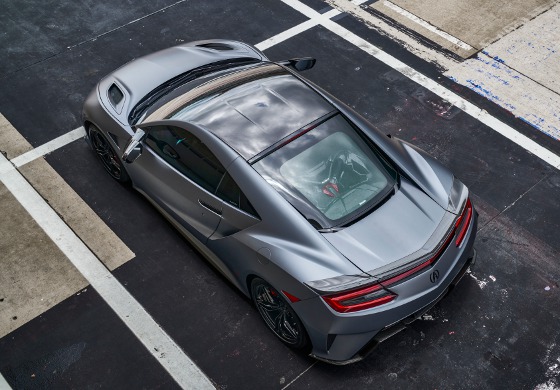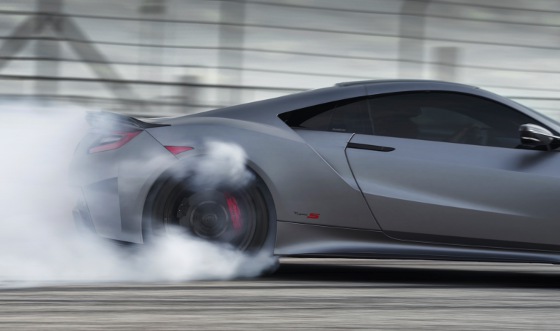 The supercar's 9-speed dual-clutch transmission (DCT) and torque-vectoring Sport Hybrid Super Handling All-Wheel Drive (SH-AWD) maximize performance. An available Lightweight Package includes Carbon Ceramic Brakes, Carbon Fiber Engine Cover, and Carbon Fiber interior package, reducing total curb weight by nearly 58 lb.

VIDEO: Acura NSX Type S walk-around at Monterey Car Week 2021 debut.
Hand-built in a special facility at the Anna Engine Plant in Ohio, the supercar's exclusive twin-turbocharged 3.5-L 75-degree V6 engine is enhanced with new fuel injectors (providing a 25% higher flow rate), new intercoolers (capable of dissipating an additional 15% more heat), and new turbochargers shared with the NSX GT3 Evo (delivering a 5.6% increase peak boost pressure from 15.2 to 16.1 psi). The result is an increase in engine output from 500 hp to 520 hp and 406 lb-ft of torque to 443 lb-ft.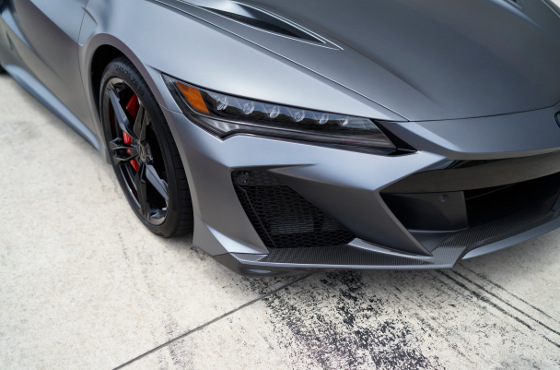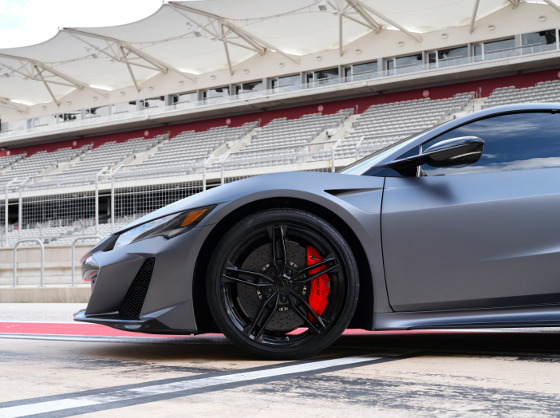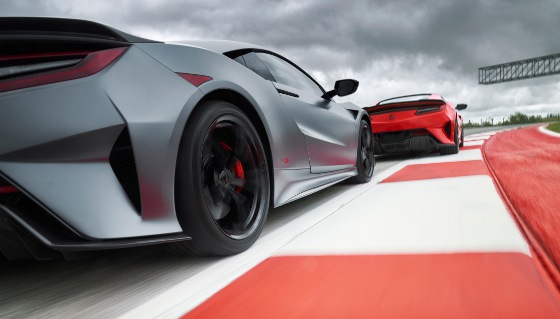 The gear ratio for the Twin Motor Unit (TMU) that powers the front wheels and provides active torque vectoring in corners has been lowered to 10.382:1 from 8.050:1. This 20% lower ratio increases off-the-line torque, giving NSX a powerful launch.

VIDEO: Acura NSX Type S development story.
To help cool the more powerful engine, a larger front grille opening allows more air to reach the radiators, while four additional openings, two on each side, route air to a sub-radiator behind each corner of the front bumper. The outermost air intakes also pass air through to the side of the car, working with the redesigned front corners to create an air curtain. This reduces the wake along the side of the car, improving air flow to the side-mounted air intakes for the intercoolers.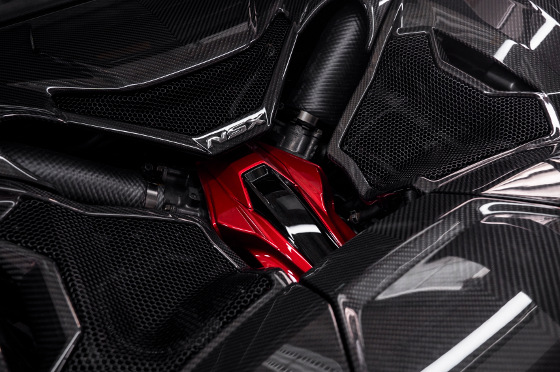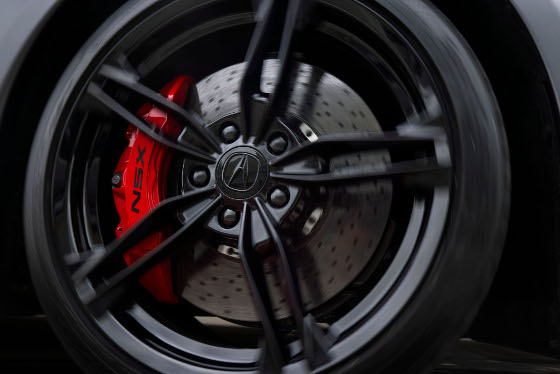 Additionally, the supercar's Intelligent Power Unit (IPU) that provides power to the electric motors is used more efficiently. This allows for a 20% higher usable battery capacity and 10% greater battery output. The higher capacity and output allowed engineers to re-tune the electric motors in the Sport Hybrid SH-AWD system for enhanced performance in all four modes of the Integrated Dynamics System (Quiet, Sport, Sport+, and Track) and deliver extended EV range.
NSX Type S routes power through a 9-speed DCT, which has been re-tuned for even greater performance. Enhancements include an all-new Rapid Downshift Mode, more aggressive automatic downshifting, even faster upshifts in Sport and Sport+ modes, and a higher rev threshold for downshifts in Track mode.
In Sport mode and above, the new Rapid Downshift allows the driver to skip several gears at a time by holding down the downshift paddle, rather than clicking through individual gears. When the paddle is held down for 0.6 sec, the transmission automatically selects the lowest possible gear for the vehicle's speed, reducing the amount of time spent shifting and allowing the driver to apply throttle even more quickly. Using the paddles to upshift in Sport and Sport+ modes has been improved with new programming that engages the clutch up to 50% faster from the moment the paddle is activated, improving acceleration.
For the 2022 NSX Type S, six-piston front and four-piston Brembo brakes with red-finished calipers are standard equipment. Upgrading to the Lightweight Package includes Carbon Ceramic Brembo brakes (available with Black, Silver, Red, or Orange calipers) and yields a curb weight reduction of nearly 58 lb.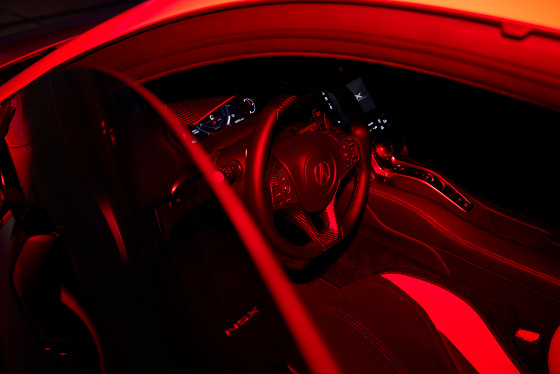 Inspired by the original NSX, the second-gen NSX interior is an ergonomic and driver-focused design that has been elevated in NSX Type S. Newly added features include an Alcantara headliner, embroidered Type S logo on the glove compartment, and embossed NSX logos on the headrests.
Additional interior details include contrast stitching and three available Alcantara and Semi-Aniline Leather combinations: Ebony, Orchid, and Red. Full Semi-Aniline Leather seats in Ebony or Red are optional.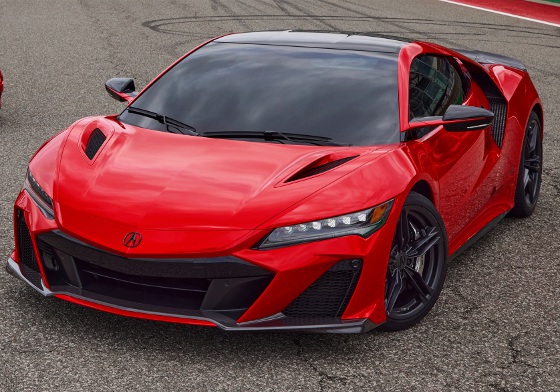 Loads of safety features and other tech. Pricing starts at $171,495. Learn more at acura.com/nsx-type-s.
Source: Acura
Published February 2022
Rate this article