Fluke 831 Laser Shaft Alignment Tool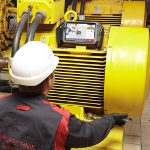 Misalignment causes at least half of all damage to rotating machinery, but instead of fixing the problem, teams often just treat the symptoms by replacing bearings, couplings, and seals. The new Fluke 831 Laser Shaft Alignment Tool makes shaft alignment easy with an intuitive guided user interface that enables quick and complete shaft alignment without advanced training or complicated programs.
Learn more.
---
Image sensor for virtual reality, drones, machine vision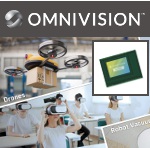 OMNIVISION has just announced the OG0VE global shutter (GS) image sensor, a small-form-factor, high-sensitivity device for AR/VR/MR, metaverse, drone, machine vision, and barcode scanner products. This new-generation image sensor is 26% smaller and more than 50% more power efficient than its predecessor. It supports one-lane MIPI D-PHY at up to 800 Mbps and was designed to address the high market demand for the smallest and lowest power-consuming cameras.
Learn more.
---
Smallest Smart Motor Module for DC fan applications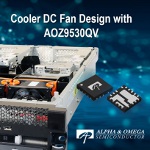 Alpha and Omega Semiconductor Limited has introduced an extension to its compact Smart Motor Module (SMM) family. Available in an ultra-compact, thermally enhanced 3-mm x 3-mm QFN-18L package, the highly integrated AOZ9530QV SMM is a half-bridge power stage with a slew of features and protections that simplify motor drive designs. It is suitable for use in a large number of BLDC fan applications ranging from PC and server fans to seat cooling and home appliances.
Learn more.
---
Application Note: Wireless -- Decoupling high-frequency signals from a DC supply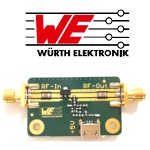 From 5G systems to radio and antenna applications, wireless communication accompanies us throughout our daily lives, so the demand for universal high-frequency amplifiers is correspondingly high. By selecting the optimal passive components, the transmission characteristics of the amplifier can be improved during development. A well-designed layout further improves RF performance. The aim is to transmit both RF signals and the DC supply on a single line without interference or cross-talk. A key component is the inductor for decoupling the RF and DC supplies.
Read this in-depth Würth Elektronik application note.
---
Smallest all-in-one LIN driver propels relay window lifters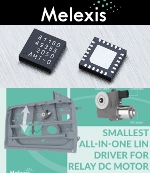 Melexis' new LIN pre-driver IC for relay DC motors offers a combination of high power, compactness, and attractive pricing. The MLX81160 is the latest addition to the company's Gen3 family of compatible embedded motor drivers. Its 48-KB of memory (16 KB ROM for the included LIN protocol and 32 KB Flash for the application software) is suitable for applications like window regulators.
Learn more.
---
Pull-type solenoids in a range to meet tons of applications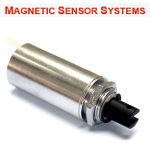 Magnetic Sensor Systems (MSS) has released their S-20-100X model of high-efficiency, low-cost Pull Type Tubular Solenoids (1 in. diameter x 2 in. long). Their S-20-100X series features 18 different solenoids to select from based on the voltage, duty cycle, force, and stroke requirement of the user. MSS solenoid coils typically use Class F 23- to 40-AWG windings with Class A insulation for better protection of the solenoid during longer duty cycles. Applications include: vending machines, medical dispensing, mixing, valve control, farm machinery, disconnects, transmission shifting, fire suppression systems, cabinet locks, door controls, and sorting equipment.
Learn more.
---
Industrial imaging at warp speed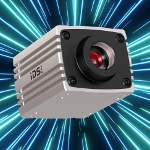 When fast-moving scenes need to be captured in all their details, a high-performance transmission interface is essential in addition to the right sensor. With uEye Warp10, IDS Imaging Development Systems GmbH is launching a new camera family that, thanks to 10GigE, transmits data in the Gigabit Ethernet-based network at a very high frame rate and virtually without delay. The first models with the IMX250 (5 MP), IMX253 (12 MP), and IMX255 (8.9 MP) sensors from the Sony Pregius series are now available.
Learn more.
---
Top Tech Tips: How to specify electric rod-style actuators for optimal performance, reliability, and efficiency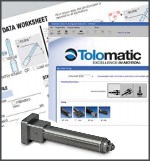 Andy Zaske, Vice President, Tolomatic, provides his Top 10 Tips for specifying electric rod-style actuators, which have a higher initial cost, more advanced design, and more predictable performance compared to fluid power cylinders. This is a really thorough presentation filled with useful information.
Read the full article.
---
Standard IP65 slip rings with short lead times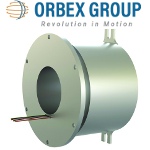 The Orbex Group, a leading manufacturer of high-performance electric motors and slip rings, introduces standard slip rings with an IP65 protection rating, providing washdown tolerance in many food, beverage, and pharmaceutical manufacturing applications. These washdown-ready slip rings feature stainless steel or aluminum housings. They offer flexible mounting options with through-hole diameters ranging from 25 to 100 mm, or capsule style when a through-hole is not required.
Learn more.
---
New polymers engineered for e-motor applications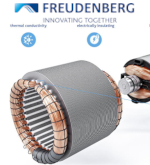 Freudenberg Sealing Technologies has expanded the use of its Thermally Conductive, Electrically Insulating (TCEI) materials to produce walled slot liners for electric motor applications. The company's TCEI material grades demonstrate superior thermal conductivity and better electrical insulation when tested against other thermoplastic materials currently available.
Read the full article.
---
Heatsink solutions for electronic housings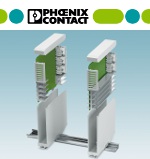 Phoenix Contact has increased the breadth and depth of its popular Industrial Case System (ICS) housing family to include both customizable passive heatsinks and heatsink fillers. New heatsink solutions allow design engineers to choose from a wide range of thermal management solutions to keep their components from overheating. To support the new heatsink solutions, a web-based, intuitive platform for thermal assessment has been incorporated into the Electronic Housing Online Configurator tool on Phoenix Contact's website.
Learn more.
---
Mini-FAKRA cable assemblies for automotive and industrial applications requiring high data transfer rates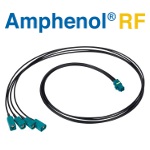 Amphenol RF has expanded its AUTOMATE Type A Mini-FAKRA product series with pre-configured cable assemblies. These assemblies feature a straight quad port mini-FAKRA jack on both ends and are designed on low-loss TFC-302LL. AUTOMATE assemblies support data transmission rates up to 20 Gbps, which makes them ideal for automotive and industrial applications that require high data transfer rates to communicate information for safety, performance, and entertainment without lag.
Learn more.
---
New compact touchless linear position sensors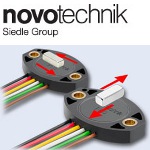 The TFD Series of touchless linear position sensors from Novotechnik provides wear-free operation in tight spaces. The TFD-4000 Series uses a magnetic position marker to provide a touchless measurement range of 0 to 14, 24, or 50 mm -- depending on model. These sensors make measurements through air and non-magnetic materials. Sensing direction can be either parallel or perpendicular to mounting holes. Applications include textile, packaging, and sheet metal machinery; medical applications; marine; mobile engine management; and construction, agricultural, and forestry machinery.
Learn more.
---
Top Tech Tip:
2D, 3D, or 2.5D? Choosing a vision system for your automation project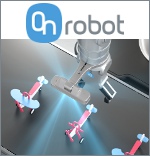 If you're looking at machine vision systems for automation, you will need to decide whether to invest in a 2D, 3D, or 2.5D camera system. That choice will have a major impact on the deployment's cost, complexity, capabilities, and functionality. OnRobot's Kristian Hulgard, General Manager - Americas, explains the differences, benefits, and shortcomings of each system type.
Read this informative OnRobot article.
---
Next-generation electronic digital comparators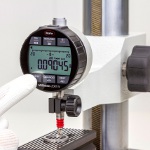 The Millimess 2000 W(i) and 2001 W(i) Digital Comparators from Mahr set new standards in metrology with unique and innovative features such as touch display, inductive measurement system, and integrated wireless connectivity. The systems combine practical and reliable operation with maximum precision using a unique inductive measuring system.
Learn more.
---
Flexible and stretchy supercapacitors could boost battery life for Internet of Things
A supercapacitor can store and release electricity just like a typical battery, but it does so with far quicker recharging and discharging times. A new supercapacitor material has the additional benefits of being flexible and stretchy. [Credit: University of Surrey]
Smartwatches, fitness trackers, and other Internet of Things devices could get a significant boost to their battery life thanks to new, environmentally friendly energy research from the University of Surrey's Advanced Technology Institute (ATI) in the UK and the Federal University of Pelotas (UFPel), Brazil.
In a paper published by the journal Nanoscale, a research team has demonstrated how a supercapacitor can be efficiently manufactured into a high-performance and low-cost power storage device that can be easily integrated into footwear, clothing, and accessories.
Professor Ravi Silva, Director of the ATI and Head of the Nano-Electronics Center at the University of Surrey, said, "Supercapacitors are key to ensuring that 5G and 6G technologies reach their full potential. While supercapacitors can certainly boost the lifespan of wearable consumer technologies, they have the potential to be revolutionary when you think about their role in autonomous vehicles and AI-assisted smart sensors that could help us all conserve energy. This is why it's important that we create a low-cost and environmentally friendly way to produce this incredibly promising energy storage technology. The future is certainly bright for supercapacitors."
A supercapacitor is a means to store and release electricity, like a typical battery, but it does so with far quicker recharging and discharging times.
In the paper, the research team describes a new procedure for the development of flexible supercapacitors based on carbon nanomaterials. This method, which is cheaper and less time consuming to fabricate, involves transferring aligned carbon nanotube (CNT) arrays from a silicon wafer to a polydimethylsiloxane (PDMS) matrix. This is then coated in a material called polyaniline (PANI), which stores energy through a mechanism known as "pseudocapacitance," offering outstanding energy storage properties with exceptional mechanical integrity.
The team's enhanced, wafer-thin supercapacitor retains most of its capacitance (the amount of separate electric charge that can be stored) after numerous cycles at different bending conditions, demonstrating its robustness, longevity, and efficiency.
Source: University of Surrey
Published February 2022
Rate this article