Boeing claims breakthrough in ultra-lightweight all-composite cryogenic fuel tank construction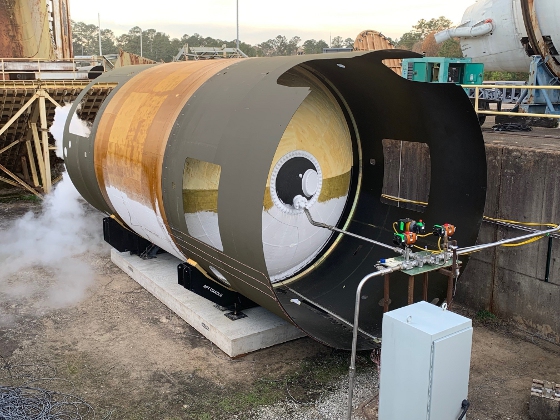 Boeing's all-composite cryogenic fuel tank undergoing pressure testing at NASA's Marshall Space Flight Center. [Credit: Boeing photo]
A new type of large, fully composite, linerless cryogenic fuel tank, designed and manufactured by Boeing, passed a critical series of tests at NASA's Marshall Space Flight Center at the end of 2021. The test campaign proves the new technology is mature, safe, and ready for use in aerospace vehicles.
The 4.3-m (14-ft) diameter composite tank is similar in size to the fuel tanks intended for use in the upper stage of NASA's Space Launch System (SLS) rocket, which is the foundational capability in NASA's Artemis lunar and deep space human exploration program. If the new composite technology were implemented in evolved versions of the SLS's Exploration Upper Stage, Boeing says the weight savings provided by the new technology could increase payload masses by up to 30%.
"Composites are the next major technological advancement for large aerospace cryogenic storage structures," said Boeing Composite Cryotank Manufacturing Lead Carlos Guzman. "And while they can be challenging to work with, they offer significant advantages over traditional metallic structures."
During the testing, which was funded by the Defense Advanced Research Projects Agency (DARPA) and Boeing, engineers from Boeing and NASA filled the vessel with cryogenic fluid in multiple test cycles, pressurizing the tank to expected operational loads and beyond. In the final test, which intended to push the tank to failure, pressures reached 3.75 times the design requirements without any major structural failure.
What makes the new tank technology a breakthrough?
Josh Barrett, Media Relations, Boeing, told Designfax exclusively, "These large structures require specialized knowledge, tooling, and equipment to fabricate -- and Boeing has been building this knowledge across the company for decades.
"Historically, micro-cracking of the composite wall at cryogenic temperatures has led to concerns over fuel permeation (leaking through the tank wall). An additional challenge is integrating the tank wall and the skirt -- basically where the tank connects to other pieces of the vehicle. In that area, the Y-joint specifically sees high mechanical and thermal loads."
"Finally," Barrett continued, "the integration of internal baffles and other features into thin composite walls must be considered. This new 4.3-m tank is leveraging thin-ply technology developed under previous efforts to mitigate permeation concerns, and a novel fracture-mechanics based Y-joint design. The tank also demonstrated slosh baffles bonded to the tank wall interior. The performance of each of these features was demonstrated in the full-scale cryogenic pressure test."
Boeing says applications for the technology expand past spaceflight. The test, which builds upon Boeing's extensive experience with the safe use of hydrogen in aerospace applications, will inform Boeing's ongoing studies of hydrogen as a potential future energy pathway for commercial aviation. In addition to use in space programs, Boeing has completed five flight demonstration programs with hydrogen.
Source: Boeing
Published February 2022
Rate this article