Alloy claimed to be better for soldering ADAS systems -- may help OEMS reduce risk of recalls
A global automotive materials specialist has demonstrated the reliability benefits of a unique alloy that it says can replace traditional tin/silver/copper (SAC) alloys in the design of Advanced Driver Assistance Systems (ADAS). Internal tests suggest the alloy can play a significant role in helping automotive OEMs eliminate the risk of solder fractures -- a potential cause of failure in ADAS hardware.
ESI Automotive recently performed a series of quality tests to assess the reliability of Innolot alloys compared to conventional SAC and tin-silver (SnAg) alloys. The Innolot alloy was developed with the automotive industry for use in high-temperature environments where vibration is also a factor. It is designed to offer significantly improved creep resistance, particularly when operating in temperature extremes such as within an ADAS circuit board assembly.
"We ran a series of thermal cycling tests, pitting Innolot against the traditional SAC alloy. For this, we tested the alloy on two different ball grid arrays (BGAs), which are surface-mount packages being used more in advanced safety designs," said Lenora Clark, director of Autonomous Driving and Safety Technology at ESI Automotive.
"Our testing demonstrates that the size of the package, the pitch, and the overall input and output does influence the characteristic life of the solder joint," said Clark. "Using both a 228 BGA and 256 BGA, the Innolot alloy improved solder joint reliability by a defined percentage when compared to the traditional SAC alloy. The percentile difference was 39% for the 228 BGA and 16.3% for the 256 BGA. This is a significant difference in reliability. Our results conclude that the creep resistance properties of the Innolot alloy offer significant improvements in reliability over standard SAC."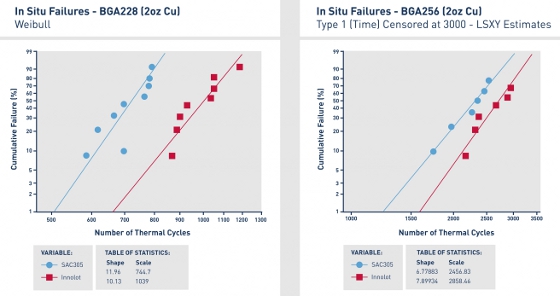 Innolot testing on two different ball grid arrays (BGAs). [Source: ESI Automotive]
"This is significant when you consider the context of carmakers progressing vehicle designs towards level-three autonomy," said Clark. "Traditional solder alloys are still commonplace within ADAS hardware designs, but as we move vehicle systems towards level-three autonomy, we need to consider alternative options.
"People don't always think about ADAS operating in harsh environments. These systems are doing a high volume of processing, and therefore generate their own heat as part of this function. In addition, because these systems are safety critical, carmakers need to ensure they are reliable enough to withstand up to 3,000 thermal cycles. This cycle of constant heating and cooling is too extreme for traditional solder to withstand in new vehicle designs, necessitating the need for a high-reliability alloy such as Innolot to reduce the risk of ADAS failure and associated warranty and recall situations."
According to ESI, "Innolot has been used in real-world applications since 2008. ... Although the motivation behind the alloy's development was to achieve higher operating temperatures in assemblies close to the vehicle powertrain, increasingly Innolot is being used in lower-temperature applications to extend service life, such as advanced safety systems, automotive lighting and high-power LEDs, and avionics."

Innolot solder characteristics -- ALPHA preforms. [Credit: MacDermid Alpha Electronics Solutions (see https://www.macdermidalpha.com/assembly-solutions/products/solder-preforms/alpha-innolot-solder-preforms)]
For more information about ESI's materials for ADAS hardware, visit esiauto.com/safety-systems-adas.
For a much more in-depth presentation of Innolot in this specific application, we suggest you see Webinar 3 (Innolot I) on the following page: esiauto.com/news/series-adas-web-tutorials.
Source: ESI Automotive
Published March 2022
Rate this article