In-wheel motor unit upgraded to carry 500 lb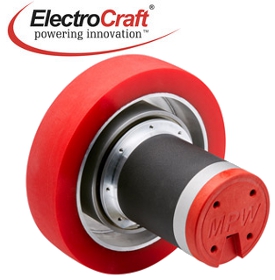 If you are a developer of mobile robots and the like, it may be worth your while to check out ElectroCraft. The motor and motion solutions provider has expanded its award-winning MobilePower wheel drive family with the MPW86, which features a high-torque-density brushless DC motor with a heavy-duty integrated planetary gearbox mounted inside the hub of a lightweight aluminum wheel with custom tread. The MPW Wheel Drive combines optimum performance with high efficiency, quiet operation, and long life -- and now it can handle heavier loads.
The MPW provides a complete motorized wheel-drive solution for mobile-platform OEMs, eliminating the need for the OEM to design a solution using disparate components from several different suppliers.
ElectroCraft MobilePower MPW series wheel drives feature an integrated design that provides increased performance and reliability compared to traditional motor/gearbox/wheel combinations. Most impressive is the small, lightweight form factor of the wheel drive assembly, which produces industry-leading performance. "Robotic OEMs can save space and reduce weight, without sacrificing load capacity and speed," says Scott Rohlfs, ElectroCraft's director of Product Marketing.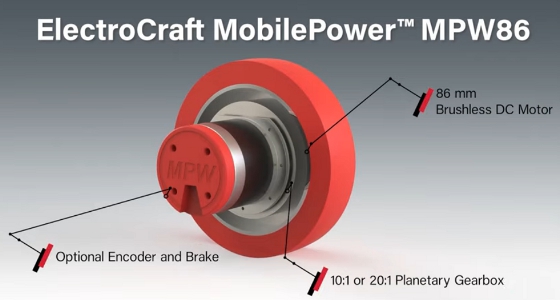 The newly released MPW86 Wheel Drive (200-mm wheel), provides a peak torque up to 35 Nm (310 lb-in.) at up to 4.3 m/sec, while carrying up to 227 kg (500 lb) per wheel.
Also available is the MPW52 Wheel Drive (150-mm wheel), which provides a best-in-class peak torque of 12.4 Nm (110 lb-in.) at 2.4 m/sec, while carrying up to 68 kg (150 lb) per wheel.
"This new model is ideal for larger-size Automated Guided Vehicles (AGV), Autonomous Mobile Robots (AMR), motorized carts, and tuggers, or practically any battery-powered application designed to transport heavy loads," says Rohlfs. "Available with eight different motor and gearing combinations, the MPW86 offers a variety of speed-torque configurations to match a wide range of application requirements."
Learn more at electrocraft.com/products/gearmotors/#MPW. If you talk to a sales engineer, don't forget to tell them you saw their product in Designfax.
Source: ElectroCraft
Published March 2022
Rate this article