Engineer's Toolbox: Landing-gear drop testing

Landing-gear manufacturers use load cells to measure shock forces and fatigue ratings during quality-assurance examinations. FUTEK's LCA Family of miniature column load cells offers a robust miniature design for these high-capacity measurements. See how it's done.
Products in use
Miniature Column Load Cells (LCA Family) paired with Instrumentation (IAC200, IPM650, IHH500, or USB Solutions) and SENSIT Test and Measurement Software.
How it works

Aviation engineers are required to perform a series of quality and fatigue tests on landing gear.
Utilizing compressive load cells, these test engineers are able to gauge the load applied to the landing gear during touch down.
Hydraulic actuators are typically used to perform these quality assurance checks.
At the base of the platform several Miniature Column Load Cells (LCA Family) are installed. As the actuator propels the landing gear into free fall, these load cells monitor the forces applied to the undercarriage of the aircraft.
This data can be summed together via FUTEK's IAC200 Junction Box and then read on either the digital displays (IHH500 or IPM650) or streamed to the USB Solutions.
Pairing the FUTEK SENSIT Software with this sensing system provides users with the ability to monitor up to 16 channels of measurement, as well as live graph and log data.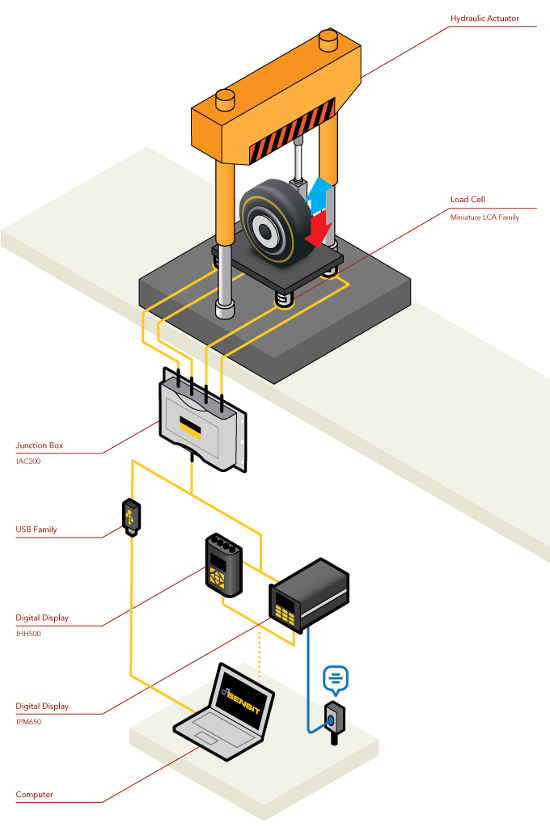 The setup equipment

Source:
FUTEK
Published March 2022
Rate this article