Latest cool military tech:
Drone surveillance system fits in pickup bed -- monitors 500 targets simultaneously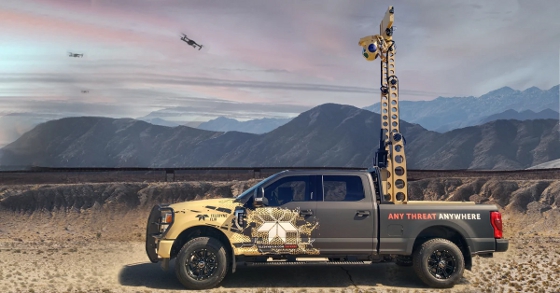 A next-generation Air Domain Awareness system from Teledyne FLIR Defense confirms clear airspace and boosts counter-drone operations beyond the line of sight. [Image credit: Teledyne FLIR]
Engineers at Teledyne FLIR Defense have created a powerful drone surveillance system that fits in the back of a standard pickup truck and can detect unmanned systems up to 3 km away -- and it can even execute a radio frequency (RF) kill chain using non-kinetic technology (soft-kill jammer immobilization, as opposed to hard-kill missiles/munitions) with a defeat range of up to 1.5 km horizontal/457 m vertical.
The new Lightweight Vehicle Surveillance System (LVSS) includes comprehensive air domain awareness (ADA) and advanced counter-unmanned aerial system (C-UAS) capabilities. The system leverages a powerful combination of 3D radar, EO/IR camera, and RF detection and mitigation sensors to provide early warning alerts and recognition. Threats are detected and displayed simultaneously, showing position and elevation for all radar tracks.
The LVSS ADA C-UAS also can detect drone swarms by allowing operators to monitor up to 500 radar targets simultaneously. A multi-spectral imager captures key UAS elements that help identify high-risk targets for a pinpointed response. Even more impressive, this is on-the-move technology that allows operators to obtain threat assessments while the system is static or while driving the vehicle.
Special consideration has been put into making sure the sensor suite can be quickly deployed (up and running in under 60 sec), stowed (less than 30 sec), and redeployed. High-performing video analytics allow operators to identify, track, and engage threats precisely. The analytics model can also be used to control the camera autonomously. Increased cyber security tools have been integrated to resist hackers. The whole system is run by the new Cameleon V5 command and control software, which integrates all onboard sensors and supports advanced device features and bi-directional communications.
Teledyne FLIR Defense is part of Teledyne Technologies.
Learn more at flir.com/products/lvss-c-uas/?vertical=integrated-systems&segment=uis.
Source: Teledyne Technologies
Published April 2022
Rate this article