Major improvements to Army Apache and Black Hawk helicopter engines in the works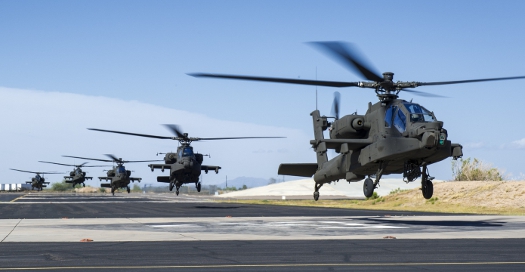 U.S. Army AH-64 Apache helicopters. [Photo Credit: U.S. Army]
On March 22, 2022, the Army's Improved Turbine Engine Program achieved a significant program milestone with the "light off" (the first time fuel is ignited in the engine to produce power) of the General Electric T901 First Engine to Test, or FETT. The T901 engine will replace the T700 engine currently on all Boeing AH-64 Apache and Sikorsky UH-60 Black Hawk helicopters and provide increased power, improved reliability, and better fuel efficiency.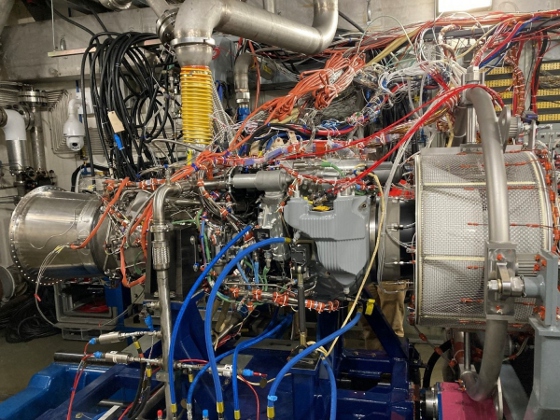 The Army's GE T901 First Engine to Test installed in the test cell prior to initial engine light off. The engine's light off marks the start of 100 hours of run time throughout the next two months to verify and validate engine performance models. [Photo credit: Courtesy of General Electric]
The T901 will also power the Future Attack Reconnaissance Aircraft (FARA). Scheduled for production in 2024, the FARA aircraft will be an "advanced, lethal solution with high growth potential." The Army has named the FARA as a top modernization priority supported under the service's new Futures Command structure. The choice for a final FARA design has been narrowed down to two contenders: the Bell 360 Invictus and the Sikorsky Raider X.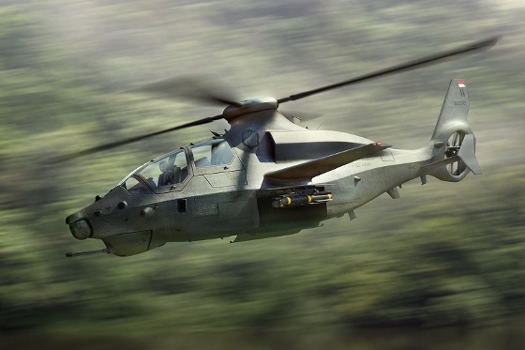 Bell 360 Invictus.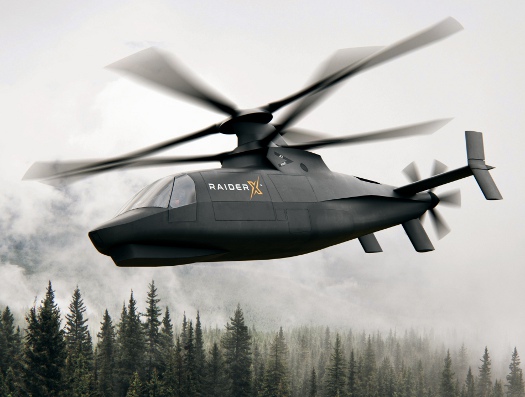 Sikorsky Raider X.
In turbine engine development, FETT is a critical milestone. It is the culmination of years of engineering design work that will verify and validate engine performance models through engine testing. To do this, the T901 is instrumented with over 700 sensors to capture performance data. In total, the T901 FETT will complete over 100 hours of run time over the next two months as the engine undergoes a gradual break-in process that builds up to maximum power runs.
FETT's completion will usher in the next phase: engine qualification. This summer, the testing team will utilize multiple engines to test against Army Military Airworthiness Certification Criteria standards. Successful testing will lead to ground and flight worthiness releases for the T901. Once complete, the engine will have undergone approximately 1,500 hours of full-scale ground testing for preliminary flight rating and close to 5,000 hours of testing for full engine qualification.
Next-gen manufacturing
AH-64 Apache and UH-60 Black Hawk aircraft have admirably served the Army mission for over 40 years and will continue to do so for many years to come. However, both platforms have added capabilities over the decades, which has resulted in increased aircraft weight. Consequently, payload and/or range has decreased accordingly. The T901 regains that lost capability, particularly in high/hot conditions -- above 6,000 ft and in temperatures higher than 95° F -- and improves upon it through increased shaft horsepower (shp) and reduced specific fuel consumption.
The Army's GE T901 First Engine to Test, shown fully instrumented and awaiting test cell installation. [Photo credit: Courtesy of General Electric]
Production of the ITE T901 combines additive manufacturing, ceramic matrix composite parts, and traditionally produced parts to generate 50% more power -- a 1,000-shp increase; 3,000-shp total -- and 25% better fuel efficiency (at maximum power) at roughly the same size and weight of its predecessor, the GE T700. The additional power of the T901 allows the Apache and Black Hawk helicopters to operate in high/hot conditions with a full mission payload. Similarly, the significantly improved fuel efficiency allows for increased range and loiter time while simultaneously providing a cost savings through less fuel burned per horsepower generated. The T901 will also have some lower greenhouse gas emission metrics compared to the T700.
Additionally, the T901 engine will bring an added synergy with the aircraft in its capabilities to provide predictive logistics that drive increased time on wing and improved reliability. The T901 engine incorporates an onboard engine health management system that supports Army Predictive and Prognostic Maintenance goals by using health monitoring sensors, embedded models, and algorithms. These technologies provide data analysis and lifecycle calculations that are designed to lower the demand for spare parts and reduce mechanics' workload per system.
The T901 is a combat multiplier and critical to multi-domain operations with significantly increased reach and lethality for the operational and future fleet through increased power, reliability and fuel efficiency. T901 FETT light off brings Army Aviation one step closer to that reality.
Source: U.S. Army, Lockheed, Sikorsky, Bell
Published April 2022
Rate this article