NSK develops world's fastest ball bearing for EV motors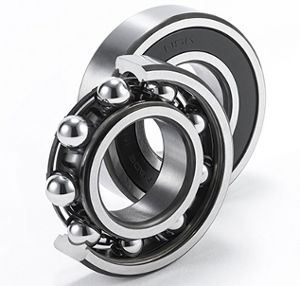 The combination of proprietary grease and a newly developed cage enables NSK's latest-generation ball bearing for EV motors to operate at over 1.8 million dmN.
Bearing manufacturer NSK claims that it has created the world's fastest grease-lubricated deep-groove ball bearing for electric vehicle (EV) motors. The development includes special cage and materials design, along with a special grease.
NSK is the top supplier of bearings in Japan and is the third-largest supplier in the world by market share.
Automakers are pursuing smaller and lighter automotive components and developing faster, higher-output motors operating at higher efficiencies. Because of this, bearings used in powertrains, especially in electric motors, are being subjected to increasingly higher speeds and more challenging performance demands.
NSK has been involved in development efforts to keep up with these trends. In 2020, the Japanese company announced that it had made significant advancements in cage and anti-seizure technology, and that these improvements were available in its second-generation ultra-high-speed ball bearing. That design boasted 1.4 million dmN for rotational performance, as measured by the product of bearing pitch diameter (dm) in millimeters and rotational speed (N).
The latest announcement from NSK concerns the third-generation model of the ultra-high-speed ball bearing design, which is aimed at EV motors and is capable of operating at over 1.8 million dmN (a 28.5% increase over the second-generation design).

The design steps taken by NSK to optimize the cage of the new bearing: 1. Issue -- Potential deformation of bearing cage due to centrifugal force. 2. Working shape -- Maximize strength and minimize weight of cage. Remove parts not contributing to durability or rigidity. 3. Final shape -- Verification of performance and production consideration resulting in the optimal design combined with ease of manufacturing.
Development of the new ball bearing concentrated on three main areas of improvement:
World's first cage designed with topology optimization: Topology optimization contributed to reducing weight to the utmost limit by removing parts that do not contribute to the strength and rigidity of the cage, and to deriving the optimal cage shape for high-speed rotation. The cage was developed with a very short turnaround by using leading-edge simulation technology to verify performance and production considerations.
Proprietary NSK grease for superior seizure resistance: The bearing is filled with a special NSK grease that reduces churning resistance and its subsequent heat generation, prolonging both grease and bearing life as well as reducing the risk of seizure.
A new high-rigidity cage material: The cage is made with a new high-rigidity resin material that is more effective at suppressing deformation during high-speed rotation than conventional materials.
NSK says the new ball bearings should enable customers to develop and implement smaller and lighter electric motors that operate at significantly higher speeds. Lightweight, more efficient motors can contribute to improved fuel economy and increased maximum vehicle range.
Learn more about NSK products for automotive applications at nsk.com/products/automotive/index.html and specifically for EVs at nsk.com/products/automotive/electrification/index.html.
NSK's U.S. operations are headquartered in Ann Arbor, MI. Their phone is +1-734-913-7500.
Source: NSK
Published April 2022
Rate this article