Cummins creating industry-first fuel-agnostic internal combustion powertrains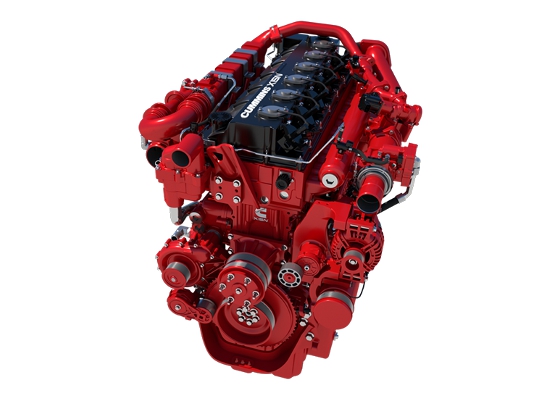 This new 15-liter natural gas engine for heavy-duty trucks from Cummins will also serve as the base platform for a hydrogen-powered internal combustion engine from the company. [Photo credit: Cummins]
Powertrains leader Cummins is taking a mix-and-match approach to creating the internal combustion engines of the future. The company's new platforms will use engine blocks and core components that share common architectures but will be optimized for different low-carbon fuel types such as natural gas and hydrogen.
These new fuel-agnostic engine platforms will feature a series of engine versions that are derived from a common base engine, which means they have a high degree of parts commonality. Below the head gasket of each engine will largely have similar components, and above the head gasket will have different components for different fuel types. Each engine version will operate using a different, single fuel.
This new design approach will be applied across the company's proven B, L, and X-Series engine lines, which will be available for diesel, natural gas, and hydrogen.
"This unique technology approach will allow end users to more seamlessly pick the right powertrain for their application with the lowest CO2 impact," said Jonathon White, vice president, Engineering, Engine Business, Cummins.
Parts commonality should offer increased benefits for both truck OEMs and end users, including similar engine footprints, diagnoses, and service intervals. This means it should be easier for OEMs to integrate a variety of fuel types across the same truck chassis, and there will be minimal costs to train technicians and re-tool service locations, resulting in a lower total cost of ownership for the end user.
The new fuel-agnostic platforms are designed and built upon what Cummins engineers have learned from the millions of diesel and natural gas engines manufactured and currently in use. Today's digital and connected technologies allow Cummins to extract insights specific to different engine duty cycles and leverage these to design reliable, fuel-agnostic platforms.
"No matter what type of work a fleet does, we'll have an engine powered by lower carbon fuels with diesel-like performance to get the job done," said White.
The new powertrain solutions are an important element of Cummins' strategy to go farther, faster, and reduce the greenhouse gas and air-quality impacts of its products. Two of the company's environmental sustainability goals for 2030 include reducing scope 3 absolute lifetime greenhouse gas (GHG) emissions from newly sold products by 25% and partnering with customers to reduce scope 3 GHG emissions from products in the field by 55 million metric tons.
"Having a variety of lower-carbon options is particularly important, considering the variation in duty cycles and operating environments across the many markets we serve. There is no single solution or 'magic bullet' that will work for all application types or all end users," said Srikanth Padmanabhan, president, Cummins Engine Business.
Powertrains that feature hybrids, battery electric, and fuel cells are also on the table for Cummins' future powertrain strategic offerings.
In October of last year, Cummins announced that it will bring to market a 15-liter natural gas engine for heavy-duty trucks. This engine is also the base for a hydrogen internal combustion engine in development and currently being tested. Both engine types are aimed particularly at fleets, because of the limited availability of specific fuel-type filling stations.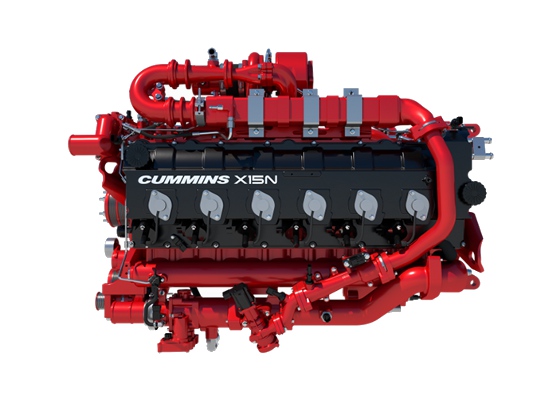 The new Cummins 15-liter natural gas engine. [Photo credit: Cummins]
According to the company, "When powered with renewable natural gas (RNG), using methane collected from organic waste as the primary fuel source, the system can be credited with a neutral to negative carbon index, resulting in net greenhouse gas (GHG) emissions at or below zero."
The 15-liter natural gas engine can be paired with a Cummins Eaton Automated Transmission Technologies Endurant HD Transmission and Cummins Fuel Delivery System, which ensures a purpose-built and fully integrated natural gas powertrain. Other transmission pairings will be available at launch for specialized applications. The 15-liter engine will offer ratings up to 500 hp and 1,850 ft-lb of torque. It is expected to weigh 500 lb less than comparable 15-liter diesel engines currently available on the market while not requiring Selective Catalytic Reduction (SCR) to meet 2024 California or Environmental Protection Agency emission standards.
The use of hydrogen as a fuel could introduce particular risks around hydrogen embrittlement and erosion within the engine. Cummins says its testing is currently targeting these concerns. Also, the technology is not pollution-free. The company says hydrogen engines do release some NOx, just like diesel and natural gas engines do. Hydrogen engines require an exhaust treatment system to remove the excess NOx. "As a result, hydrogen engines will reduce NOx to extremely low levels -- even lower than the requirements by EPA regulations for diesel engines in trucks today," the company says.
Cummins says a truck fitted with 700-bar fuel tanks with a total usable hydrogen capacity of 80 kg should have a range of 500 miles, and refueling should take about half an hour.
Werner Enterprises, a premier transportation and logistics provider, will be the intial real-world test case for validating the integration of the Cummins 15-liter natural gas and 15-liter hydrogen internal combustion engines in its vehicles. Cummins will begin integrating these new powertrains in Werner trucks in the second half of 2022, starting with the 15-liter natural gas product.
Cummins says, "Operating a vehicle on hydrogen is not necessarily going to cost less than operating the same vehicle on gasoline or diesel -- at least in the absence of government incentives." However, the equation may change in the coming years.
In related news, Cummins recently also announced that, through its affiliate Hydrogenics Europe N.V., it has signed a contract to supply a 2.5-megawatt (MW) electrolyzer to Hysetco, a hydrogen mobility company owned by Total Energies, Air Liquide, Toyota, Kouros, and others. The electrolyzer will enable local hydrogen production in Paris, France, to power Hysetco's project aimed at creating the largest hydrogen taxi fleet in the world fueled by 12 large hydrogen refueling stations by 2024.
Interested in knowing how hydrogen engines work? Cummins has an FAQ page for that. Go to cummins.com/news/2022/03/30/benefits-hydrogen-engines-hydrogen-infrastructure.
Source: Cummins
Published April 2022
Rate this article