Xerox aluminum wire 3D printer installed at Oak Ridge National Lab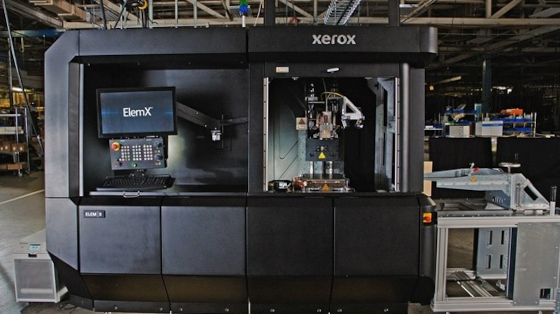 A Xerox ElemX 3D metal printer has been installed at the Department of Energy's Manufacturing Demonstration Facility (MDF) at Oak Ridge National Laboratory (ORNL) to advance metal Additive Manufacturing (AM) technologies.
The ElemX leverages Liquid Metal AM that uses cost-effective aluminum wire and is easily deployed, requiring no special facility modifications for operation. Unlike many metal 3D-printing technologies, the ElemX requires minimal post-processing, including no powder removal, debinding, or sintering, which means shorter overall cycle times.
You can view Xerox's gallery of 3D-printed parts made using this system here.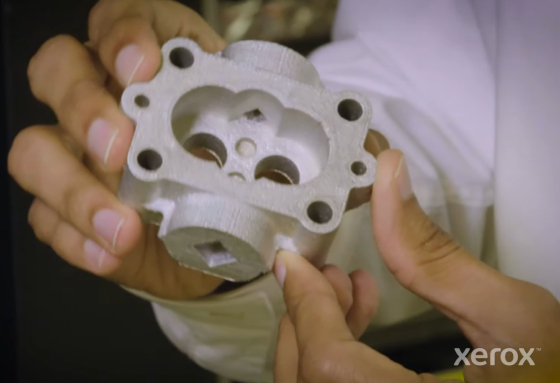 "This process is promising for high-volume applications such as automotive. Leveraging our experience with alloy development will help us expand the available number of alloys and applications," said Ryan Dehoff, section head for secure and digital manufacturing at ORNL.
ElemX is a safer and simpler metal 3D-printing technology addressing supply chain resiliency for transportation, aerospace, defense, and industrial manufacturing. Until now, the ability to 3D print aluminum consistently and reliably has challenged the market. Unlike other metal 3D-printing technologies, there are no hazardous metal powders with ElemX and no need for PPE or other considerable safety measures. It is an ideal option to produce spares, repairs, and low-volume production parts.
The build volume for the ElemX is 12 x 12 x 4.7 in. (300 mm x 300 mm x 120 mm). Maximum build rate is .5 lb/hr. It uses off-the-shelf, ultra-high-purity (99.999%) materials -- currently wire aluminum 4008. Known material properties are as good or better than input material. Minimum layer thickness is .24 mm. The surface finish is sand-cast comparable.
You can get full machine specs, along with a design guide and other information, here.
According to Dehoff, ORNL applies its science capabilities to solve challenges in AM by improving performance characteristics, optimizing systems and software to achieve mainstream manufacturing, developing qualification frameworks to create born-certified components, and developing a comprehensive understanding of process capabilities and limitations through physics-based simulation and advanced characterization. Researchers at MDF work with hundreds of industrial partners to advance the state of the art in AM and open up new avenues for exploration.
Xerox partners with Siemens too
Xerox is also part of a new collaboration effort with Siemens aimed at strengthening the metal AM capabilities of both businesses. Siemens and Xerox have a mutual interest to explore technical developments in automation, software, materials, and processes of the current and future ElemX systems.
This collaboration provides early-access opportunities for Xerox and Siemens to share advancements in digitalization solutions and automation software designed to impact the distributed manufacturing model. Siemens is the latest addition to the Xerox Manufacturing Partner Network (MPN) and continues its trajectory as a prominent and reliable partner in the AM industry.
Siemens has purchased an ElemX metal 3D printer, adding it to their fleet of additive machines inside their new (2022) Charlotte Advanced Technology Collaboration Hub (CATCH) in North Carolina. The CATCH facility focuses on the industrialization of additive manufacturing, working with machine builders, material suppliers, and end customers. The ElemX machine incorporates the state-of-the-art Siemens SINUMERIK 840D sl control platform with its embedded digital twin technology to optimize the printing process of aluminum wire.
Xerox Elem Additive Solutions provides hardware and software solutions that "equip manufacturers with the tools to reduce costs, eliminate long lead times, and improve part performance." It is one of the most uniquely positioned AM providers offering end-to-end solutions to the industry's most challenging problems. Learn more at xerox.com/en-us/innovation/insights/additive-manufacturing-3d-printing.
Source: Xerox
Published April 2022
Rate this article