High-torque flat motors for UAVs and robotics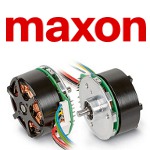 maxon's ECX flat BLDC motors are perfectly tailored to compact drive solutions that need a high torque. ECX motors are optimized for max performance thanks to their special winding tech and segmented magnets. These external-rotor motors feature a ratio of torque to weight and size that is second to none and are ideal for use in unmanned aerial vehicles and robotics. The iron-wound motors are available with diameters of 22 mm, 32 mm, and 42 mm in short or long versions. All variants are available with integrated encoders or speed controllers for a complete drive system.
Learn more.
---
Tech Tip: Gantry vs. Split Bridge system -- what's the difference?

Gantry motion systems and split bridge motion systems are often used in industrial production, testing, and additive manufacturing, but what makes one better than another for a given application? The experts at PI (Physik Instrumente) run through the basics.
Read this informative PI blog.
---
New hybrid hexapod has nanometer-level precision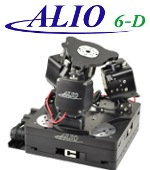 The Hybrid Hexapod from ALIO Industries has revolutionized 6D motion and redefined the role of motion control in applications that need flatness and straightness of motion plus stiffness, such as machining and bonding. It uses a tripod parallel kinematics structure to deliver Z plane and tip/tilt motion, integrated with a monolithic serial kinematic structure for XY motion. A rotary stage integrated into the top of the tripod (or underneath it) provides 360-degree continuous yaw rotation. Applications include optical, semiconductor, manufacturing, metrology, laser processing, and micro-machining.
Learn more.
---
Gearboxes for electric motors from Rexroth: a driving force for electrification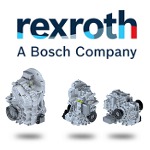 As part of its new, extensive eLION platform for the electrification of mobile working machines, Bosch Rexroth has developed spur gearboxes that vehicle manufacturers can use to unlock the full potential of new electric motors. The one- and two-speed gearboxes are installed in the central section of the vehicle and pool the energy in order to drive up to two axles with just one motor. The clever integration of essential components is evidence of the wealth of practical know-how that was drawn on throughout the development process.
Learn more.
---
OnRobot Palletizer: Complete, configurable, and easy-to-use modular solution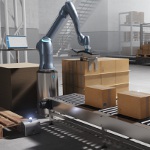 OnRobot has launched OnRobot Palletizer, a complete collaborative palletizing solution designed to take the physical and financial pain out of palletizing processes. It includes four new hardware and software products to make affordable collaborative automation available to companies of all sizes and technology skill levels.
Read the full article.
---
The new reliable actuator for heavy loads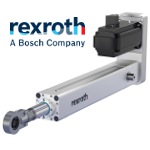 Bosch Rexroth's electro-mechanical cylinders (EMCs) are now available in a high-force, high-precision, low-maintenance version: the EMC-HP. Designed for loads up to 100 kN, the new actuators are robust and compact. Based on the reliable planetary screw drive, users will benefit from impressive continuous power -- even under harsh conditions -- thanks to both the new oil-bath lubrication and optional water cooling directly on the screw itself. A fully digital process, from selection to ordering, shortens engineering time.
Learn more.
---
New modular powered roller conveyor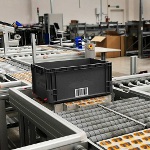 DynaRoller from Dynamic Conveyor is a new motor-driven roller (MDR), zone-powered conveyor system offering zero-pressure-accumulation functionality. Its patented design includes capturing all motor and drive components within an enclosed side channel, making it one of the safest roller conveyance options on the market. Integration with its patented, omnidirectional transfer units allows for right-angle transfers and diverting to meet the most demanding sortation needs.
Learn more.
---
Handle simple motion tasks electrically with less cost and more complex control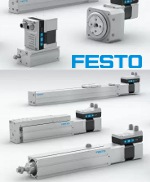 Bill Fontaine and Steve Hunt from iAutomation discuss the benefits of the Festo Simplified Motion Series. These integrated drives are the perfect solution for all users who are looking for an electric alternative for very simple motion and positioning tasks.
View the video.
Go to the Festo Simple Electric Automation Solution page.
---
Gear units, motors, and VFDs for intralogistics and warehousing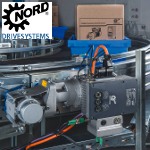 NORD's innovative and high-efficiency gear units, motors, and VFDs work in unison to transport items quickly with precise control and lower energy consumption. They are engineered to lower Total Cost of Ownership, reduce the number of system variants, and reduce overall maintenance time and costs. NORD's primary products for intralogistics include: LogiDrive Complete Drive Solution (gearbox, motor, and VFD), Condition Monitoring for Predictive Maintenance, and NORCON APP with NORDAC ACCESS Bluetooth Stick mobile commissioning and service solution for all NORD drives.
Learn more.
---
Low-cost motion control: CLICK PLUS PLCs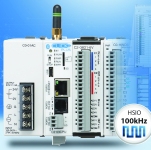 Automation-Direct has released the new CLICK PLC programming software version 3.30, which allows any CLICK PLUS CPU to be configured as a 3-axis PTO/PWM motion controller. 100-kHz high-speed inputs and outputs are offered with any DC option slot I/O module placed in slot 0 of the CPU. With this module, CLICK PLUS PLCs can easily perform velocity moves, homing commands, or interpolated positioning. Six CPUs available starting at less than 100 bucks.
Learn more.
---
SPEED DEMON EL300 for high-speed, low-friction, smooth linear motion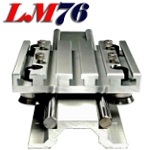 LM76 has introduced the SPEED DEMON EL300 high-speed rail and roller bearing system. It features travel lengths of 400 to 3,000 mm, a wide base, and 12-mm hardened steel parallel rails that ensure the radial roller bearings (wheels) of the carriage provide high torsional stability and high torque load stability. The base can be easily integrated directly into the user's system using the predrilled mounting holes or LM76's heavy-duty full-length mounting plates.
Learn more.
---
Customize your geared stepper motors online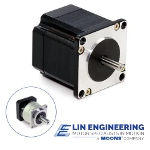 Lin Engineering's hybrid stepper motors matched with High Precision Planetary Gearboxes are the perfect solution for applications that require higher torque. Their gearboxes are designed and manufactured in-house and offer low backlash and high efficiency. They are available in multiple popular gear ratios including 5:1, 10:1, 20:1, and 50:1.
Learn more.
---
Solenoids vs. voice coil actuators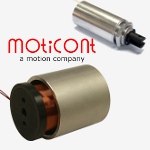 What are the differences between solenoids and voice coil actuators? Engineers at Moticont have the answers in a new blog entry. Both of these devices are electromechanical units capable of accomplishing similar tasks. Learn the major differences between the two so you can select the correct device type for your application.
Read the Moticont blog.
---
New PressFit encoders for small motors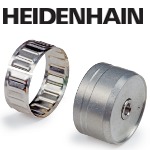 With the introduction of the evolutionary PressFit rotary encoders from HEIDENHAIN, small-motor manufacturers finally have a better solution for incorporating automated mounting for feedback devices. This new ExI 11xx encoder series features a unique compact design that allows fast and simple mounting by press-fitting into a motor housing while still allowing surrounding space for cables and seals. PressFit encoders are made for integration into motors with a flange size as small as 40 mm x 40 mm or an axis height of only 20 mm.
Learn more.
---
4-axis motion controller for highly dynamic applications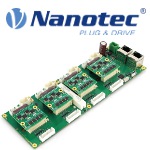 The CM-CPB3-44 EtherCAT controller from Nanotec controls four brushless DC or stepper motors with a rated power of up to 150 W per axis. Feedback on the motor position is provided by Hall sensors or incremental or SSI encoders. Each axis is equipped with four digital inputs, two outputs, one analog input, and one output for a safety brake. Field-oriented torque, speed, and position control, combined with other features such as acceleration feed forward and jerk-limited ramps, ensure optimum dynamic performance and cycle time.
Learn more.
---
Hyundai really going to try to build giant robot 4x4s with legs -- in Montana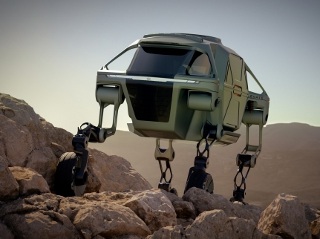 Hyundai's Elevate concept was first revealed in Las Vegas at the Consumer Electronics Show in 2019. It's a giant robotic 4x4 complete with walking legs and wheeled feet.
Like something out of a Star Wars movie, Hyundai is aiming to build giant 4x4 robotic vehicles -- in Montana.
Hyundai New Horizons Studio (NHS), a unit focused on the development of Ultimate Mobility Vehicles (UMVs), will open a new Research, Development, and Lab Center in Bozeman, located inside Montana State University's (MSU) Innovation Campus. NHS Bozeman is a new, $20 million project that will support prototyping, field testing, and application development for UMVs.
One of the main missions for the studio is to build vehicles "for future customers who want or need to travel over terrains which are challenging for conventional ground vehicles." The Bozeman team will initially focus on refining the development, testing, and deployment of two UMV models: an uncrewed transforming intelligent ground excursion robot designed to carry various types of payloads while traveling over treacherous terrain, and a larger, two-person vehicle with robotic legs based on Hyundai's Elevate concept. The Elevate concept was designed to address challenging driving situations and potentially save lives as a first responder in natural disasters.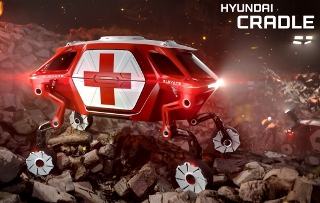 The Hyundai Elevate walking car concept could be used as a first responder during natural disasters.
The New Horizons Studio plans to add more than 50 full-time jobs at the location over the next five years. Many of the positions will be in the research and development space and will target expertise in mechanical hardware, electrical and electronics engineering, and materials and manufacturing. The estimated 12,000- to 15,000-sq-ft facility will be part of MSU's 42-acre Innovation Campus development, which is home to many technology and bio-tech businesses.
The Industry Building that will house NHS Bozeman will break ground starting in June 2022, while the first R&D office officially opens in June 2022.
The Hyundai New Horizons Studio has its headquarters in Fremont, CA, and a secondary office in Boston. It will be neat to see what really develops from all the group efforts.
Source: Hyundai
Published May 2022
Rate this article