Torpedo-like kills from the air: Air Force tests QUICKSINK smart anti-ship missile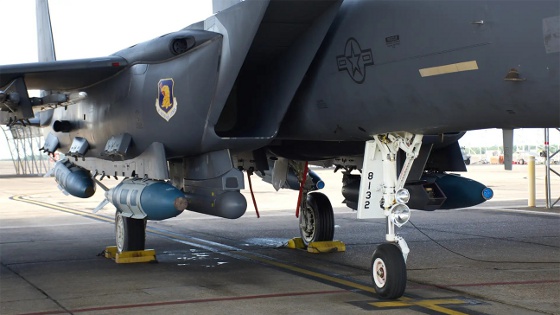 Four GBU-31/B Joint Direct Attack Munition Bombs are seen loaded on an F15-E Strike Eagle from 85th Test & Evaluation Squadron in this picture released in Aug. 2021. [Credit: U.S. Air Force photo by 1st Lt Lindsey Heflin]
The U.S. Air Force Research Laboratory (AFRL) and Eglin Air Force Base's Integrated Test Team demonstrated a new low-cost, air-delivered capability for defeating maritime threats April 28, 2022, by successfully destroying a full-scale surface vessel in the Gulf of Mexico.
During the test, an F-15E Strike Eagle released one modified GBU-31 Joint Direct Attack Munition (JDAM), the second experiment in the QUICKSINK Joint Capability Technology Demonstration (JCTD) funded by the Office of the Under Secretary of Defense for Research and Engineering. The test succeeded through a collaborative effort with AFRL, the 780th Test Squadron of the 96th Test Wing, and the 85th Test and Evaluation Squadron of the 53rd Wing.
While torpedoes predominantly sink enemy ships via submarines, new methods explored through QUICKSINK may achieve anti-ship lethality with air-launched weapons, including modified 2,000-lb JDAM precision-guided bombs like the one used in the Gulf of Mexico exercise.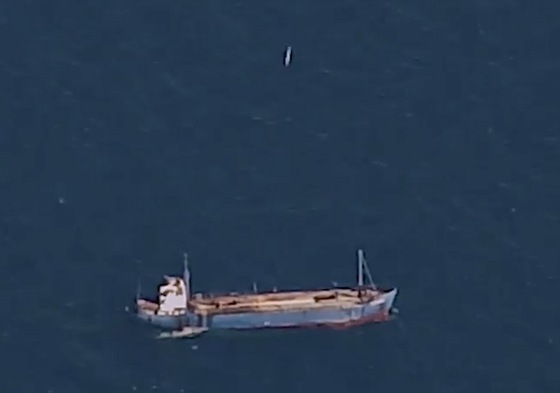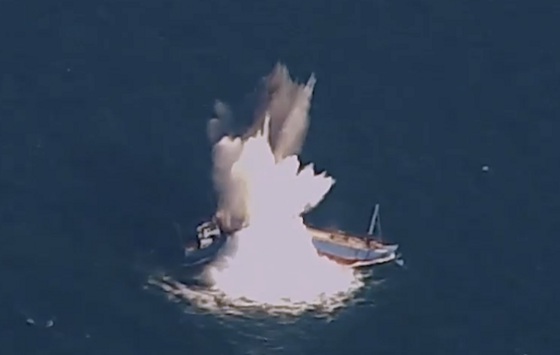 A QUICKSINK missile hits its full-size cargo ship target in the Gulf of Mexico test April 28, 2022. [Credit: U.S. Air Force video screenshots]
JDAM makes "dumb" bombs smart by adding on autonomous navigation capabilities. Using JDAM, QUICKSINK becomes a plug-and-play weapons system that is easily adaptable to different manufacturers' seeker components, so it is a versatile cost-saver.
An Air Force page on the JDAM tech says, "JDAM can be launched from very low to very high altitudes in a dive, toss, or loft, and in straight and level flight with an on-axis or off-axis delivery. JDAM enables multiple weapons to be directed against single or multiple targets on a single pass." As for accuracy, it says, "In its most accurate mode, the JDAM system will provide a weapon circular error probable (CEP) of 5 meters or less during free flight when GPS data is available. If GPS data is denied, the JDAM will achieve a 30-meter CEP or less for free flight times up to 100 seconds with a GPS quality handoff from the aircraft." Range is listed as up to 15 miles.
"A Navy submarine has the ability to launch and destroy a ship with a single torpedo at any time, but the QUICKSINK JCTD aims to develop a low-cost method of achieving torpedo-like kills from the air at a much higher rate and over a much larger area," said Kirk Herzog, AFRL program manager.
According to Naval News, when the armed F-35 fighter detects the target, "It fires an all-weather marine seeker-enabled munition that flies to the target's coordinates. After approaching the target, the seeker tracks its velocity vector and neutralizes it by exploding beneath it, much like a torpedo."

VIDEO: Kapow! Watch the AFRL QUICKSINK Joint Capability Technology Demonstration that successfully destroyed a full-scale surface test vessel in the Gulf of Mexico on April 28, 2022. An F-15E Strike Eagle released one modified GBU-31 Joint Direct Attack Munition as part of this test. [Credit: Video by Keith Lewis, Air Force Research Laboratory]

"Heavy-weight torpedoes are effective [at sinking large ships] but are expensive and employed by a small portion of naval assets," said Maj. Andrew Swanson, 85th TES division chief of Advanced Programs. "With QUICKSINK, we have demonstrated a low-cost and more agile solution that has the potential to be employed by the majority of Air Force combat aircraft, providing combatant commanders and warfighters with more options."
As it was released over the Gulf of Mexico, where Eglin operates the 120,000-sq-mile Eglin Gulf Test and Training Range, the test team watched the QUICKSINK demonstration online thanks to multiple camera feeds from aerial platforms.
This latest experiment allowed researchers to assess the scientific and technology challenges associated with the QUICKSINK concept for operational use.
"QUICKSINK is unique in that it can provide new capabilities to existing and future DOD weapons systems, giving combatant commanders and our national leaders new ways to defend against maritime threats," said Herzog.
Sources: U.S. Air Force Research Lab, Naval News
Published May 2022
Rate this article