Bentley Bentayga Extended Wheelbase SUV: Tool around like royalty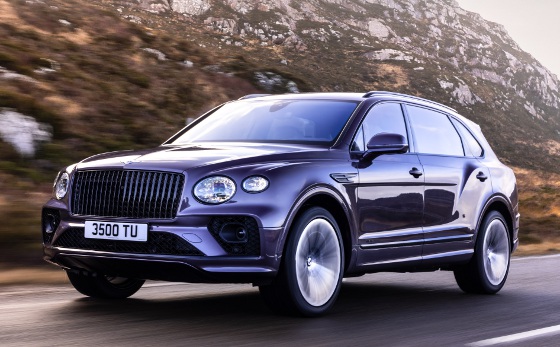 Bentayga EWB First Edition model.
How did Bentley bump up the luxe factor on its already over-the-top Bentayga SUV? It extended the wheelbase by 7 in. and concentrated on technology and materials that provide a top-of-the-line private-jet-like atmosphere on the ground. It's pure joy to drive, but owners may think sitting in the back provides the best seat in the house.
Bentley predicts this Extended Wheelbase (EWB) model -- the new flagship for the line -- will likely account for up to 45% of all Bentayga sales when the car goes on sale later this year.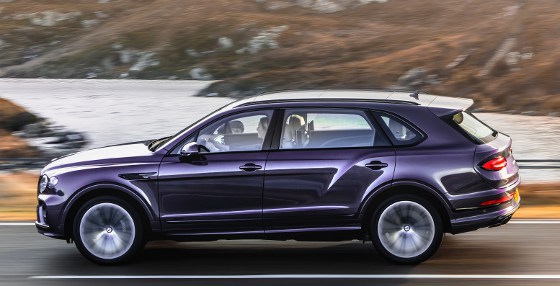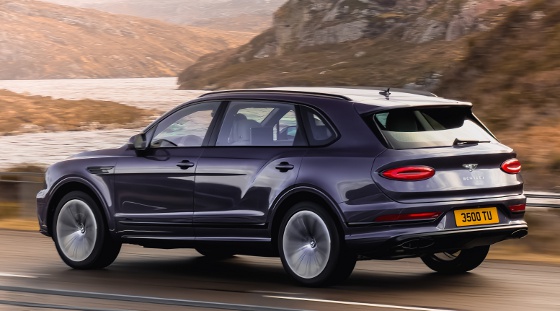 The Bentayga is not just a cushy setup on very nice wheels. Since its introduction in 2015, it has proven its credibility through genuine off-road capability, hybrid technology, record-breaking performance, and bespoke specifications. It's also Bentley's best-selling model.
The Bentayga EWB builds on the latest, second-gen Bentayga, extending the wheelbase and rear cabin space by an extra 180 mm (7 in.) and including body-in-white changes to the underfloor, side panels, door, and roof. The increased length is all in the rear door, creating an exceptionally luxurious rear cabin area. The wheelbase for the the EWB is 3,175 mm -- almost 10.5 ft -- with an overall length of 5,322 mm (almost 17.5 ft).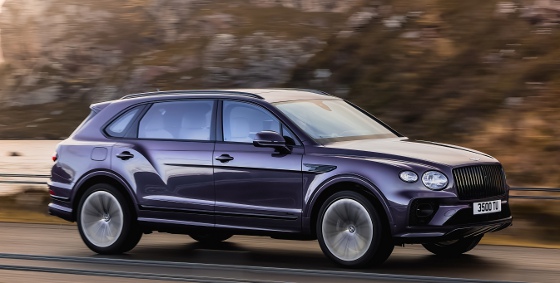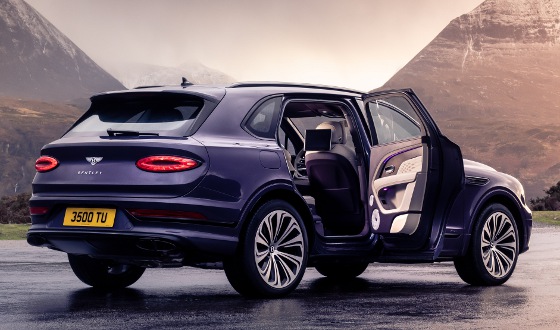 Four detailed exterior changes mark the new model: the longer profile, a new front grille, new polished 22-in. 10-spoke wheels, and a repositioned sunroof. The sunroof has been moved rearwards in the car by 125 mm (almost 5 in.) and can be controlled via the rear cabin touch screen remote, as well as by the front cabin console.
The Bentayga EWB is powered by Bentley's 4.0-L, 32-valve dual twin-scroll turbocharged V8 engine. Mated to an eight-speed automatic gearbox, the V8 offers supercar performance, providing 534 hp and and 568 lb-ft of torque. Top speed is 180 mph, and it does 0 to 60 mph in 4.5 sec.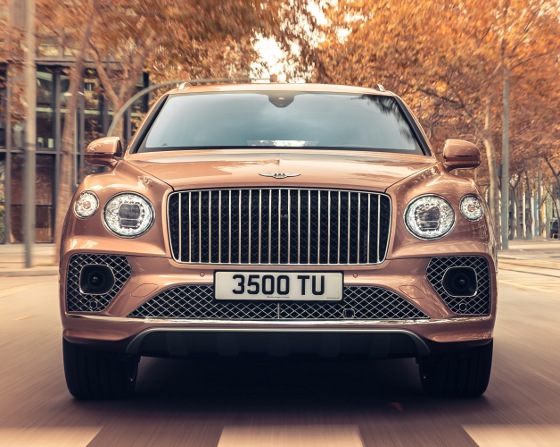 Bentayga EWB Azure model.
Bentley says more than 2,500 new parts have been introduced to produce the Bentayga EWB, including the significant body-in-white changes mentioned and a completely new underfloor. This has led to new manufacturing processes, layout changes, and infrastructure specifically for the new model. With over 50 pre-series vehicles produced, nearly 2,000 weeks of collective testing have been incurred in the development of the new EWB.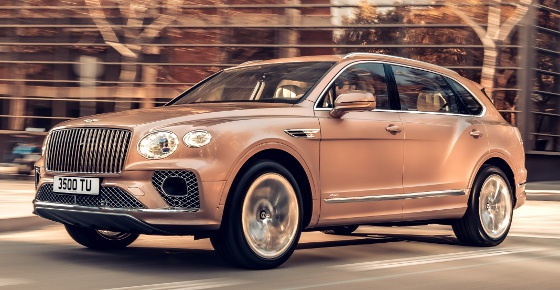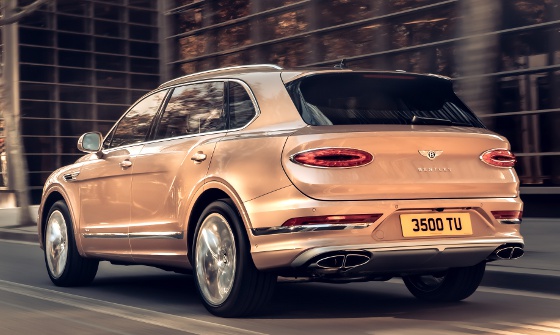 Two enhanced specifications of EWB will be available at launch. The Azure offers elegant and timeless design with unique signatures, focusing on maximum comfort and well-being with an effortless drive. Unique specs include 22-in. 10-spoke directional wheels, bright lower bumper grilles, and Azure embroidery and badging. Other additional features include quilted seats, mood lighting, heated steering wheel, and increased driver's assistance aids.
The First Edition spec builds further, including Bentley Diamond Illumination, metal overlays in the veneer, Naim for Bentley Premium Audio, and LED welcome lamps. Unique embroidery, inlays, and badging identify this exclusive model.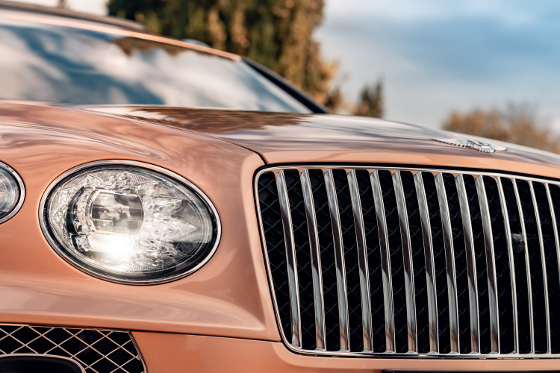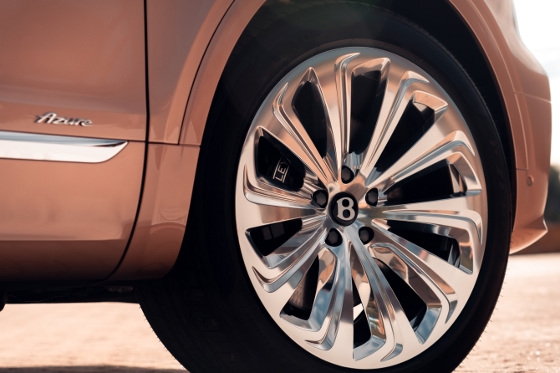 There are so many features, we can only hit a few. But here are some of the standouts.
EWB includes Electronic All Wheel Steering, a first for the Bentayga line, that helps ensure there is no shortfall of dynamic ability despite the longer wheelbase. The turning circle is 7% less than a standard Bentayga at 38 ft. Bentley Dynamic Ride, the 48-V active anti-roll control system introduced originally by Bentayga as a world-first feature, is also included as standard.
Inside, a lot of this car is about the rear passenger compartment. As standard, a 4+1 seating configuration is offered with two outer rear seats providing outstanding comfort, 16 ways of adjustment, heating, ventilation, and five individual massage programs. There is an occasional middle seat that can accommodate a third adult and gives access to a ski hatch in the backboard. Other configurations include a Four Seat Comfort Specification and a Five Seat option for those wanting the ability to fold down the rear backrests.
Bentley says its new Airline Seat specification is "the most advanced seat ever fitted to a car." It includes 22 ways of adjustment. In Relax mode, the seat can recline to 40 degrees, while the passenger seat is motored forward and a leather-trimmed footrest deploys from the back of the front passenger seat. In Business Mode, the seat moves into its most upright position to make working on the move more comfortable.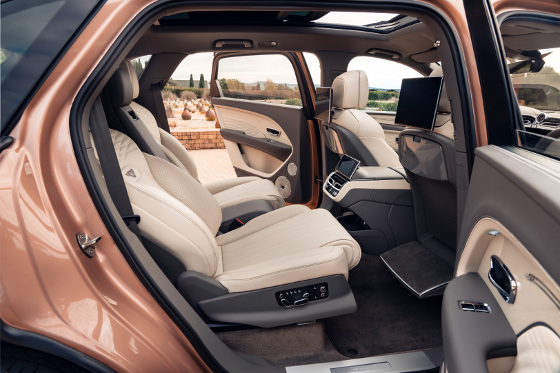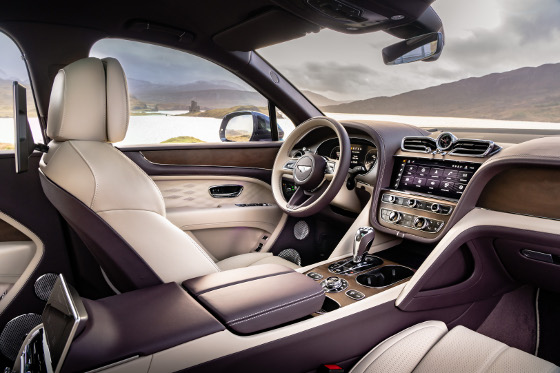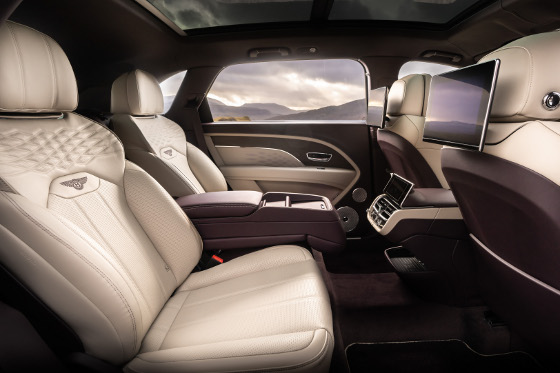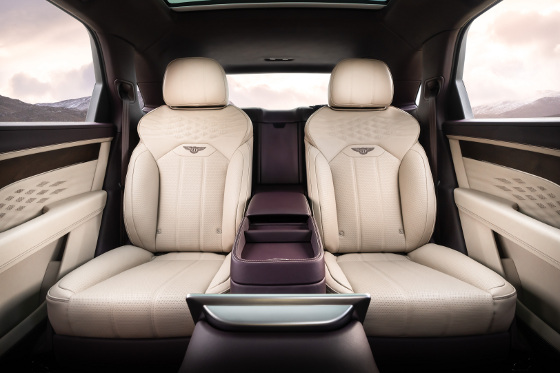 New auto climate seat tech senses occupant temperature and surface humidity and then determines whether to apply heat, ventilation, or both simultaneously to keep the occupant at optimum comfort. Meanwhile, the postural adjustment system automatically makes micro adjustments to the occupant's seating position and pressure points by measuring pressure across the seat surface. The system can apply 177 individual pressure changes across six fully independent pressure zones over a three-hour period, improving comfort and minimizing fatigue throughout a journey.
The heating, ventilation, and air conditioning system in the rear cabin, which Bentley almost considers to be a spa, has been enhanced to further improve onboard wellness. The rear ventilation activates only when rear occupants are detected, reducing rear cabin fan noise. The rear cabin has a separate air ionization system that aims to improve air quality.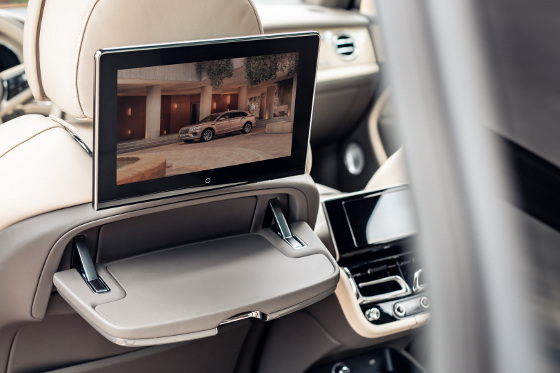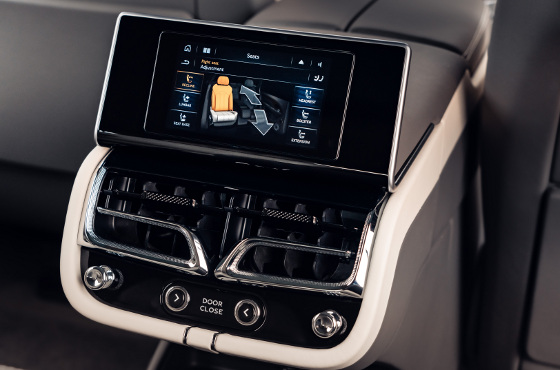 The interior lighting, called Bentley Diamond Illumination, is also something special. The illumination effect is achieved using LEDs (12 on each of the front doors and 22 on each of the rear doors) that emit light through small perforations 1 mm in diameter in the leather trim on the door panels. Light color and intensity can be controlled. Also fitted as standard are new "waterfall illumination" interior lamps that provide subtle illumination to the rear cabin.
For the first time on a Bentley, power closing doors can be specified. Two switches are located on the rear face of the extended center console within reach of rear passengers. Pressing and holding the switch will close the door on the corresponding side of the vehicle using dedicated motors.
Bentley did not release pricing for this new EWB model, but interested buyers should expect it to start at around $250,000.
Learn more at bentleymotors.com/en/models/bentayga-ewb.html.
Source: Bentley Motors
Published May 2022
Rate this article