The metal injection molding advantage: Don't waste 50% or more of your titanium or Inconel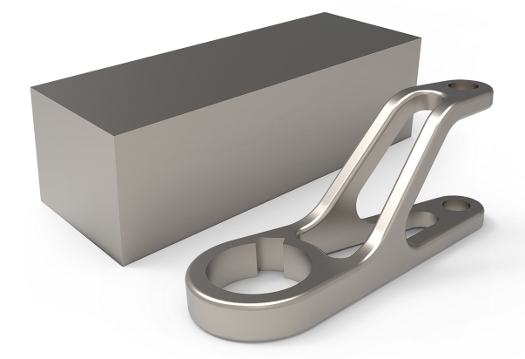 Smith Metal Products has outlined the cost advantage of using its metal injection molding (MIM) process over costly, high-performance metals requiring significant machining to achieve the final part geometry.
"When titanium, Inconel, or other expensive metals in bar, rod, or blocks require substantial hog-outs or hollow-outs, a sintered MIM part may cost less than the raw material alone prior to machining," says Todd Jensen, general manager at Smith Metal Products, which is based in Center City, MN.
With MIM feedstock only costing approximately 20 to 25% more than raw titanium or Inconel, the final net shape for a MIM part uses approximately 50% or less material volume than the raw unmachined materials. Additionally, machining time costs money, and in some cases excessive material is left on the parts just to save money, even though that added weight is not desired. Therefore, a significant cost advantage comes into play with Smith's MIM capabilities that presents some great opportunities for product manufacturers.
What is MIM?
Metal powder injection molding (MIM) is a component manufacturing process focused on forming complex-shaped, high-performance components in production quantities from metals or ceramics. It is a combination of plastic molding and sintered powders. It is successful as a production process when four main considerations are satisfied:
Low cost versus competitive fabrication routes;
High performance with competitive properties;
High shape complexity in a smaller component; and
Production quantities of 10,000 to millions annually.
MIM parts can shrink from their original molded condition (known as green state) to a finished sintering condition by 16 to 21%. But as a starting point, note the complex shapes possible with MIM that would be cost prohibitive in other forming methods. MIM also affords the designers of complex components the opportunity to combine multiple components into a single MIM component.
One of the keys to economic success is to apply MIM to complicated geometries, those that would require extensive machining. Further gains come by adding coring, holes, or other mass-reduction features. Lighter parts with equal or greater strength are possible compared to a machined component.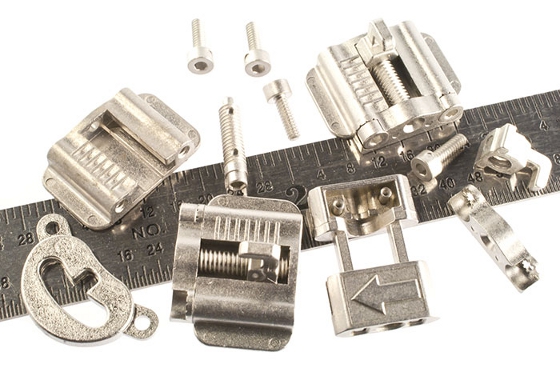 Alloys can be formed by mixing elemental powders to match the desired alloy -- for example iron, nickel, and chromium to form a stainless steel. The powders homogenize during sintering to deliver the alloy composition and properties. Another approach is to use pre-alloyed powder where each particle contains all of the elements. Ferrous alloys are popular MIM materials, and about 60% of the commercial activity is in stainless steels.

VIDEO: Metal Injection Molding and Ceramics Injection Molding -- Informative tradeshow presentation.
Components formed by MIM are widely used in dental orthodontics, portable computers, automotive engines, surgical instruments, electronic packages, watches, hand tools, firearms, sporting devices, and cellular telephones.
MIM materials availability
The materials listed below are Smith Metal Products' core material competencies and are currently developed and production ready for the MIM Injection Molding Process.
Low-alloyed Steels:

FN02 case hardening
FN0205 hardenable
4605 hardenable
FN08 both
8620 case hardening
8740 hardenable
4140 hardenable
100Cr6 hardenable
1010 case hardening
Stainless Steels:

316L non-magnetic
17-4PH hardenable
420 hardenable
430 ferromagnetic
440 hardenable
304 non-magnetic
Specialities:

Ti non-magnetic, inert
AOF ceramic, alumina
Soft Magnetic:

FeSi3
FN50
You can view the Smith Metal Products MIM design guide here.
Applications and more information
In recent months, Smith Metal Products has landed new projects for aeronautics, firearms, and medical components due to the high cost of many high-performance materials. These projects were previously machined parts and fit the MIM criteria, being typically less than 100 grams and lengths up to 4 in. x 0.25 in. thick or can be "cored out" to have thinner wall sections.
Smith will even help you trim down your part designs with free basic Design for Manufacturability assistance. Annual volumes for MIM components start at roughly 15,000 and range into millions per year.

VIDEO: 2020 Design Excellence MIM Part Award for Smith Metal Products Archery Component.
Smith Metal Products' 3D Binder Jet Metal Printing capability is designed to support a customer's research and development efforts with a bridge to MIM molded parts. This capability is especially desirable for reducing time-to-market developmental programs. In addition to not requiring time-consuming and expensive mold building to evaluate MIM parts, the new process can eliminate and/or significantly shorten lead time from R&D into full volume production.

VIDEO: For all you diagram/animation lovers -- Metal Injection Molding (MIM) Process [no sound].
Smith Metal Products is 100% Employee owned (ESOP) and operates a state-of-the-art 65,000-sq-ft facility that is ITAR, ISO 9001:2015, and ISO 13485 certified and holds FFL license. The company's controlled documentation system assures customers of consistent setup and repeatability on every production run.
The company operates the latest 3D Binder Jet Metal printing, electric molding machines, continuous and batch debind and sintering furnaces, catalytic debinding systems, 5-axis CNC machining and lathe centers, ceramic kilns, coining, laser etching/engraving, and inspection lab. Smith also provides rapid prototyping and a complete array of value-added services including plating, laser welding, heat treatment, surface finishing and polishing, assembly, final pack out, and more.
The company manages single and multi-cavity, hot runner and unscrewing mold design and builds at local domestic tool shops near the facility.
Learn more at www.smithmetals.com or call 651-257-3143. Email inquiries can be sent to sales@smithmetals.com.
Source: Smith Metal Products
Published May 2022
Rate this article