Desktop Metal introduces robotic sand 3D-printing system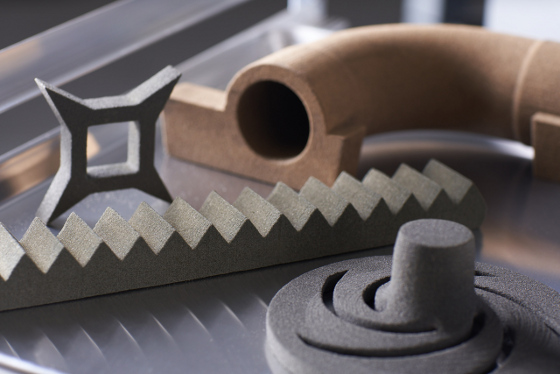 The ExOne S-Max Flex leverages the combined technology and application expertise of Desktop Metal and ExOne to deliver high-quality sand molds and cores with the surface finish foundries require. [Photo credit: Desktop Metal/ExOne]
Desktop Metal has launched the ExOne S-Max Flex large-format binder jetting system that 3D prints sand tooling, which foundries can use to cast complex metal designs for the aerospace, automotive, and energy industries, among others.
ExOne, which was acquired by Desktop Metal in late 2021, is a top digital sand-printing solution provider for foundries. The new S-Max Flex combines ExOne's sand-printing expertise in process and materials with proprietary Desktop Metal SPJ technology in an affordable architecture to foundries that have long wanted an S-Max but found the premium price out of reach.
Sand binder jet 3D printing has been used in foundries for more than two decades to create metalcasting tooling cost effectively and with low turnaround times. In the binder jetting process, an industrial printhead selectively deposits a binder into a bed of sand particles creating a solid part one thin layer at a time, similar to printing on sheets of paper.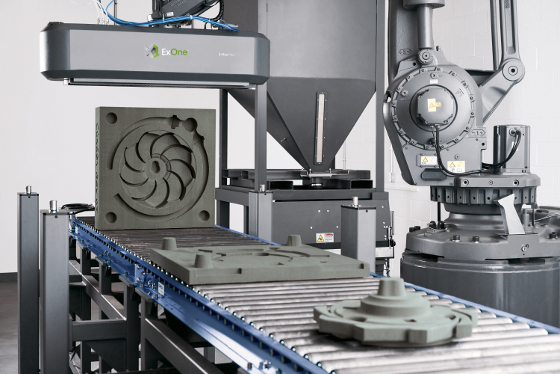 The ExOne S-Max Flex is an affordable and easy-to-use robotic additive manufacturing system that foundries use to 3D print large and complex sand molds and cores for metalcasting. [Photo credit: Desktop Metal/ExOne]
3D printing straight from CAD files enables foundries to eliminate the months-long lead times and high costs of traditional patterns and coreboxes created from wood or metal. The design freedom of additive manufacturing also allows designers to innovate the parts made with the reliable casting process, creating complex, consolidated geometries that enable lightweighting and optimized part performance
Early purchasers of the new S-Max Flex include Founders Service & Manufacturing Co. of Deerfield, OH, and HTCI Co. of New Carlisle, OH.
The S-Max Flex pairs an affordable industrial robot with an all-new end-effector printhead design that deposits binder into a 1,900 x 1,000 x 1,000 mm (74 x 39 x 39 in.) telescoping build box that grows as the parts are built layer by layer. Additional build-box sizes are available up to 4,700 x 1,000 x 1,000 mm (185 x 39 x 39 in.), with taller versions available up to 1,000 x 2,500 x 2,400 mm (39 x 98 x 94 in.).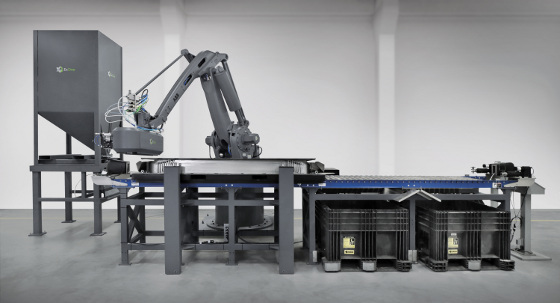 As part of a comprehensive turnkey package, the ExOne S-Max Flex features a telescoping build box that indexes vertically as the printer builds parts up layer by layer in the build box. After printing, the box has a release valve that empties the bulk of the sand through a drain system, leaving the finished parts in the box. [Photo credit: Desktop Metal/ExOne]
The all-new S-Max Flex prints standard silica sand with furan binders and delivers final parts with dimensional accuracy of +/- 0.5 mm. The high-throughput SPJ technology delivers a build rate up to 115 l/h. The system comes with several accessories and safety features that are configurable to fit a variety of spaces.
The S-Max Flex joins the premium S-Max and S-Max Pro solutions that are used in foundries worldwide.
Industries beyond metalcasting are also set to take advantage of the S-Max Flex's large form factor and ability to binder jet a variety of powders. Infiltrated sand tooling for plastic thermoforming, composite layup, and sacrificial tooling applications are printed today on S-Max machines, along with infiltrated sand consumer products, such as those offered by Sandhelden and Deeptime. Desktop Metal's Forust brand, which upcycles byproducts of the wood waste stream into consumer designs, will also leverage the new system to print large-form-factor wood parts at scale cost effectively. Additional projects are underway printing reclaimed concrete and other materials.
Learn more at exone.com/en-US/S-Max-Flex.
Source: Desktop Metal
Published June 2022
Rate this article