New electric cylinder tech from RISE™Robotics cuts energy use, recharges batteries, uses flat belt inside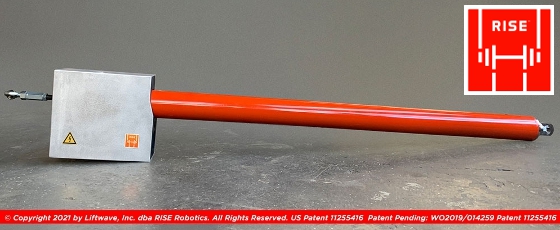 RISE™Cylinder from RISE™Robotics. [Credit: RISE™Robotics]
By Mike Foley
A new kind of electro-mechanical actuator from RISE™Robotics is claimed to use 65 to 90% less energy compared to hydraulic cylinders -- and recharges batteries through energy regeneration to boot. Designed for medium and heavy-duty applications, the RISE™Cylinder is also unique in that it uses special steel-reinforced polyurethane belts, inspired by the technology used in high-speed elevators, to get the lifting and lowering done.
RISE™Cylinder (US Patent 11255416, Patent Pending: WO2019/014259) is a fluid-free, electro-mechanical alternative to hydraulic cylinders. Its main applications are heavy equipment and machinery. It was developed by graduates of the Massachusetts Institute of Technology (MIT) and Rhode Island School of Design.
RISE™Technology is gaining a lot of interest in the mobile equipment industry as a solid replacement for hydraulics -- with extra benefits. To date, RISE™ has been awarded a partnership with Anthony Liftgates (an industry provider of class 8 trucking transportation liftgates for loading and unloading heavy goods) and a collaboration with Danfoss Power Solutions (a global supplier of mobile and industrial hydraulics as well as electric powertrain systems) to test the new cylinder tech on heavy machinery.

VIDEO: RISE™Robotics announces new partnership in liftgates. [Credit: RISE™Robotics]
"RISE™Technology is a superior solution whenever the combination of force, displacement, speed, and/or utilization have historically forced a hydraulic solution," says Arron Acosta, RISE™ co-founder and CEO. Acosta says the benefits of the RISE™ electric cylinder include: low power consumption and fuel cost, fluid-free and passively cooled system, light weight, low sound, precise and smooth control, and easy serviceability and low maintenance. In the long run, the system also improves productivity and extends machine life. Remote health monitoring helps eliminate downtime.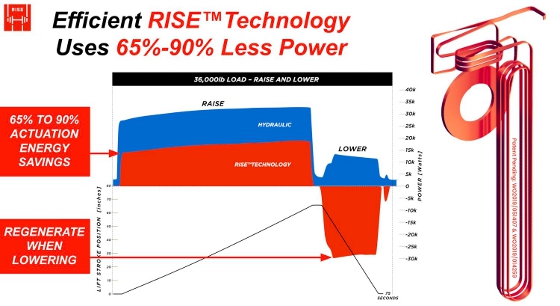 Energy consumption comparison between a hydraulic cylinder and a RISE™Cylinder raising and lowering a 36,000-lb load at the same move speed. [Credit: RISE™Robotics]
How-it-works basics
The RISE™Cylinder distinguishes itself in the electric actuator market particularly by its electric-regeneration capabilities when lowering and its use of belt technology.
Blake Sessions, co-founder and CTO of RISE™, explains, "RISE™Technology leverages a recent advancement in materials science: the modern steel-reinforced polyurethane flat belt. These belts are fundamentally capable of operating at pulley interface pressures in excess of 1,400 PSI for millions of bending cycles. We have developed a new design paradigm that treats these belts as a working power medium, much as hydraulic designers use hydraulic fluid as a working power medium.
"We have developed analogous subsystems to perform all of the functions that a conventional hydraulic circuit performs today: linear power transmission, shaft power conversion to and from the power medium, overload protection, safe accumulation of material that's not actively working, load sensing, and power transmission across reference frames within a machine design. With all of these solutions in place, we are able to construct full-fledged power systems that operate from a DC electrical bus and are able to animate a machine's kinematics with very high efficiency and without the use of hydraulic oil, enabling and accelerating the trend towards electrified, green machines."

VIDEO: What is a RISE™Cylinder? [Credit: RISE™Robotics]
The basics of the modified dual block-and-tackle setup in the original patent filing include a reel, belt, inner and outer drive shafts, sheaves, cylinder, rod, motor, friction drum and idler, and electronics. When in motion, one block-and-tackle unit expands while the other contracts. The cylinder also can be configured with a single internal block-and-tackle setup, as shown in the video above. The belt is terminated at two points and does not form a continuous loop.
The energy-regeneration tech, akin to how a hybrid car uses regenerative braking, is pretty simple to envision, albeit this is a miniaturized version. The flat-belt technology inside the cylinder, however, is more novel.
According to a blog on the RISE™Robotics site about the origins of the company and the technology, the development of the belt tech -- and how to keep the belt from degrading -- took some real engineering creativity and a lot of testing.
The blog states, "There are two ways to ensure that a belt will degrade quickly. The first is twisting the belt while in motion, causing the force to focus on its innermost structure. The second is fleeting it or bending it around an axis perpendicular to the belt's plane."
The key, the RISE™ engineers found over time and trial and error, was not to avoid twisting and/or fleeting, but to embrace both: "RISE™ landed upon the discovery that disproved common belt wisdom and cemented the viability of RISE™Technology: Though twisting or fleeting a belt is guaranteed to cause failure, combining the two produces a belt with a lifespan far greater than in its original form," the blog states.
This revelation also allowed the flat belt to be "routed in smaller areas and far more compact ways than a traditional system."
It's a key ingredient in the secret sauce that makes this electric cylinder tech unique.
Even more trials in the works
RISE™ was recently awarded a Tactical Funding Increase (TACFI) by the U.S. Air Force AFVentures to modernize a key piece of ordinance loading equipment, the MHU-083 Jammer. The contract is to design, build, and demonstrate a prototype lifting mechanism that uses RISE™Cylinder for loading the test ordinance smoothly onto fighter and bomber aircraft. RISE™ has also recently been awarded a Small Business Innovation Research (SBIR) Phase II contract to design an ultra-light loading machine for the United States Air Force. For more information about recent RISE™Robotics traction, please visit their news page.

RISE™Cylinders from RISE™Robotics. [Credit: RISE™Robotics]
Interested parties who want to know if the new electric cylinder tech will fit existing machines should note that, according to the company, "The RISE™Cylinder includes the 'pump box' at the base of every cylinder by default, although our 'pump box' can be placed remotely depending on the space allocated." A system view, as opposed to a component view, of the design is recommended.
RISE™Robotics is currently working with development partners. The company does not plan to offer a catalogue of cylinders.
This article is meant to be an introduction to RISE™Cylinder technology. Additional information and specs requests should be directed to lauren@riserobotics.com or check out the company's contact page. RISE™Robotics is located in Somerville, MA.
Source: RISE™Robotics
Published June 2022
Rate this article