Brushless slotted flat motor weighs only 15 grams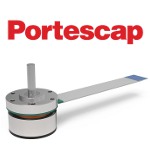 The 20ECF brushless slotted flat motor is the latest motor to join Portescap's flat motor line. The motor's 19-mm rotor diameter is notably smaller than the 20-mm diameter of competitive solutions. At 15 grams, the 20ECF provides a mass savings of at least 30% when compared to competing motion solutions. The motor's design optimization also helps it achieve a 50% improved motor regulation factor relative to standard available solutions. Applications include surgical and service robotics, lab automation, premium tattoo machines, electric grippers, LiDar, and pumps.
Learn more.
---
Efficient, reliable and flexible robot gripper optimizes machine tending operations

To continuously deliver high-quality results to its customers, WEFAG AG not only invested in new CNC machines, but also deployed a collaborative application with the 3FG15 gripper from OnRobot to tend the CNC machines. This makes it possible for the Swiss family-owned company to meet extremely short delivery times and smaller batch sizes confidently, while also reducing the workload of employees, who can now focus on more demanding tasks.
Watch how the 3FG15 delivered an ROI in 2 months.
Learn more: How to automate machine tending.
---
Differences between types of multi-axis positioning stages -- parallel vs. stacked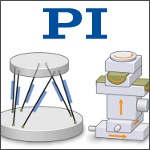 According to the experts at PI (Physik Instrumente), stacking individual motorized stages is a fine approach for assemblies of just a few axes, but as applications become more complex a 6-axis stage design based on parallel kinematics could be the best option. Learn about stiffness, inconsistent dynamics, size and weight fragility, and even cabling considerations for multi-axis applications. Lots of good info here.
Read this informative PI blog.
---
Universal Robots' new UR20 Cobot makes its U.S. debut at IMTS 2022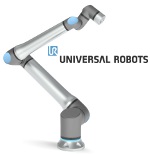 Attendees at North America's leading machine tool show (IMTS) are experiencing how the all-new collaborative, industrial cobot from Universal Robots delivers the longest reach and payload in its class, offering the ability to automate even more hard-to-staff tasks in a market struggling to hire. Also learn about cobot grippers, machine tending, robo welding, and more.
Read the full article.
---
Miniature voice coil servo motor with 1-micron resolution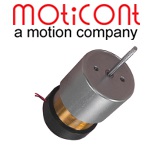 The miniature GVCM-016-019-01M Linear Voice Coil Servo Motor from Moticont is smaller in diameter than a dime and features a high force-to-size ratio of 1.5 N (5.3 oz) continuous force and 4.6 N (16.6 oz) of peak force. These brushless mini linear servo motors are clean, quiet, and feature high acceleration/deceleration, high speed, high reliability, and cog-free linear motion. An ideal choice for haptic feedback, pipetting in medical devices, machining and drilling, scanners, laser beam steering, sorting, assembly, and more. Can also be a low-cost replacement for pneumatic linear actuators.
Learn more.
---
MAHLE claims new EV motor is most durable -- can run indefinitely with high performance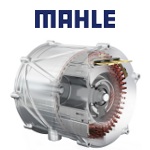 Automotive supplier MAHLE says it has developed "the most durable electric motor available" for electric vehicle (EV) applications. Unique to the market, the traction motor -- with a continuous output of more than 90% of its peak output -- can run indefinitely with high performance thanks to a new cooling concept.
Read the full article.
---
What are Crossed Roller Bearings?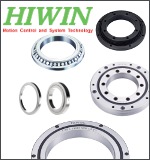 Learn all about HIWIN Crossed Roller Bearings that are three to four times more rigid than standard bearing solutions and are capable of handling loads in the axial, radial, and moment directions. They consist of an outer ring, an inner ring, and a plurality of rollers and spacers. The roller lies between the inner and outer ring with the spacers placed between the rollers to prevent the mutual friction between them, thereby decreasing the torque resistance for rotation. Many options are available depending on the level of rigidity needed.
Learn more.
---
Compact electrically controlled hydraulic actuator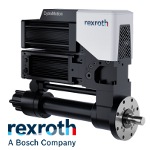 Bosch Rexroth has expanded its range of standardized self-contained actuators by adding the CytroMotion system solution. With the help of the new compact actuator, linear movements involving forces up to 110 kN can be achieved in a range of machines and systems in smaller spaces -- more efficiently and more sustainably. These benefits can be seen over the entire life cycle. Thanks to fully electric control, CytroMotion makes engineering and commissioning easier. The efficient, power-on-demand drive and the maintenance-free, hermetically sealed design also minimize operating costs.
Learn more.
---
Belt-driven actuators for harsh environments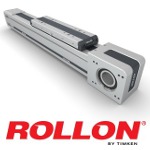 Rollon's newly enhanced Plus System lineup of belt-driven linear actuators can be integrated seamlessly with industrial machines. Combining sturdy construction, protective features (sealed), and high-performance characteristics for load, moment control, speed, and acceleration, the Plus System family features an anodized aluminum structure and steel reinforced driving belt. Three types available: Plus System ELM completely enclosed unit, Plus System ROBOT for multi-axis or SCARA robots, and Plus System SC for vertical motion in gantry applications.
Learn more.
---
Linear positioning and motion systems at IMTS 2022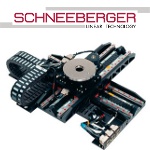 SCHNEE-BERGER Linear Technology will spotlight its precision positioning and motion systems at IMTS 2022 in September. On display will be a fully functioning demo of a complete linear motion technology system featuring the company's leading and most innovative linear motion components. When linear tech components are designed to work together to create the most effective solution for machine movement, OEMs can accelerate design and manufacturing, reduce assembly time and labor, and achieve a lower TCO.
Learn more.
---
Micro-sized FlexPro servo drive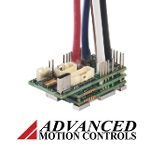 ADVANCED Motion Controls' new 60-A continuous FlexPro servo drive model FM060-60C-RM is the third "machine embedded" version in this power range, adding RS-485/232 communication to the previously released EtherCAT and CANopen versions. This drive can operate at its 60-A peak rating continuously with no need for current foldback -- impressive because the micro-package size means up to four units can fit within the footprint of a business card. Applications include cobots, AMRs, AGVs, portable devices, lab and warehouse automation, military equipment, and more.
Learn more.
---
NSK's new Active Casters help robots move effortlessly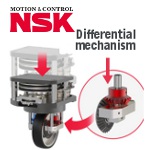 NSK has developed new Active Caster technology for service robots and mobility drive applications. The compact, electric-powered turning unit provides both drive and steering functions based on the difference in rotation between two motors. The developers say it generates less vibration compared to an omnidirectional mobility unit using Mecanum wheels.
Read this informative NSK article.
---
Hybrid stepper motor with 8-pin integrated connector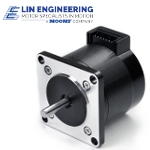 Lin Engineering's NEMA 23 (57-mm) hybrid stepper motor can be ordered with an 8-pin integrated connector that allows for multiple connection options. Standard and customized windings and shaft options are available to match your performance requirements, as well as customizable leads and wire harness. This high-volume-availability motor may be the perfect drop-in replacement for your designs if you are experiencing supply chain issues.
Learn more.
---
IronHorse jet pump and stainless steel motors
Automation-Direct has added the new, economical IronHorse MTRJ series of jet pump motors to their AC motor lineup. They come in a TEFC enclosure with a 56J frame that has a threaded shaft for direct connection to a jet pump, and are available in 120/230 VAC from 1/3 to 2 hp and in 208-230/460 VAC from 1/3 to 3 hp at 3,600 rpm. AutomationDirect has also added the MTS series of IronHorse motors that offer premium efficiency (EISA compliant) and come with an IP69K-rated stainless steel construction that can survive the harshest of environments. They are available in sizes from 1/3 to 20 hp in 208-230/480 VAC 3-phase and in speeds of 1,200, 1,800, and 3,600 rpm.
Learn more.
---
Machine learning eliminates cogging for linear motors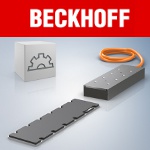 The highly dynamic AL8000 linear motors from Beckhoff now meet even greater requirements for accuracy and synchronization with the new TwinCAT Cogging Compensation software, which compensates for cogging forces. Cogging forces in linear motors are caused by the magnetic attraction between the iron core in the primary part and the permanent magnets in the secondary part. AL8000 linear motors are particularly suitable for high-precision applications such as milling machines or laser cutting machines.
Learn more.
---
Naval Research Laboratory designs robot for shipboard firefighting
In both war and peacetime scenarios, fire in the shipboard environment is serious and frequently results in excessive damage and high repair costs because the fire is not detected or controlled adequately. To help further improve future shipboard firefighting capability, scientists at the Naval Research Laboratory (NRL) have formed an interdisciplinary team to develop a humanoid robot that can fight fires on the next generation of combatants.
A humanoid-type robot was chosen because it was deemed best suited to operate within the confines of an environment designed for human mobility and offered opportunity for other potential warfighting applications within the Navy and Marine Corps.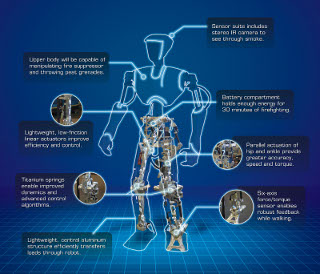 The Naval Research Laboratory's Shipboard Autonomous Firefighting Robot (SAFFiR) is a humanoid-type robot being designed for shipboard firefighting. Click here to view enlarged image.[Photo: U.S. Naval Research Laboratory]
The firefighting robot, called the Shipboard Autonomous Firefighting Robot (SAFFiR), is being designed to move autonomously throughout the ship, interact with people, and fight fires, handling many of the dangerous firefighting tasks that are normally performed by humans. The humanoid robot should be able to maneuver well in the narrow passages and ladderways that are unique to a ship and challenging for most older, simpler robots to navigate.
The robot is designed with enhanced multi-modal sensor technology for advanced navigation and a sensor suite that includes a camera, gas sensor, and stereo IR camera to enable it to see through smoke. Its upper body will be capable of manipulating fire suppressors and throwing propelled extinguishing agent technology (PEAT) grenades. It is battery powered and holds enough energy for 30 minutes of firefighting. Like a sure-footed sailor, the robot will also be capable of walking in all directions, balancing in sea conditions, and traversing obstacles.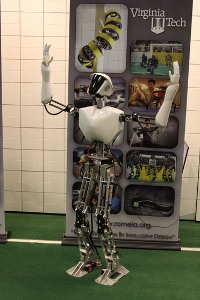 Virginia Tech and the University of Pennsylvania are working with NRL on the firefighting robot project, which will be a follow-on version to the existing Virginia Tech CHARLI-L1 robot, pictured here. [Photo: Virginia Tech]
Another key element of the SAFFiR development is to allow damage-control personnel and the robot to work cohesively as a team. Algorithms are being developed to allow autonomous mobility and decision making by the robot as a team member. To enable natural interaction with a human team leader, the robot will have multimodal interfaces that will enable the unit to track the focus of attention of the human team leader, as well as to allow the robot to understand and respond to gestures, such as pointing and hand signals. Where appropriate, natural language may also be incorporated, as well as other modes of communication and supervision.
Researchers from Virginia Tech and University of Pennsylvania are also working with NRL on the project. They plan to test the firefighting robot in a realistic firefighting environment onboard the ex-USS Shadwell in late September 2013.
Source: NRL
Published March 2011
Rate this article