Airbus RACER copter-plane prototype aims for first flight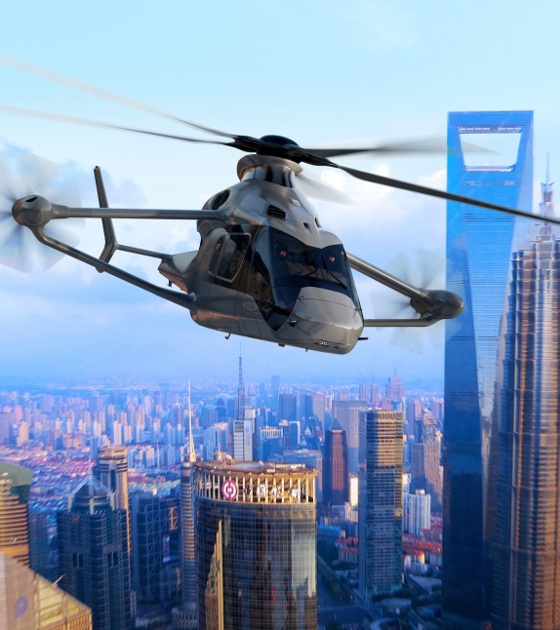 [Credit: All images courtesy of Airbus]
Airbus is making progress on final assembly of the high-speed RACER prototype rotorcraft, which features an innovative box-wing design, a combination of a traditional main rotor and lateral rotors, hybrid metallic-composite airframe, and an air speed of almost 250 mph (400 km/h). The average helicopter reaches speeds of about 160 mph. The target for first flight is by the end of this year. The RACER concept was first unveiled at the Paris Air Show in 2017.
RACER stands for "Rapid And Cost-Effective Rotorcraft." The experimental helicopter is being developed as part of the European Research Clean Sky 2 project, which involves 40 partners in 13 European countries. The overarching goal of the project is "achieving the best tradeoff between speed, cost efficiency, sustainability, and mission performance," including a 25% cost reduction per distance over a conventional helicopter.
Airbus says fuel savings will be generated "thanks to the innovative Safran eco-mode hybrid-electrical system, which allows one of the two Aneto-1X engines to be shut down while in cruise flight. The particular architecture of the RACER formula will also contribute to lowering its operational acoustic footprint."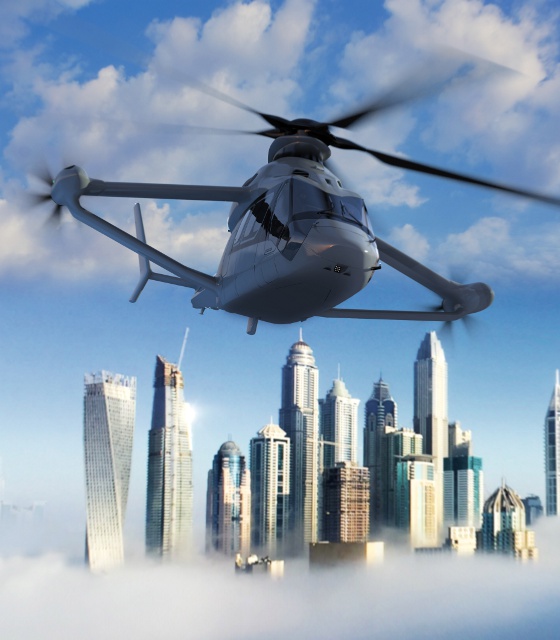 The box-wing design will provide lift in cruise mode while "isolating passengers during ground operations from the 'pusher' lateral rotors designed to generate thrust in forward flight." The lateral rotors have been optimized for performance and low acoustic signature, as has the main rotor, which will be driven by two RTM322 engines that provide up to 25% more power than similarly sized engines.
An "eco mode" will be tested by the engine manufacturer to demonstrate an electrically powered "start and stop" of one engine in flight, which will generate fuel savings and increase range. The RACER demonstrator will also benefit from a hybrid metallic-composite airframe, specifically designed for low weight and low recurring costs, and new high-voltage direct current electrical generation.
The RACER is the next-gen design that stems from Airbus' self-funded, high-speed compound rotorcraft X3 demonstrator, which validated the compound aerodynamic configuration -- a combination of a traditional main rotor and innovative lateral rotors. RACER is aimed at bringing this design to real-world flight applications where increased speed and efficiency will bring significant added value, including emergency medical services and search-and-rescue operations, as well as for public services, commercial air transport, and private and business aviation.
According to Airbus, the first assembly phase took place at Airbus Helicopters' site in Donauworth, Germany. Several major components were installed there, including the canopy, box wings, fuel system, cowlings, and more. Now, RACER has been transferred to Airbus Helicopters' site in Marignane, France, for the final assembly.
According to a March 2022 article in Aviation International News (AIN), Airbus has received nearly 100% of all parts from its Clean Sky 2 partners.
Many of the partners contributed by designing and manufacturing components and assemblies in their own manufacturing centers and then shipping them to Germany. An April 2021 article in Aerospace Testing International stated, "Several European countries are designing and making different parts of RACER: the central fuselage is from Romania, the side shells and canopy are from Germany, the fuel systems and engines from France, the wings from the UK, the landing gear from Lithuania and the rear fuselage from Spain."
Some system highlights include the following.
Airbus says RACER'S lightweight airframe is a major achievement: "This is the first time such an advanced hybrid helicopter structure, incorporating both metallic and composite primary structural elements, has been produced in Romania."
Made of carbon fiber-reinforced plastic (CFRP), Airbus says "the 3.4 x 1.5-meter cover for the RACER's side panels connects the tail boom to the aircraft's cockpit. Such large-format CFRP shells are traditionally made manually, but RACER's shell components have been manufactured in a highly automated process thanks to a new method developed by a research team from the Fraunhofer Institute for Foundry, Composite and Processing Technology IGCV in Germany."
Team in front of RACER side shells.
Airbus also says, "The fuel system has been designed with a lightweight tank bladder material, and a new optical sensor is under development to be tested in the fuel bench in different conditions."
Each wing on RACER has been designed with high-performance ecological materials in a bid to reduce the weight of the aircraft.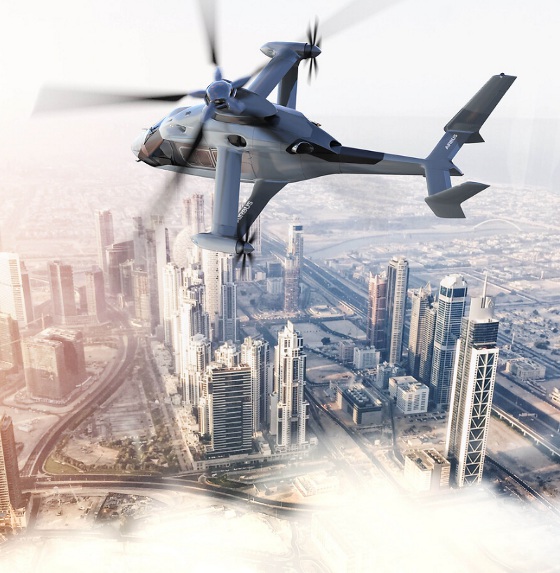 Brice Makinadjian, Airbus' chief engineer for the program, told AIN, "The fixed double wing is one of the most striking elements of the demonstrator and stands also as a 'major' component of the RACER formula. Its new wings -- which will have two lateral pusher propellers mounted -- actively enhance the helicopter's performance by providing additional vertical lift and the ability to fly further and faster than conventional helicopters. At cruise speed, roughly half the helicopter's lift comes from its fixed wing."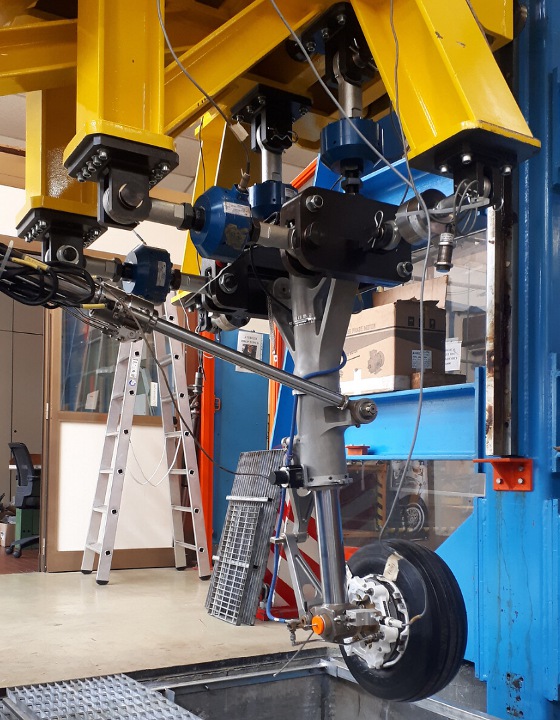 RACER's landing gear has been designed, manufactured, and tested by the ANGELA consortium, formed by the Centro Italiano Ricerche Aerospaziali, Magnaghi Aeronautica, and the Lithuanian-based Techno System Development. The landing gear was conceived to minimize drag when retracted and has been integrated inside the wing and fuselage with a movable-door system. It will provide a large track for a safe landing when extended.
Airbus also says RACER's "atypical H-shaped empennage and double tilted vertical/horizontal stabilizer, patented by Airbus Helicopters and ONERA, devised to enhance stability and energy consumption, have also required the implementation of innovative technologies. RACER will be the first Airbus aircraft to fly with a primary structure produced using additive manufacturing."
Let's see how it all comes together, and with a little luck -- and a lot of effort to overcome continuing supply chain challenges -- we may be able to report a first flight for RACER early in 2023.
Sources: Airbus, Aviation International News, Aerospace Testing International
Published June 2022
Rate this article