New 3D-printable foam expands to full size after heating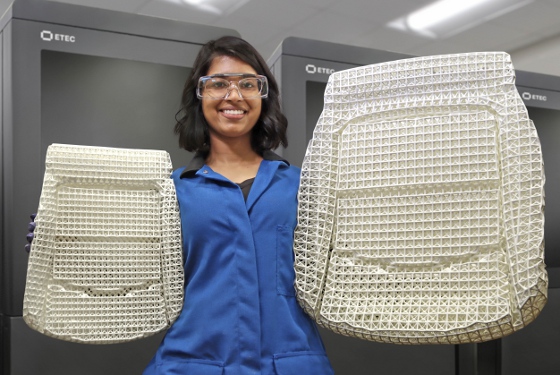 These automotive seats were 3D printed with FreeFoam photopolymer resin that can be expanded in an oven after printing. The seat on the left shows the material after 3D printing. The seat on the right shows the fully expanded seat after a quick trip through an oven. The seats were 3D printed on the ETEC Xtreme 8K top-down DLP printer from EnvisionTEC shown in the background. [Credit: Desktop Metal]
When we first heard about the new FreeFoam material that can be 3D printed and later heated to expand to its final, intended full size, we thought, "Hmmm ... that's weird," but later it dawned on us that this is incredibly useful -- especially given current supply-chain challenges.
Invented and developed by Texas-based Adaptive3D, FreeFoam is rife with possibilities. Adaptive3D, a leader in premium photopolymer and elastomer development, was acquired by Desktop Metal in 2021.
FreeFoam resins are 3D printed similar to other photopolymer resins using digital light processing (DLP), a stereolithography process that uses a projector to image each layer within a UV-curable, liquid plastic material. After 3D printing, FreeFoam parts can be expanded on-demand -- an hour, a week, or even a month later -- during a brief heating cycle in an oven at approximately 160 to 170 C (320 to 340 F).
The magic happens because the 3D-printed parts contain dispersed heat-activated foaming agents that create closed cell pores inside the material. This highly controllable process causes FreeFoam resins to consistently expand two to seven times their as-printed sizes, depending on the grade of resin, achieving final parts within desired tolerances. The resins can, in effect, be "pre-programmed" to expand to a given, definitive volume depending on their material makeup, and also have their final softness or hardness built right in. (Neat, right?)

VIDEO: Very Cool! See FreeFoam, a 3D-printable resin for volume production of foam parts, in action. [Credit: ETEC]
This all-new process allows 3D printers to produce much larger final foam parts than their original build areas, which enables foam products to be shipped at compact sizes and expanded at the final point of assembly or commercial use. (Aha!)
While preliminary specifications for FreeFoam are now available, Desktop Metal plans to offer several grades of FreeFoam resins enabling different Shore hardness values and other specific materials properties such as water resistance for the outdoor furnishing market.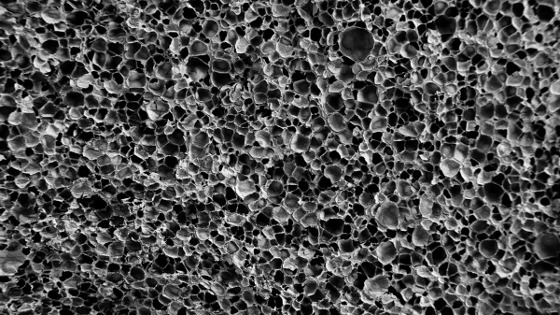 FreeFoam photopolymer resins contain heat-activated foaming agents. After the material is 3D printed using a standard DLP printing process, the material expands to a specific programmable size during a brief oven cycle, creating closed cell foam pores. [Credit: Desktop Metal]
FreeFoam is part of the recently launched DuraChain category of one-part, one-pot photopolymers from Desktop Metal that delivers breakthrough elastic and tough material properties through a Photo Polymerization-Induced Phase Separation process. When illuminated during DLP printing, these materials phase separate at the nano level into a material that cures into a resilient, high-performance polymer network. DuraChain enables FreeFoam parts to be foamed with control in an oven without a mold.
FreeFoam will initially be 3D printable exclusively on the ETEC Xtreme 8K top-down DLP system from EnvisionTEC. This printer's build envelope is 450 x 371 x 399 mm (17.72 x 14.61 x 15.71 in.).
If you are interested in this new material, process, and all the specs, you can learn more at https://learn.desktopmetal.com/freefoam. If you have a chance, please tell them you saw FreeFoam in Designfax.
Source: Desktop Metal
Published June 2022
Rate this article