VelociRaptor 400 Bronco: Hennessey Performance mega upgrade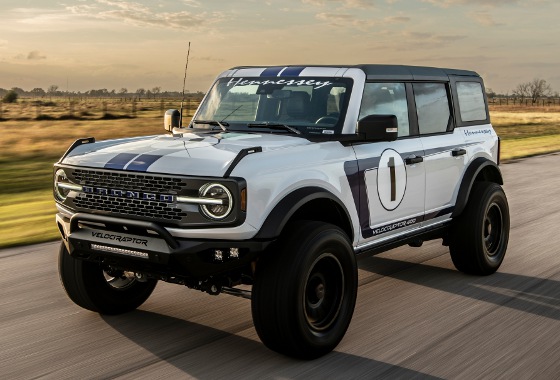 If your automotive tastes run to outdoor fun and you like to dial it up to 10, Hennessey Performance has the Ford Bronco upgrade for you. The VelociRaptor Bronco 400 takes a stock 2021 275-hp Badlands model and cranks it to 405 hp, while making it taller, louder, and sportier with a sleek livery along the way.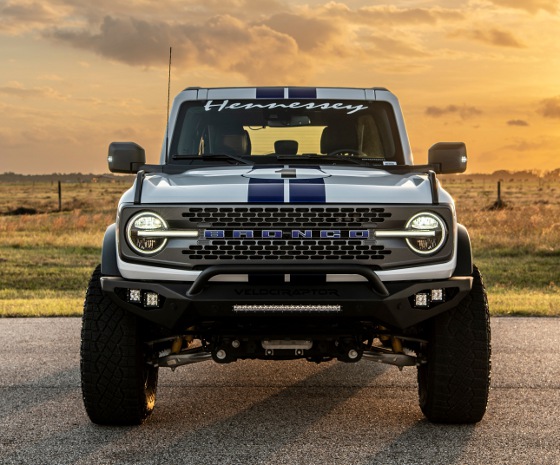 The upgrade is not for the latest model year Bronco, but you can still have it done if you can locate a 2021 Badlands Bronco. Hennessey just began building VelociRaptor Bronco 400s in 2022.
Other similar, current Hennessey upgrade models include the RAM TRX Mammoth 1000 and the Ford Raptor VelociRaptor 600.
Hennessey's Special Vehicles division also produces its own, in-house 1,817-hp turbo V8 hypercar called the Venom F5.
Company Founder and CEO John Hennessey developed a passion for performance while competing at world-renowned motorsport events including Pikes Peak, the Silver State Classic, and the Bonneville Salt Flats (where he set a class world record). What started in 1991 as modifying imports out of his garage soon turned into building 1,000-hp twin-turbo Dodge Vipers that gained international recognition in car magazines such as Motor Trend, Car and Driver, Top Gear, and Road and Track.
Today, Texas-based Hennessey is viewed as a top automotive tuner and builder, with a global sales footprint that covers the United States, Europe, Asia, South America, and the Middle East.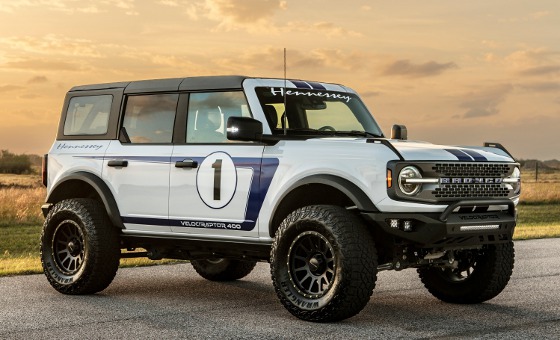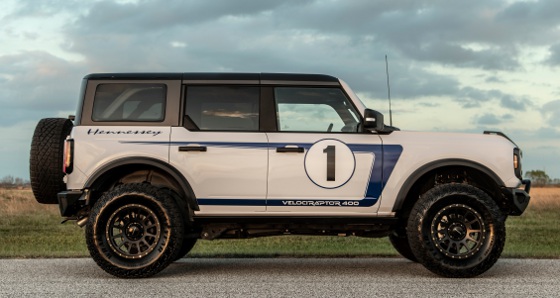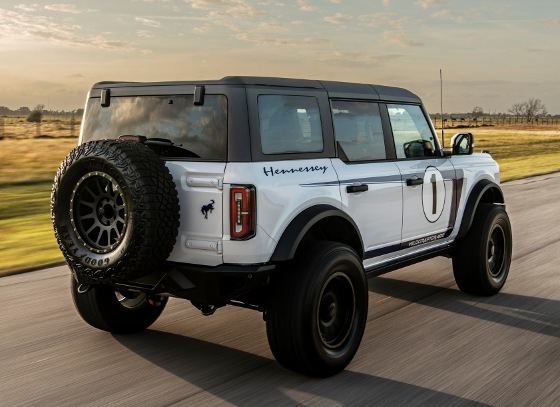 The VelociRaptor Bronco 400 model is available in an eye-catching livery with output upgraded to 405 hp @ 5,700 rpm and 503 lb-ft torque @ 3,900 rpm.
"Since we announced our plans for the Bronco mid-last year, we've been inundated with customer requests to take our upgraded version. For so many of our customers, the Bronco is a special car they've always loved -- now we can give them a VelociRaptor 400 Bronco with the power and style to make it a truly special vehicle," said Hennessey.

VIDEO: John Hennessey test drives the VelociRaptor 400 Bronco. [Credit: Hennessey Performance]
Hennessey's engineering team enhances an already-upgraded 2.7L, twin-turbocharged, V6 Bronco powerplant (stock is 2.3L) with an all-new intake and exhaust system, engine recalibration, and larger front-mounted intercooler system to beef up the stock Bronco Badlands model. The VelociRaptor enhancements enable the off-road-capable 4×4 to hit 60 mph from standstill in just 4.9 sec.
Badlands comes stock with a 2.3L EcoBoost Engine (optional 2.7L) and 7-speed manual transmission (optional 10-speed automatic). Other stock features include front stabilizer bar disconnect, electronic-locking front and rear axle, and advanced 4x4 with automatic on-demand engagement. You can view more original specs here.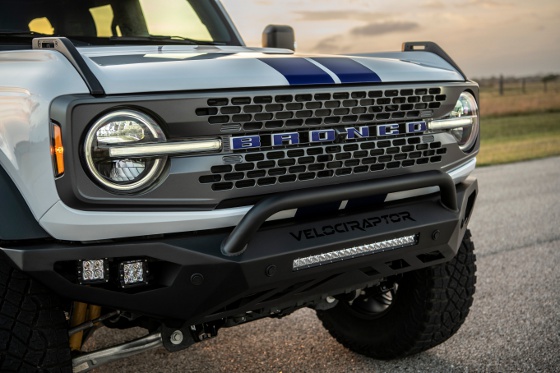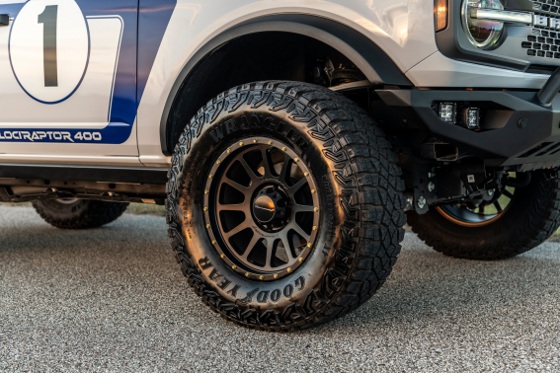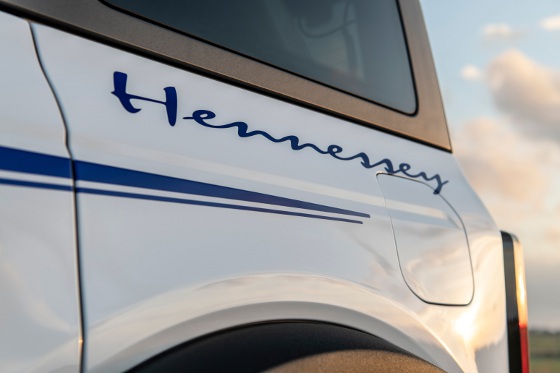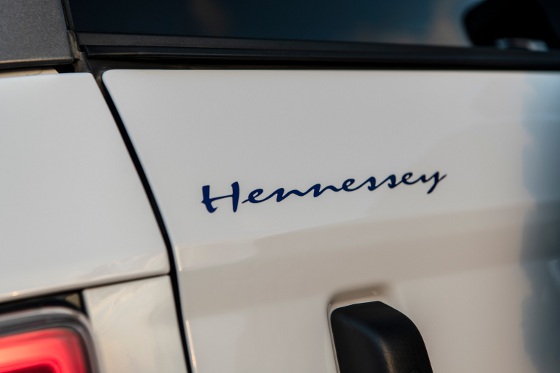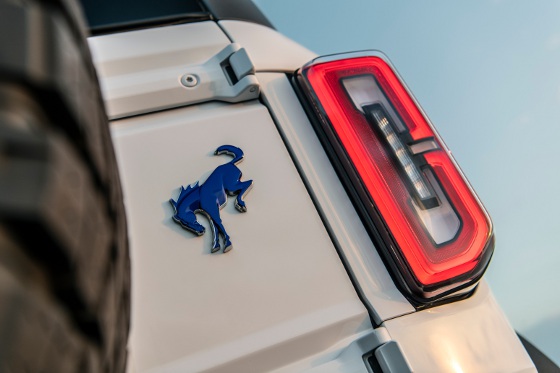 The Hennessey livery option pairs VelociRaptor and Hennessey badging with distinctive double bonnet stripes that extend onto the roof. Additionally, each side sees a distinctive "D-shape" line graphic and a No. 1 on the driver/passenger door.
Customers can individualize their Bronco further with 35-in. off-road tires on 18-in. Hennessey wheels, front and rear VelociRaptor bumpers, retractable side steps, and VelociRaptor branding.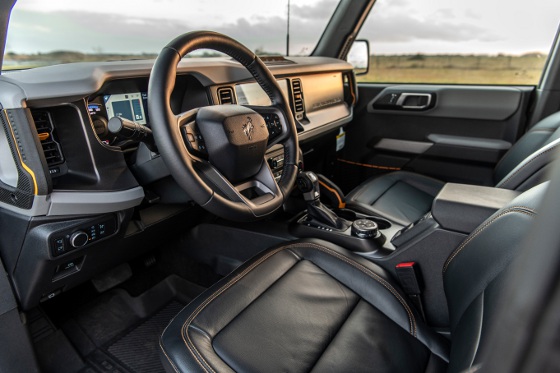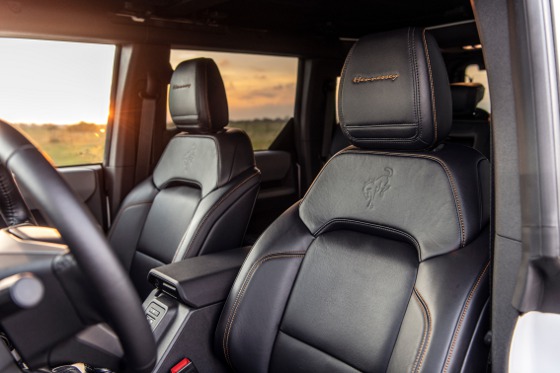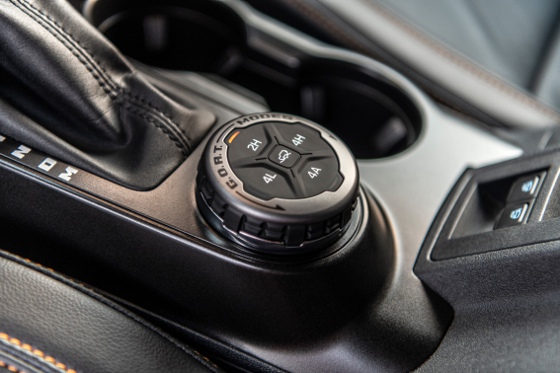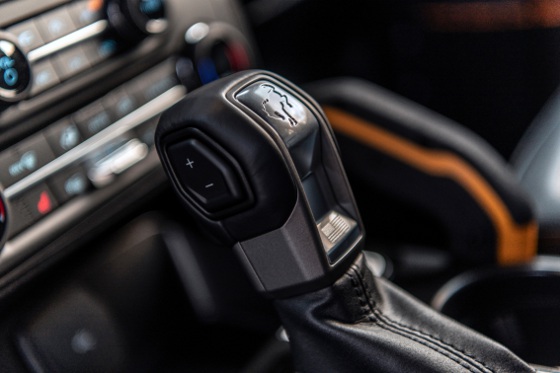 The list of upgrades includes:

405 hp @ 5,700 rpm
503 lb-ft torque @ 3,900 rpm
Engine Management Software Upgrade
Upgraded Exhaust System
High-Flow Air Filtration
Upgraded Heat Exchange
18-in. Hennessey Wheels (including spare)
35-in. Off-Road Tires
Front and Rear Leveling Kit
VelociRaptor Front Bumper with Pod Fog Lights
VelociRaptor Rear Bumper Upgrade
Hennessey Exterior Badging
VelociRaptor Exterior Badging
Hennessey Embroidered Headrests
Thanks to the extensive Hennessey R&D process, the Bronco's driving modes and off-road systems are retained, plus Hennessey provides a 3-year/36,000-mile warranty. The VelociRaptor Bronco 400 is limited to just 200 units for the year.
The base 2021 Badlands model may be a bit tricky to find. The Hennessey upgrade can be done to either the two- or four-door version, with or without a soft top. Interested parties may find a Badlands model at an authorized Ford retailer or have some luck contacting Hennessey directly by calling 979-885-1300 or visiting hennesseyperformance.com/vehicles/velociraptor-400-bronco/. The mechanical upgrade will add $24,950 to the price of the Badlands model, while the livery will add another $6,000. Expect to pay around $80,000 for a complete VelociRaptor Bronco 400, including what you spend on the Badlands Bronco itself.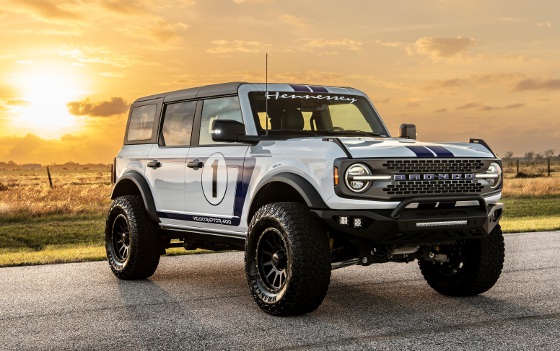 Learn about the latest Ford Bronco at ford.com/suvs/bronco/.
Sources: Hennessey Performance, Ford Motor Co.
Published July 2022
Rate this article