Raspberry Pi Pico W adds Wi-Fi to popular microcontroller board

Raspberry Pi has become a global phenomenon, with tens of millions of the very affordable, credit-card-size computers and its peripherals sold around the world. The highly adaptable hardware speeds up development and prototyping of complex applications, greatly reducing costs for professionals and makers alike.
Raspberry Pi launched the $4 Raspberry Pi Pico microcontroller board in 2021. It was the organization's first product built on silicon designed in-house. At the heart of the Raspberry Pi Pico is the RP2040, which features two ARM Cortex-M0+ cores clocked at 133 MHz; 264 kB of on-chip SRAM; 30 multifunction GPIO pins; dedicated hardware for commonly used peripherals alongside a programmable I/O subsystem for extended peripheral support; a four-channel ADC with internal temperature sensor; and built-in USB 1.1 with host and device support.
Perfect for commercial and industrial applications, the Pi Pico (which has sold almost 2 million units) is still missing one important element: wireless connectivity. That is about to change.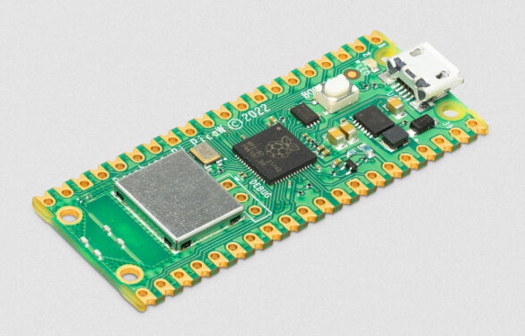 Raspberry Pi Pico W. [Image courtesy: Raspberry Pi Foundation]
In the coming months, Raspberry Pi is rolling out three new Pico-related products. According to recent news posted by the organization, "Raspberry Pi Pico W (about 51 x 21 mm) is priced at $6, and brings 802.11n wireless networking to the Pico platform, while retaining complete pin compatibility with its older sibling. Pico H ($5) and Pico WH ($7) add pre-populated headers, and our new 3-pin debug connector, to Pico and Pico W respectively. Pico H and Pico W are available today; Pico WH will follow in August."
The networking upgrade makes Pico better positioned for Internet of Things (IoT) applications.
At Designfax, we had a tough time finding quantities of Pico W and Pico H available for U.S. customers at Raspberry Pi-approved sellers, so interested parties should check back often and sign up for supply updates if possible at sites like Newark (showing 0 availability for W or H as of this writing) and Adafruit (0 W and 83 H, but encourages update sign-up). We don't think this is a typical supply chain difficulty; it is more of a product so new that it just hasn't arrived at retailers yet -- or at least let's hope so!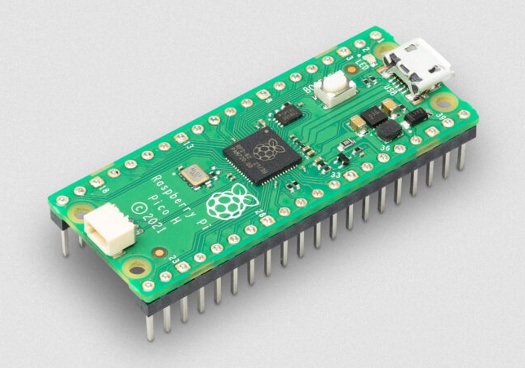 Raspberry Pi Pico H. [Image courtesy: Raspberry Pi Foundation]
Raspberry Pi says it has worked with Infineon to add their CYW43439 wireless chip to Pico W: "Like all modern Raspberry Pi boards, the radio circuitry is encapsulated in a metal shield can, reducing compliance costs for customers who want to integrate it into their own products." CYW43439 supports both Bluetooth Classic and Bluetooth Low-Energy, but Raspberry Pi says, "We have not enabled Bluetooth on Pico W at launch, but may do so in the future."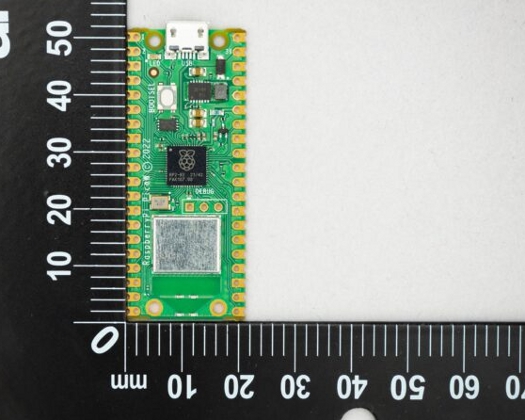 Raspberry Pi Pico W size. [Image courtesy: Raspberry Pi Foundation]
The organization also says users should note, "This UF2 firmware we're making available for Pico W is a separate build to the existing MicroPython firmware for our original Pico board. We'll be upstreaming the changes to the main MicroPython repository soon after launch, but as MicroPython has separate binaries on a per-board rather than per-architecture basis, there will always be two distinct UF2 firmware releases going forward. One for Pico, the other for Pico W."
We encourage interested parties to read the full release information here.
Please note Raspberry Pi has a list of approved U.S. resellers here. If you buy an early unit on ebay or the like instead, you will probably pay a very hefty premium.
Source: Raspberry Pi
Published July 2022
Rate this article