Speedy delivery: 2,000-hp Ford SuperVan does 0 to 60 in under 2 sec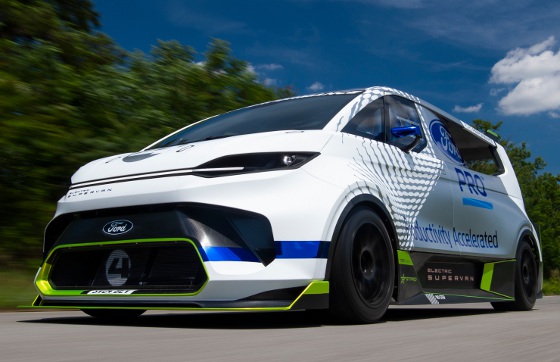 In a bid to demonstrate the over-the-top capabilities of all-electric truck power, Ford has created a 2,000-hp, one-off SuperVan that is sure to be the envy of many delivery drivers worldwide. The Ford Pro Electric SuperVan, as it is officially called, is actually the fourth of Ford's bulked-up SuperVan demonstrators, with the first appearing in 1971.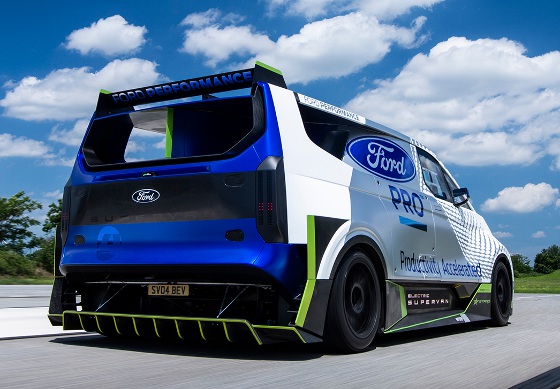 The all-wheel-drive 2022 Ford Pro Electric SuperVan aims to capture the potential of electric performance and enhanced connectivity to achieve the highest performance of any Ford van ever. It features a purpose-built, track-ready chassis that includes components from the recently unveiled E-Transit Custom van (the first fully electric version of Europe's best-selling van), four 500-hp electric motors (two for the front and two for the rear), a 50-kWh liquid-cooled battery, and a customized control system that oversees the production of 2,000 hp for under-2-sec 0-to-60 acceleration.
It also features Ford's SYNC in-cab touchscreen technology from real-world, road-going Ford models, as well as additional functionality to control the electric SuperVan's unique capabilities. Selectable drive modes and regenerative braking technologies similar to those on Ford production electric vehicles are also included.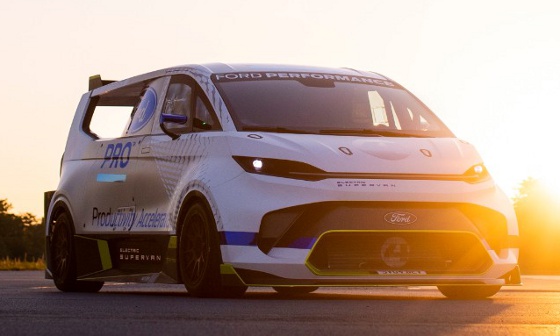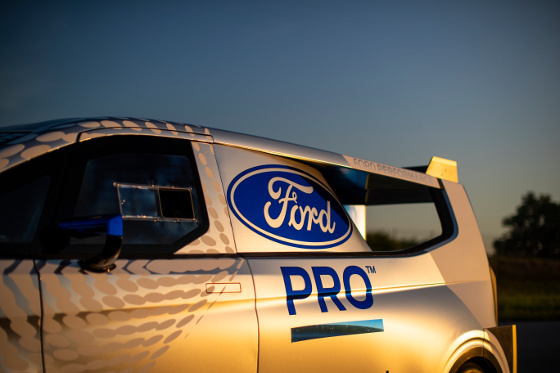 Showing off the enhanced connectivity is one of the main reasons for the SuperVan build. It keeps the driver informed and enables real-time data transmission for remote vehicle management and optimized performance, just like the integrated services that Ford offers to help accelerate the productivity of more than 125,000 Ford Pro customers across Europe.
The electric SuperVan can send real-time data to software for remote vehicle management. Businesses can use Ford Pro E-Telematics or FordPass Pro to track the health and security of their fleet; similarly, Ford Performance trackside engineers can monitor the electric SuperVan via dedicated management software that translates live data into insights on speed, lap times, and vehicle systems.
"The Electric SuperVan's processing power means engineers can use real-time vehicle data to optimize its performance, just like on a top-level racing car," said Mark Rushbrook, global director, Ford Performance Motorsports.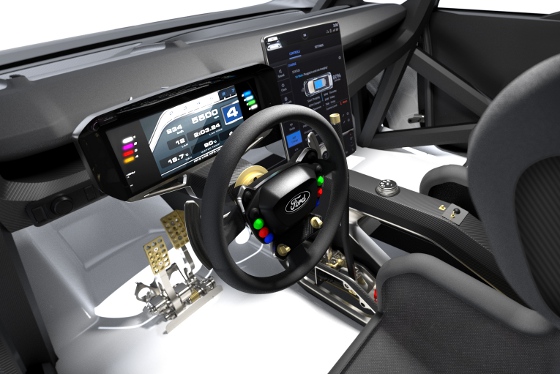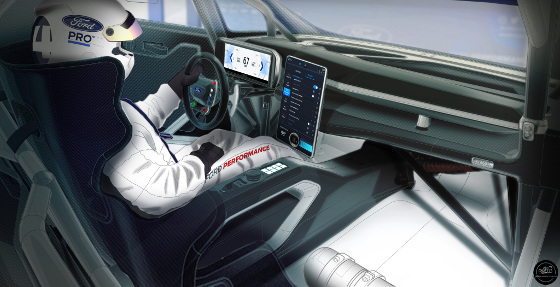 The all-electric SuperVan was developed in secret by Ford Performance and electrified rally and racing specialists STARD in Austria, with exterior design by the Ford Design team in Cologne, Germany. It boasts outlandish wheel arches, muscular style, and a one-off livery. The all-electric powertrain offered the development team lots of freedom, with fewer of the packaging and cooling restrictions that come with a combustion engine.
Ford Performance and STARD's motorsport input is obvious. The dramatically sculpted body's front splitter, side skirts, and rear diffuser would be at home on a racing car, while the radical rear design's cutaways and dorsal fin flow into the rear wing to generate downforce and push the Electric SuperVan into the track for more grip.
The racing influence continues under the skin with unequal-length double wishbone suspension at each corner. Motorsport-grade front and rear subframes, uprights, and brakes deliver the braking and steering capability to match the enormous straight-line potential.

VIDEO: Ford Pro Electric SuperVan technology and design. Take a walk around and get a look inside.
The demonstrator vehicle's motorsport-spec construction marries the E-Transit Custom floorpan with a steel spaceframe and lightweight composite body panels. A bespoke 50-kWh liquid-cooled battery pack is mounted for optimum weight distribution and a low center of gravity and can be fully recharged in approximately 45 minutes using a standard electric vehicle fast-charger. The driver can access charging and battery insights via the in-cab touchscreen. A door in the bodyside makes loading and unloading cargo easy, and Ford is developing a secure electromagnetic release system controlled via the SYNC screen.
A suite of onboard cameras lets audiences around the world get an insider's view during SuperVan's high-performance runs. As on the Ford E-Transit, the driver can pull camera feeds onto the in-cab screen and switch between them to help position the vehicle.
The electric SuperVan's interior includes a full roll cage and racing seats to FIA standards for safety, as well as a large SYNC touchscreen taken directly from Ford's production vehicles such as the Ford Mustang Mach-E. If required, drivers can take a break from hustling the Electric SuperVan up hill climbs and around racetracks to plot a route, find a charger, connect to Wi-Fi, and make phone calls -- all via the SYNC screen.
The touchscreen also enables control of the selectable drive modes that tailor the electric SuperVan's torque maps, regenerative braking, and control responses to suit different driving scenarios: Road, Track, Drag, Drift, and Rally.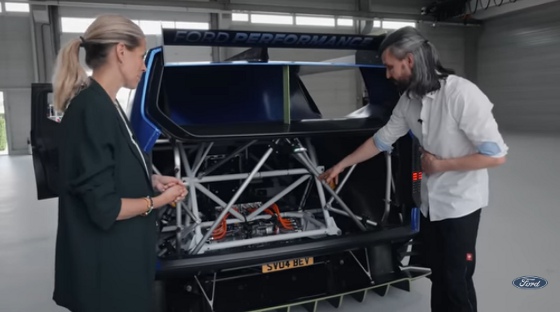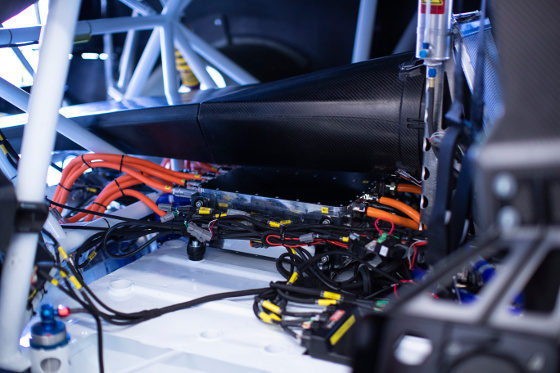 The electronics package includes traction control, launch control, a pit-lane speed limiter, and three-stage regenerative braking to return energy to the battery, which is similar to the L Mode function on the Ford E-Transit. At low speed, ECO Mode keeps the motors at optimal efficiency, turns the regenerative braking up to maximum, and cuts drive to the rear axle. For maximum speed, an E-Boost button puts a temporary power and torque boost at the driver's fingertips. For hardcore burnout fans, there's even a "Tire Cleaning Mode," which fully brakes one axle while spinning the other.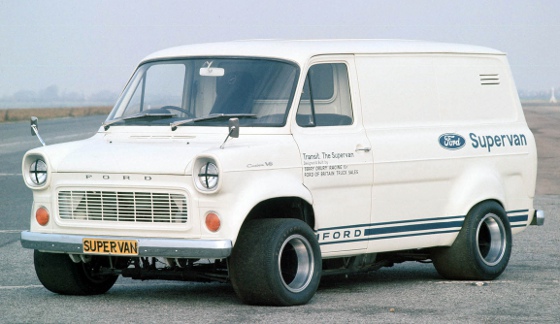 1971 Ford SuperVan.
Ford's first SuperVan was revealed in 1971 and featured a mid-mounted engine taken from the Le Mans-winning Ford GT40 to create a Transit Mark 1 (Mk) unlike any other.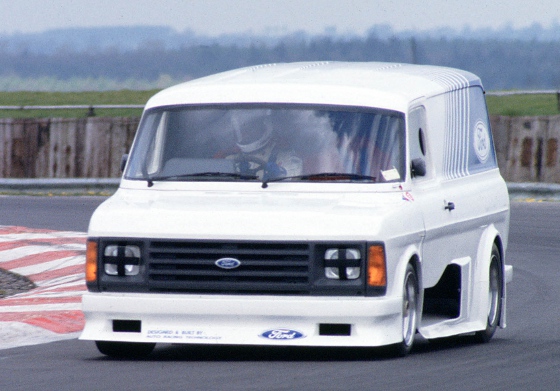 1984 Ford SuperVan.
The design formula was taken a step further for SuperVan 2 in 1984 when a glass-fiber version of the Transit Mk 2 body was draped over the monocoque and 590-hp Cosworth V8 of Ford's C100 racing car.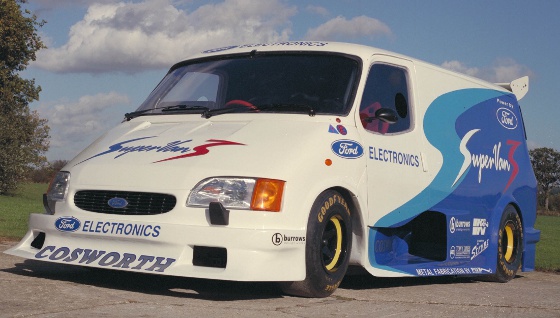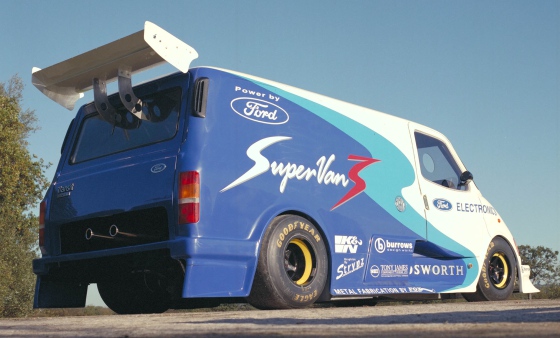 1995 Ford SuperVan.
The 1984 vehicle was later reborn as the facelifted Transit Mk 3 lookalike SuperVan 3 in 1995, powered by a screaming 650-hp Cosworth HB engine shared with Formula 1 cars of the era.
Beyond demonstrating Ford's advanced electric vehicle and connectivity know-how, the newest SuperVan is also a Ford-dubbed "high-speed science experiment." Its demanding driving scenarios and unrestricted design concept allow Ford to push the boundaries of electric vehicle engineering and connectivity to improve its future race cars and road-going vehicles, software, and services.
Source: Ford Motor Co.
Published July 2022
Rate this article