Protect battery packs against overcurrent and overcharging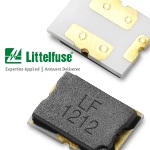 Littelfuse has announced the new ITV4030, a series of 22-A, three-terminal, surface-mountable Li-ion battery protectors ideal for use in a wide range of data communications interfaces for consumer electronics including tablets, robotic appliances, and power tools. These 4- x 3-mm devices protect battery packs against overcurrent and overcharging (overvoltage) conditions. The innovative design uses embedded fuse and heater elements that provide fast response and reliable performance to interrupt the charging or discharging circuit before the battery pack becomes overcharged or overheated.
Learn more.
---
Raspberry Pi Pico W adds Wi-Fi to popular microcontroller board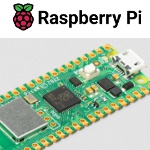 Raspberry Pi launched the $4 Pico microcontroller board in January of last year. It has sold almost 2 million units and proven to be a great tool for commercial, industrial, and maker applications, but it still lacks one important element: wireless connectivity. That is about to change.
Read the full article.
---
Cool Tools: The oscilloscope that feels like a tablet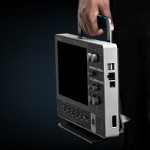 Tektronix says, "Get ready to change the way you work forever!" Introducing the Tektronix 2 Series Mixed Signal Oscilloscope (MSO) -- the only full-featured bench oscilloscope that works where you work. It weighs less than 4 lb, is just 1.5-in. thick, and can accommodate an optional battery pack for up to 8 hours of unplugged power.
View the video.
---
Smart contactors with CAN bus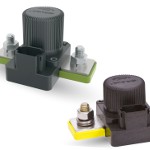 Sensata Technologies has announced the availability of the new GXC and MXC series of Smart-Tactor contactors with CAN bus communication, which provide valuable data for improved system performance, reliability, and diagnostics in military, battery system, energy storage, commercial vehicle, and industrial applications. This new series of CAN bus-enabled contactors are easily integrated and simplify data acquisition, making them ideal for data logging, telematics, and predictive maintenance.
Learn more.
---
What can you do with touchless magnetic angle sensors?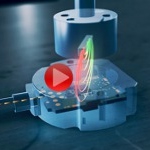 Novotechnik has put together a really informative video highlighting real-world applications for their RFC, RFE, and RSA Series touchless magnetic angle sensors. You may be surprised at the variety of off-highway, marine, material handling, and industrial uses. You'll learn how they work (using a Hall effect microprocessor to detect position) and their key advantages, including eliminated wear and tear on these non-mechanical components. We love when manufacturers provide such useful examples.
View the video.
---
Slimmest enclosure air conditioner on the market!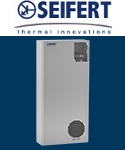 Seifert's SlimLine Series of enclosure air conditioners integrate unique technologies -- maximum power-to-size ratio, mounting of merely 4.5 inches inside-cabinet-depth -- making the SlimLine Series the slimmest air conditioner in the market. Cooling capacity: 1,090 to 5,120 Btu/hr.
Learn more.
---
Radiation-hardened GaN transistor for space applications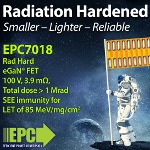 EPC has just introduced the EPC7018 radiation-hardened GaN FET. With higher breakdown strength, lower gate charge, lower switching losses, better thermal conductivity, and very low on-resistance, power devices based on GaN significantly outperform silicon-based devices. They enable higher switching frequencies resulting in higher power densities, higher efficiencies, and more compact and lighter-weight circuitry for critical spaceborne missions, including DC-DC power, motor drives, lidar, deep probes, and ion thrusters.
Learn more.
---
Low-cost motion control: CLICK PLUS PLCs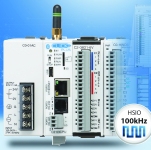 Automation-Direct has released the new CLICK PLC programming software version 3.30, which allows any CLICK PLUS CPU to be configured as a 3-axis PTO/PWM motion controller. 100-kHz high-speed inputs and outputs are offered with any DC option slot I/O module placed in slot 0 of the CPU. With this module, CLICK PLUS PLCs can easily perform velocity moves, homing commands, or interpolated positioning. Six CPUs available starting at less than 100 bucks.
Learn more.
---
EdgeCool cools computer servers in the rack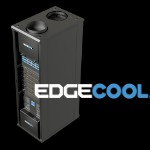 The new EdgeCool system for rack-mounted computer servers revolutionizes IT cooling by transforming server racks into their own portable, energy-saving server rooms. The patented split system from DENSO Products and Services Americas is made up of a condenser and an evaporator that fit easily into almost any open or sealed server rack. The self-contained equipment eliminates the need for more floor space, a dedicated server room, or disruptive and costly building modifications.
Learn more.
---
Do-it-yourself high-performance aluminum cold plates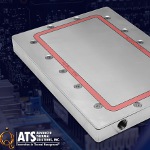 New high-performance aluminum cold plates from Advanced Thermal Solutions (ATS) let engineers safely drill holes in a mounting pattern that matches the specific connection points of hot devices that need cooling, providing lots of customization options. ATS says its cold plates have been demonstrated to provide more than 30% better thermal performance than other commercially available cold plates.
Learn more.
---
Long-range retro-reflective photoelectric sensors overcome interference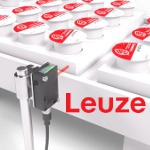 The new 36 series of sensors from Leuze are suitable for demanding requirements in intralogistics, packaging systems, and the automotive industry. They detect objects with different optical properties -- even at a great distance or when sources of interference are present (such as film-wrapped pallets, vibration, or ambient lighting). Available as sensors with background suppression (range to 2.5 m), as retro-reflective photoelectric sensors (up to 17 m), or as throughbeam photoelectric sensors (up to 80 m).
Learn more.
---
Calculator simplifies cabinet cooling system selection
EXAIR Cabinet Cooler Systems provide a comprehensive solution for cooling and purging electronic cabinets and come in a litany of different cooling capacities, NEMA ratings, and classifications. With the breadth of available options, choosing the best Cabinet Cooler for a specific environment can be a tedious task and depends on a few key factors. With EXAIR's new Cabinet Cooler Calculator, it's easy to find the ideal Cabinet Cooler System for any specific application.
Learn more.
---
New low-voltage compact LED bulbs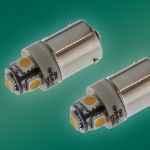 LEDtronics has released new additions to its industry-leading offering of intermediate-based LED bulbs that fit in enclosed fixtures, featuring low voltage, 160-degree spherical illumination, low power consumption, and high lumen intensity. The B605SM series is available either as a 14-VAC/VDC bulb that replaces incandescent lamps 67, 89, 97, 98, 1095, 1155, and 5008, or as a 28-VAC/VDC bulb that replaces incandescents 71, 303, 623, and 1251. These bulbs are a perfect fit in applications such as machine status or gaming candle indicators, indicator lights for instrumentation, panel-mount pilot lights, accent lighting, and automotive.
Learn more.
---
Neat. How to prototype 4x machine vision applications on one small embedded system quickly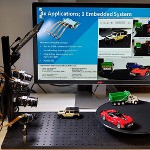 Teledyne FLIR has put together a neat article that shows how to prototype a machine vision system quickly that runs four simultaneous applications, three of which use deep learning. The system uses the Quartet Embedded Solution for TX2, a customized carrier board that enables easy integration of up to four USB3 cameras at full bandwidth. The example traffic systems application includes license plate recognition, vehicle type categorization, vehicle color classification, and seeing through a windshield -- all simultaneously. Very cool.
Read the Teledyne FLIR application article.
---
New Gefran inclination sensors use MEMS technology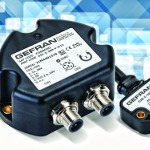 Automation-Direct has added Gefran inclination sensors to their growing lineup of position transducers. Gefran sensors use cutting-edge MEMS technology (micro-electromechanical devices integrated onto a single silicon chip) to provide reliable and precise tilt angle measurement with respect to gravity. These sensors are rugged and suitable for the harshest environments. M12 quick-disconnect models are fully redundant, having two sensors in one housing.
Learn more.
---
Heat engine cell with no moving parts is as efficient as a steam turbine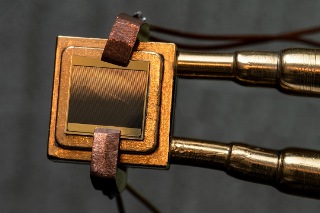 A thermophotovoltaic (TPV) cell (size 1 cm x 1 cm) mounted on a heat sink designed to measure the TPV cell efficiency. To measure the efficiency, the cell is exposed to an emitter, and simultaneous measurements of electric power and heat flow through the device are taken. [Credit: Photo by Felice Frankel]
By Jennifer Chu, MIT
Engineers at MIT and the National Renewable Energy Laboratory (NREL) have designed a heat engine with no moving parts. Their new demonstrations show that it converts heat to electricity with over 40% efficiency -- a performance better than that of the average turbine-based heat engine system efficiency in the United States.
The heat engine is a thermophotovoltaic (TPV) cell, similar to a solar panel's photovoltaic cells, that passively captures high-energy photons from a white-hot heat source and converts them into electricity. The team's design can generate electricity from a heat source of between 1,900 to 2,400 C, or up to about 4,300 F.
The researchers plan to incorporate the TPV cell into a grid-scale thermal battery. The system would absorb excess energy from renewable sources such as the sun and store that energy in heavily insulated banks of hot graphite. When the energy is needed, such as on overcast days, TPV cells would convert the heat into electricity, and dispatch the energy to a power grid.
With the new TPV cell, the team has now successfully demonstrated the main parts of the system in separate, small-scale experiments. They are working to integrate the parts to demonstrate a fully operational system. From there, they hope to scale up the system to replace fossil-fuel-driven power plants and enable a fully decarbonized power grid, supplied entirely by renewable energy.
"Thermophotovoltaic cells were the last key step toward demonstrating that thermal batteries are a viable concept," says Asegun Henry, the Robert N. Noyce Career Development Professor in MIT's Department of Mechanical Engineering. "This is an absolutely critical step on the path to proliferate renewable energy and get to a fully decarbonized grid."
Henry and his collaborators published their results April 13 in the journal Nature.
Jumping the gap
More than 90% of the world's electricity comes from sources of heat such as coal, natural gas, nuclear energy, and concentrated solar energy. For a century, steam turbines have been the industrial standard for converting such heat sources into electricity.
On average, steam turbine systems reliably convert about 35% of a heat source into electricity, with about 60% representing the highest efficiency of any heat engine to date. But the machinery depends on moving parts that are temperature limited. Heat sources higher than 2,000 C, such as Henry's proposed thermal battery system, would be too hot for turbines.
In recent years, scientists have looked into solid-state alternatives -- heat engines with no moving parts that could potentially work efficiently at higher temperatures.
"One of the advantages of solid-state energy converters are that they can operate at higher temperatures with lower maintenance costs because they have no moving parts," Henry says. "They just sit there and reliably generate electricity."
Thermophotovoltaic cells offered one exploratory route toward solid-state heat engines. Much like solar cells, TPV cells could be made from semiconducting materials with a particular bandgap -- the gap between a material's valence band and its conduction band. If a photon with a high enough energy is absorbed by the material, it can kick an electron across the bandgap, where the electron can then conduct, and thereby generate electricity -- doing so without moving rotors or blades.
To date, most TPV cells have only reached efficiencies of around 20%, with the record at 32%, as they have been made of relatively low-bandgap materials that convert lower-temperature, low-energy photons, and therefore convert energy less efficiently.
Catching light
In their new TPV design, Henry and his colleagues looked to capture higher-energy photons from a higher-temperature heat source, thereby converting energy more efficiently. The team's new cell does so with higher-bandgap materials and multiple junctions, or material layers, compared with existing TPV designs.
The cell is fabricated from three main regions: a high-bandgap alloy, which sits over a slightly lower-bandgap alloy, underneath which is a mirror-like layer of gold. The first layer captures a heat source's highest-energy photons and converts them into electricity, while lower-energy photons that pass through the first layer are captured by the second and converted to add to the generated voltage. Any photons that pass through this second layer are then reflected by the mirror, back to the heat source, rather than being absorbed as wasted heat.
The team tested the cell's efficiency by placing it over a heat flux sensor -- a device that directly measures the heat absorbed from the cell. They exposed the cell to a high-temperature lamp and concentrated the light onto the cell. They then varied the bulb's intensity, or temperature, and observed how the cell's power efficiency -- the amount of power it produced, compared with the heat it absorbed -- changed with temperature. Over a range of 1,900 to 2,400 C, the new TPV cell maintained an efficiency of around 40%.
"We can get a high efficiency over a broad range of temperatures relevant for thermal batteries," Henry says.
The cell in the experiments is about one square centimeter. For a grid-scale thermal battery system, Henry envisions the TPV cells would have to scale up to about 10,000 sq ft (about a quarter of a football field), and would operate in climate-controlled warehouses to draw power from huge banks of stored solar energy. He points out that an infrastructure exists for making large-scale photovoltaic cells, which could also be adapted to manufacture TPVs.
"There's definitely a huge net positive here in terms of sustainability," Henry says. "The technology is safe, environmentally benign in its life cycle, and can have a tremendous impact on abating carbon dioxide emissions from electricity production."
This research was supported, in part, by the U.S. Department of Energy.
Published May 2022
Rate this article