Choose from 75 filter fan models: Seifert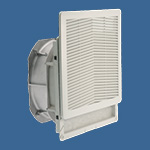 Seifert manufactures 75 different UL-listed filter fan models that are designed to operate in extreme environments. Grill slides for easy filter maintenance. Features include: 7 to 754 CFM models, UL Type 12, A/C and D/C models and integrated air filters.
Learn more. Seifert has a lot to offer.
---
Machine vision: Check part orientation and more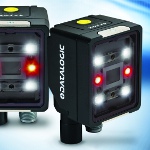 Automation-Direct has entered the industrial vision market with the addition of the Datalogic Smart Vision sensor. This sensor is an intelligent self-contained system that can capture an object's image as it passes by and make decisions based on the details of that image. Built around a powerful multiprocessor platform featuring embedded artificial intelligence tech, the Smart-VS sensor is highly advanced but remains simple to configure. Applications include part orientation for pick-and-place systems, verifying proper application of tamper-proof seals, and checking solder connections in circuit board production.
Learn more.
---
Ultra-compact IEC appliance inlet saves valuable interior space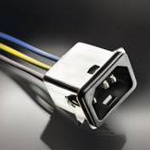 SCHURTER continues to meet today's increasing demand for smaller electronic equipment with the launch of its 5121 filtered appliance inlet. The compact filter series features an IEC C14 inlet with capacitors and a fully encased steel housing that reliably shields high-frequency interference conducted through cables or radiated interference. Targeted for applications with shallow installation depth, the new 5121 filter series is available in both standard and medical M80 versions, making it well suited for lab, industrial, medical, telecom, audio/video, and office equipment.
Learn more and get the specs.
---
Optimize space with mini-FAKRA cables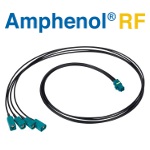 Amphenol RF has expanded their AUTOMATE Type A mini-FAKRA breakout cable line with additional connector configurations and cable types. The cable assemblies combine industry-standard FAKRA connectors with next-gen mini-FAKRA. This combination allows for a compact solution at the compute module -- an industry-standard sealed solution at the connected device with a max frequency of 3 GHz for automotive and industrial applications such as compute modules, camera systems, and warehouse robotics. This assembly creates a waterproof seal at the connected device for added versatility.
Learn more.
---
ScanCobot: Easy entry into 3D metrology automation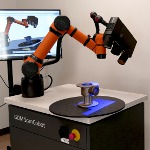 The GOM ScanCobot is a mobile measuring station with a collaborative robot, a motorized rotation table, and powerful software that is smart enough to figure out the optimal positions to scan to get the most comprehensive profile possible on a part. The system provides cleaner, more accurate data than manual scans. Exact Metrology has the ScanCobot technology at their Milwaukee area office. Learn about its impressive capabilities.
Read the full article.
---
How do autonomous vehicles see at night?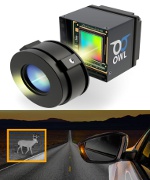 Owl Autonomous Imaging is offering a new whitepaper that explains how the Owl Thermal Ranger uses convolutional neural networks (CNNs) to accurately and reliably locate and classify pedestrians and animals in the dark from their own thermal signatures using just one infrared camera. This whitepaper covers the history of convolutional neural networks, how the technology works (AI/machine training), why Owl thinks the CNN approach is the best solution to address current pedestrian safety concerns, and how auto manufacturers can implement it. Very interesting.
Get the Owl AI whitepaper.
---
Anti-surge resistors handle surges up to 10 KV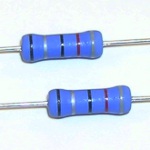 High-voltage applications such as HVAC controls, appliance and white goods controls, metering, automation, medical devices, digital storage, and surge-protection devices typically require resistors with high working voltage that may be challenging to find. If the applications are low current or low energy, film resistors are an ideal technology. The ASR/ASRM series from Stackpole offers high working voltages, high pulse voltage handling, and well-defined pulse behavior. For applications with high-voltage surge and low-energy requirements, the ASR/ASRM is a viable replacement for carbon composition resistors, providing improved electrical and environmental stability, better tolerance and TCR, with better long-term availability.
Learn more.
---
All about slip rings: How they work and their uses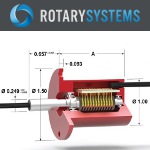 Rotary Systems has put together a really nice basic primer on slip rings -- electrical collectors that carry a current from a stationary wire into a rotating device. Common uses are for power, proximity switches, strain gauges, video, and Ethernet signal transmission. This introduction also covers how to specify, assembly types, and interface requirements. Rotary Systems also manufactures rotary unions for fluid applications.
Read the overview.
---
What's new in ABAQUS 2023?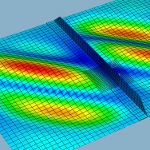 The Abaqus Unified FEA product suite offers powerful and complete solutions for both routine and sophisticated engineering problems. Best-in-class companies are taking advantage of these complete solutions for realistic simulation to consolidate their processes and tools, reduce costs and inefficiencies, and gain a competitive advantage. From new techniques in analysis, modeling, and visualization to special features for structural mechanics and linear dynamics, learn what's new in Abaqus 2023.
Learn more.
---
EMI/RFI gasketing on-demand webinar: Specialty Silicone Products elastomer solutions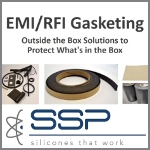 Join Dominic Testo, business development manager for Specialty Silicone Products, for this on-demand, in-depth presentation called "EMI/RFI Gasketing: Outside-the-Box Solutions to Protect What's in the Box." Learn about new ways to overcome the restraints caused by outdated compression molding processes; new materials to overcome galvanic corrosion issues; new softer, compliant materials used for shielding; and a whole lot more.
View the video.
---
Battery-powered wireless multi-sensor module for machine monitoring
TDK has collaborated with Texas Instruments on the new i3 Micro Module, the world's first sensor module with built-in edge AI and wireless mesh connectivity. The i3 Micro Module's ultracompact battery-powered wireless sensor allows users to achieve sensing at almost any desired position without physical constraints like wiring. This dramatically expedites the prediction of anomalies in machinery and equipment, enabling an ideal Condition-based Monitoring implementation for an enhanced smart factory environment.
Learn more.
---
Fluke 831 Laser Shaft Alignment Tool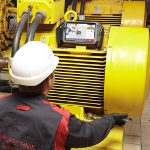 Misalignment causes at least half of all damage to rotating machinery, but instead of fixing the problem, teams often just treat the symptoms by replacing bearings, couplings, and seals. The new Fluke 831 Laser Shaft Alignment Tool makes shaft alignment easy with an intuitive guided user interface that enables quick and complete shaft alignment without advanced training or complicated programs.
Learn more.
---
Image sensor for virtual reality, drones, machine vision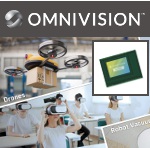 OMNIVISION has just announced the OG0VE global shutter (GS) image sensor, a small-form-factor, high-sensitivity device for AR/VR/MR, metaverse, drone, machine vision, and barcode scanner products. This new-generation image sensor is 26% smaller and more than 50% more power efficient than its predecessor. It supports one-lane MIPI D-PHY at up to 800 Mbps and was designed to address the high market demand for the smallest and lowest power-consuming cameras.
Learn more.
---
Smallest Smart Motor Module for DC fan applications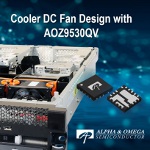 Alpha and Omega Semiconductor Limited has introduced an extension to its compact Smart Motor Module (SMM) family. Available in an ultra-compact, thermally enhanced 3-mm x 3-mm QFN-18L package, the highly integrated AOZ9530QV SMM is a half-bridge power stage with a slew of features and protections that simplify motor drive designs. It is suitable for use in a large number of BLDC fan applications ranging from PC and server fans to seat cooling and home appliances.
Learn more.
---
Application Note: Wireless -- Decoupling high-frequency signals from a DC supply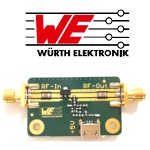 From 5G systems to radio and antenna applications, wireless communication accompanies us throughout our daily lives, so the demand for universal high-frequency amplifiers is correspondingly high. By selecting the optimal passive components, the transmission characteristics of the amplifier can be improved during development. A well-designed layout further improves RF performance. The aim is to transmit both RF signals and the DC supply on a single line without interference or cross-talk. A key component is the inductor for decoupling the RF and DC supplies.
Read this in-depth Würth Elektronik application note.
---
Latest cool military tech: Drone surveillance system fits in pickup bed -- monitors 500 targets simultaneously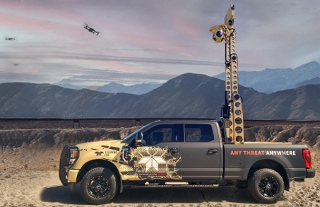 A next-generation Air Domain Awareness system from Teledyne FLIR Defense confirms clear airspace and boosts counter-drone operations beyond the line of sight. [Image credit: Teledyne FLIR]
Engineers at Teledyne FLIR Defense have created a powerful drone surveillance system that fits in the back of a standard pickup truck and can detect unmanned systems up to 3 km away -- and it can even execute a radio frequency (RF) kill chain using non-kinetic technology (soft-kill jammer immobilization, as opposed to hard-kill missiles/munitions) with a defeat range of up to 1.5 km horizontal/457 m vertical.
The new Lightweight Vehicle Surveillance System (LVSS) includes comprehensive air domain awareness (ADA) and advanced counter-unmanned aerial system (C-UAS) capabilities. The system leverages a powerful combination of 3D radar, EO/IR camera, and RF detection and mitigation sensors to provide early warning alerts and recognition. Threats are detected and displayed simultaneously, showing position and elevation for all radar tracks.
The LVSS ADA C-UAS also can detect drone swarms by allowing operators to monitor up to 500 radar targets simultaneously. A multi-spectral imager captures key UAS elements that help identify high-risk targets for a pinpointed response. Even more impressive, this is on-the-move technology that allows operators to obtain threat assessments while the system is static or while driving the vehicle.
Special consideration has been put into making sure the sensor suite can be quickly deployed (up and running in under 60 sec), stowed (less than 30 sec), and redeployed. High-performing video analytics allow operators to identify, track, and engage threats precisely. The analytics model can also be used to control the camera autonomously. Increased cyber security tools have been integrated to resist hackers. The whole system is run by the new Cameleon V5 command and control software, which integrates all onboard sensors and supports advanced device features and bi-directional communications.
Teledyne FLIR Defense is part of Teledyne Technologies.
Learn more at flir.com/products/lvss-c-uas/?vertical=integrated-systems&segment=uis.
Source: Teledyne Technologies
Published April 2022
Rate this article