Swiss Air Lines covering entire Boeing 777-300ER fleet with sharkskin film
[Photo credit: Lufthansa Technik AG - Photographer: Sonja Brueggemann]
Swiss International Air Lines (SWISS) is the first passenger airline worldwide to use an innovative surface technology in a bid to significantly reduce the fuel consumption and emissions of one of its existing fleets. SWISS is equipping its entire Boeing long-haul fleet with fuel-saving AeroSHARK exterior film. SWISS is a subsidiary of the Lufthansa Group.
Starting in the middle of the year, Boeing 777-300ERs will gradually be fitted with the riblet films developed jointly by Lufthansa Technik and BASF. The reduced frictional resistance resulting from this application is projected to make the sub-fleet more fuel efficient and lower in emissions.
Using approximately 950 m2 of riblet film, the modification of the "long" Boeing 777-300ER will be even larger than the 800 m2 of film used on the Boeing 777F for AeroSHARK's launch customer, Lufthansa Cargo.
The potential for fuel and CO2 savings on this scale is projected to be around 1.1%, according to Lufthansa. Converted to the operational profile of the 12 Boeing 777-300ERs at SWISS, this equates to "an annual savings of more than 4,800 tons of kerosene and roughly 15,200 tons of carbon dioxide, as much as is usually generated on approximately 87 long-haul flights from Zurich to Mumbai."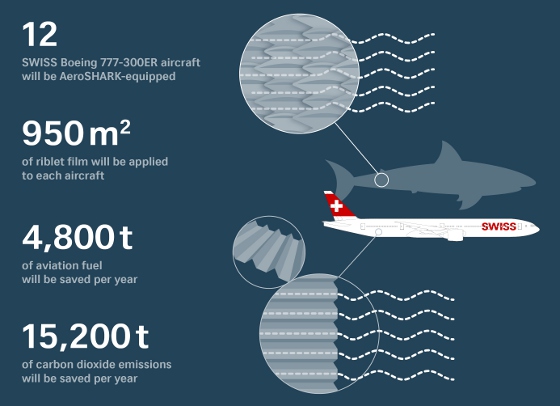 AeroSHARK savings potential. [Copyright: SWISS International Air Lines]
For developing the sharkskin surfaces, "The focus was on a robust, yet functional solution that meets the stringent requirements of aviation and also helps our customers achieve their sustainability goals," said Uta Holzenkamp, the head of BASF's Coatings division, who is also responsible for functional films.
AeroSHARK is a polymer-film surface technology that features rib structures around 50 micrometers in size, known as "riblets." It specifically imitates the properties of sharkskin, which has particularly favorable flow characteristics, and thus optimizes aerodynamics at relevant points on the aircraft. As a result, less fuel is needed overall.
SWISS will install AeroSHARK on its Boeing 777-300ER fleet successively from mid-2022 during suitable maintenance layovers. The airline has already supported Lufthansa Technik and BASF during the development phase of AeroSHARK: In the summer of 2021, a Boeing 777 wing was precisely measured for the entire duration of a regularly scheduled flight between Zurich and San Francisco. With the data collected, Lufthansa Technik was subsequently able to create highly accurate 3D models for flow simulations, on the basis of which the AeroSHARK modification is to be extended to the wings of the Boeing 777 in the near future in order to realize further savings potential.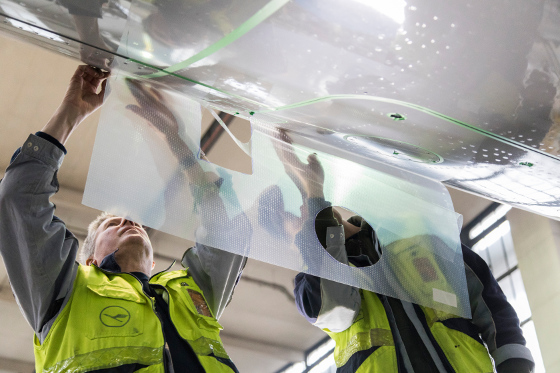 [Photo credit: Lufthansa Technik AG - Photographer: Sonja Brueggemann]
SWISS will also provide one of its aircraft for an STC flight to obtain the required Supplemental Type Certificate from the European Union Aviation Safety Agency (EASA).
Michael Lagemann, spokesperson for Lufthansa Technik AG, told Designfax exclusively, for "the AeroSHARK film variant validated in 2020 (around 500 m2 riblet film on the lower fuselage of a Boeing 747-400), the extra weight amounted to around 80 kg, i.e. roughly the same weight as a single tall passenger."
Lagemann said, "Lufthansa Cargo's Boeing 777Fs will gain about 140 kg in additional weight due to the more extensive application of the riblet films (approx. 800 m2 in the current development stage). The Boeing 777-300ERs of SWISS will gain about 160 kg of additional weight due to even more extensive wrapping."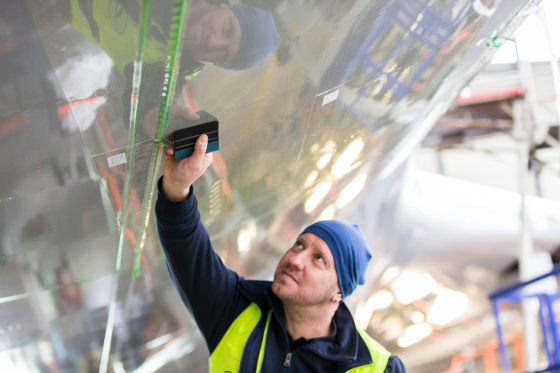 [Photo credit: Lufthansa Technik AG - Photographer: Sonja Brueggemann]
Lagemann added that not all areas of the plane are covered, even in the most extensive applications. "Some areas of the aircraft surface must always remain excluded for various reasons," he said, "for example, the leading edges of the wings and the nose of the aircraft (the favorable laminar flow should be maintained here), the underside of the wings (contamination/lift effects), or the surroundings of sensors (static ports, etc, must remain free over large areas)."
Lagemann did not provide materials and application costs for AeroSHARK. However, he said, "For our customers, we aim to use a value-based pricing model, which targets a payback period of approximately two years."
How it works
The AeroSHARK film, which comes in relatively easy-to-apply sheets, has millions of prism-shaped riblets that are each 50 micrometers high. Lufthansa Technik says the sheets are "applied to the aircraft in a specific manner and aligned with the airflow. ... The riblets achieve efficiency gains, by reduced friction, similar to those of their counterparts in nature, and can also improve lift if attached on wings." The film is also described as being "extremely resilient, withstands large temperature shifts, pressure differentials, and the ultraviolet radiation on high flight levels."

VIDEO: AeroSHARK technology. [Credit: Lufthansa Technik Group]
An article in Designfax in Feb. 2018 ("Can shark skin help planes fly better?") explained more of the science behind sharkskin technology. Scientists around the world have been working on the surface technology for years in applications that include not only aviation but also swimwear and even vehicle tires.
The Designfax article featured researchers from Harvard University and the University of South Carolina. "The skin of sharks is covered by thousands and thousands of small scales, or denticles, which vary in shape and size around the body," said George Lauder, the Henry Bryant Bigelow Professor of Ichthyology and Professor of Biology in Harvard's Department of Organismic and Evolutionary Biology.
The article went on to state, "The researchers tested 20 different configurations of denticle sizes, rows, and row positions on airfoils inside a water flow tank. They found that in addition to reducing drag, the denticle-shaped structures significantly increased lift, acting as high-powered, low-profile vortex generators."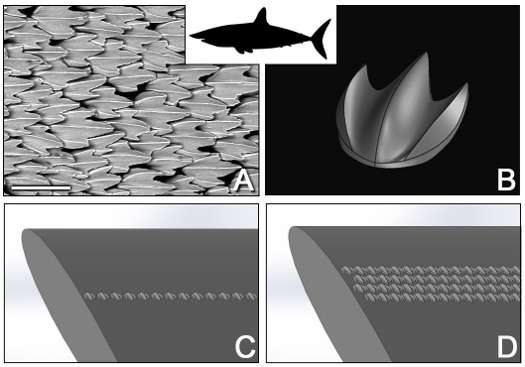 Environmental scanning electron microscope image of denticles from the shortfin mako shark (a) and its corresponding parametric 3D model (b). These denticles were arranged in a wide range of different configurations on an airfoil, two examples of which are shown here (c, d). [Image courtesy of Harvard University]
"These shark-inspired vortex generators achieve lift-to-drag ratio improvements of up to 323 percent compared to an airfoil without vortex generators," said August Domel, a Ph.D. student at the time at Harvard who was studying sharkskin tech.
For the SWISS airplane project, Lufthansa Technik and BASF intend to systematically develop the new technology further in the direction of additional aircraft types and even larger surfaces, so that in the future they will be able to provide airlines around the world with even more extensive support in achieving their emissions targets. In initial model calculations, Lufthansa says the sharkskin technology "in its maximum expansion stage could even avoid CO2 emissions to the tune of up to 3 percent."
Sources: Lufthansa, Lufthansa Technik, Swiss International Air Lines, Harvard John A. Paulson School of Engineering and Applied Sciences
Published June 2022
Rate this article