5 new manufacturing options from Xometry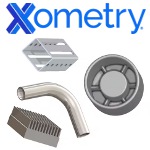 Get the parts you need made fast and at a great price. Xometry has added five new manufacturing options to their quoting engine: Die Casting, Metal Extrusion, Metal Stamping, Laser Tube Cutting, and Tube Bending. Experts will manually quote these options and work closely with you to ensure the best outcome and success. Get your quote today, and get started on your next metal production order.
Learn more.
---
Low-friction lightweight thermoplastic composite bearing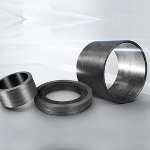 Trelleborg Sealing Solutions recently launched its latest lightweight thermoplastic composite bearing, the HiMod Advanced Composite Bearing Plus, which is an enhanced dual-layer bearing with a modified PEEK layer that reduces friction and increases wear performance for use in bearing, wear ring, and bushing applications. These bearings will not seize or gall. Manufactured using Trelleborg's patented Automated Fiber Placement (AFP) technology, a thin, low-friction liner is bonded to the inner diameters and can be added to the outer diameters of the bearing to create a high-quality solution for use in a wide range of industries.
Learn more.
---
Newly developed overhung load adaptors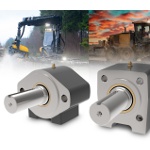 When fluid power and power transmission products are discontinued, finding replacements can be challenging. Zero-Max now fills this Overhung Load Adaptor void with its new 212k and 412k OHLA models for 2-bolt SAE A mount and 4-bolt non-SAE mount applications requiring a 1-1/4" output shaft. For both new and replacement applications, these new OHLA models provide overhung radial and axial load support to protect hydraulic motors and pumps from heavy application loads, extend the lifetime of the motor or pump, and alleviate the cost of downtime both from maintenance costs and loss of production.
Learn more.
---
MW Components: 20+ brands of mechanical components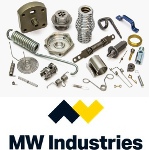 MW Industries, the Charlotte-based precision component manufacturer, has brought together more than 20 of its businesses under a single umbrella: MW Components. Engineers can use MW OnDemand to source more than 1 million parts from well-known brands such as Ideal Fasteners, Century Spring, Accurate Screw Machine, RAF Electronic Hardware, Servometer, and Maudlin. Simplify sourcing by shopping tens of thousands of stock spring designs along with fasteners, shims, electrical contacts, metal stampings, tubing products, bellows, and more -- all at once.
See what MW Components can offer you today.
---
Magnetic couplings 'mechanically isolate' shafts and motor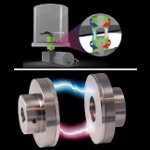 Magnetic couplings from Miki Pulley are ideal for machine designs involving food, pharma-ceutical, and laboratory applications requiring clean, non-contact connection between motor and shafts. The mechanically isolated magnetic coupling transmits torque through the air. This occurs through both input and output hubs of the coupling, which contain powerful rare-earth magnets. These magnets create a magnetic field that transmits torque through plastic, glass, aluminum, and other minimally ferrous materials without physical engagement. There is no dust, debris, or mechanical wear using this coupling compared to conventional couplings. It can also act as a torque limiter in an over-load event.
Learn more.
---
Can you run water through an air valve?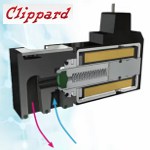 Can you run water through an air valve? Should you do it? And if you're going to do it, what do you need to know? Mike Kettering, product manager for Electronic Valves at Clippard, answers another Pneumatics 101 question. Also check out Clippard's vast range of Electronic Valves, Air Pilot Valves, Control Valves, Directional Control Valves, Isolation Valves, Proportional Valves, and more.
Read this informative Clippard blog.
---
Highly adaptive bearing for light-to-moderate loads in linear motion applications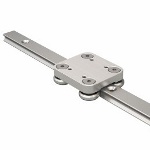 The MiniRoller Rail from Rollon eliminates the noise, difficult assembly, misalignment, and unnecessary weight typically associated with using linear guides with recirculating ball bearings in lighter-duty aerospace, medical, pharma, life science, and packaging applications. It also offers machine builders exceptional flexibility with a variety of optional materials, surface treatments, and mounting hardware and fasteners, including both metric and inch sizes. The new linear bearing's induction-hardened and machined raceways reduce noise and deliver a long, reliable lifetime.
Learn more.
---
Pinch valves: Flow control without contamination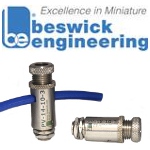 Beswick miniature pinch valves are now available for 1/8-in. OD and 1/4-in. OD tubing. The PV series miniature pinch valve is designed to control fluid when it is advantageous to avoid fluid contact with mechanical components and elastomeric seals. Pinch valves achieve fluid control by clamping down on the outside diameter of the tubing in order to limit or stop flow. The PV has a port for pneumatic actuation as well as a manual knurled knob for extra flexibility.
Learn more.
Watch the pinch valve video to learn more of the benefits.
---
How to select a linear bearing pillow block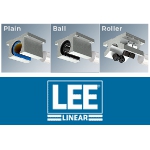 When it comes to choosing a pillow block style to help provide a secure foundation for a rotating shaft, the engineers at Lee Linear suggest using something called "P.O.S.T.L.U.D.E.S" as your guide: Precision, Orientation, Speed, Travel, Load, Unknowns, Duty Cycle, Environment, and Safety. Learn all about pillow block types, construction, and applications in this informative blog.
Read the full article.
---
Timing belts and pulleys calculator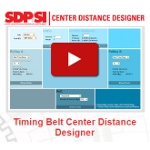 The quick-and-easy Center Distance Designer Calculator is a handy resource that will make designing and ordering parts for mechanical systems using single- or double-sided belt drives much easier, calculating center drive ratios, center distances for a pulley pair, and more. This tool from Stock Drive Products/Sterling Instrument (SDP/SI) will help you get the right pulley and timing belt combination and instantly identify the appropriate part numbers that meet your specifications.
Learn about the Center Distance Designer Calculator.

---
New air atomizing spray nozzle video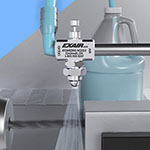 EXAIR's Atomizing Spray Nozzles create a fine liquid mist perfect for washing, coating, cooling, dust control, and more. These nozzles offer an assortment of flow rates and patterns including flat fan, round, and hollow cone patterns, and are highly effective with a wide range of liquids making them a perfect tool for a variety of industries. Combining liquid and compressed air, atomizing nozzles create a fine atomization for superior coverage and can be easily adjusted to fit your application's demands.
See how they work.
---
Tamper-proof seal screws build in security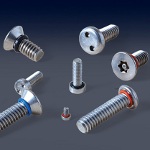 ZAGO security/ tamper-proof seal screws are designed with a distinct drive style that requires a specialized tool to unlock, effectively deterring tampering, vandalism, and misuse. What's more, a groove-fit rubber O-ring expands on installation to create an impervious, unbreakable seal. Available in a variety of corrosion-resistant metals, they are reusable and removable for maintenance and repair with proper tooling.
Learn more.
---
Micro-AM tech makes plastic 3D-printed parts conductive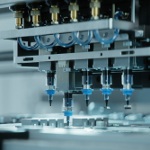 Horizon Microtech-nologies' new micro-AM technology can help in the elimination of electro-static discharge (ESD) in applications that would benefit from 3D printing by combining precision polymer additive manufacturing and ESD compliancy. Parts can be made with a controllably conductive surface coating and also coated internal channels with multiple bends. In one use, very compact and high-performance end-effectors were created for vacuum pick-and-place devices that were conductive enough to prevent electrostatic discharge.
Learn more.
---
5-Star Product: Constant-torque position hinge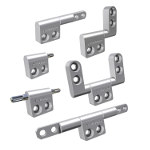 The RT-50 position hinge from Reell Precision Manufacturing incorporates unique engineering in a compact design to hold the angle of mounted components reliably in any position in small assemblies. The hinge's scaled-down 5-mm size and impressive constant-torque capabilities ideally suit demanding applications with limited footprints in consumer electronics, mobile devices, small appliances, and others. A dual-ended mounting configuration enables a single hinge to be used in place of two. Many other types/sizes available.
Learn more and see all the specs.
---
Cryogenic deflashing improves molding projects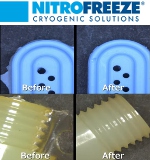 Nitrofreeze® Cryogenic Solutions is providing molders and OEM manufacturers that make injection molded, extrusion molded, and compression molded parts with a rapid, consistent, and cost-effective alternative to hand trimming molding flash. Nitrofreeze cryogenic deflashing is an automated, computer-controlled batch process that removes flash from tens to thousands of molded parts all at the same time. This patented process will not change part tolerances or surface finish, is more consistent than hand trimming, and is safe for medical plastics and medical silicones.
Learn more.
---
Researchers shrink camera to the size of a salt grain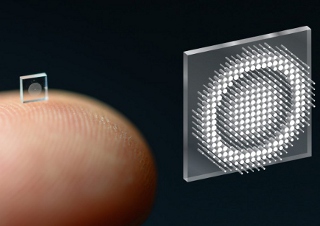 Researchers at Princeton University and the University of Washington have developed an ultracompact camera the size of a coarse grain of salt. The system relies on a technology called a metasurface, which is studded with 1.6 million cylindrical posts and can be produced much like a computer chip. [Image courtesy of the researchers]
By Molly Sharlach, Princeton University
Micro-sized cameras have great potential to spot problems in the human body and enable sensing for super-small robots, but past approaches captured fuzzy, distorted images with limited fields of view.
Now, researchers at Princeton University and the University of Washington have overcome these obstacles with an ultracompact camera the size of a coarse grain of salt. The new system can produce crisp, full-color images on par with a conventional compound camera lens 500,000 times larger in volume, the researchers reported in a paper published Nov. 29, 2021, in Nature Communications.
Enabled by a joint design of the camera's hardware and computational processing, the system could enable minimally invasive endoscopy with medical robots to diagnose and treat diseases, and improve imaging for other robots with size and weight constraints. Arrays of thousands of such cameras could be used for full-scene sensing, turning surfaces into cameras.
While a traditional camera uses a series of curved glass or plastic lenses to bend light rays into focus, the new optical system relies on a technology called a metasurface, which can be produced much like a computer chip. Just half a millimeter wide, the metasurface is studded with 1.6 million cylindrical posts, each roughly the size of the human immunodeficiency virus (HIV).
Each post has a unique geometry, and functions like an optical antenna. Varying the design of each post is necessary to correctly shape the entire optical wavefront. With the help of machine learning-based algorithms, the posts' interactions with light combine to produce the highest-quality images and widest field of view for a full-color metasurface camera developed to date.
A key innovation in the camera's creation was the integrated design of the optical surface and the signal processing algorithms that produce the image. This boosted the camera's performance in natural light conditions, in contrast to previous metasurface cameras that required the pure laser light of a laboratory or other ideal conditions to produce high-quality images, said Felix Heide, the study's senior author and an assistant professor of computer science at Princeton.
The researchers compared images produced with their system to the results of previous metasurface cameras, as well as images captured by a conventional compound optic that uses a series of six refractive lenses. Aside from a bit of blurring at the edges of the frame, the nano-sized camera's images were comparable to those of the traditional lens setup, which is more than 500,000 times larger in volume.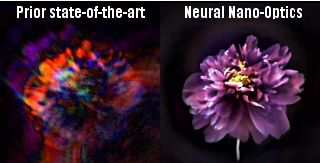 Previous micro-sized cameras (left) captured fuzzy, distorted images with limited fields of view. A new system called neural nano-optics (right) can produce crisp, full-color images on par with a conventional compound camera lens. [Image courtesy of the researchers]
Other ultracompact metasurface lenses have suffered from major image distortions, small fields of view, and limited ability to capture the full spectrum of visible light -- referred to as RGB imaging because it combines red, green, and blue to produce different hues.
"The significance of the published work is completing the Herculean task to jointly design the size, shape, and location of the metasurface's million features and the parameters of the post-detection processing to achieve the desired imaging performance," said Joseph Mait, a consultant at Mait-Optik and a former senior researcher and chief scientist at the U.S. Army Research Laboratory.
Heide and his colleagues are now working to add more computational abilities to the camera itself. Beyond optimizing image quality, they would like to add capabilities for object detection and other sensing modalities relevant for medicine and robotics
Published February 2022
Rate this article