Custom maintenance-free toothed belt pulleys delivered in just 48 hr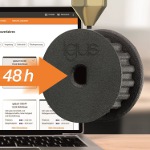 Motion plastics leader igus has expanded its 3D-print and online ordering offering to include custom-format toothed belt pulleys. Toothed belt pulleys are a common component in many machines and are widely used in linear drives of printers, robots, and packaging machines. However, if an individual variant is required, developing a custom component can take days or even weeks. igus now offers manufacturing by 3D printing, reducing delivery times from several weeks to just 48 hours.
Learn more.
---
Machine-ready blanks from TCI Precision Metals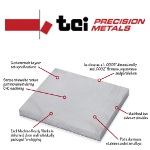 TCI Precision Metals will be showing its precision Machine-Ready Blanks capabilities to customers at IMTS 2022 this September. Machine-Ready Blanks of aluminum, stainless steel, and other alloys help shops shorten setup time, reduce scrap, and increase overall throughput up to 25% by eliminating material prep. These blanks are guaranteed to arrive machine-ready for production, with standard-size blanks in low quantities ready for immediate shipping, Custom blanks in production quantities can be ordered for quick turnaround.
Learn more.
---
Engineer's Toolbox: How to pin a shaft and hub assembly properly
One of the primary benefits of using a coiled spring pin to affix a hub or gear to a shaft is the coiled pin's ability to prevent hole damage. Another is the coiled pin absorbs wider hole tolerances than any other press-fit pin. This translates to lower total manufacturing costs of the assembly. However, there are a few design guidelines that must be adhered to in order to achieve the maximum strength of the pinned system and prevent damage to the assembly.
Read this very informative SPIROL article.
---
Xometry launches Industrial Buying Engine: Access 500,000 top suppliers

Xometry had a lot of news to share on June 16, including the launch of its Industrial Buying Engine on Thomasnet, where enterprise customers can source and purchase from more than 500,000 top suppliers. The new capability digitizes the request-for-quote process, condensing to just hours or minutes what once took days or weeks to complete. Buyers can request quotes for products and services from trusted, high-value suppliers, and they can also access the Xometry Instant Quoting Engine for more immediate transactions. Learn all about it -- and Xometry's other manufacturing news -- in this on-demand webinar.
Watch the Xometry presentation. No registration required.
Read about the new Xometry capabilities.
---
Knob with a twist makes for easier operation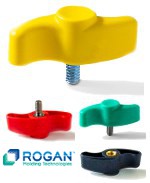 Created with ergonomics in mind, Rogan's new ST series clamping knobs feature a contoured design that allows for more comfortable operation and ease of function. Perfectly engineered for applications in industrial, medical, lawn and garden, and consumer, ST knobs are made of glass-reinforced polypropylene with zinc-plated brass inserts or zinc-plated steel studs. Available in black, grey, white, blue, yellow, green, or red. Completely customizable too.
Learn more.
---
Tech Tip: Wave spring vs. coil spring -- what's the difference?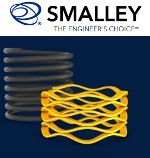 The key advantage of using a wave spring is in the axial space savings. Whether it is a static or dynamic application, a wave spring can provide the same force and deflection as a coil spring -- but in considerably less space. There are many other advantages of using wave springs, including cost savings when considering the whole assembly.
Learn more in this informative Smalley blog.
---
Turn any pipe or hose into a conveyor! Now with custom options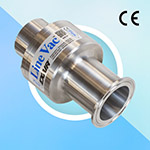 EXAIR's Line Vac Air Operated Conveyors provide an efficient method of converting ordinary pipe, hose, or tubes into powerful in-line conveyors. EXAIR can customize Line Vacs to different specs, such as unique sizes, shapes, and materials, for the perfect system fit. Even smaller sizes can be created while still offering the same quality of conveyance. In applications where stock aluminum or 303 and 316 stainless steels won't work, alternate materials are available. Prices start at just over a hundred bucks.
Learn more.
---
Slash setup times with One Touch Sliding Locks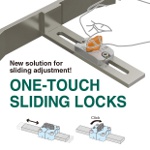 One Touch Sliding Locks from IMAO Fixtureworks provide quick and secure positioning and locking. Users can prevent misalignment and quickly lock with a quarter turn of the knob or handle. Ideal for slide position adjustment with a sliding bar or a slotted hole, these easy-to-use sliding locks reduce set-up times in a wide variety of applications. They feature secure locking with a wedge mechanism.
Learn more.
---
What's a magnetic GHOST fastener?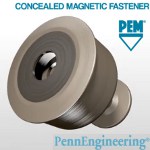 PEM® GHOST™ Fastening Technology from Penn-Engineering uses a fully concealed pinch-lock mechanism to create a secure and sleek lock with zero visible evidence of disassembly once engaged. Using a magnetic release tool on the concealed fastener actuates the internal components, unlocking the pinch-lock grip and instantly releasing the pin from the fastener. From automotive interiors to access control systems, this clever fastening tech is adaptable to many applications.
View the video.
---
Torque transducers and test machinery use Zero-Max CD Couplings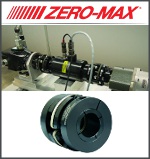 Torque transducers and test machinery experience extreme demands, including high torque loads and high operating speeds that cause stress on connected components. To assure these systems generate accurate test data, system designers specify CD Couplings from Zero-Max. Using Zero-Max's proprietary Composite Disc-Pack (CD), CD Couplings provide the ideal combination of high torque capacity, high torsional stiffness, and low reaction loads under misalignment.
Learn more.
---
Desktop Metal introduces robotic sand 3D-printing system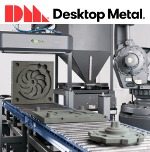 Desktop Metal has launched the automated ExOne S-Max Flex large-format binder jetting system that 3D prints sand tooling, which foundries can use to cast complex metal designs for the aerospace, automotive, and energy industries, among others. Sand binder jet 3D printing has been used in foundries for more than two decades to create metalcasting tooling cost effectively and with low turnaround times.
Read the full article.
---
Friction bearing universal joints for packaging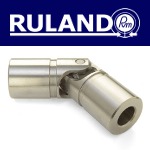 Friction bearing universal joints are available from Ruland in a wide variety of sizes, styles, and materials, giving packaging equipment designers more than 3,000 standard options to choose from. These components are selectively heat treated and ground for higher strength compared to competitor units. Single universal joints are best suited for space-constrained applications with angular misalignment up to 45 degrees; double for applications with a wide distance between shafts or those in need of extreme angular misalignment accommodation up to 90 degrees. Can be equipped with nitrile boot covers for abrasion and oil resistance.
Learn more.
---
NASA partners with Xometry to fast-track critical life support systems on the ISS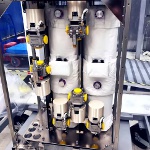 Xometry was chosen to help produce mission-critical parts for NASA's Environmental Control and Life Support Systems team at the Marshall Space Flight Center. This video features air purification units designed by NASA engineers and manufactured with Xometry's large-format CNC machining capabilities. Watch to see how Xometry and NASA overcame challenges to build spaceworthy parts for the International Space Station (ISS).
View the video.
---
Sealing fasteners can optimize your designs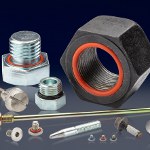 Highly specialized sealing fasteners include sealing screws, sealing nuts, sealing bolts, and sealing washers. Unlike ordinary fasteners, sealing fasteners are configured with a rubber O-ring (or a rubber element) that, when squeezed, permanently seals out a wide range of contaminants from entering and damaging equipment while preventing leakage of toxins into the environment. ZAGO sealing fasteners are designed to withstand harsh weather and extreme temperatures and are vibration and pressure resistant.
Learn all about ZAGO's wide selection of sealing fasteners.
---
Case studies demonstrate Xometry's CNC capabilities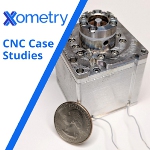 Xometry's comprehensive CNC machining service empowers engineers, designers, and entrepreneurs around the world. Check out some of their recent CNC machining case studies to see what new heights you can reach with Xometry's help. Examples include NASA life support systems, a robotic BattleBot, and air-purifying respirator parts.
Check out the Xometry case studies.
---
Researchers shrink camera to the size of a salt grain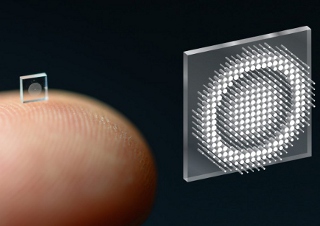 Researchers at Princeton University and the University of Washington have developed an ultracompact camera the size of a coarse grain of salt. The system relies on a technology called a metasurface, which is studded with 1.6 million cylindrical posts and can be produced much like a computer chip. [Image courtesy of the researchers]
By Molly Sharlach, Princeton University
Micro-sized cameras have great potential to spot problems in the human body and enable sensing for super-small robots, but past approaches captured fuzzy, distorted images with limited fields of view.
Now, researchers at Princeton University and the University of Washington have overcome these obstacles with an ultracompact camera the size of a coarse grain of salt. The new system can produce crisp, full-color images on par with a conventional compound camera lens 500,000 times larger in volume, the researchers reported in a paper published Nov. 29, 2021, in Nature Communications.
Enabled by a joint design of the camera's hardware and computational processing, the system could enable minimally invasive endoscopy with medical robots to diagnose and treat diseases, and improve imaging for other robots with size and weight constraints. Arrays of thousands of such cameras could be used for full-scene sensing, turning surfaces into cameras.
While a traditional camera uses a series of curved glass or plastic lenses to bend light rays into focus, the new optical system relies on a technology called a metasurface, which can be produced much like a computer chip. Just half a millimeter wide, the metasurface is studded with 1.6 million cylindrical posts, each roughly the size of the human immunodeficiency virus (HIV).
Each post has a unique geometry, and functions like an optical antenna. Varying the design of each post is necessary to correctly shape the entire optical wavefront. With the help of machine learning-based algorithms, the posts' interactions with light combine to produce the highest-quality images and widest field of view for a full-color metasurface camera developed to date.
A key innovation in the camera's creation was the integrated design of the optical surface and the signal processing algorithms that produce the image. This boosted the camera's performance in natural light conditions, in contrast to previous metasurface cameras that required the pure laser light of a laboratory or other ideal conditions to produce high-quality images, said Felix Heide, the study's senior author and an assistant professor of computer science at Princeton.
The researchers compared images produced with their system to the results of previous metasurface cameras, as well as images captured by a conventional compound optic that uses a series of six refractive lenses. Aside from a bit of blurring at the edges of the frame, the nano-sized camera's images were comparable to those of the traditional lens setup, which is more than 500,000 times larger in volume.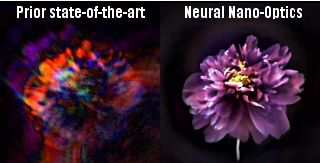 Previous micro-sized cameras (left) captured fuzzy, distorted images with limited fields of view. A new system called neural nano-optics (right) can produce crisp, full-color images on par with a conventional compound camera lens. [Image courtesy of the researchers]
Other ultracompact metasurface lenses have suffered from major image distortions, small fields of view, and limited ability to capture the full spectrum of visible light -- referred to as RGB imaging because it combines red, green, and blue to produce different hues.
"The significance of the published work is completing the Herculean task to jointly design the size, shape, and location of the metasurface's million features and the parameters of the post-detection processing to achieve the desired imaging performance," said Joseph Mait, a consultant at Mait-Optik and a former senior researcher and chief scientist at the U.S. Army Research Laboratory.
Heide and his colleagues are now working to add more computational abilities to the camera itself. Beyond optimizing image quality, they would like to add capabilities for object detection and other sensing modalities relevant for medicine and robotics
Published February 2022
Rate this article