World's smallest servo drives introduced by Celera Motion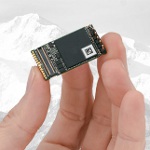 Celera Motion claims its newly launched Denali Series features the world's smallest servo drives. The compact and ultra-fast servo drives are perfect for a variety of service robots, surgical robots, industrial grippers, and lab automation applications.
Read the full article.
---
UR cobots control CNC machining cells at Go Fast Campers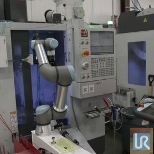 Learn how Go Fast Campers (GFC) has integrated a line of four UR5 cobots from Universal Robots with their Haas CNC machines. GFC manufactures 174 unique parts -- from bolts to connectors to hinges -- for its customized pop-up truck campers. All parts start as raw pieces of aerospace-grade aluminum billet material. The company can run 20 to 25 jobs across the four machining centers each day, with changeovers taking only 10 to 15 minutes. Watch how the cobots' built-in I/Os allow GFC to control all auxiliary systems through the robot program, including part loading, flipping, and unloading with a special extra retractor arm.
View the video.
---
New Twin profile Rail Stage actuator improves accuracy in XYZ motion systems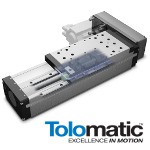 The new Twin profile Rail Stage (TRS) actuator from Tolomatic improves accuracy and increases production uptime on XYZ linear motion systems with two- or three-axis configurations. Applications include machining centers, collaborative robot movement, drilling, cutting, pick-and-place, material handling, and more.
Read the full article.
---
Super cool and versatile palletizing gripper: OnRobot 2FGP20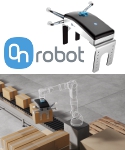 Palletizing just got easier and more affordable with the 2FGP20 from OnRobot, an off-the-shelf electric gripper with a payload of up to 20kg and endless customization possibilities to fit any automation needs. The 2FGP20 is an ideal solution that can be deployed and redeployed for multiple processes and handling different parts.
Learn more about the 2FGP20.
Learn more about palletizing.
---
Cobot packer helps with labor shortages and boasts 1-year ROI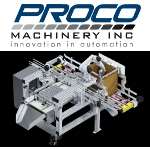 Proco Machinery's new Collaborative Robot Packer, which is designed to work alongside human operators to increase efficiency and performance, promises a one-year payback to customers, making it one of the industry's most effective solutions for reducing labor costs. The easily adaptable new robot packer can perform a range of tasks, from testing containers to packing them into cases. The system includes advanced sensors and software. It is modular and on castors, making it easy to use and flexible in operation.
Learn more.
---
NFPA cylinders provide a fit-and-forget solution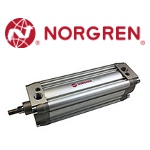 Norgren's latest range of NFPA pneumatic cylinders, the P-Series, offers a light and modernized design with standard adaptive cushions for changing speed and load to provide a fit-and-forget solution. P-Series is designed to offer consistent and reliable performance in a broad range of industrial automation applications. This actuator allows for simple installation and operation, reducing complexity and promoting longer machine life.
Learn more and get the full specs.
---
Micromotors help telescopes solve galactic mysteries by providing automatic, quick alignment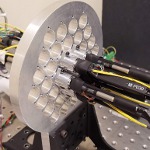 How can motor drives so small help unravel the mysteries of something so big? Learn how micromotors from FAULHABER are helping to usher in a new era of astronomical observation and discovery -- and are making the Sloan Digital Sky Survey telescope systems markedly faster in precise positioning along the way.
Read the full article.
---
What is Sensorless Closed Loop? Precise motor control without an encoder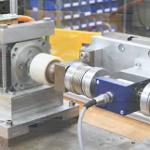 Matt Sherman, eMobility Sales and Application Engineer at KEB America, runs through different options to drive an AC motor, including one called "Sensorless Closed Loop" that does not require additional hardware such as encoder, resolver, or cables on the motor. Instead of an external sensor, the sensorless option uses a sophisticated motor model to close the loop.
Read this informative KEB America blog.
---
How to customize a base model electric linear actuator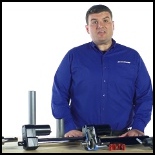 Chad Carlberg, Product Line Manager at Thomson Industries, runs through how to find the optimal balance of performance, life, and cost when it comes to electric linear actuator solutions. Your application may not require the fastest, sturdiest, most accurate, or even the least expensive option, after all. Learn how to create just the right balance for your needs. Some good details here.
View the video.
---
Smart Flex Effector from Bosch Rexroth makes robots more sensitive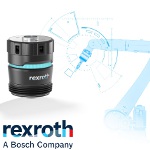 The Smart Flex Effector is a new, sensor-based compensation module from Bosch Rexroth that gives robots and Cartesian linear systems human-like sensitivity, offering new opportunities for factory automation. Typical applications include joining processes with minimal tolerances, complex assembly work, or difficult handling tasks. Errors and rejects are minimized, and teaching and commissioning can be carried out more easily and quickly.
Learn more.
---
Servo drives with Extended Environment capabilities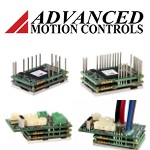 RS-485/232 FlexPro servo drives are now available with Extended Environment capabilities from ADVANCED Motion Controls. FlexPro is the perfect compact servo drive solution for robots, machines, and other motion control applications. Extended Environment servo drives push the boundaries to allow proper operation in conditions where other electronics fail. They can withstand both scorching and freezing temperatures, high and low pressures, shocks, vibrations, contamination, and other harsh conditions. These drives come in both PCB-mount and machine-embedded form factors.
Learn more.
---
Compact stepper drive offers greater smoothness, precision, torque density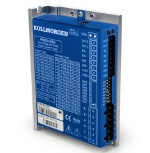 Kollmorgen has just released the new P80630-SDN stepper drive. Customers can now benefit from features such as smoothness, precision, and torque across the full speed range in a significantly more compact package that enables smaller, lighter, and more versatile machines. The P80630-SDN is an ideal solution for labelers, indexing tables, CNC machines, packaging systems, pumps, and other single- or multi-axis systems requiring low-speed, point-to-point motion control for fixed loads.
Learn more and get the specs.
---
New high-capacity, high-speed electric linear actuators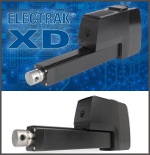 Thomson has introduced a high-capacity, high-performance electric linear actuator that gives motion system designers more cost-effective options to replace hydraulic cylinders. Among the many new features of the Thomson Electrak XD linear actuator is load handling up to 25,000 N (5,000 lb). The Electrak XD can also achieve operating speeds up to 75 mm/sec (3 in./sec) and duty cycles up to 100%.
Learn more.
---
New brushless DC motor design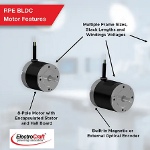 The ElectroCraft RapidPower Enhanced series (RPE series) is a new and innovative brushless DC (BLDC) motor design that combines performance, flexibility, and affordability to offer OEMs the perfect platform for a wide range of motion applications. This level of configurability enables the RPE series to be quickly acquired and adapted into your application. ElectroCraft's BLDCs integrate rare Earth magnets and an eight-pole encapsulated core design to provide high torque density, peak torques up to 300% of continuous ratings for short-time operation, wide speed ranges, and low cogging torque for ultra-smooth motion.
Learn more.
---
End-of-arm tooling components for vacuum pick-and-place systems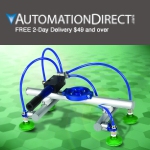 Automation-Direct now offers Schmalz end-of-arm tooling components for robot arm vacuum pick-and-place applications. Components can be purchased individually or in kits that include everything needed to create a single-beam or dual-beam end-of-arm tool. Kits are simple, save time and money, and include structural rails (which support optional internal vacuum), connectors, cup mounts, vacuum tubing, vacuum cups, fittings, a basic ejector, a flange for a Universal robot, and a blank robot flange. Components start at $8. Kits start at $995.
Learn more.
---
Ford Motor Co. splitting into distinct electric, internal combustion engine, and commercial divisions

Ford Motor Co. is forming distinct auto units for its electric vehicle (EV) and internal combustion engine (ICE) businesses, and also creating a separate unit for commercial and government vehicle customers.
Ford says the formation of two distinct, but strategically interdependent, auto businesses -- Ford Blue (ICEs) and Ford Model e (EVs) -- together with the new Ford Pro business (commercial and government), will help unleash the full potential of the Ford+ plan announced last May, "driving growth and value creation and positioning Ford to outperform both legacy automakers and new EV competitors."
The creation of Ford Model e for EVs was spurred by the success of small, mission-driven Ford teams that developed the Ford GT, Mustang Mach-E SUV, and F-150 Lightning pickup, as well as Ford's dedicated EV division in China.
"Ford Model e will be Ford's center of innovation and growth -- a team of the world's best software, electrical, and automotive talent turned loose to create truly incredible electric vehicles and digital experiences for new generations of Ford customers," said Ford President and CEO Jim Farley.
"We have made tremendous progress in a short period of time. We have launched a series of hit products globally, and demand for our new EVs like F-150 Lightning and Mustang Mach-E is off the charts," Farley said. "But our ambition with Ford+ is to become a truly great, world-changing company again, and that requires focus. We are going all in, creating separate but complementary businesses that give us start-up speed and unbridled innovation in Ford Model e together with Ford Blue's industrial know-how, volume, and iconic brands like Bronco, that start-ups can only dream about."
Ford Blue will handle the company's traditional ICE lineup. "This team will be hellbent on delivering leading quality, attacking waste in every corner of the business, maximizing cash flow, and optimizing our industrial footprint," said Farley.
Ford Model e and Ford Blue will be run as distinct businesses, but also support each other -- as well as Ford Pro, which is dedicated to delivering a one-stop shop for commercial and government customers with a range of conventional and electric vehicles and a full suite of software, charging, financing, services, and support on Ford and non-Ford products.
Ford says its Ford Model e division will:
Attract and retain the best software, engineering, design, and UX talent and perfect new technologies and concepts that can be applied across the Ford enterprise;
Embrace a clean-sheet approach to designing, launching, and scaling breakthrough, high-volume electric and connected products and services for retail, commercial, and shared mobility;
Develop the key technologies and capabilities (such as EV platforms, batteries, e-motors, inverters, charging, and recycling) to create ground-up, breakthrough electric vehicles; and
Create the software platforms and fully networked vehicle architectures to support always-on and ever-improving vehicles and experiences.
Ford says its Ford Blue division will:
Strengthen the iconic Ford vehicles customers love, such as F-Series, Ranger, and Maverick trucks, Bronco and Explorer SUVs, and Mustang, with investments in new models, derivatives, experiences, and services;
Provide tailored brand and vehicle experiences, from off-roading to performance to family activities, especially for those situations where ICE capabilities are required;
Deliver new, connected, personalized, and always-on experiences for customers powered by Ford Model e's software and embedded systems;
Make industry-leading quality and exceptional service a reason to choose and stay with Ford;
Root out waste and dramatically reduce product, manufacturing, and quality costs; and
Support Ford Model e and Ford Pro through proven, global-scale engineering, purchasing, manufacturing, and vehicle test and development capabilities for world-class safety, ride, and handling; quiet and comfort; and durability.
Farley will serve as president of Ford Model e, in addition to his role as president and CEO of Ford Motor Co. Doug Field will lead Ford Model e's product creation as chief EV and digital systems officer. Kumar Galhotra will serve as president of Ford Blue.
Thai-Tang will lead Ford's industrial platform as chief industrial platform officer. He will lead product development, supply chain, and manufacturing engineering for ICE products and common systems across Ford Blue, Ford Model e, and Ford Pro.
Source: Ford Motor Co.
Published March 2022
Rate this article