Cadillac Escalade-V: Most powerful V8 SUV with 682 hp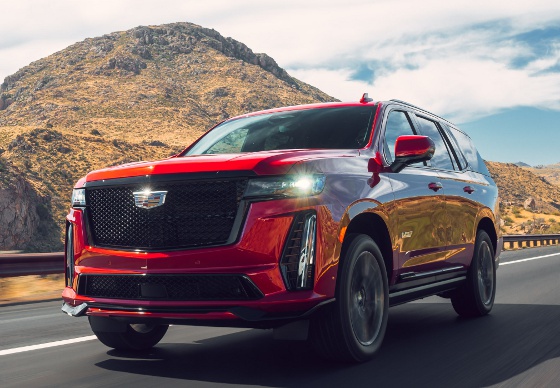 If power, style, and a big presence dominate your wish list for premium wheels, then Cadillac's 2023 Escalade-V has all the bases covered. The first-ever Cadillac V-Series SUV boasts a supercharged 6.2-liter V8 engine rated at 682 hp, and as a total package it's got class written all over it.
Standard performance elements include a 10-speed automatic transmission calibrated for Escalade-V, a full-time active all-wheel-drive system, and exclusive suspension hardware and software calibrations. An Escalade-V ESV (Escalade Stretch Vehicle) version is also available.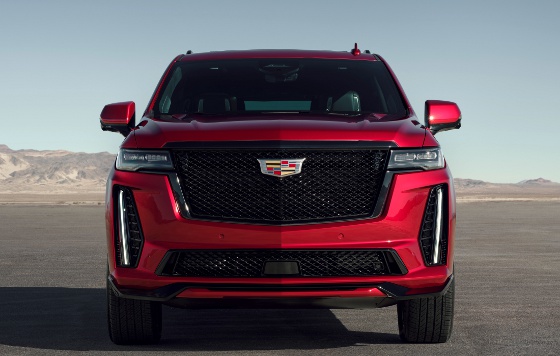 With the supercharged engine and the full-time active all-wheel drive system to enhance traction, Cadillac estimates the Escalade-V to do 0- to 60-mph sprints in under 4.4 sec. Initial GM testing pegged a quarter-mile time of 12.74 sec at 110 mph. That's pretty fast for a full-size SUV. The all-wheel drive system varies the torque split depending on conditions, but some torque is always directed to the front wheels.
Rated at a GM-estimated 682 hp at 6,000 engine rpm and 653 lb-ft of torque at 4,400 engine rpm, the Escalade-V's 6.2-L hand-built supercharged and intercooled engine builds on a legacy of supercharged V8 engines offered in Cadillac V-Series models: the second- and third-generation CTS-V models, the XLR-V, and, most recently, the CT5-V Blackwing.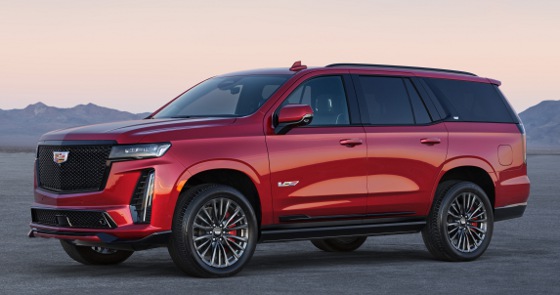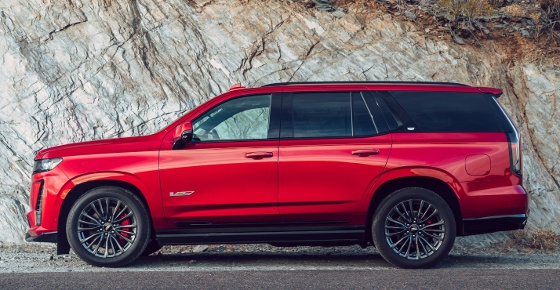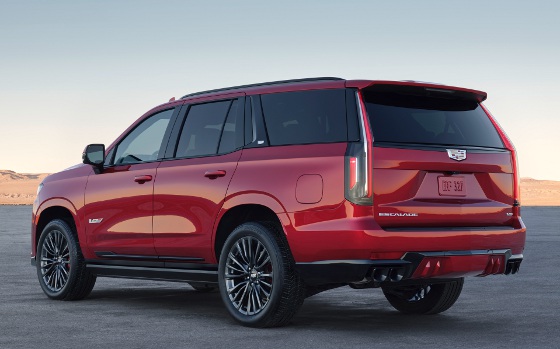 The Escalade-V's engine shares architectural similarities with the CT5-V Blackwing's supercharged V8, but it features a larger, 2.65-L R2650 TVS supercharger that Cadillac says helps overcome the higher inlet and exhaust restrictions on the full-size SUV application. It spins at up to 13,500 rpm to produce approximately 10 lb of boost and has an electronically controlled bypass valve for optimal drivability. The supercharger's unique four-lobe rotors are designed to broaden the engine's power band, with great low-end torque production and strong high-rpm power.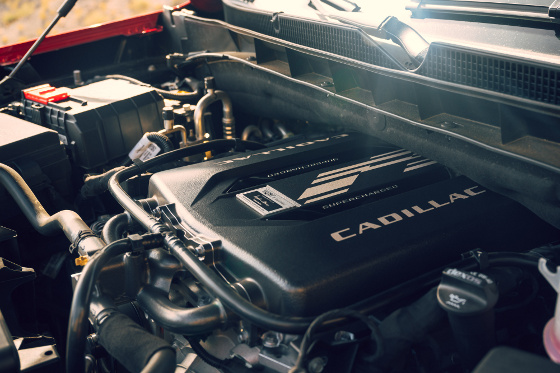 The rest of the engine is designed to support the high output and the greater cylinder pressures that come with forced induction, including a durable forged-steel crankshaft, forged steel connecting rods, and forged aluminum pistons. The aluminum cylinder heads are stronger and handle heat better than conventional castings. The heads also feature lightweight titanium intake valves.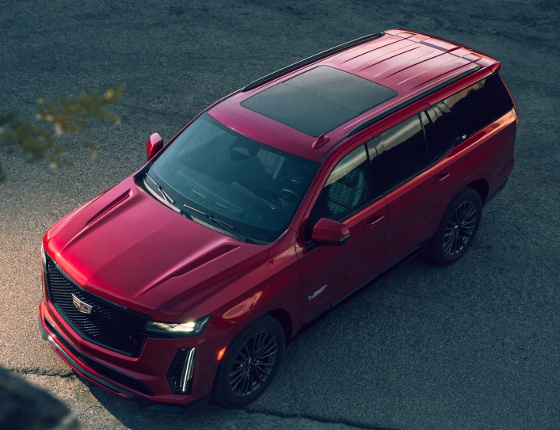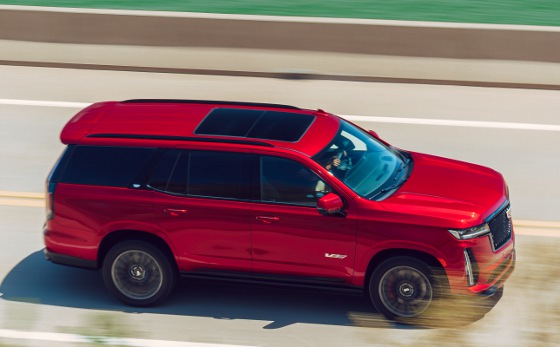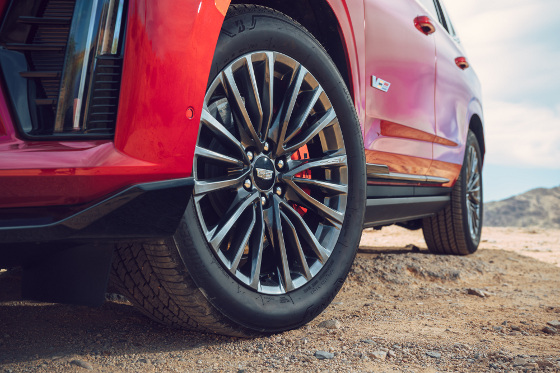 Standard Magnetic Ride Control 4.0, Air Ride Adaptive Suspension, and exclusive Escalade-V suspension hardware add to the Escalade-V's responsive driving experience. The Air Ride Adaptive Suspension four-corner air springs feature specific, stiff rear air springs. The electronically controlled system also features unique damper hardware tuning and software calibrations, which help make the most of the Escalade-V's four-wheel independent suspension.
The electronic limited-slip differential improves handling and helps to maximize traction. An exclusive V-Mode lets drivers tailor their preferred performance-driving mode, and it also automatically lowers the ride height by nearly 0.8 in. (20 mm). The Launch Control function is available via V-Mode, too, providing optimal acceleration runs from a stop.
On the exterior, unique front and rear fascias cast a distinctive look, along with Cadillac's signature Sport mesh grille. The rear fascia incorporates openings for a quad exhaust outlet. Uniquely styled 22-in. wheels are also part of the V-Series package.
Inside, the cabin's appointments build on the Escalade's Platinum trim interior, offered in Black or Dark Auburn, with Zebra Wood accents. Standard features include semi-aniline leather on all three rows, with front seats featuring power massage and a heated steering wheel.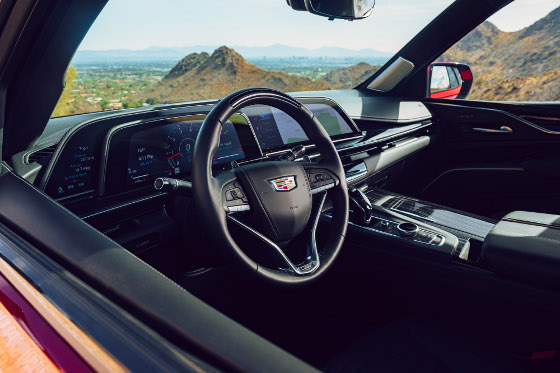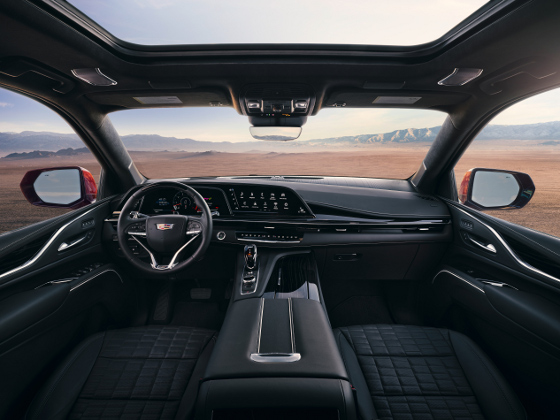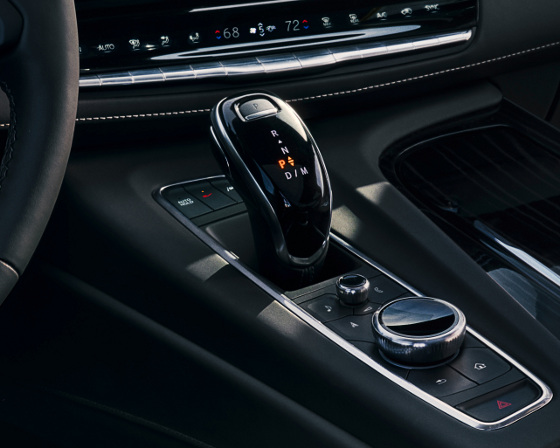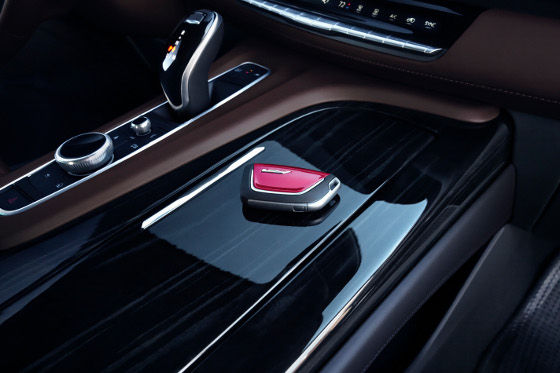 For the driver, standard is a curved OLED with 38 in. of total diagonal display and twice the pixel density of a 4K TV. An Augmented Reality feature projects a live image of what is in front of the vehicle on the 14.2-in.-diagonal center cluster display. When a navigational route is active, the system will overlay directional information on the display.
Also standard is an AKG Studio Reference 36-speaker audio system with 3D Surround, Navigation Rendering, and more.
Super Cruise hands-free driver-assistance technology, including trailering and automatic lane change capabilities, is also available.
The 2023 Escalade-V goes on sale late this summer, with a starting MSRP of $149,990. Learn more at cadillac.com/suvs/escalade.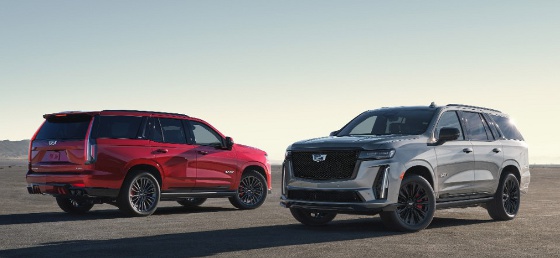 Source: Cadillac
Published August 2022
Rate this article