Desktop Metal qualifies nickel alloy Inconel 625 for 3D printing on Studio System 2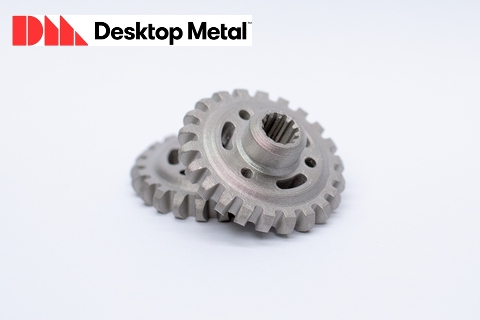 3D-printer maker Desktop Metal has qualified the use of the nickel alloy Inconel 625 (IN625) for its Studio System, a turnkey metal additive manufacturing platform that offers customers an easy way to print high-performance metal parts in low volumes for pre-production and end-use applications.
The company says its Desktop Metal Studio System platform now offers more materials than any other metal extrusion 3D-printing system on the market -- a total of eight in all.
In addition to IN625, Studio System users can now print titanium alloy Ti6Al4V (Ti64), copper, 4140, two tool steels (H13 and D2), and two stainless steels (17-4PH and 316L). Shipments of IN625 are available now.
IN625 is a high-performance nickel alloy known for high levels of strength, temperature resistance, and corrosion resistance, which makes it a popular material choice for applications in the aerospace, chemical processing, and offshore energy industries.
However, the strength of IN625 is also what makes it a difficult and expensive material to machine into complex shapes. The process typically requires a skilled machinist and special CNC cutting tools, various production strategies, and coolants to shape. It's not uncommon for cutting tools to be broken or deformed when milling Inconel stock or for the material to deform when the outer layer hardens too quickly in response to machining.
Producing IN625 parts with the Studio System 2 is fast, safe, and affordable, when all factors are considered. Users can directly print and sinter final, end-use parts or near-net-shape parts that can be precision machined for key surfaces.
The Studio System 2 is an office-friendly metal additive manufacturing system that leverages Desktop Metal's proprietary Bound Metal Deposition (BMD) technology to produce parts. The two-step process provides a nearly hands-free experience, while eliminating loose powders and dangerous lasers commonly associated with metal 3D printing. Consisting of a printer and furnace, the Studio System 2 simplifies in-house, low-volume production of a wide range of complex geometries with outstanding surface finish and high-performance mechanical properties.
Learn more about all the metal types available from Desktop Metal at desktopmetal.com/materials/#materials-by-type.
Other materials are also available, including polymers, sand, ceramics, composites, and even wood.
Source: Desktop Metal
Published August 2022
Rate this article