Hennessey Venom F5 Roadster: Fastest convertible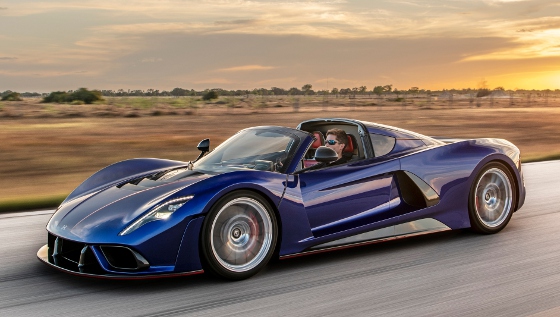 If extreme speed and the feeling of wind in your hair gets your motor running, Texas-based Hennessey Special Vehicles has a hyper-cool car that is right up your alley. The new 1,792-hp Venom F5 Roadster is a limited edition, 300+-mph roadster (projected) aimed at providing "the world's most exhilarating open-air driving experience" -- and it's pretty easy on the eyes too.
The Venom F5 Roadster is based on the Hennessey Venom F5 Coupe. Mechanically, the two are nearly identical, but several attributes set the open-air model apart from its fixed-roof sibling.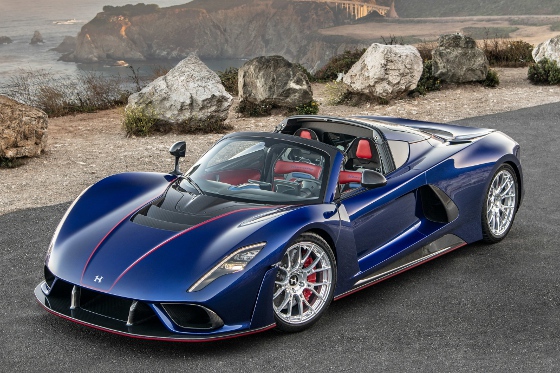 Most noticeable is the hypercar's new roofline. In contrast to the F5 Coupe, the F5 Roadster's roof has been re-engineered with a removable panel crafted from rigid carbon fiber composites. The single-piece roof is fully insulated against the elements and lined with soft Alcantara upholstery. The weatherproof panel is secured with four quick-release bolts and a pair of high-strength latches to withstand the roadster's mega-acceleration capabilities and aerodynamic forces at extreme speed. The lightweight roof panel weighs a mere 18 lb, making removal and installation easy for one person.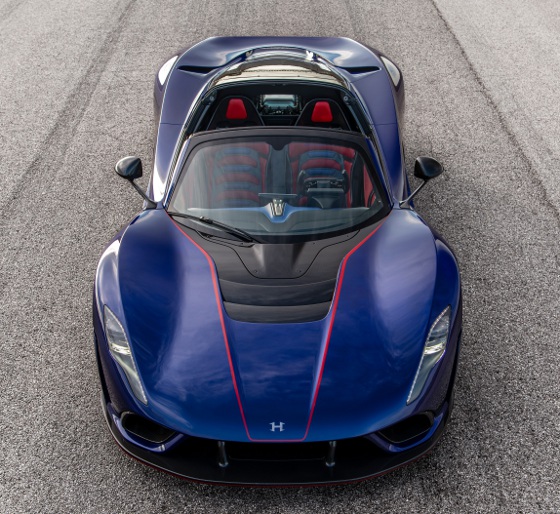 Hennessey's Venom F5 Coupe was engineered from the outset with an open-top version in mind, so only minor adjustments were required to deliver coupe-rivaling chassis rigidity, strength, and stiffness, and ensuring that drivers can access the same premium handling characteristics as the Venom F5 Coupe with or without the roof in place.
The Venom F5 Roadster also features a new tempered glass engine viewing window. This panel, in the middle of the rear engine cover, spotlights the massive Fury V8 engine in all its glory. Its engineering was no simple task. According to the designers, it was developed to jet-aircraft standards.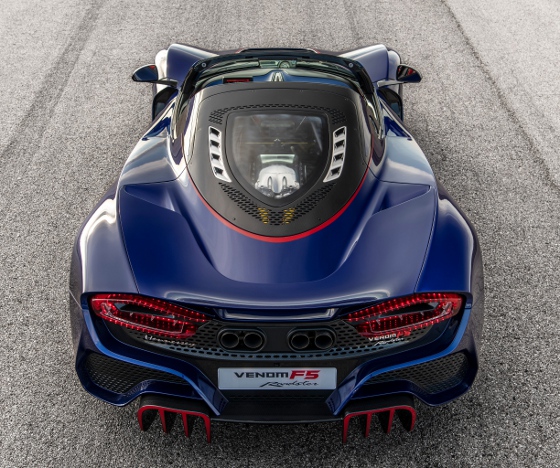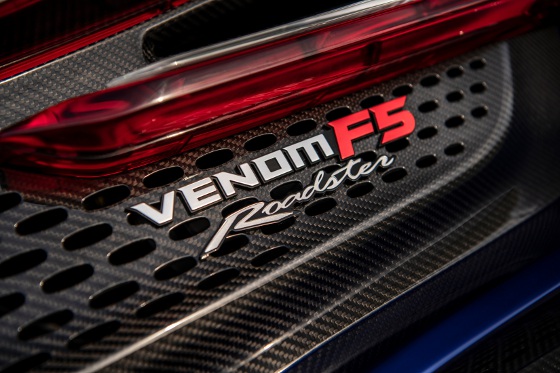 The generous glass panel can withstand aerodynamic forces exceeding 300 mph and temps beyond 1,000 F. The engine viewing window is encapsulated within a removable carbon fiber engine cover that features intricately milled heat extraction holes that match those in the rear bumper. Additional heat extraction is achieved by dual aluminum air vents, four on each side of the glass panel, which match the vents behind each front wheel.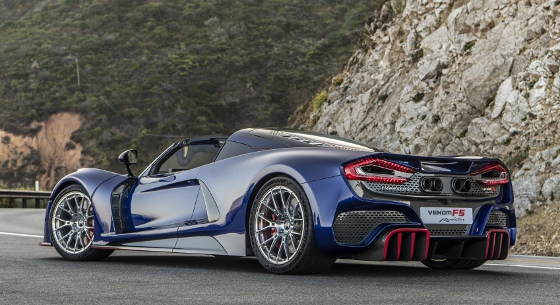 Mid-mounted in the carbon-fiber monocoque chassis is Hennessey's twin-turbocharged, 6.6-liter, Fury V8 engine rated at 1,792 hp. Peak torque is 1,193 lb-ft. It has a 7-speed automated manual transmission. With a dry weight of under 3,100 lb, the Venom F5 Roadster delivers phenomenal performance and the promise of clinching the world record for fastest convertible, which is currently held by another Hennessey creation, the Venom GT Spyder, at 265.6 mph.
The Roadster is further distinguished from its coupe sibling by its unique wheels. Forged from aluminum alloy and then milled, the lightweight wheels feature seven pairs of spokes, each resembling an elongated "H" design. Owners can opt to upgrade the Hyper Silver wheels to highly polished aluminum, an exclusive finish that requires a painstaking process of hand polishing that takes weeks to complete. The wheels are secured with five titanium nuts.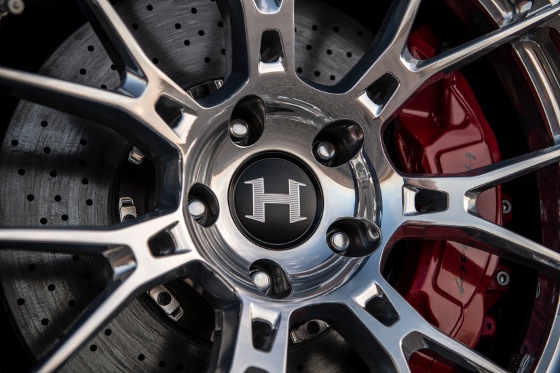 As with the Venom F5 Coupe, Roadster buyers can specify any exterior and interior color combination or leave areas of the Venom F5's carbon fiber chassis and body panels exposed. Opting for either a gloss or satin finish allows the stunning woven composite to be appreciated fully (pre-exposed areas of carbon fiber on the Venom F5 Roadster are standard, as they were on the Coupe). The same minimalist, functional, high-end design of the coupe model is retained within the passenger cabin.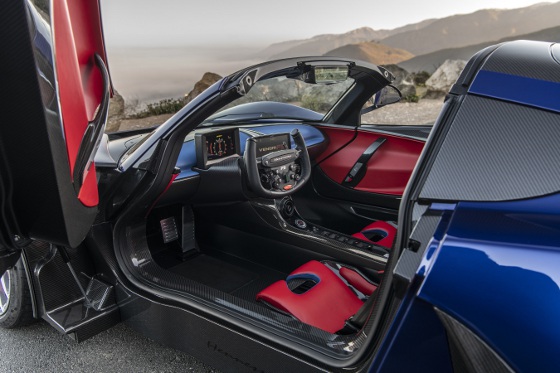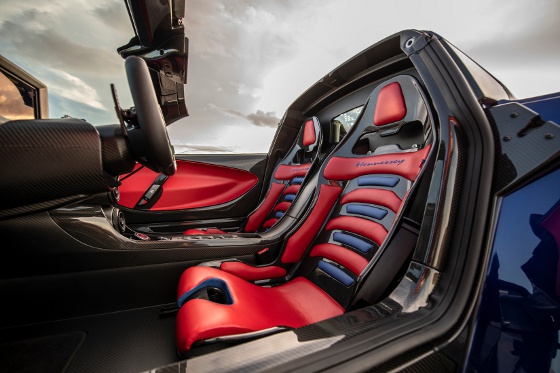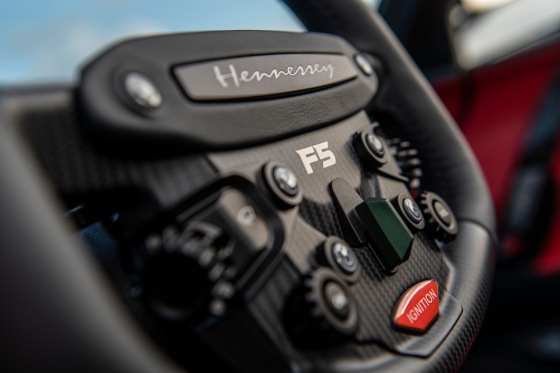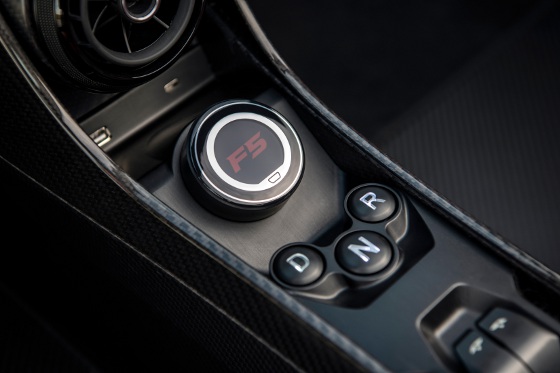 Wondering what to do with the top? Owners can store the panel in a bespoke Merino wool travel bag in the car or leave it at home placed on a custom-made, sculptural carbon fiber Hennessey pedestal.

VIDEO: Venom F5 Details: Exploring America's hypercar with Nathan Malinick, Hennessey director of Design.
The Venom F5 Roadster will be manufactured in Texas, with only 30 units made. The price is $3 million, so we hope you made a mint when those crypto currencies peaked.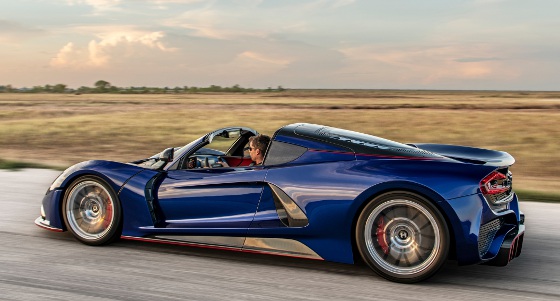 Source: Hennessey Performance
Published August 2022
Rate this article