Bentley Mulliner Batur: Next-gen muscle-car vibes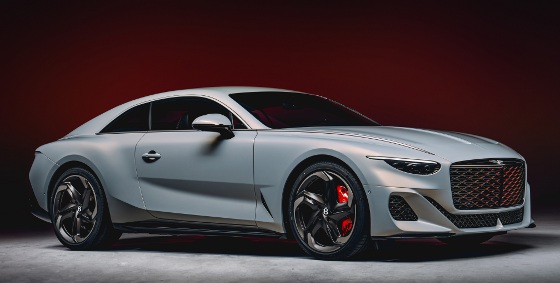 Bentley is giving a first look at its muscular new design language with its limited-edition Mulliner Batur coupe, a 730-hp twin-turbocharged W12 fastback that's the company's most powerful car ever. It boasts an electronic limited slip differential, four-wheel steering, 48-V electric active anti-roll bars, exceptional interior tailoring, and touches of titanium and 18K gold.
Only 18 units will be produced, each personalized and crafted by Bentley's in-house bespoke and coachbuilding division, Mulliner. Assembly will take place in Crewe, England, and the first unit should roll out of the workshop in the summer of 2023.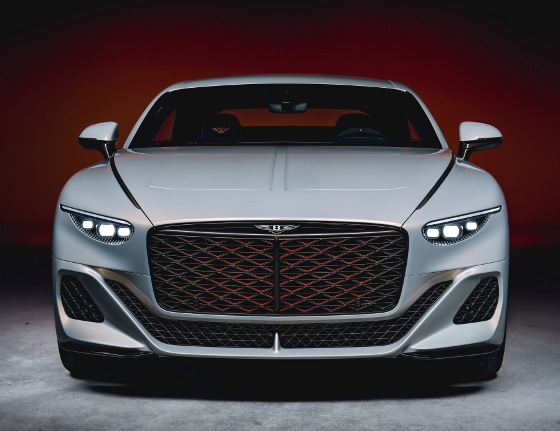 The new two-door sits on unique 22-in. wheels and Pirelli tires, and features a hand-assembled 6.0-liter twin-turbocharged W12 engine that Bentley has turned up a notch for fun.
According to the company, the Batur previews the design principles that are driving the development of the company's first battery electric vehicle (BEV) due in 2025, and the families of cars to follow. In this regard, it straddles a weird place in company history and development -- it's kind of a last hurrah for the gasoline W12 engine that has powered Bentley's success for the last two decades on cars such as the Bentley Mulliner Continental GT, while at the same time a sneak peek of things to come. All those curved surfaces do give a strong nod to modern electric car design.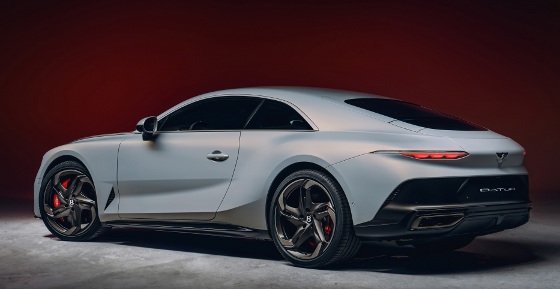 Batur's W12 gets a new intake system, upgraded turbochargers, new intercoolers, and extensive recalibration to deliver exceptional performance and 1,000 Nm of torque. The engine is paired with Bentley's eight-speed double-clutch transmission and a sports exhaust. The entire exhaust system is in titanium, while the finishers are 3D-printed in titanium, which is a first for Bentley.
Bentley says the development of its W12 engine over the last 20 years has seen the powerplant produce nearly 40% more power while improving fuel economy by 25%.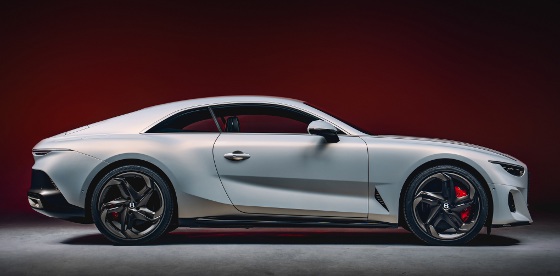 New design cues include a line that stretches from the front hood along the whole length of the car, making the car long and lean and giving an elongated proportion to the front end. Bentley calls this feature the "endless bonnet." Most of the mass looks pushed to the rear, like a lion in a low attack position.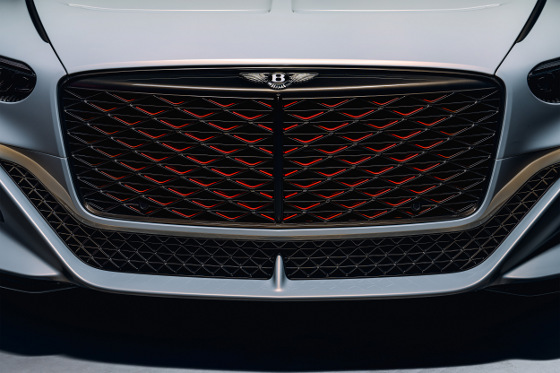 The recognizable Bentley grille is lower and more upright, and it is flanked by a new headlight shape and design with a single large headlight on either side. These are balanced with all-new tail lamps at the rear that sit on either side of a deployable spoiler.
The aerodynamic additions of front splitter, side skirts, and rear diffuser can be crafted in both carbon fiber or new, sustainable Natural Fiber composite. The exterior brightware can be any mix of light and dark, satin or gloss, or even titanium. As on the first example car, another option is graduated contrast color to the front grille for a vibrant ombre effect. Color-wise, owners can basically have anything they desire, including painted graphics.
Engine performance will be matched to the most advanced Bentley chassis ever, with Speed-tuned air suspension, electric active anti-roll control, eLSD (electronic limited slip differential), four-wheel steering, and torque vectoring.
Adaptive three-chamber air springs each have three switchable chambers, changing the volume of the air spring and its effective stiffness. The driver can select the balance between ride comfort and body control using the four-mode Drive Dynamics Control in the center console, choosing between Sport, Bentley, Comfort, and Custom.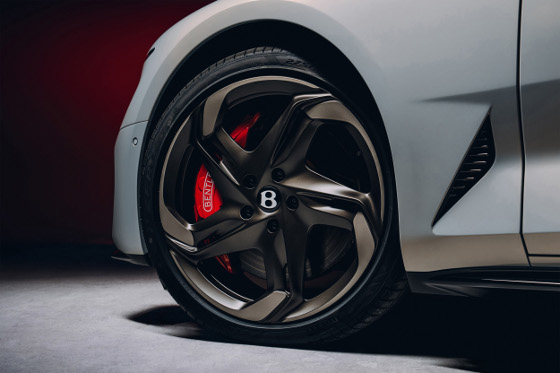 The Drive Dynamics Control also changes the behavior of the 48-V electric active anti-roll control system, which can provide up to 1,300 Nm of anti-roll torque in 0.3 sec or completely decouple the wheels at either end of each axle. The anti-roll control system can also be used to adjust the roll stiffness front to rear, giving the Batur sharper turn-in and greater ability to balance the car on the throttle when in Sport mode.

VIDEO: Bentley Mulliner Batur: Behind the design.
Overall traction and cornering grip is maximized through the use of an eLSD system that actively vectors drive torque across the chassis. This is complemented by torque vectoring by brake, whereby the car can lightly brake the inside rear wheel on turn-in for greater front-axle response, and also lightly brake both inside wheels on corner exit to move power across to the outside, loaded wheels for better traction.
Braking is via Bentley's CSiC (Carbon-Silicon-Carbide) braking system, with 440-mm front and 410-mm rear discs, matched with 10-piston front and four-piston rear calipers.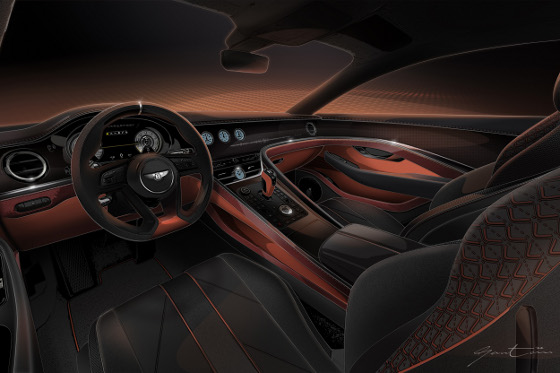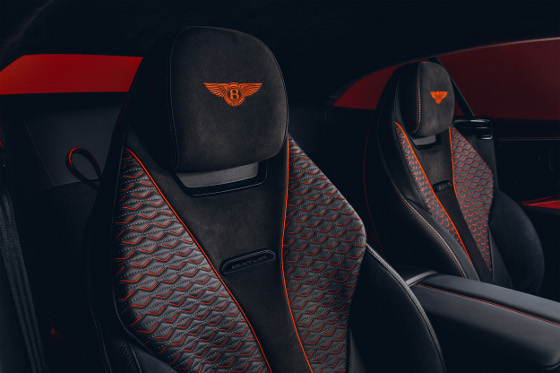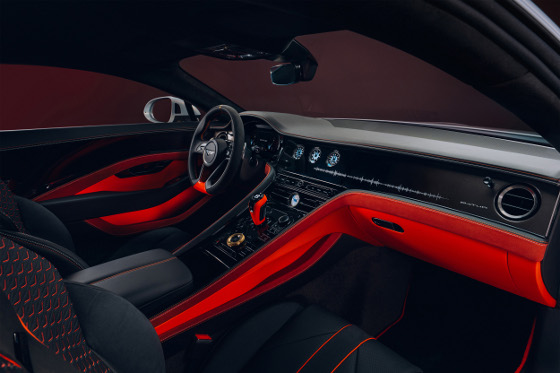 The interior space of the two-seater is luxe racer meets long-distance grand tourer. Every element of the cabin is tailorable to customer specs -- Italian leather, low-carbon leather, Dinamica, you name it. The range of veneers available for the fascias includes a new material for Bentley called Natural Fiber composite, which is a sustainable alternative to carbon fiber. The dash fascia in the example car is completed with a unique piece of art: a laser-etched sound wave that represents the unique sound generated by the W12 engine.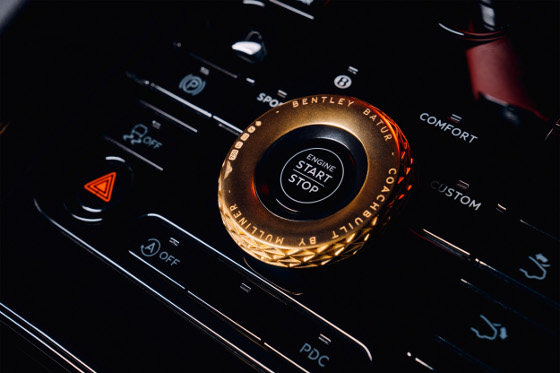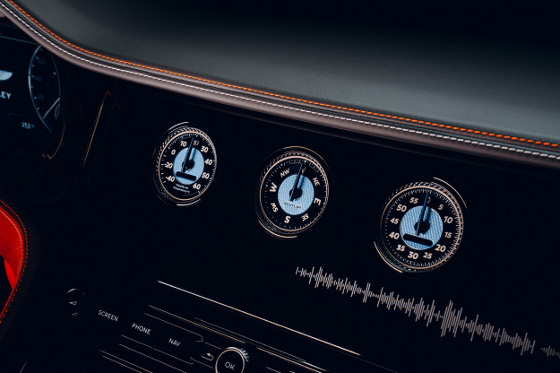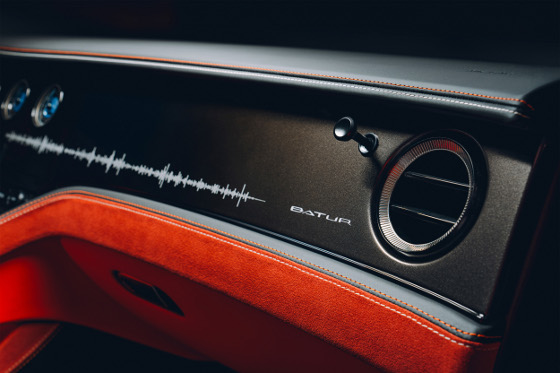 Clients can choose between bright or dark treatments to the interior brightware, and titanium options are also available. Certain controls, such as the organ stops for ventilation, are even available in 3D-printed 18K gold. The metallic elements of the interior of the example car are a blend of black anodized aluminum and satin titanium, completed with a hallmarked 18-k gold Bentley Dynamic Drive Selector and steering wheel center band.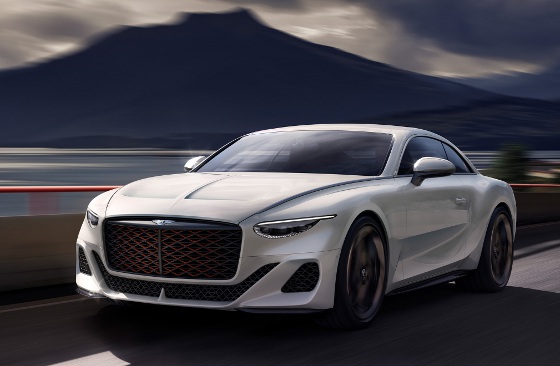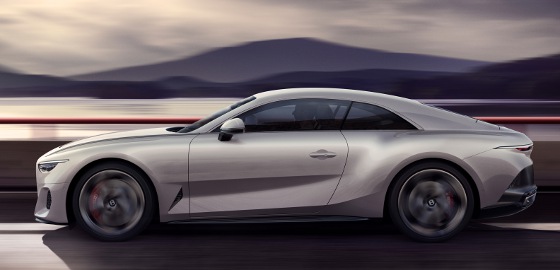 Price will run around $2 million.
Source: Bentley Motors
Published September 2022
Rate this article