New rotary microstage includes built-in controller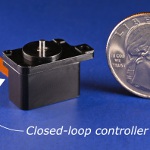 The new M3-RS-U2-4.5-360 Rotary Smart Stage from New Scale Technologies is a miniature positioning module that simplifies the task of embedding high-precision rotary motion into scientific and industrial instruments. The latest addition to the M3 Smart Stage family provides point-to-point angular positioning with closed-loop resolution better than 0.022 degrees. M3 Smart Stages integrate piezoelectric motors, position sensors, and built-in controllers in compact modules that accept direct digital input from a system processor.
Learn more.
---
New high-performance hollow shaft gear unit for heavy-duty applications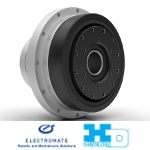 Harmonic Drive has released its HPF series of hollow shaft gear units designed for heavy-duty industrial applications. These advanced gear units offer high torque outputs and flexible installation options, and they provide exceptional torque density and positional accuracy. Industrial applications include robotics, packaging, and material handling.
Learn more and get all the specs.
---
Totally new! Hybrid stepper and PM motor
The Hybrid-PM-Mix (HPM) from Lin Engineering is the first motor of its kind, combining the stator of a hybrid stepper and the rotor of a PM motor in the form factor of a high-speed BLDC. The result is a motor that behaves like a typical high-speed BLDC with the added benefits of hybrid steppers -- precise position control and position holding -- with low noise and vibration too. The 1330 Series is a small motor with a frame size of just 13 mm, which is perfect for small applications with minimal space.
Find out all the specs.
---
New magnetic tracks for linear motors -- more force with no redesign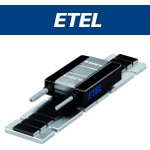 The MWD+ is a new family of magnetic tracks from ETEL equipped with stronger magnets. These tracks are compatible with any existing ETEL LMG and LMS linear motor, enabling an average of 15% higher continuous and peak force compared to existing MWD products. Benefits include higher force density per unit volume, which allows users to improve the overall duty cycle or run a given duty cycle at lower temperatures.
Learn more about ETEL linear motors.
---
maxon adds dynamism to robotic drives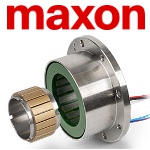 Innovative motor concepts are the answer to growing market requirements for dynamic response, compactness, and power density. With the EC frameless DT, maxon presents a solution that really packs a punch. The DT50 with matching encoder is the precursor of a new product family developed specifically for dynamic movements like those in robotics. The brushless motor with its frameless concept can be easily integrated into a wide range of applications by design engineers in applications where speeds can change in an instant. When installed, the EC frameless DT50 effortlessly reaches a nominal torque of over 500 mNm at a nominal speed of 4,000 rpm.
Learn more.
---
Better conveyors for automotive assembly lines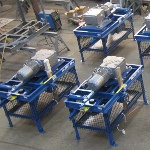 The Torque Arm Conveyor Drive is a more energy-efficient and maintenance-friendly replacement for the legacy "Floating Frame" conveyor drives used in many automotive assembly lines. Developed by OCC Systems, it features a custom-built gearbox solution with an Overhead Conveyor Drive gear unit from NORD DRIVESYSTEMS. This new drive concept contains far fewer parts, has a modular and maintenance-friendly construction, and comes with a built-in back-up system.
Read the full article.
---
Robot handles precision masking tape application for aerospace
Engineers from Aerobotix and FerRobotics have developed an impressive End of Arm Tooling system that provides smooth masking on parts varying in shape and puts down precise tape lines where the customer needs them -- even on intricate curvy paths. You've got to see it in action.
Read the full article.
---
Linear robots are now even more versatile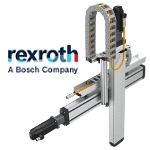 Bosch Rexroth has expanded its portfolio of linear robots (eight different axis combinations with 68 sizes!) for various applications in factory automation. The much wider range of working areas and loads makes the Cartesian subsystems also suitable for applications like battery handling or intralogistics. Predefined axis combinations make for quick and easy sizing and selection. Configure and finalize online and order as preassembled subsystems -- optionally with controllers. Each multi-axis system is also available as a Smart Function Kit for handling or dispensing. Preinstalled software allows for fast commissioning and intuitive programming.
Learn more about Bosch Rexroth smart mechatronic systems.
---
Selecting linear actuators for robotics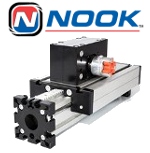 Nick Novotny over at Nook Industries has put together a handy and very useful short guide on selecting linear actuators for robotic applications. Besides addressing the primary considerations, he also explains motor types, linear actuator types, modularity, and advantages and disadvantages.
Read this informative Nook Industries blog.
---
5 key considerations for selecting a propulsion motor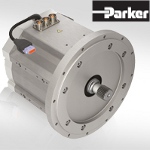 Josh Jennings, mobile servo motor and drive applications engineer for Parker Hannifin's Hydraulic Pump and Power Systems Division, runs through the key factors to consider for a vehicle electrification project, including how the motor is cooled, its speed range, flexibility, efficiency, and reliability. Solid basic information.
Read the full Parker blog.
---
New mini planetary gearmotors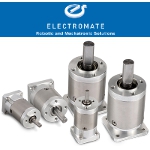 New PH Series Mini Planetary Gearmotors from Applied Motion Products are used with small step motors in NEMA 8, 11, and 14 frame sizes. These gearmotors are used in applications where space is critical. Small motors usually don't produce enough torque for demanding applications. Mini Planetary Gearmotors are an ideal solution. They offer an increase in torque and better inertia matching without breaking the budget.
Learn more and see all the options offered by Electromate.
---
New cobot welders with extended range unveiled at FABTECH 2022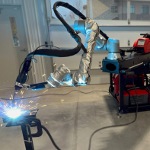 Universal Robots has grown its welding application segment more than 80% this year as partners develop new capabilities for the pioneering cobot welders. At FABTECH last week, Universal Robots' booth showcased new solutions from Vectis Automation and Hirebotics, enabling the weldment of larger and more complex parts. Attendees also experienced Precision Cobotics' automated MECCO laser-marking solution with Apera AI bin picking, laser welding with Cobot Systems, metal deburring with Kane Robotics, along with the new UR20 cobot in a machine-tending application.
Learn about the new welding options and other UR FABTECH releases.
---
New! Multi-axis gantry attachment kits extend your working envelope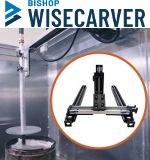 Multi-axis linear actuator assemblies from Bishop-Wisecarver extend the working envelope of automated motion systems and provide for more complex motion. ECO60 Gantry Kits create reliable and easy-to-assemble connections between ECO60 Linear Actuators. Benefits include: saving design time without sacrificing design freedom, easy ordering with single-part-number kits, and fast and simple assembly and installation. All multi-axis kits are made from aluminum with black anodize and stainless-steel hardware.
Learn more.
---
Robots handle post processing for metal AM parts and components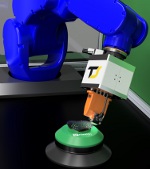 The NetShape Robot from Rivelin Robotics provides an automated solution for metal support removal and targeted finishing to meet the standards of mission-critical industries. Driven by the powerful NetShape control software, both machine learning and traditional deterministic control theory are used to optimize the quality and repeatability of the work. The result is an automated support-removal solution that reduces defects by 90%, exhibits a 10-fold reduction in operational costs, and eliminates human risk and variability.
Learn more.
---
Flat external rotor with encoder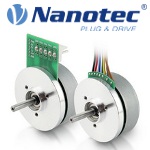 The DF45 brushless DC motors from Nanotec are now available with an integrated encoder. The new flat motors with a diameter of only 45 mm are ideal for applications that require precise positioning in confined spaces such as AGV wheel drives, access control systems, and door drives. The two-channel encoder has a resolution of 1,024 CPR and provides additional Hall signals for commutation. The difference in length between the standard motor and the encoder version is only 2 mm, as the encoder has been completely integrated. The DF45-E has a rated power of 65 W at a rated speed of 4,840 rpm. Custom windings or shafts are also available.
Learn more.
---
GE is first in world to test high-power, high-voltage hybrid electric components in altitude conditions
GE recently announced it completed the world's first test of a megawatt (MW)-class and multi-kilovolt (kV) hybrid electric propulsion system in altitude conditions that simulate single-aisle commercial flight. The announcement was made at the Farnborough International Airshow just south of London at the end of July.
The test of the high-power, high-voltage system -- including electric motor/generators, power converters, power transmission, and power control systems -- successfully demonstrated performance and operation of the components in a replicated flight environment. This helps validate the architecture of the hybrid electric propulsion systems GE is developing. It's also an important, necessary step in GE's technology programs with NASA to develop a hybrid electric propulsion system for flight tests later this decade and for entry into service in the mid-2030s.
The altitude integration test of the system began in June 2021 and was completed earlier this year at NASA's Electric Aircraft Testbed (NEAT) facility in Sandusky, OH. To represent the right and left engine sides of an aircraft, two sets of a hybrid electric system were operated in conditions up to 45,000 ft, simulating the electrical loads required to help optimize the engines and propel and power an aircraft.
"We're making aviation history by developing the technology to help make hybrid electric flight possible for everyday commercial air travel," said Mohamed Ali, vice president and general manager of engineering for GE Aerospace. "This is one of many milestones in our journey with NASA towards demonstrating a hybrid electric aircraft engine system for a more sustainable future of flight."
The NEAT facility where testing took place is a NASA reconfigurable testbed used to design, develop, assemble, and test electric aircraft power systems.
"NASA's unique NEAT facility is the only testing location capable of simultaneously providing both high-electric-power and high-altitude conditions in an area large enough to fit an entire electric powertrain, and we are proud to see this test with GE come to a successful conclusion. This facility has become highly sought after by GE and others across the aviation community, and it is critical to supporting the agency's goal of developing technologies that will enable and support future climate change adaptation initiatives," said Bob Pearce, associate administrator for NASA's Aeronautics Mission Research Directorate.
"At NEAT, we are able to test a high-voltage powertrain system in flight altitude conditions without leaving the ground, thereby reducing major safety risks in a timely manner. With the ground testing completed, we are now well positioned to move to the next phase of our agreement with GE, an actual electric aircraft flight demonstration," Pearce added.
About the altitude integration test
Components were tested independently and as an integrated system. Additionally, multiple operational modes were evaluated, including power transfer from side to side, power assist to a simulated engine, and aircraft power generation. The implementation of energy storage was also simulated.
MWs measure electrical power and kVs measure the difference in electrical potential between two points, equivalent to the pressure used to drive fluid through a pipe. A kV-class system enables high efficiency and specific power. Successfully testing a kV system in altitude conditions is significant because the interaction of voltage and the environment is different at higher altitudes than on the ground. kV-class systems are significantly more difficult to manage at altitude.
What's next for hybrid electric flight
Future tests will continue as part of the Electrified Powertrain Flight Demonstration (EPFD) project that was announced by NASA in September 2021, including testing of the hybrid electric system connected to GE's CT7 turboprop engines. Eventually, this will lead to a flight test later this decade of the hybrid electric system on a CT7-powered Saab 340B plane.
Boeing is partnering with GE to support the flight tests for EPFD. Boeing (and its subsidiary Aurora Flight Sciences) is providing the aircraft, aircraft modification, aircraft integration, and flight-testing services. That work includes nacelle manufacturing, flight deck interface design and software, aircraft-level performance analysis, and systems integration.
Source: GE
Published September 2022
Rate this article