Design Insider:
Air Force Next Generation Fixed Wing Helmet competition won by LIFT Airborne Technologies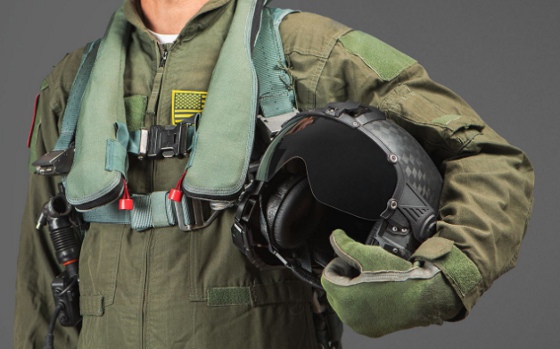 Next Generation Fixed Wing Helmet AV2.2. [Credit: LIFT Airborne Technologies]
By Mike Foley, Designfax
Hats off to LIFT Airborne Technologies. Their all-new flight helmet bested over 100 other designs to be selected as the final winner of the multi-year Next Generation Fixed Wing Helmet (NGFWH) Competition for United States Air Force (USAF) fixed-wing aircrew. The chosen top design includes new features, state-of-the-art materials, and new manufacturing processes.
The project award means LIFT Airborne (Los Angeles, CA) is now the sole contractor moving forward on the NGFWH project, which began in 2018 through the USAF AFWERX program. LIFT Airborne is a sister company of EVS Sports (a leader in protective gear for the action sports industry), LIFT Aviation (aviation equipment and accessories), and LIFT Safety (protection equipment for industrial workers around the world).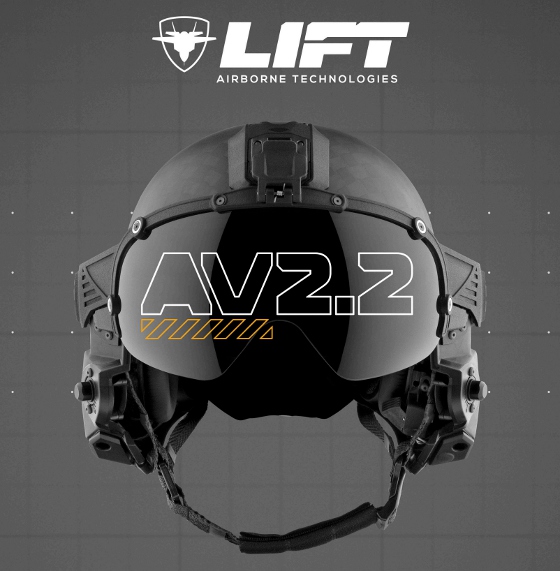 Next Generation Fixed Wing Helmet AV2.2. [Credit: LIFT Airborne Technologies]
According to LIFT Airborne, "The AFWERX Helmet Challenge began with over 100 competitors from around the world that included the 'Who's Who' in the global Fixed Wing Flight Helmet market and other subject matter experts. In the end, LIFT Airborne's Product Development Team demonstrated that our helmet was the most advanced, effective, and efficient solution to provide value for the airborne warfighter."
LIFT Airborne's design/engineering team told Designfax exclusively, "Our design methodology allowed us to stand out -- having a small team that can move quickly and be truly dedicated to succeeding in creating a better product for the warfighter. We never stopped innovating 'til the very last day to create the best product possible!"
Design-wise, LIFT Airborne engineers and designers go by the motto, "CHOOSE BETTER." They did, and they were chosen as the best.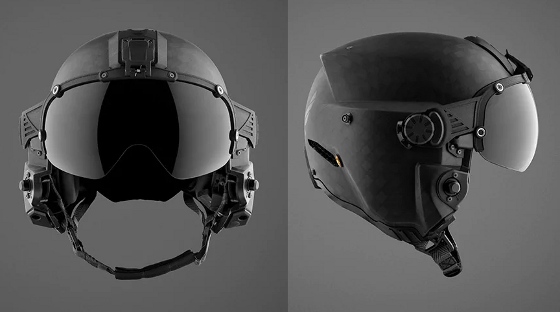 Next Generation Fixed Wing Helmet AV2.2. [Credit: LIFT Airborne Technologies]
According to a June 2022 update article by the Air Force Research Lab (AFRL) on the project, Air Combat Command was the initiator of the search for a next-gen helmet "to address issues with long-term neck and back injuries, optimize aircraft technology, improve pilot longevity, and provide better fitment to diverse aircrews."
"The current helmet was based on 1980's design [HGU-55/P by Gentex]. Since then, gains in aircraft technology and the demographic of pilots have changed," said Scott Cota, ACC Plans and Requirements branch air crew flight equipment program analyst, in the AFRL article. "The legacy helmet was not originally designed to support advances in aircraft helmet-mounted display systems, causing pilots to fly with equipment not optimized for them, especially our female aircrew." Other key design goals included "weight, pilot comfort, optimized fitment and protection, stability, optimized center of gravity, and integration with different helmet-mounted systems." Cota helped define the requirements for the new helmet.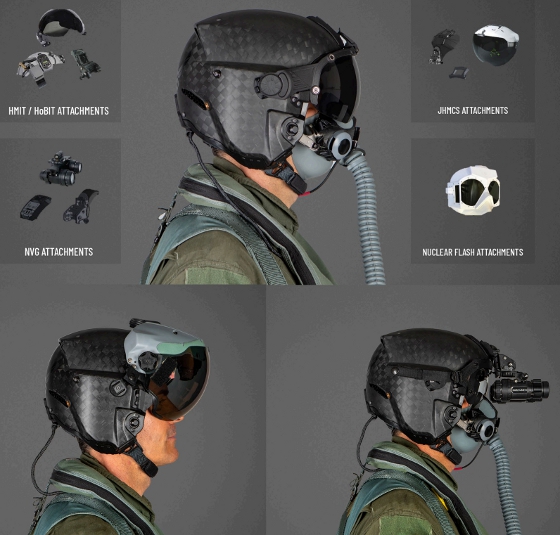 Modularity and the ability to change configurations rapidly are key capabilities provided by the Next Generation Fixed Wing Helmet AV2.2 design. [Credit: LIFT Airborne Technologies]
LIFT Airborne's design/engineering team said the biggest engineering challenge for the helmet, which they are calling AV2.2, was "reducing the overall weight while improving center-of-gravity (CG), impact, and overall helmet fit and comfort. ... Derivatives from the previous model (55/P) are improved field of vision (FOV), improved center of gravity (CG), improved impact results, fixed single pivot visor, and improved fit (fit system) for stability, customization, and comfort. The AV2.2 is also designed to support all different helmet-mounted displays (HMDs) currently available."
The AV2.2 NGFWH helmet uses a proprietary carbon fiber composite layup. The LIFT Airborne design/engineering team said, "Carbon fiber is the main material used in our helmet with other aramids to improve the overall performance and weight. The advantages of this helmet layup allow for an ultra-lightweight shell that can still withstand impacts and penetration while maintaining other critical design parameters required in the AV2.2 (CG, stability, comfort, etc.)."
Helmet-mounted devices, especially, have added weight and affected the current helmet design's center of gravity over the years, which has led to pilot discomfort. According to Cota in the AFRL article, "In addition, a 2020 Air Force anthropometric study identified the need to add a size small helmet that better optimizes the fit for affected female aviators."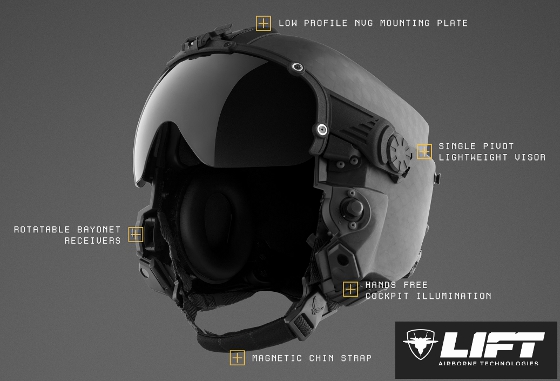 Key features: Next Generation Fixed Wing Helmet AV2.2. [Credit: LIFT Airborne Technologies]
Key feature innovations for the new NGFWH besides the carbon fiber shell include: a low-profile night-vision goggle (NVG) mounting plate, a single-pivot lightweight visor, a cockpit illumination assembly, rotatable bayonet receivers (oxygen mask attachments), and hands-free cockpit illumination for NVG-compatible lights with three adjustable brightness levels on each side of the helmet (according to Avionics/Aviation Today, this feature is "jawbone activated").
The LIFT Airborne design/engineering team said other key features include "a magnetic chinstrap buckle, Koroyd for improved impact protection and breathability, a two-piece comfort liner for the ability to customize the fit for each user, large ear cavities for the ability to accept all different communications, magnetic dual visor system, and an adjustable fit system with adjustment dial."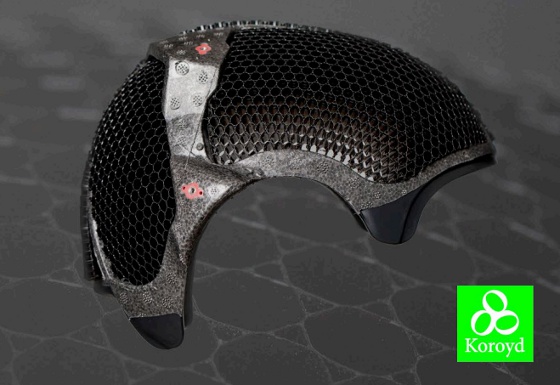 The Next Generation Fixed Wing Helmet AV2.2 features Koroyd for advanced impact protection. [Credit: LIFT Airborne Technologies]
Koroyd is made up of thousands of co-polymer extruded tubes that are thermally welded for a consistent and fully engineered core that is 95% air. It is a highly tailorable, state-of-the-art material for the inside of action sports helmets (motorcycles, snow sports, etc.), industrial helmets, flight helmets, and even for kids' headgear. For the Air Force helmet, the Koroyd material also helps with increasing ventilation.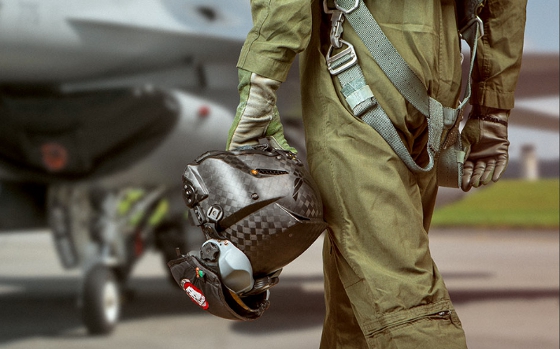 Next Generation Fixed Wing Helmet AV2.2. [Credit: LIFT Airborne Technologies]
The LIFT Airborne engineers/designers told Designfax they use Solidworks for all of their design work.
"We have a variety of 3D-printing technologies that we utilize to validate parts (FDM, SLA, MJF), as well as lathe and mill work for prototyping," the team said. "3D printing was used heavily for prototyping and is still utilized for production parts as well." Carbon is LIFT Airborne' 3D-printing partner. Other technology partners include Lightspeed Aviation, a leader in Active Noise Reduction headsets, and Bell Helmets.
According to the AFRL article, "The Air Force Research Laboratory performed a majority of the testing. ... The helmet will undergo additional research, testing, and improvements prior to the Air Force confirming the prototype design is successful and offering a production contract in 2024. Following production, ACC (Air Combat Command) plans to take a phased approach to deliver the new helmet to all fixed-wing aircrew members across the Air Force, beginning with the F-15E Strike Eagle."
Learn more at liftairborne.com.
Sources: LIFT Airborne Technologies, Air Force Research Laboratory, ]Avionics/Aviation Today, Koroyd
Published September 2022
Rate this article