Ferrari Purosangue: First Prancing Horse crossover SUV
Ferrari's entry into the SUV market is the company's first four-door, four-seater -- and it is a stunner. From its mid-front-mounted V-12 engine producing 715 hp to its suicide rear doors and impeccably refined interior, there really is nothing like the Purosangue on the market. Even though the price tag could leave some dumbstruck, we predict it will be a huge success.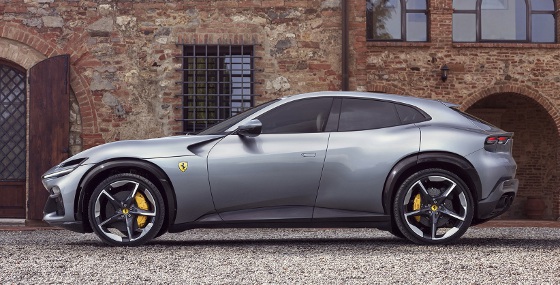 First off, Ferrari does not want the Purosangue (meaning "thoroughbred") to be thought of as a small crossover SUV; it's an extreme, highly refined sports car that just happens to have a 4+4 configuration. Case in point is the car's mid-front-mounted, naturally aspirated V-12 engine with the gearbox at the rear to create a sporty transaxle layout. What SUV has that? The power transfer unit is coupled in front of the engine to provide a unique 4×4 transmission. According to Prancing Horse engineers, this delivers exactly the 49:51% weight distribution that are optimal for a mid-front-engine sports car.
Eighty percent of the maximum torque from the 6.5-L V-12 with high-pressure direct injection is on tap at just 2,100 rpm, and it peaks at 716 Nm at 6,250 rpm. Maximum power is reached at 7,750 rpm. Ferrari says, "Huge attention was lavished on improving mechanical and combustion efficiency, employing Formula 1-inspired calibration concepts." (They will need that efficiency with a V-12!) The car sports an 8-speed, oil-bath dual-clutch transmission. It is projected to do 0 to 62 mph in 3.3 sec and will be one of the fastest SUVs currently available, if not the fastest (at least in its class) when officially tested.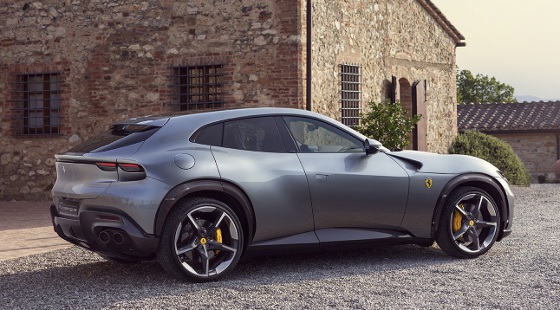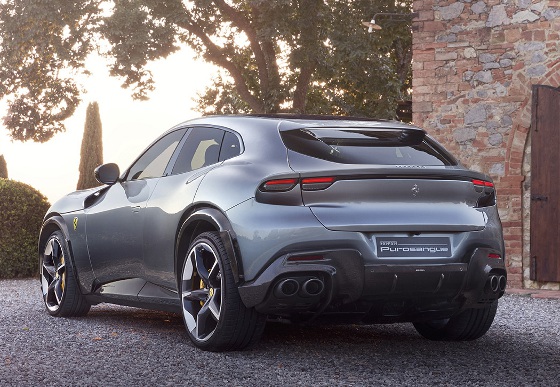 Ferrari has also given the Purosangue the very latest iterations of the vehicle dynamic control systems introduced on its most powerful and exclusive sports cars, including independent four-wheel steering and ABS "evo" with a six-way Chassis Dynamic Sensor (6w-CDS). Also making its world debut is the new Ferrari active suspension system, which controls body roll in corners as well as the tire contact patch over high-frequency bumps to deliver the same performance and handling response as in one of the marque's sports cars.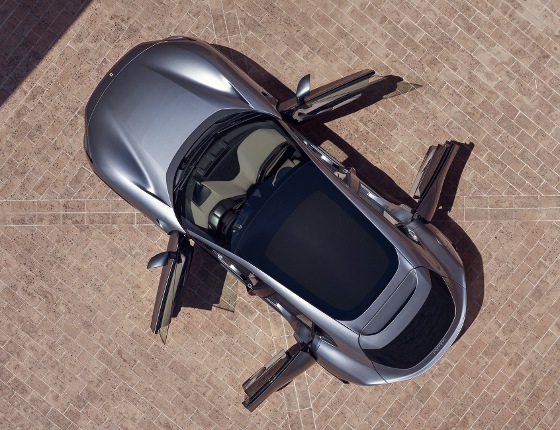 The Purosangue boasts a unique, innovative system that is a world first: Ferrari active suspension technology enabled by Multimatic's True Active Spool Valve (TASV) System. Compared to other solutions on the market, this new suspension architecture offers numerous advantages by combining electric motor actuation with a high-precision spool valve hydraulic damper into one fully integrated system. The electric motor ensures that body and wheels can be controlled actively with more force authority and at higher frequencies than traditional adaptive or semi-active systems.
The active suspension system uses accelerometers and position sensors on each suspension corner and interfaces with the Side Slip Control (SSC) 8.0 and the 6w-CDS sensor. Ferrari's proprietary control logic, together with the TASV dampers supplied by Multimatic, electronically manages every performance element of the fully active suspension system.
As well as the active suspension technology, the Purosangue is equipped with "a new-generation front semi-virtual, high wishbone suspension where the lower wishbone has two attachment points on the hub carrier." This solution means the virtual lower kingpin attachment point created by the two arms is very close to the wheel center, making the steering wheel less sensitive to road irregularities and braking.
The Purosangue's new ABS "evo" controller was co-designed with Bosch and integrated with the brake-by-wire system that debuted on the 296 GTB. Its EPS-based grip estimation system, also originally developed for the 296 GTB, has been honed for driving in the snow or on other low-grip surfaces.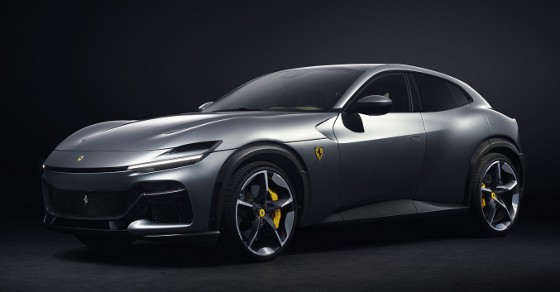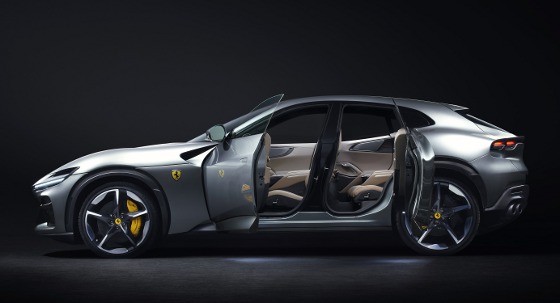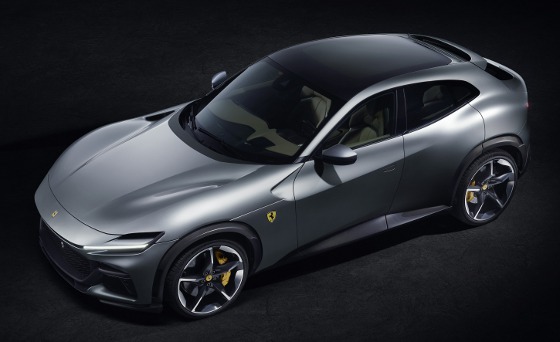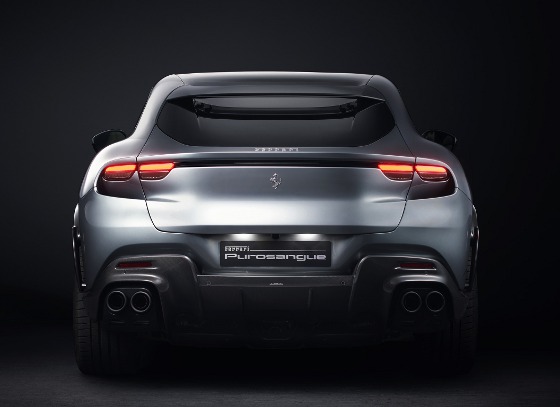 The Purosangue offers an impressive array of driver assistance features as standard, many of which were developed in collaboration with Bosch, including Adaptive Cruise Control, Automatic Emergency Brake System, Auto High Beam, Lane Departure Warning, Lane Keeping Assist, Blind Spot Detection, Rear Cross Traffic Alert, Traffic Sign Recognition, Driver Drowsiness and Attention, and rear-view parking camera. One function made available for the first time on a Ferrari is Hill Descent Control, which helps the driver to maintain and control the car's speed, shown on the dash, on steep descents.
The all-new chassis has a carbon-fiber roof as standard to keep weight down and lower the center of gravity. A full-length electrochromic glass roof is optional (and a first for the brand to offer roof choices). Specific forged wheels were designed for the Purosangue based on the same aero concept as those on the SF90 Stradale, in which radial elements on the outer channel facilitate hot air extraction from the wheelarch. These aero appendages emerge from three-dimensional surfaces and are highlighted with an elegant diamond-cut finish.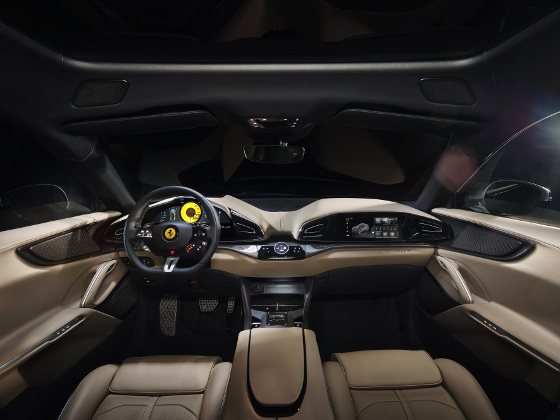 Inside, the Purosangue's cabin is a lesson in meticulous design of both space and furnishings, as well as careful selection of materials. The driver's cockpit is inspired by the SF90 Stradale and is mirrored in style on the passenger side. There is no center control panel on the dash, which is both elegant and refreshing. The driver is presented with a 10.2-in. display, and most functions are achievable via controls on the steering wheel.
The cabin has four separate and independently adjustable seats -- no room for a fifth passenger. It has the luxurious feel of a premium, albeit cozy and sporty, lounge. It is the very first car in the world to use a special version of Alcantara made of 68% post-consumer recycled polyester. A Burmester 3D High-End Surround Sound System makes its debut in a Ferrari vehicle as standard equipment.
Massaging front seats are an option, as well as an an air-quality sensor and purification system.
The availability date for the Purosangue is targeted for sometime in 2023. Car and Driver and other automotive mags are pegging the price to be around $400,000.
Sources: Ferrari, Car and Driver (price only)
Published September 2022
Rate this article