Aston Martin DBR22: Open cockpit, heritage-racing inspired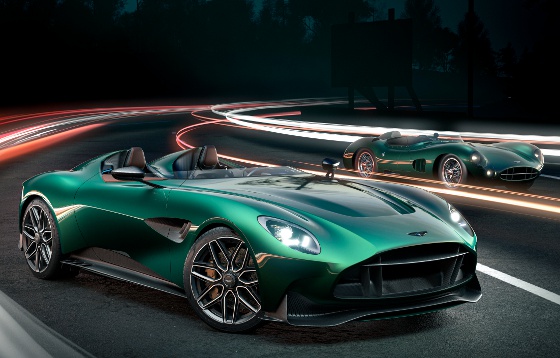 Do you like a super exclusive coupe and the feeling of wind in your hair, and face, and, well, everywhere? Aston Martin's new open-cockpit DBR22 concept will give you all that and more. The two-seater V12 is a reinterpretation of the company's curvy 1956 DBR1, thought by many to be the ultimate Aston Martin sportscar, which won Le Mans in 1959 driven by Carroll Shelby and Roy Salvadori.
The DBR22 is a special model to celebrate the 10th anniversary of Q by Aston Martin, the automaker's ultra-luxury bespoke division. It will most likely be produced in a very limited edition of 10 or so units. It follows in the footsteps of Q's other recent exclusive builds: the one-off muscle-car-inspired Aston Martin Victor, the Vulcan track-only racer (24 examples worldwide), and the Vantage V600 modern coupe (limited to just 14).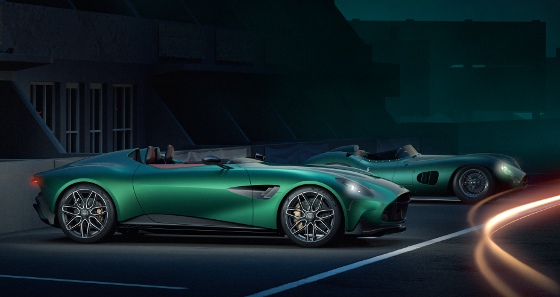 The design is a modern take on the iconic Aston Martin racers such as DBR1 and DB3S. DB3S represents an important piece of Aston Martin's competition history. Introduced in 1953, Frank Feeley's alloy DB3S body became known for its curves and aerodynamic efficiency, establishing Aston Martin as a serious Le Mans contender and scoring some impressive results along the way.
DBR1 was first produced in 1956. It took Feeley's design language a stage further and became one of the most important, influential Aston Martins of all time by winning a number of notable races. The most famous win was at Le Mans in 1959, which propelled the Aston Martin team to the ultimate victory: winning the World Sports Car Championship in the same year.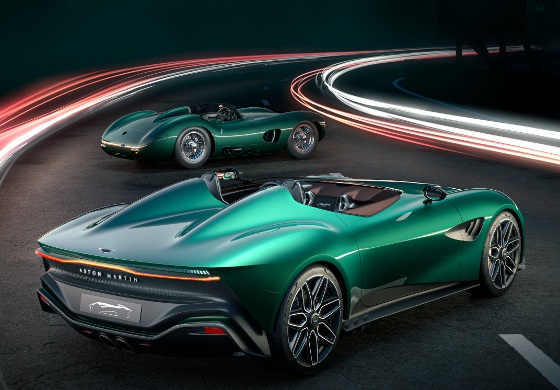 The DBR22 design concept showcases a completely new body from the designers at Aston Martin. Its exceptional coach-built form is created from a minimal number of body panels to create a more sculpted, muscular presence. The result is a smooth and effortless blend of high drama and surprisingly refined elegance, with several unique design features.
DBR22 boasts a V12 Twin-Turbo powertrain with a top speed of 198 mph. Acceleration time is 0 to 60 mph in 3.4 sec, so hold onto your hat, because that's pretty speedy for an open top if you're driving down the local freeway. Peak outputs are 705 hp and 753 Nm.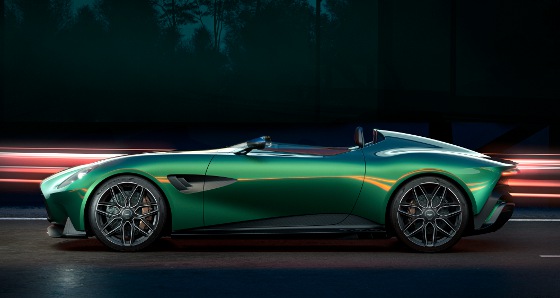 DBR22 features a chassis honed to deliver precision, agility, and tactility in equal measure. Unique calibration of the engine and 8-speed paddle-shift automatic transmission uses torque shaping to give the car a manner and delivery unlike any other model. Unique front and rear shear panels further increase tortional rigidity, with a bespoke calibration for the adaptive dampers providing precision and pliancy for a blend of body control and ride refinement for road or track.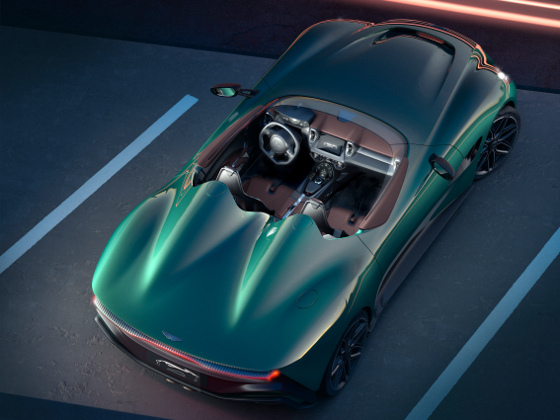 The DBR22 also features a 3D-printed rear subframe -- a first for Aston Martin. The component is made from multiple 3D-printed aluminum parts, which are bonded to form the finished subframe.
Another noteworthy feature is the entirely new front grille that incorporates a unique carbon fiber design in place of the usual veins seen on series production Aston Martins. This design takes inspiration directly from the DBR1 and DB3S to create a truly contemporary design.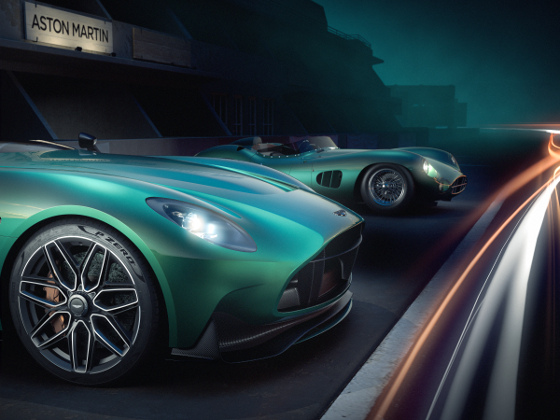 The hood (bonnet) features a dramatic horseshoe vent, recessed to aid airflow from the 5.2-L V12 twin-turbo engine that sits beneath it. This long, unbroken line draws the eye back toward the cockpit, over the lowline wind deflector and delicate mirrors, which are mounted to the tops of the doors on slender, carbon fiber arms.
DBR22 sits on a set of all-new 21-in. lightweight alloy wheels that feature a unique 14-spoke design and a motorsport-derived center-lock hub.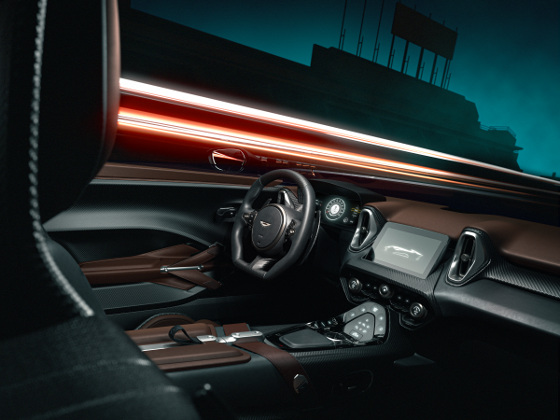 The cockpit fuses classic and contemporary design using a lot of leather and exposed carbon fiber. With architecture defined by the all-new dashboard and sleek infotainment displays, it sets the tone for a clean, uncluttered environment. Though taking inspiration from Aston Martin's competition cars, the DBR22 is no bare-bones racer inside. Supple hides wrap the contemporary dashboard and the carbon fiber performance seats, extending over the tops of the doors to create an inviting interior.
Rising from behind the seats are twin nacelles that smooth the airflow behind the driver and passenger's heads. At the rear, DBR22 has an unmistakable horizontal light graphic courtesy of the slim, full-width light bar made specially for this application. Beneath it sits a perforated panel to allow hot air to exit the tail -- a beautifully sculptural piece. Together with the smoothly integrated diffuser and a pair of large-diameter exhaust tailpipes, the DBR22 has incredible road presence.
No price or production date has been released by Aston Martin for the DBR22, but the company has indicated that it definitely plans to make it.
Source: Aston Martin
Published October 2022
Rate this article