New polymers engineered for e-motor applications
Freudenberg Sealing Technologies has expanded the use of its Thermally Conductive, Electrically Insulating (TCEI) materials, such as Quantix 90-5, to produce walled slot liners for electric motor (e-motor) applications. The company says its TCEI material grades "demonstrate superior thermal conductivity and better electrical insulation when tested against other thermoplastic materials currently available today."
In a recorded presentation shown at the SAE International's WCX World Congress held in Detroit this past April, Freudenberg experts Ray Szparagowski (Bowling Green, OH), engineering fellow, High Performance Plastics, and Saikrishna Sundararaman, senior research and development scientist, outlined the benefits of using advanced TCEI materials in slotted rotors. Slot liners molded from Quantix 90-5 thermoplastic, for example, can mold thin cross-sections required for the application.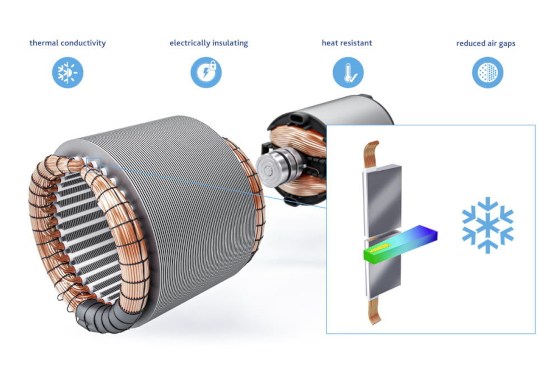 Freudenberg Sealing Technologies has introduced slot liners made from its Thermally Conductive, Electrically Insulating (TCEI) Materials.
"E-motors powered by slotted rotors are commonly used in today's electric vehicles," said Szparagowski. "Building on our development work with bobbins molded from our TCEI materials, which we introduced at SAE's 2021 International WCX World Congress, we now offer our customers TCEI slot liners that offer superior mechanical properties, temperature capabilities, and thermal conductivity. In addition, these TCEI grades provide good electrical resistance to isolate the system for safety reasons."
New e-motor options
Plastics are often used in electric components and systems. Despite their ability to offer good electrical resistance, they are poor conductors of heat compared to metals. Losses in electric motors due to friction, iron, and winding, for example, manifest as undesirable heat build-up that raises the temperature inside the motor. As a result, the optimal material would offer both high thermal conductivity and good electrical isolation -- exactly the benefits that Freudenberg's TCEI materials provide.
Freudenberg's TCEI polymers are designed to address the unique challenges associated with e-motor rotor and stator applications. Primarily used to provide insulation in the slot between the motor winding and the metal laminates, slot liners and bobbins also act as containers for stator windings, help retain shape, provide rigidity, offer ease of assembly of the windings onto the stator core, and help protect the windings from damage and vibration during assembly and operation.
Next-gen thermoplastics
Engineered plastics are heavily influenced by filler reinforcements. Although unfilled polymers typically have a thermal conductivity of ~0.2 W/m/K, the appropriate choice of fillers can significantly increase this value.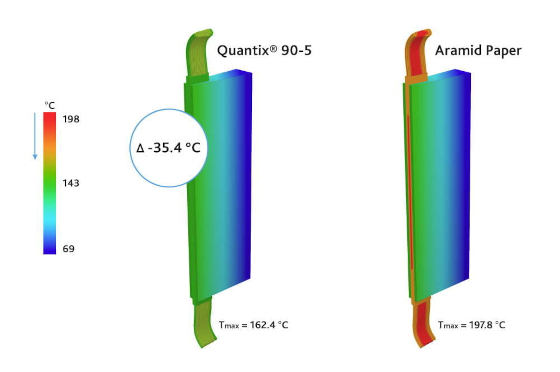 Quantix 90-5 demonstrates high thermal conductivity and high electrically isolating properties.
Szparagowski and a team of material experts have successfully developed several material grades that enable Freudenberg to offer a customized solution that can be matched to specific application requirements. Each grade offers a unique blend of material characteristics -- such as tensile strength, elongation, electrical, and thermal properties -- that are achieved by adjusting the filler. Quantix 90-5, for example, demonstrates high thermal conductivity of 0.6 W/m/K through plane and 4 W/m/K in-plane. Extensive material testing confirms the material's superior thermally conductive characteristic while maintaining high electrically isolating properties (volume resistivity of 2 x1014 Ohm-cm).
"Freudenberg TCEI materials will help our customers address e-motor performance improvements through better thermal management," Szparagowski said. "The reduced internal temperatures within the e-motor can offer significant benefits, including higher motor power density, simplified cooling strategies, and longer life, as both winding enamel and potting materials tend to degrade at higher operating temperatures."
You can contact Ray Szparagowski about this product through LinkedIn at linkedin.com/in/ray-szparagowski-11616669/.
Learn about Freudenberg Mobility & Transport solutions at freudenberg.com/technologies/mobility-transport#.
Source: Freudenberg Sealing Technologies
Published October 2022
Rate this article