Machine vision: Check part orientation and more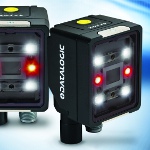 Automation-Direct has entered the industrial vision market with the addition of the Datalogic Smart Vision sensor. This sensor is an intelligent self-contained system that can capture an object's image as it passes by and make decisions based on the details of that image. Built around a powerful multiprocessor platform featuring embedded artificial intelligence tech, the Smart-VS sensor is highly advanced but remains simple to configure. Applications include part orientation for pick-and-place systems, verifying proper application of tamper-proof seals, and checking solder connections in circuit board production.
Learn more.
---
Ultra-compact IEC appliance inlet saves valuable interior space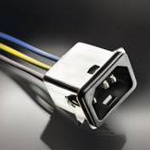 SCHURTER continues to meet today's increasing demand for smaller electronic equipment with the launch of its 5121 filtered appliance inlet. The compact filter series features an IEC C14 inlet with capacitors and a fully encased steel housing that reliably shields high-frequency interference conducted through cables or radiated interference. Targeted for applications with shallow installation depth, the new 5121 filter series is available in both standard and medical M80 versions, making it well suited for lab, industrial, medical, telecom, audio/video, and office equipment.
Learn more and get the specs.
---
Optimize space with mini-FAKRA cables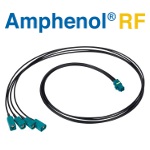 Amphenol RF has expanded their AUTOMATE Type A mini-FAKRA breakout cable line with additional connector configurations and cable types. The cable assemblies combine industry-standard FAKRA connectors with next-gen mini-FAKRA. This combination allows for a compact solution at the compute module -- an industry-standard sealed solution at the connected device with a max frequency of 3 GHz for automotive and industrial applications such as compute modules, camera systems, and warehouse robotics. This assembly creates a waterproof seal at the connected device for added versatility.
Learn more.
---
ScanCobot: Easy entry into 3D metrology automation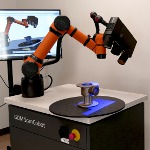 The GOM ScanCobot is a mobile measuring station with a collaborative robot, a motorized rotation table, and powerful software that is smart enough to figure out the optimal positions to scan to get the most comprehensive profile possible on a part. The system provides cleaner, more accurate data than manual scans. Exact Metrology has the ScanCobot technology at their Milwaukee area office. Learn about its impressive capabilities.
Read the full article.
---
How do autonomous vehicles see at night?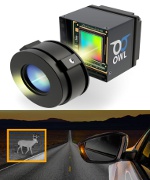 Owl Autonomous Imaging is offering a new whitepaper that explains how the Owl Thermal Ranger uses convolutional neural networks (CNNs) to accurately and reliably locate and classify pedestrians and animals in the dark from their own thermal signatures using just one infrared camera. This whitepaper covers the history of convolutional neural networks, how the technology works (AI/machine training), why Owl thinks the CNN approach is the best solution to address current pedestrian safety concerns, and how auto manufacturers can implement it. Very interesting.
Get the Owl AI whitepaper.
---
Anti-surge resistors handle surges up to 10 KV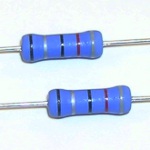 High-voltage applications such as HVAC controls, appliance and white goods controls, metering, automation, medical devices, digital storage, and surge-protection devices typically require resistors with high working voltage that may be challenging to find. If the applications are low current or low energy, film resistors are an ideal technology. The ASR/ASRM series from Stackpole offers high working voltages, high pulse voltage handling, and well-defined pulse behavior. For applications with high-voltage surge and low-energy requirements, the ASR/ASRM is a viable replacement for carbon composition resistors, providing improved electrical and environmental stability, better tolerance and TCR, with better long-term availability.
Learn more.
---
All about slip rings: How they work and their uses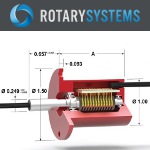 Rotary Systems has put together a really nice basic primer on slip rings -- electrical collectors that carry a current from a stationary wire into a rotating device. Common uses are for power, proximity switches, strain gauges, video, and Ethernet signal transmission. This introduction also covers how to specify, assembly types, and interface requirements. Rotary Systems also manufactures rotary unions for fluid applications.
Read the overview.
---
What's new in ABAQUS 2023?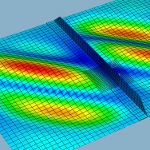 The Abaqus Unified FEA product suite offers powerful and complete solutions for both routine and sophisticated engineering problems. Best-in-class companies are taking advantage of these complete solutions for realistic simulation to consolidate their processes and tools, reduce costs and inefficiencies, and gain a competitive advantage. From new techniques in analysis, modeling, and visualization to special features for structural mechanics and linear dynamics, learn what's new in Abaqus 2023.
Learn more.
---
EMI/RFI gasketing on-demand webinar: Specialty Silicone Products elastomer solutions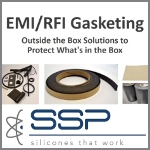 Join Dominic Testo, business development manager for Specialty Silicone Products, for this on-demand, in-depth presentation called "EMI/RFI Gasketing: Outside-the-Box Solutions to Protect What's in the Box." Learn about new ways to overcome the restraints caused by outdated compression molding processes; new materials to overcome galvanic corrosion issues; new softer, compliant materials used for shielding; and a whole lot more.
View the video.
---
Battery-powered wireless multi-sensor module for machine monitoring
TDK has collaborated with Texas Instruments on the new i3 Micro Module, the world's first sensor module with built-in edge AI and wireless mesh connectivity. The i3 Micro Module's ultracompact battery-powered wireless sensor allows users to achieve sensing at almost any desired position without physical constraints like wiring. This dramatically expedites the prediction of anomalies in machinery and equipment, enabling an ideal Condition-based Monitoring implementation for an enhanced smart factory environment.
Learn more.
---
Fluke 831 Laser Shaft Alignment Tool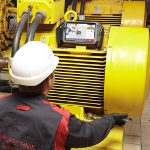 Misalignment causes at least half of all damage to rotating machinery, but instead of fixing the problem, teams often just treat the symptoms by replacing bearings, couplings, and seals. The new Fluke 831 Laser Shaft Alignment Tool makes shaft alignment easy with an intuitive guided user interface that enables quick and complete shaft alignment without advanced training or complicated programs.
Learn more.
---
Image sensor for virtual reality, drones, machine vision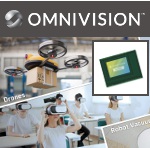 OMNIVISION has just announced the OG0VE global shutter (GS) image sensor, a small-form-factor, high-sensitivity device for AR/VR/MR, metaverse, drone, machine vision, and barcode scanner products. This new-generation image sensor is 26% smaller and more than 50% more power efficient than its predecessor. It supports one-lane MIPI D-PHY at up to 800 Mbps and was designed to address the high market demand for the smallest and lowest power-consuming cameras.
Learn more.
---
Smallest Smart Motor Module for DC fan applications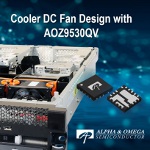 Alpha and Omega Semiconductor Limited has introduced an extension to its compact Smart Motor Module (SMM) family. Available in an ultra-compact, thermally enhanced 3-mm x 3-mm QFN-18L package, the highly integrated AOZ9530QV SMM is a half-bridge power stage with a slew of features and protections that simplify motor drive designs. It is suitable for use in a large number of BLDC fan applications ranging from PC and server fans to seat cooling and home appliances.
Learn more.
---
Application Note: Wireless -- Decoupling high-frequency signals from a DC supply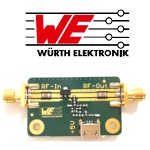 From 5G systems to radio and antenna applications, wireless communication accompanies us throughout our daily lives, so the demand for universal high-frequency amplifiers is correspondingly high. By selecting the optimal passive components, the transmission characteristics of the amplifier can be improved during development. A well-designed layout further improves RF performance. The aim is to transmit both RF signals and the DC supply on a single line without interference or cross-talk. A key component is the inductor for decoupling the RF and DC supplies.
Read this in-depth Würth Elektronik application note.
---
Smallest all-in-one LIN driver propels relay window lifters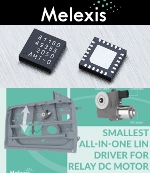 Melexis' new LIN pre-driver IC for relay DC motors offers a combination of high power, compactness, and attractive pricing. The MLX81160 is the latest addition to the company's Gen3 family of compatible embedded motor drivers. Its 48-KB of memory (16 KB ROM for the included LIN protocol and 32 KB Flash for the application software) is suitable for applications like window regulators.
Learn more.
---
Researchers use infrared light to wirelessly transmit power over 30 meters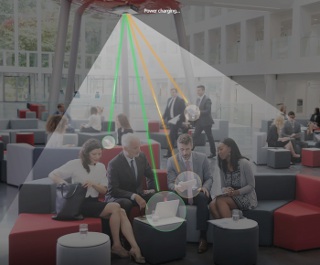 A new system uses infrared light to safely transfer power over distances up to 30 m. This type of long-range optical wireless power transfer system could enable real-time power transmission to fixed and mobile receivers. [Credit: Jinyong Ha, Sejong University]
Imagine walking into an airport or grocery store and your smartphone automatically starts charging. This could be a reality one day, thanks to a new wireless laser charging system that overcomes some of the challenges that have hindered previous attempts to develop safe and convenient, on-the-go charging systems.
"The ability to power devices wirelessly could eliminate the need to carry around power cables for our phones or tablets," said research team leader Jinyong Ha from Sejong University in South Korea. "It could also power various sensors such as those in Internet of Things (IoT) devices and sensors used for monitoring processes in manufacturing plants."
In the Optica Publishing Group journal Optics Express, the researchers describe their new system, which uses infrared light to safely transfer high levels of power. Laboratory tests showed that it could transfer 400-mW light power over distances up to 30 m. This power is sufficient for charging sensors and, with further development, it could be increased to levels necessary to charge mobile devices.
Several techniques have been studied for long-range wireless power transfer. However, it has been difficult to safely send enough power over meter-level distances. To overcome this challenge, the researchers optimized a method called distributed laser charging, which has recently gained more attention for this application because it provides safe, high-power illumination with less light loss.
"While most other approaches require the receiving device to be in a special charging cradle or to be stationary, distributed laser charging enables self-alignment without tracking processes as long as the transmitter and receiver are in the line of sight of each other," said Ha. "It also automatically shifts to a safe, low-power delivery mode if an object or a person blocks the line of sight."
Going the distance
Distributed laser charging works somewhat like a traditional laser, but instead of the optical components of the laser cavity being integrated into one device, they are separated into a transmitter and receiver. When the transmitter and receiver are within a line of sight, a laser cavity is formed between them over the air (or free space), which allows the system to deliver light-based power. If an obstacle cuts the transmitter-receiver line of sight, the system automatically switches to a power-safe mode, achieving hazard-free power delivery in the air.
In the new system, the researchers used an erbium-doped fiber amplifier optical power source with a central wavelength of 1,550 nm. This wavelength range is in the safest region of the spectrum and poses no danger to human eyes or skin at the power used. Another key component was a wavelength division multiplexing filter that created a narrowband beam with optical power within the safety limits for free space propagation.
"In the receiver unit, we incorporated a spherical ball lens retroreflector to facilitate 360-degree transmitter-receiver alignment, which maximized the power transfer efficiency," said Ha. "We experimentally observed that the system's overall performance depended on the refractive index of the ball lens, with a 2.003 refractive index being the most effective."
Lab testing
To demonstrate the system, the researchers set up a 30-m separation between a transmitter and a receiver. The transmitter was made of the erbium-doped fiber amplifier optical source, and the receiver unit included a retroreflector, a photovoltaic cell that converts the optical signal to electrical power and an LED that illuminates when power is being delivered. This receiver, which is about 10 x 10 mm, could easily be integrated into devices and sensors.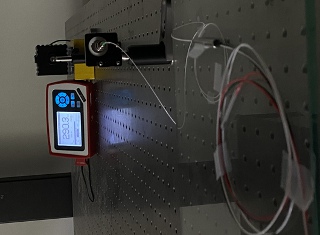 The new system includes a transmitter that consists of an erbium-doped fiber amplifier optical power source and a receiver with a ball lens retroreflector that helps boost performance. [Credit: Jinyong Ha, Sejong University]
The experimental results showed that a single-channel wireless optical power transfer system could provide an optical power of 400 mW with a channel linewidth of 1 nm over a distance of 30 m. The photovoltaic converted this to an electrical power of 85 mW. The researchers also showed that the system automatically shifted to a safe power transfer mode when the line of sight was interrupted by a human hand. In this mode, the transmitter produced an incredibly low-intensity light that did not pose any risk to people.
"Using the laser charging system to replace power cords in factories could save on maintenance and replacement costs," said Ha. "This could be particularly useful in harsh environments where electrical connections can cause interference or pose a fire hazard."
Now that they have demonstrated the system, the researchers are working to make it more practical. For example, the efficiency of the photovoltaic cell could be increased to better convert light into electrical power. They also plan to develop a way to use the system to charge multiple receivers simultaneously.
Source: Optics Express
Published October 2022
Rate this article