10 design tips for sheet metal bending from Xometry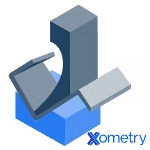 Sheet metal bending is one of the most commonly used methods to form sheet metal fabricated parts. The costs and quality depend on various factors, including setup costs, material costs, and design complexity. To ensure an optimum bend and to avoid deformation, the experts at Xometry recommend following certain design tips for every type of sheet metal part feature.
View this informative Xometry video.
---
CNC: Reduce runout with ANCA's new complete tool runout compensation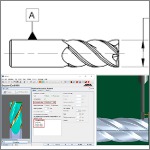 Manufacturing high-quality, high-performance tools requires the Total Indicator Runout (TIR) to be perfect or minimal for overall tool life and surface finish. Runout can cause shortened tool life and poor surface finish, and in drills and reamers can result in oversized holes. A new option in ANCA's ToolRoom cures runout woes and helps to increase tool life and productivity.
Read the full article.
---
Fluke 831 Laser Shaft Alignment Tool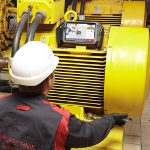 Misalignment causes at least half of all damage to rotating machinery, but instead of fixing the problem, teams often just treat the symptoms by replacing bearings, couplings, and seals. The new Fluke 831 Laser Shaft Alignment Tool makes shaft alignment easy with an intuitive guided user interface that enables quick and complete shaft alignment without advanced training or complicated programs.
Learn more.
---
Flame-resistant composites for EV applications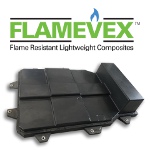 IDI Composites International has introduced a new thermoset composite material delivering critical performance benefits for electric vehicle (EV) applications, FLAMEVEX™ is a flame-resistant lightweight composite that has been used on battery packs, which have passed the stringent Chinese Standard GB/T 31467.3 test, commonly known as the China bonfire test. This material offers designers a strong, lightweight, and cost-effective alternative to steel and aluminum materials traditionally used to enclose battery packs in EV applications. Flame performance levels can be tailored.
Learn more.
---
New high-performance hollow shaft gear unit for heavy-duty applications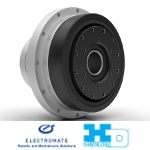 Harmonic Drive has released its HPF series of hollow shaft gear units designed for heavy-duty industrial applications. These advanced gear units offer high torque outputs and flexible installation options, and they provide exceptional torque density and positional accuracy. Industrial applications include robotics, packaging, and material handling.
Learn more and get all the specs.
---
Electrically insulative toughened epoxy meets NASA low outgassing specifications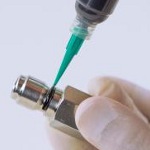 Master Bond Supreme 42HT-2ND Black is a two-part, non-drip epoxy system designed for bonding, sealing, and coating applications. It is capable of withstanding temps up to 450 F (232 C), meets NASA low outgassing standards, and is recommended for applications that require vacuum compatibility. This epoxy is electrically insulative and withstands rigorous thermal cycling. It offers a high strength profile and a forgiving mix ratio.
Learn more.
---
High-end precision guide rollers -- new design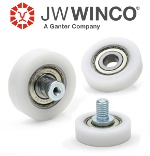 Guide rollers may seem like simple, standard parts, but these rollers with ball bearings are in exceptionally high demand. JW Winco has expanded its guide roller offering to include the standard part GN 753.1. With its entirely new design, these guide rollers have a special deep groove ball bearing of hardened roller bearing steel. They are available in six sizes, from 0.866 to 1.969 in. (22 to 50 mm) outer diameter. The bearing features permanent lubrication and a typical 2Z seal to protect against dust and dirt (in other words, the bearing is covered on both sides by metal disks).
Learn more from JW Winco.
---
VariBlast Precision Safety Air Gun is the People's Choice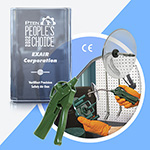 EXAIR's VariBlast® Precision Safety Air Gun has won the 2022 People's Choice award from Professional Tool and Equipment News (PTEN). These safety air guns provide a focused blast of air capable of handling tough jobs with remarkable strength while minimizing air consumption and noise. This OSHA-safe air gun employs an engineered, full-finger, variable-flow trigger. The VariBlast is available with a standard 12- or 20-in. extension that can also be outfitted with type 316 stainless steel or PEEK thermoplastic air nozzles for non-marring applications.
Learn more.
---
Stacked conveyor system supercharges tea company production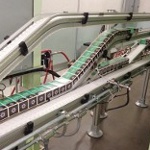 Watch how Bosch Rexroth's VarioFlow plus conveyor system, designed using a stacked configuration, moves products smoothly and quickly within a narrow footprint at the Yamamotoyama of America tea company in Pomona, CA. The facility operates multiple tea bag manufacturing and carton machines, each of which can produce 300 tea bags (which is 18 full cartons of tea bags) per minute. VarioFlow plus is a flexible, modular plastic chain conveyor system used for moving high-volume packaged goods. The solution has been a huge success for the facility, increasing production speed without damaging products.
View the video.
---
New sizes: SureFrame cut-to-length T-slotted rails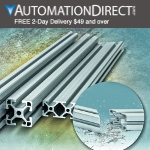 Automation-Direct has added new 30 x 60 mm and 60 x 60 mm profiles to its SureFrame 30 Series lineup of cut-to-length T-slotted extruded aluminum rails. These structures are lightweight, economical, versatile, and easy to construct, with uses ranging from stands that hold barcode scanners and label applicators to OEM machines made entirely of T-slotted aluminum rail. The rails are available in the most popular profiles and dimensions, are compatible with many other brands, and can be cut to your specified lengths in increments of 0.001 in. with no cutting fees.
Learn more.
---
Siemens offers Virtual Product Expert for CNC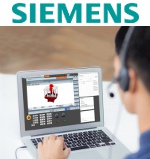 Siemens has introduced the Virtual Product Expert (VPE), a new online support program for its CNC machine tool users, machine builders, dealers, and importers. Through the VPE program, customers can interact directly with a SINUMERIK CNC product expert and have their specific operation and programming questions answered, from the basic functions of the control to the most advanced machining technology aspects of the hardware and software suites. Best of all, this service is offered to all Siemens CNC community members at no cost.
Learn more.
---
Create your perfect parts: Xometry Manufacturing Design Guides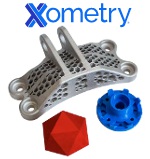 Need to order parts and get it right the first time? Xometry provides more than 17 manufacturing processes, including CNC machining, 3D printing, injection molding, sheet cutting, and more. Get in-depth design-for-manufacturing tips, specs, and best practices for Xometry's services. Optimize your designs, reduce manufacturing time, and lower your costs. Case studies available too.
View the Xometry Manufacturing Design Guides.
---
How slip clutches can help maximize your designs

The way they see it over at Polyclutch, there aren't a whole lot of problems you can't solve with a slip clutch. Way beyond using them for overload protection, there are a surprising number of other applications for these versatile and valuable components. From increasing machine speeds and applying constant tension on wire to indexing a conveyor and automatic screw assembly, slip clutches just may provide the design leverage you've been seeking.
Read the full article.
---
New high-performance metals for 3D printing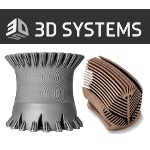 3D Systems has added two new materials to its materials portfolio. Certified HX is a high-performance nickel alloy that contains a higher percentage of molybdenum (up to 9.5%) vs. other nickel alloys, which enhances strength and resistance to corrosion, creep deformation, cracking, and oxidation in hot-zone environments. Certified CuCr2.4 is a high-strength, corrosion-resistant copper alloy that is significantly stronger than pure copper and easier to process. Both materials are certified for use with the company's DMP Flex 350 and DMP Factory 350 3D printers. Applications include industrial gas turbines, consumer goods, aerospace and defense, and automotive.
Learn more.
---
COMSOL Multiphysics Version 6.1 is here!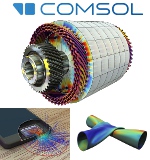 COMSOL has released the latest version of its modeling and simulation software. COMSOL Multiphysics version 6.1 is full of feature additions and workflow enhancements. "This version provides our users with powerful multiphysics simulation tools in areas of highly competitive R&D, like audio technology and vehicle electrification," says Bjorn Sjodin, VP of product management at COMSOL. "We have also strengthened the software's foundation with new capabilities for optimization and the modeling of turbulent flow and mechanical contact."
Learn more.
---
Newly developed plastic film can kill viruses using room lights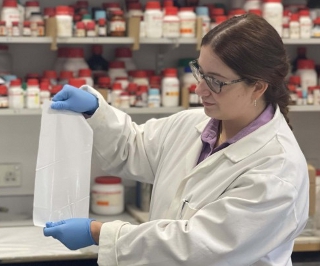 A researcher shows off the new self-sterilizing film. [Credit: Queen's University Belfast]
Researchers at Queen's University Belfast in Ireland have developed a ground-breaking plastic film that can kill viruses that land on its surface when room light is shining.
The self-sterilizing film is the first of its kind: It is low cost to produce, can be readily scaled, and could be used for disposable aprons, tablecloths, and curtains in hospitals.
It is coated with a thin layer of particles that absorb UV light and produce reactive oxygen species (ROS). These unstable molecules contain oxygen and easily react with other molecules in a cell, killing viruses including SARS2.
The technology used to create the film also ensures it is degradable. Unlike the current disposable plastic films it would replace, this is a much more environmentally friendly materials option.
The breakthrough could lead to a significant reduction in the transmission of viruses in healthcare and other environments that use plastic films, such as food production factories.
The Queen's researchers tested the film for anti-viral activity using four different viruses -- two strains of influenza A virus, a highly stable picornavirus called EMCV, and SARS2 -- exposing it to either UVA radiation or with light from a cool, white-light fluorescent lamp.
They found the film is effective at killing all of the viruses -- even in a room lit with just white fluorescent tubes.
The research, which has been published in the Journal of Photochemistry and Photobiology B: Biology, was carried out by Professor Andrew Mills, Dr. Ri Han, and Dr. Christopher O'Rourke in the School of Chemistry and Chemical Engineering at Queen's University Belfast and Dr. Connor Bamford and Dr. Jonathon D. Coey at the Wellcome-Wolfson Institute for Experimental Medicine in the School of Medicine, Dentistry, and Biomedical Sciences at Queen's.
"This film could replace many of the disposable plastic films used in the healthcare industry, as it has the added value of being self-sterilizing at no real extra cost," said Mills. "Through rigorous testing, we have found that it is effective at killing viruses with just room light. This is the first time that anything like this has been developed, and we hope that it will be a huge benefit to society."
Source: Queen's University Belfast
Published October 2022
Rate this article