Cadillac CELESTIQ: All electric, ultra luxury, super pricey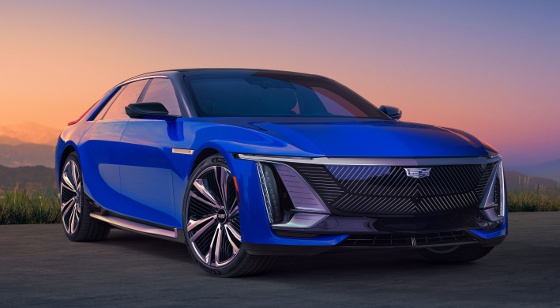 Cadillac says its new handcrafted, all-electric, ultra-luxury CELESTIQ will be the flagship "that reestablishes the iconic brand as the Standard of the World." The dual-motor, all-wheel-drive 17-ft-long sedan (longer than an Escalade!) boasts 600 hp and a GM-estimated driving range of 300 miles on a single charge -- and each unit will be a bespoke, one-of-a-kind vehicle.
The 5-door CELESTIQ liftback will use GM's Ultium Platform, the adaptable EV propulsion architecture that, in this case, will combine a 111-kWh battery pack and a two-motor, all-wheel-drive propulsion system to offer a GM-estimated 600 hp and 640 lb-ft of torque. The car is equipped with a 200-kW DC fast-charging system capable of adding up to an estimated 78 miles of range in only 10 minutes of charging at a public DC fast-charging station.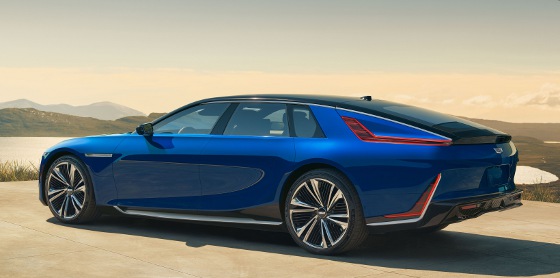 Unique among Ultium-based EVs are CELESTIQ's 11.59:1 front and 11.63:1 rear gear ratios, which were specially calibrated to optimize range and performance. In addition to the impressive horsepower and torque, the vehicle is also projected to deliver one of the quickest 0-to-60-mph accelerations in the segment: 3.8 sec.
The Ultium Platform also serves as a structural element for the vehicle, contributing to its overall strength and feeling of solidity. The CELESTIQ's battery cells are mounted horizontally, enabling the vehicle's long, low, and lean proportions, while the low mounting position of the pack drops the vehicle's center of gravity, enhancing handling and ride comfort, as well as maximizing interior spaciousness.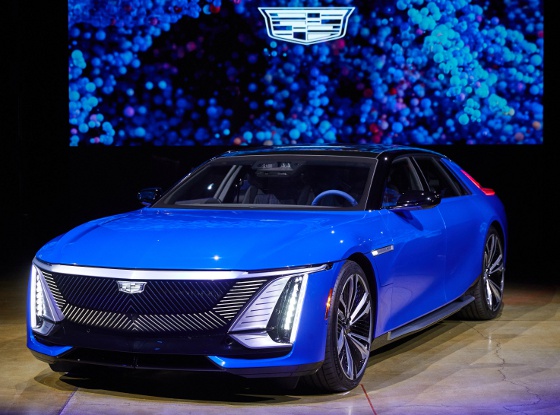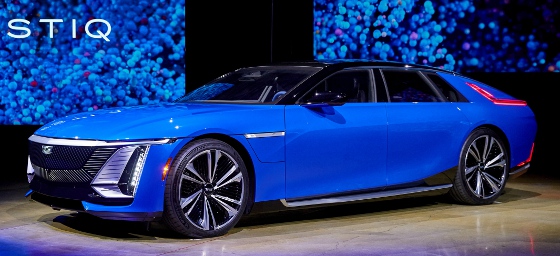 Regen on Demand Braking is standard and helps maximize driving range by converting the kinetic energy of the vehicle's forward momentum into electricity that's stored in the battery pack. It also includes One-Pedal Driving, which can slow the vehicle to a complete stop using only the accelerator pedal, for very fine vehicle control.
The CELESTIQ architecture also incorporates a unique 48-V electrical system that's driven by a digital electrical architecture of its own, which supports the vehicle's advanced technologies and features. More than 30 virtual controls accommodate the vehicle's high levels of seat and climate customization without the need for traditional buttons and switches.
There are no exterior door handles, for a cleaner, more aerodynamic appearance. Instead, the client can power open and close the doors easily with the press of a button.
Cadillac engineers wanted CELESTIQ to offer the ultimate in ride refinement without sacrifices, developing the brand's most technologically advanced suspension and other performance systems ever. Features include:
Adaptive Air Suspension: CELESTIQ makes use of an air suspension system for a softer, more isolated ride, rather than the coiled springs used in a traditional suspension system.
Active Rear Steering: CELESTIQ will offer up to 3.5 degrees of out-of-phase rear steering, in which the rear wheels turn in the opposite direction of the front wheels for greater maneuverability at low speeds. At higher speeds, the rear wheels will turn in-phase with the front wheels.
Magnetic Ride Control 4.0: Originally developed for the Cadillac CT5-V Blackwing, the system is the world's fastest-reacting suspension technology, which allows for greater responsiveness and enhanced isolation from road imperfections.
Advanced AWD: The two-motor electric drive unit works with torque optimizer modules that analyze torque requirements for given vehicle inputs. These modules turn the front or rear motors on and off as required to provide optimal torque to enhance ride quality and electric driving range.
Active Roll Control: The Cadillac-first Active Roll Control employs stabilizer bars embedded at the front and rear of the chassis to mitigate the rolling force exerted on the vehicle during turns and other maneuvers, enhancing the feeling of stability, control, and occupant comfort.
Active Rear Spoiler: Deploys at lower speeds to help improve aerodynamic efficiency and raises at higher speeds to help keep the vehicle balanced.
Ride-focused tires: Available 23-in. forged aluminum wheels with 23-in. summer-only Michelin Pilot Sport EV tires. Designed specifically for Cadillac, the tread pattern, self-sealing technology, and foam inserts enable a quiet tire for greater ride isolation.
Electric Power Steering: The variable-ratio front electric power steering system is similar to that found on the Cadillac Blackwings but calibrated specifically for CELESTIQ. It works in coordination with active rear steering to automatically adjust to the ideal steering ratio depending on vehicle speed.
Five-link front and rear suspension: Provides exceptional performance tailored specifically for the high-torque output of an electric vehicle motor. The suspension isolators are precisely tuned to minimize cabin disturbances, yet allow proper road feel and handling response.
Structurally, CELESTIQ has a lot to crow about in terms of new manufacturing tech. The underbody includes six large precision sand-cast aluminum components (mega castings). Cadillac says, "Each casting reduces part count by 30 to 40 components, compared to typical stamped construction." The benefits include more efficient use of space, simplicity, and improved structural rigidity. The CELESTIQ precision sand-casted content and processes are ideal for low-volume, handcrafted, bespoke vehicles.
Every metal surface seen on the exterior of the vehicle is real metal, including an aluminum grille, brushed aluminum bodyside, aluminum eTrunk lining, rocker, taillamp and headlamp trim, and brushed metal liftgate body openings.
With 115 3D-printed parts in the production vehicle, the CELESTIQ demonstrates GM's broadest use yet of this process. The steering wheel center is the largest metal part GM has printed in production, combining the show surface and the structural B-side of the part, while the seat belt adjustable guide loop is GM's first safety-related 3D-printed part. Other 3D-printed parts include: window switches, grab handles, console decor, and structural pieces under the vehicle's surface.
Each CELESTIQ vehicle will also feature over 300 fabricated pieces throughout the body structure, chassis, interior, and electrical components. This "Flex Fabrication" process uses metal sheets that can be folded and manipulated into the unique shapes required for the CELESTIQ design -- a process more akin to metallic origami than traditional stamping.
Carbon fiber comprises several areas of the exterior, this material choice enables the designers to create distinctive forms not possible with traditional metal body panels.
Inside, the low, flat floor allows every seat to have equal levels of comfort -- each with a full range of comfort adjustability. The Fixed Smart Glass Roof eliminates the need for a sunshade or headliner, maximizing headroom. The cabin features a clean, minimalist aesthetic displaying authentic metals, leathers, and a premium selection of more bespoke materials. A four-zone microclimate system is standard equipment. CELESTIQ has 41 speakers total, including three exterior speakers that provide curated propulsion sounds while driving.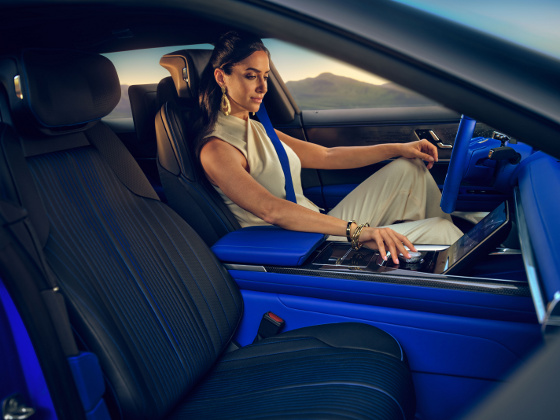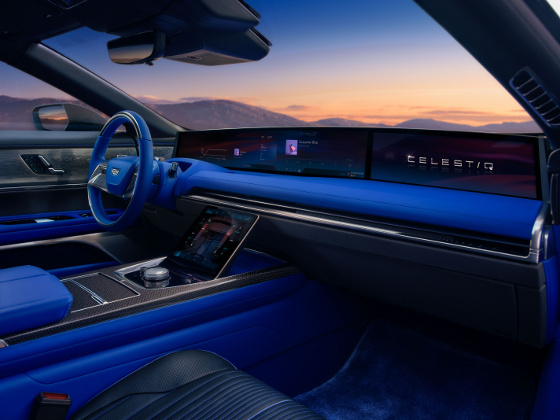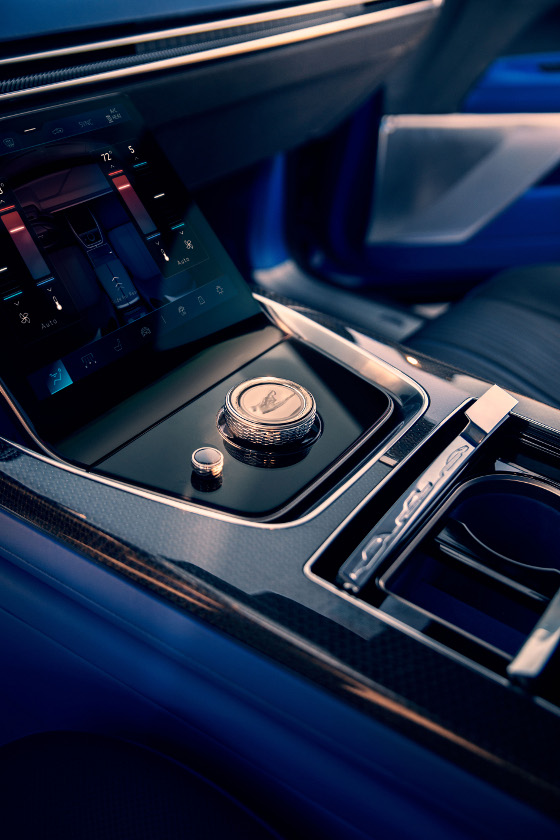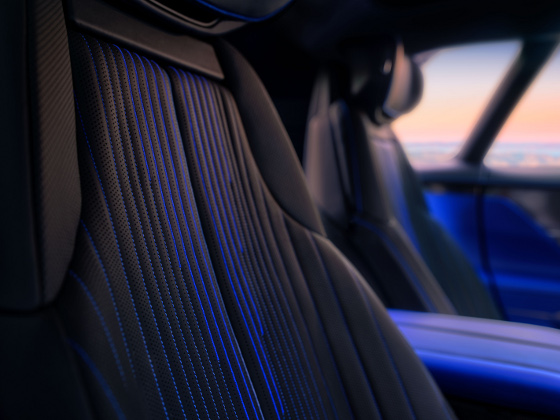 The interior lighting includes more than 450 distinct LEDs that can be controlled with 18 different lighting animations. A 55-in.-diagonal advanced HD screen runs almost the full width of the dash and is one of five high-definition displays in the vehicle. A crystal multi-functional controller directs the primary screen and is the "crown jewel" of the front center console.
A new connected camera platform will provide clients added peace of mind by giving them access to interior and exterior cameras through an intuitive mobile interface along with theft detection, crash recording, and other useful features.
CELESTIQ will also carry a full suite of advanced, active safety features that's backed by the most advanced sensor systems available from Cadillac. It will include the Ultra Cruise hands-free advanced driver assistance technologies and Remote Auto Parking/Unparking.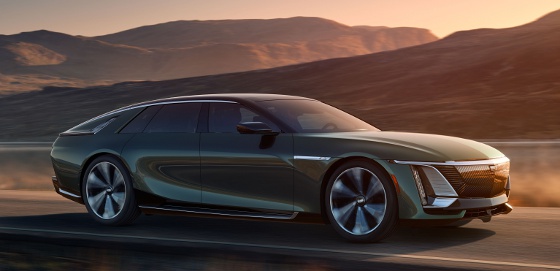 CELESTIQ is slated to go into production in December 2023. Cadillac says the price will be "north of $300,000," and a price closer to $400,000 is a reasonable expectation with all of the bespoke elements incorporated. This is Cadillac's second all-electric offering. The first was the LYRIQ, an SUV that starts at $62,990.
Learn more at cadillac.com/electric/celestiq.
Source: Cadillac
Published October 2022
Rate this article