Micromotors help telescopes solve galactic mysteries by providing automatic, quick alignment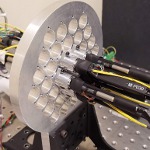 How can motor drives so small help unravel the mysteries of something so big? Learn how micromotors from FAULHABER are helping to usher in a new era of astronomical observation and discovery -- and are making the Sloan Digital Sky Survey telescope systems markedly faster in precise positioning along the way.
Read the full article.
---
What is Sensorless Closed Loop? Precise motor control without an encoder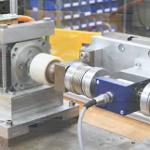 Matt Sherman, eMobility Sales and Application Engineer at KEB America, runs through different options to drive an AC motor, including one called "Sensorless Closed Loop" that does not require additional hardware such as encoder, resolver, or cables on the motor. Instead of an external sensor, the sensorless option uses a sophisticated motor model to close the loop.
Read this informative KEB America blog.
---
How to customize a base model electric linear actuator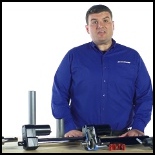 Chad Carlberg, Product Line Manager at Thomson Industries, runs through how to find the optimal balance of performance, life, and cost when it comes to electric linear actuator solutions. Your application may not require the fastest, sturdiest, most accurate, or even the least expensive option, after all. Learn how to create just the right balance for your needs. Some good details here.
View the video.
---
Smart Flex Effector from Bosch Rexroth makes robots more sensitive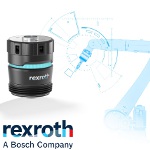 The Smart Flex Effector is a new, sensor-based compensation module from Bosch Rexroth that gives robots and Cartesian linear systems human-like sensitivity, offering new opportunities for factory automation. Typical applications include joining processes with minimal tolerances, complex assembly work, or difficult handling tasks. Errors and rejects are minimized, and teaching and commissioning can be carried out more easily and quickly.
Learn more.
---
Servo drives with Extended Environment capabilities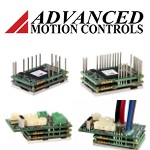 RS-485/232 FlexPro servo drives are now available with Extended Environment capabilities from ADVANCED Motion Controls. FlexPro is the perfect compact servo drive solution for robots, machines, and other motion control applications. Extended Environment servo drives push the boundaries to allow proper operation in conditions where other electronics fail. They can withstand both scorching and freezing temperatures, high and low pressures, shocks, vibrations, contamination, and other harsh conditions. These drives come in both PCB-mount and machine-embedded form factors.
Learn more.
---
Compact stepper drive offers greater smoothness, precision, torque density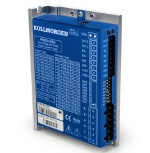 Kollmorgen has just released the new P80630-SDN stepper drive. Customers can now benefit from features such as smoothness, precision, and torque across the full speed range in a significantly more compact package that enables smaller, lighter, and more versatile machines. The P80630-SDN is an ideal solution for labelers, indexing tables, CNC machines, packaging systems, pumps, and other single- or multi-axis systems requiring low-speed, point-to-point motion control for fixed loads.
Learn more and get the specs.
---
New high-capacity, high-speed electric linear actuators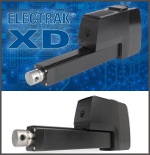 Thomson has introduced a high-capacity, high-performance electric linear actuator that gives motion system designers more cost-effective options to replace hydraulic cylinders. Among the many new features of the Thomson Electrak XD linear actuator is load handling up to 25,000 N (5,000 lb). The Electrak XD can also achieve operating speeds up to 75 mm/sec (3 in./sec) and duty cycles up to 100%.
Learn more.
---
New brushless DC motor design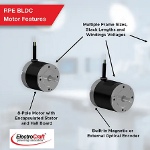 The ElectroCraft RapidPower Enhanced series (RPE series) is a new and innovative brushless DC (BLDC) motor design that combines performance, flexibility, and affordability to offer OEMs the perfect platform for a wide range of motion applications. This level of configurability enables the RPE series to be quickly acquired and adapted into your application. ElectroCraft's BLDCs integrate rare Earth magnets and an eight-pole encapsulated core design to provide high torque density, peak torques up to 300% of continuous ratings for short-time operation, wide speed ranges, and low cogging torque for ultra-smooth motion.
Learn more.
---
End-of-arm tooling components for vacuum pick-and-place systems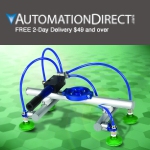 Automation-Direct now offers Schmalz end-of-arm tooling components for robot arm vacuum pick-and-place applications. Components can be purchased individually or in kits that include everything needed to create a single-beam or dual-beam end-of-arm tool. Kits are simple, save time and money, and include structural rails (which support optional internal vacuum), connectors, cup mounts, vacuum tubing, vacuum cups, fittings, a basic ejector, a flange for a Universal robot, and a blank robot flange. Components start at $8. Kits start at $995.
Learn more.
---
Dual encoder provides motor feedback and position measurement all in one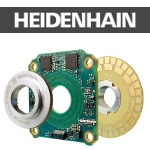 HEIDENHAIN's new KCI 120 Dplus unites two rotary encoders in a single device, offering high reliability in a rugged and extremely compact design. Once integrated into an application with up to SIL 3 safety, this unit can minimize malfunctions and facilitate the safe operation of machines and automated systems, including high-accuracy robotic systems and more. Thanks to its low 20-mm profile, this series is great for tight installation spaces. The encoders are particularly resistant to contamination and magnetic fields.
Learn more.
---
Great Resources: FAULHABER Drive Calculator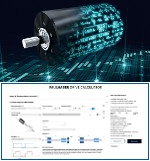 The FAULHABER Drive Calculator is an easy-to-use tool for developers to find a suitable drive system for a specific application in record time. The program uses global presets with common average values, but default settings can be adjusted to individual needs. A detail page for each drive system shows the calculated thermal values and performance diagrams as well as other important information and data. Changes can be made and recalculated on the fly. Suitable controls are also displayed to complete the drive system. At the end, the user can download the selected solutions as a PDF or request them directly online.
Learn more and see how the FAULHABER Drive Calculator works.
---
New rotary microstage includes built-in controller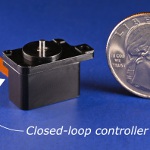 The new M3-RS-U2-4.5-360 Rotary Smart Stage from New Scale Technologies is a miniature positioning module that simplifies the task of embedding high-precision rotary motion into scientific and industrial instruments. The latest addition to the M3 Smart Stage family provides point-to-point angular positioning with closed-loop resolution better than 0.022 degrees. M3 Smart Stages integrate piezoelectric motors, position sensors, and built-in controllers in compact modules that accept direct digital input from a system processor.
Learn more.
---
New high-performance hollow shaft gear unit for heavy-duty applications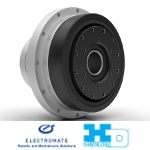 Harmonic Drive has released its HPF series of hollow shaft gear units designed for heavy-duty industrial applications. These advanced gear units offer high torque outputs and flexible installation options, and they provide exceptional torque density and positional accuracy. Industrial applications include robotics, packaging, and material handling.
Learn more and get all the specs.
---
Totally new! Hybrid stepper and PM motor
The Hybrid-PM-Mix (HPM) from Lin Engineering is the first motor of its kind, combining the stator of a hybrid stepper and the rotor of a PM motor in the form factor of a high-speed BLDC. The result is a motor that behaves like a typical high-speed BLDC with the added benefits of hybrid steppers -- precise position control and position holding -- with low noise and vibration too. The 1330 Series is a small motor with a frame size of just 13 mm, which is perfect for small applications with minimal space.
Find out all the specs.
---
New magnetic tracks for linear motors -- more force with no redesign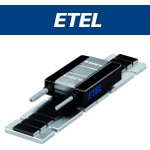 The MWD+ is a new family of magnetic tracks from ETEL equipped with stronger magnets. These tracks are compatible with any existing ETEL LMG and LMS linear motor, enabling an average of 15% higher continuous and peak force compared to existing MWD products. Benefits include higher force density per unit volume, which allows users to improve the overall duty cycle or run a given duty cycle at lower temperatures.
Learn more about ETEL linear motors.
---
Racing company licenses innovative fast-charging battery technologies from Oak Ridge lab
Marc-Antoni Racing, a research and development startup, has licensed a collection of patented energy storage technologies developed at the Department of Energy's Oak Ridge National Laboratory (ORNL). The technologies focus on components that enable fast-charging, energy-dense batteries for electric and hybrid vehicles and grid storage.
The company is exploring ways to move the racing industry away from fossil fuels while maintaining the dynamic driving experience loved by motor sports enthusiasts.
The licensed ORNL patents for battery components -- anode, cathode, and electrolyte solution -- are based on discoveries from ORNL's Sheng Dai, Xiao-Guang Sun, Parans Paranthaman, Gabriel Veith, and Craig Bridges. The members of this team are Battelle Distinguished Inventors, corporate fellows, and distinguished staff scientists in chemical and materials science. They have received numerous accolades, including R&D 100 Awards.
Through new combinations of materials and design, the team has discovered components that break the barrier to fast-charging, power-dense lithium-ion batteries for electric vehicles. Additionally, the components meet a key DOE goal of reducing vehicle battery charging time to under 15 minutes, which gets EV charging closer to the time needed to refuel a gas-powered vehicle. Charging time is a major obstacle to the widespread adoption of EV technology needed to achieve the nation's goal of net-zero carbon emissions by 2050.
For Dai and the scientific team, who have worked to advance energy technology for decades, interest from a racing company was an unexpected and welcomed development.
"Our research started at the fundamental level. I had no idea at that time that this could lead to something useful for racing," Dai said. "Our previous research was focused on solving the problem of long charging for cell phone batteries. Batteries degrade and lose capacity to hold power. We wanted to understand the parasitic reaction mechanisms that degrade the battery.
"There is a lot of serendipity in discovery. We never quite know where it could go."
Paranthaman led the research to develop a cathode component that better maintains function as it ages. "We've been working toward this technology for the last several years," he said. "The coating we developed could reduce degradation and improve the stability of battery cathode materials over time. This could potentially improve the shelf life of the battery."
Marc-Antoni Racing was founded by Ricardo Marc-Antoni Duncanson, who fell in love with racing by tinkering in the garage of a family member who raced cars. After an extensive career with Audi, Duncanson formed his own company in 2017 as the electric vehicle industry was beginning to grow. Currently based in Connecticut, Duncanson plans to relocate his operations to Tennessee.
With a well-established automotive manufacturing ecosystem and a growing industry centered on batteries for electric vehicles, Tennessee provides advantages to an EV-focused entrepreneur.
"Tennessee is a great place to do what we're doing: motorsports and high-performance cars. There's a rich motorsports history and infrastructure in the region," Duncanson said. He is exploring further work with ORNL through RevV, a voucher program for Tennessee companies funded by the state of Tennessee and operated by the University of Tennessee and ORNL.
"Marc-Antoni Racing provides an exciting opportunity to test our technologies, de-risking further commercialization efforts to develop this technology for a range of industries," said Susan Hubbard, ORNL's deputy for science and technology. "In relocating to the Oak Ridge Corridor, Ric will be joining a robust entrepreneurial ecosystem focused on clean energy technology that is supported and strengthened by ORNL's expertise and facilities."
Duncanson expects that any improvements made to racing vehicles will quickly be adopted by the wider automotive industry, facilitated by exposure to the many high-tech companies working in racing.
ORNL hosts an expansive portfolio of innovative battery technology available for commercialization. Contact the Technology Transfer Office to learn more.
Source: Oak Ridge National Lab
Published October 2022
Rate this article