Saelig selling basic MakerBot 3D printer for $1,700
If you want to take a stab at 3D printing without a huge investment, you might just consider The Replicator, an affordable, personal 3D printer that offers one- or two-color "printing" of solid objects. The Replicator runs open-source 3D-printing code and is compact enough to fit on a desktop. Ready within minutes to start printing right out of the box, The Replicator fabricator turns raw feedstock, such ABS or PLA, into instant prototypes as large as a loaf of bread. An earlier version of this unit for around the same price required assembly, so the pre-assembled upgrade is a welcome addition.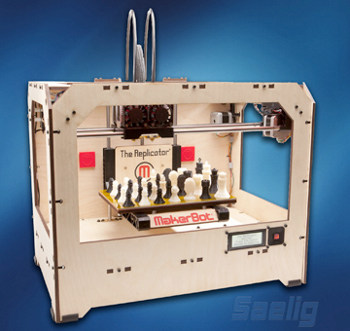 The Replicator is a precision-made parts fabricator, built with linear ball bearings and precision-ground 8-mm shafts, ideal for personalized manufacturing or prototyping. The unit provides a new way to fabricate designs and variants quickly as large as 225 mm x 145 mm x 150 mm (8.9 in. x 5.7 in. x 5.9 in.). The Replicator is available with single or dual extruders, facilitating simultaneous two-color printing.
Okay, we know, it really does look like a toy. But that is part of its appeal.
The Replicator is definitely a real 3D printer. It features a 4- x 20-character LCD panel and multi-directional control pad. The LCD screen provides build data as well as monitoring information, and full machine control is possible without the use of a computer. Using an SD Card slot or USB connection, model designs can be loaded and built directly from control pad commands. Professional engineers can now quickly fabricate solid objects using tools like AutoCAD and Solidworks producing STL or gcode files. ReplicatorG software provided (Linux, Windows, and OSX compatible) enables rapid prototype production. Layer thickness may be selected from 0.2 mm to 0.3 mm with the stock 0.4-mm nozzle, and parts are built at a speed of 40 mm/s, with positioning precision of 2.5 micron (Z axis) and 11 micron (XY axes). A fist-size object might take 45 mintues.
Sized for almost any desktop (12.6 in. x 18.4 in. x 15 in.), the unit weighs 26/29 lb (single/dual). Made by Makerbot Industries, The Replicator is available now at $1,699 for a single extruder and $1,999 for a dual extruder from Saelig Company, Inc., Makerbot's USA technical distributor.
You can take a look at what you get and the first-time setup below.
Published March 2012
Rate this article