Sikorsky RAIDER X attack copter prototype 92% complete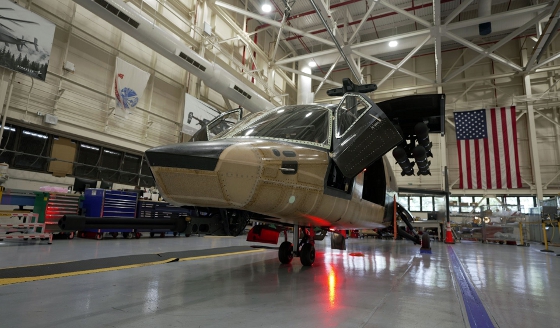 RAIDER X is 92% complete at Sikorsky's Development Flight Center in West Palm Beach, FL. The design is based on Sikorsky's X2 technology, which provides "unmatched potential and growth." [Credit: Photo courtesy Sikorsky, a Lockheed Martin company]
The U.S. Army's Future Attack Reconnaissance Aircraft (FARA) design competition has been narrowed down to two contenders: the Sikorsky Raider X and the Bell 360 Invictus. Selection of the final FARA design for production is scheduled for 2028, but it could happen sooner.
Sikorsky, a Lockheed Martin company, says the Raider X prototype is now 92% complete. The single-engine compound coaxial helicopter with a push propeller has been developed to reach speeds of more than 250 knots (over 280 mph), almost double the speed of a conventional civilian helicopter, and will be capable of flying in excess of 9,000 ft in 95 F heat. It will also feature tandem seating, a modular state-of-the-art cockpit, a reconfigurable large area display, and autonomous capabilities.
Raider X has been specifically designed for "securing vertical lift dominance against evolving peer and near-peer threats on the future battlefield."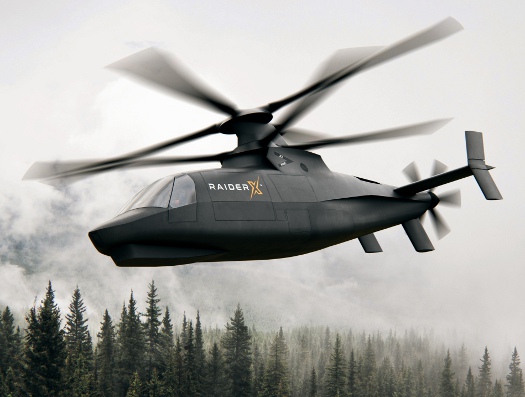 Sikorsky Raider X concept illustration. [Credit: Photo courtesy Sikorsky, a Lockheed Martin company]
Based on Sikorsky's Collier Award-winning X2 Technology (coaxial rotor system), RAIDER incorporates the latest advances in fly-by-wire, flight controls, vehicle management systems, and systems integration. It also has retractable landing gear, active vibration control, a composite fuselage, active elevator and rudders, split torque transmission, and a rigid co-axial rotor system. These technologies enable the aircraft to operate at high speeds while maintaining the low-speed handling and maneuverability of conventional, single main-rotor helicopters.
Scheduled for production after 2024, the FARA aircraft will be an advanced, lethal solution with high growth potential. The Army has named the FARA as a top modernization priority supported under the service's new Futures Command structure. One requirement is that the new copter has a cruise speed of at least 180 knots at 4,000 ft.
According to Lockheed, there are hundreds of additively manufactured parts installed on RAIDER X, including flight-critical parts. The 3D-printing process has been so successful that first articles are 95% compliant, saving the team hundreds of hours compared to previous processes.
Sikorsky is also making progress on the second RAIDER X prototype, which is integrated into the team's structural test program and will validate the flight and ground loads capability of the airframe. Structural testing is in progress and is expected to be complete by the end of the year.
The tests inform safety-of-flight processes for the first RAIDER X competitive prototype. Once structural testing is complete, the second RAIDER X prototype will be a viable test asset, further reducing risk for Sikorsky's FARA offering.
RAIDER X also features Modular Open Systems Architecture (MOSA)-based avionics and mission systems offering plug-and-play options for computing, sensors, survivability, and weapons. Lockheed says X2 compound coaxial technology "provides unmatched potential and growth margin for increased speed, combat radius, and payload." It also enables a broader range of aircraft configurations for specific mission requirements.
"The FARA program is important for Army modernization because it provides the speed, maneuverability, reach and the lethality needed on a 21st Century battlefield," said Pete Germanowski, FARA chief engineer. "RAIDER X is also designed for growth. The modular open systems approach and digital backbone coupled with the mission system and sensors and communications capability give the Army a node to tie their battlefield network together and enhance the capabilities of the ground force in the process."
With RAIDER X, Sikorsky introduces the latest design in its X2 family of aircraft. To date, X2 aircraft have achieved/demonstrated:
Speeds in excess of 250 knots.
High altitude operations in excess of 9,000 ft.
Low-speed and high-speed maneuver envelopes out to 60+ degrees angle of bank.
ADS-33B (Aeronautical Design Standard) Level 1 handling qualities with multiple pilots.
Flight controls optimization and vibration mitigation.
RAIDER X draws on Lockheed Martin's broad expertise in developing innovative systems using the latest digital design and manufacturing techniques. Sikorsky's RAIDER X prototype offers:
Exceptional Performance: The X2 rigid rotor provides increased performance including highly responsive maneuverability, enhanced low-speed hover, off-axis hover, and level acceleration and braking. Lockheed says, "These attributes make us unbeatable at the X."
Agile, Digital Design: State-of-the-art digital design and manufacturing is already in use on other Lockheed Martin and Sikorsky production programs such as CH-53K, CH-148, and F-35, and will enable the Army to not only lower the acquisition cost, but enable rapid, affordable upgrades to stay ahead of the evolving threat.
Adaptability: Modern open systems architecture (MOSA)-based avionics and mission systems, offering plug-and-play options for computing, sensors, survivability, and weapons, benefiting lethality and survivability, operational mission tailoring, and competitive acquisitions.
Sustainable/Maintenance: Designed to decrease aircraft operating costs by utilizing new technologies to shift from routine maintenance and inspections to self-monitoring and condition-based maintenance, which will increase aircraft availability, reduce sustainment footprint forward, and enable flexible maintenance operating periods.
Growth/Mission Flexibility: Focused on the future and ever-evolving threat capabilities, X2 compound coaxial technology provides unmatched potential and growth margin for increased speed, combat radius, and payload. This potential and growth margin further enables operational mission flexibility that includes a broader range of aircraft configurations and loadouts to accommodate specific mission requirements.
On March 22, 2022, the Army's Improved Turbine Engine Program achieved a significant program milestone with the "light off" (the first time fuel is ignited in the engine to produce power) of the General Electric T901 First Engine to Test, or FETT.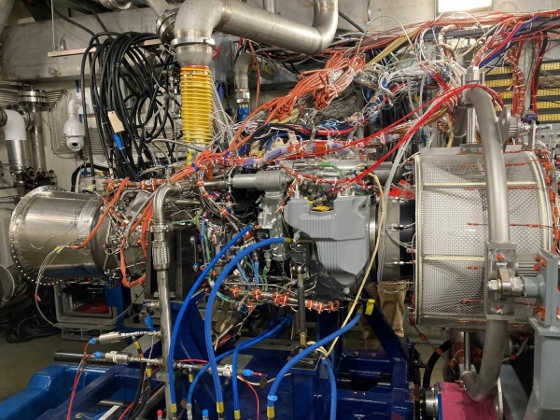 The Army's GE T901 First Engine to Test installed in the test cell prior to initial engine light off. The engine's light off marks the start of 100 hours of run time to verify and validate engine performance models. [Photo credit: Courtesy of General Electric]
The T901 engine will replace the T700 engine currently on all Boeing AH-64 Apache and Sikorsky UH-60 Black Hawk helicopters and provide increased power, improved reliability, and better fuel efficiency.
The T901 will also power the Future Attack Reconnaissance Aircraft (RAIDER X or 360 Invictus).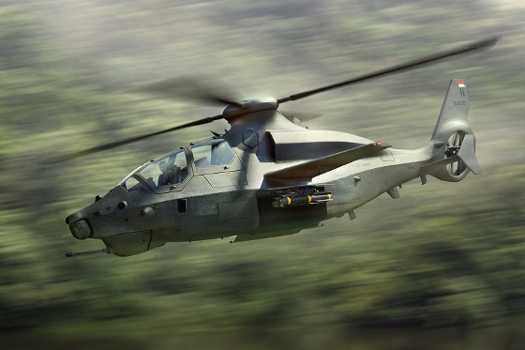 The Bell 360 Invictus is RAIDER X's FARA competitor. The 360 Invictus prototype is 90% complete. [Credit: Bell Textron]
AH-64 Apache and UH-60 Black Hawk aircraft have served Army missions for over 40 years and will continue to do so for many years to come. However, both platforms have added capabilities over the decades, which has resulted in increased aircraft weight. Consequently, payload and/or range has decreased accordingly. The T901 regains that lost capability, particularly in high/hot conditions -- above 6,000 ft and in temperatures higher than 95 F -- and improves upon it through increased shaft horsepower (shp) and reduced specific fuel consumption.
In turbine engine development, FETT is a critical milestone. It is the culmination of years of engineering design work that will verify and validate engine performance models through engine testing. To do this, the T901 is instrumented with over 700 sensors to capture performance data. In total, the T901 FETT will complete over 100 hours of run time as the engine undergoes a gradual break-in process that builds up to maximum power runs.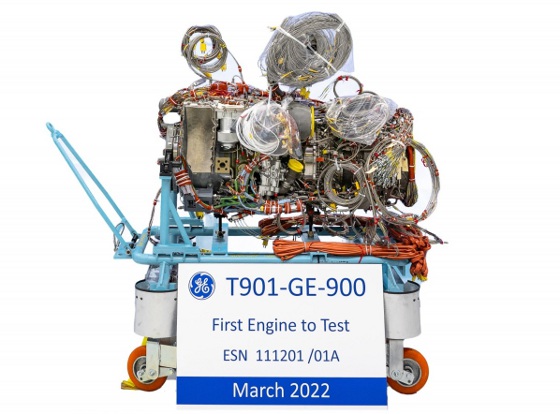 The Army's GE T901 First Engine to Test, shown fully instrumented and awaiting test cell installation. [Photo credit: Courtesy of General Electric]
FETT's completion will usher in the next phase: engine qualification. The testing team will utilize multiple engines to test against Army Military Airworthiness Certification Criteria standards. Successful testing will lead to ground and flight worthiness releases for the T901. Once complete, the engine will have undergone approximately 1,500 hours of full-scale ground testing for preliminary flight rating and close to 5,000 hours of testing for full engine qualification.
Production of the ITE T901 combines additive manufacturing, ceramic matrix composite parts, and traditionally produced parts to generate 50% more power -- a 1,000-shp increase; 3,000-shp total -- and 25% better fuel efficiency (at maximum power) at roughly the same size and weight of its predecessor, the GE T700. The additional power of the T901 allows the Apache and Black Hawk helicopters to operate in high/hot conditions with a full mission payload. Similarly, the significantly improved fuel efficiency allows for increased range and loiter time while simultaneously providing a cost savings through less fuel burned per horsepower generated. The T901 will also have some lower greenhouse gas emission metrics compared to the T700.
Additionally, the T901 engine will bring an added synergy with the aircraft in its capabilities to provide predictive logistics that drive increased time on wing and improved reliability. The T901 engine incorporates an onboard engine health management system that supports Army Predictive and Prognostic Maintenance goals by using health monitoring sensors, embedded models, and algorithms.
Sources: Sikorsky, Lockheed Martin, U.S. Army, GE
Published November 2022
Rate this article