Get the 'Fastening Techniques for Plastic Housings' White Paper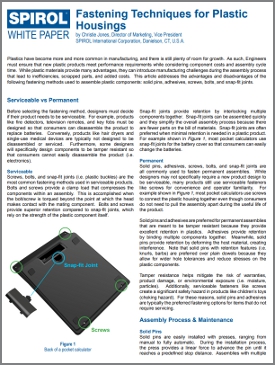 Download this SPIROL white paper as a PDF by clicking the image above.
Plastics have become more and more common in manufacturing, and there is still plenty of room for growth. As such, Engineers must ensure that new plastic products meet performance requirements while considering component costs and assembly cycle time.
While plastic materials provide many advantages, they can introduce manufacturing challenges during the assembly process that lead to inefficiencies, scrapped parts, and added costs. This article addresses the advantages and disadvantages of the following fastening methods used to assemble plastic components: solid pins, adhesives, screws, bolts, and snap-fit joints.
Download this detailed, informative SPIROL white paper by clicking on this link.
Source: SPIROL
Published November 2022
Rate this article